July 21, 2020 | Contributor: Zooey Deschanel
The bright side of quarantine is that I'm able to reconnect with my crafty side. I have always loved crafting, but haven't had a lot of time to fit in those crafternoons the last few years. Should I say the word, "craft" one more time? Probably! Heck, I'll say it 3 more times. Craft, craft, craft! There you go!
Luckily I have been fortunate enough to have met the crafting partner of my DREAMS—Cricut, which cuts everything from vinyl to paper to wood to cloth with the precision and talent of a supernatural crafty goddess. I can just sit and drink tea while my sweet Cricut does all the work and makes me feel talented.
What started as a few projects has become a crafting obsession and now my kids want me to personalize everything. (To be honest I probably can as long as I have my Cricut Joy with me.)
See me-in action-creating!
One of my first DIY Cricut home projects
I wanted the beauty of a houseplant but without the upkeep so I decided to make a plant that never needs to be watered! I love coming up with puns this was a fun little project and it looks so cute on my shelf. I was able to pass on most of the heavy lifting to the Cricut Joy so it ended up being a really easy and fun project that came together really fast!
---
Other Cricut projects I love
There's some much I can make with my Cricut—check out some of my favorites below. What recommendations do you have for my next project? Tell me in the comments!
---
My project tutorial
If you need written instructions on how I created these adorable paper house plants and pots, here they are!
First, we're going to personalize our pots.
Here's what you'll need:
Step 1: Spray paint your pots
I used a mix of matte and glossy spray paint in three different colors—mint, pink peony, and cream. Start with a matte coat first. Then, spray your pots with the glossy paint. Let the pots dry for 24 hours.
Step 2: Cut your vinyl puns
Cut your vinyl phrase using my project in Design Space.
Or use these SVG files if you do not have a machine. Don't forget to resize them to your project!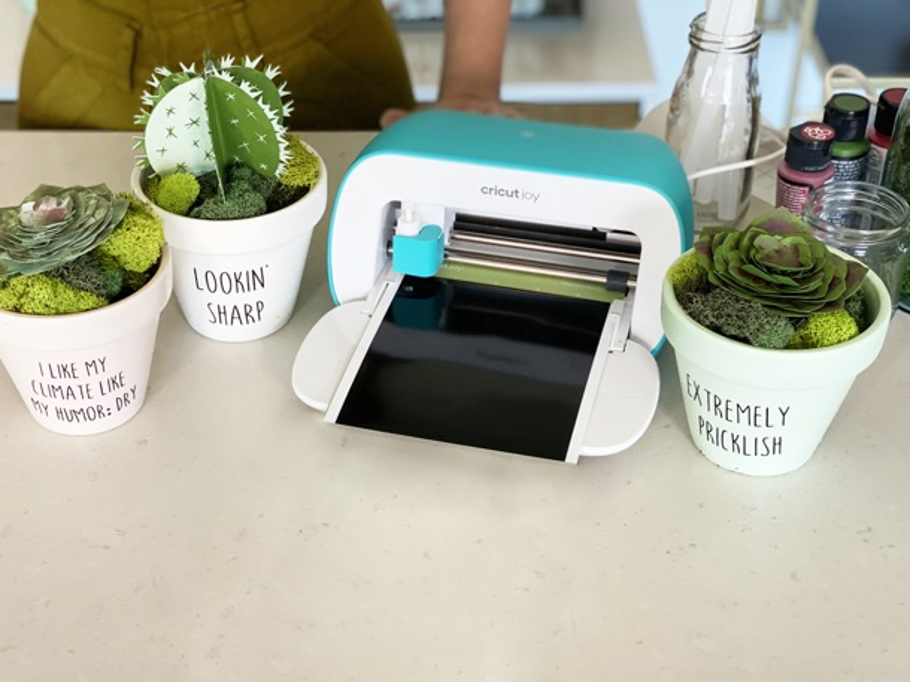 Step 3: Transfer your puns onto your pots
Once your vinyl is cut, pull off the excess vinyl (it's called weeding) and transfer the vinyl with Transfer Tape onto your pots. And you punny pots are done!
If you're like me and would like a visual aid before taking the plunge, here's a video showing the transfer tape application process: How to Use Cricut Transfer Tape.
Second, make your paper plants.
Here's what you'll need:
Cardstock (various green colors)
Hot glue and craft glue pen
Foam paint brushes (or a sponge)
Acrylic paint (magenta and green)
Step 1: Cut your paper plants
Cut your paper plants by using my Design Space project.
Or, feel free to use these SVG files if you don't have a machine:
To make my paper succulents and cactus look more realistic, I used cardstock in various shades of green.
Step 2: Paint your succulent and cactus pieces
Brush the edges of your succulent leaves with a foam paint brush (or sponge) and acrylic paint to give your plants more dimension.
Step 3: Assemble your succulents and cactus for each pot
Succulents: Take two pieces of the cut cardstock and fold the curved edges, one under the other. Continue repeating this process until you have 8 layers. Then, hot glue the pieces to each other until your succulent is full.
Cactus: Fold the prickly cactus piece in half followed by the round smaller cactus piece. Glue the round smaller cactus piece to the prickly cactus piece. Repeat six times to create each piece of the cactus. Then glue the sides of each cactus piece together to create the dimensional 3D cactus.
Step 4: Fill your pots and hot glue your plants
Fill your pots with moss. Hot glue your succulents and cactus on top of the moss, and voila! Your pots are punned. But, the best part?
They're going to live forever! Don't forget to leave me recommendations below on what Cricut project I should make next.
---
---
Looking for more DIY home inspiration?
Return to the Cricut Guide to DIY Home Projects.