March 23rd, 2018 • Contributor: Cori George from Hey, Let's Make Stuff
Hello, my favorite Cricut fans! It's Cori from Hey, Let's Make Stuff here to share some out of the box thinking when it comes to using Cricut pens and the Contour tool in Cricut Design Space.
I'm using Cricut's lovely Glitter Brights Pen Set for this project—have you picked up a set yet? Let me know what you're using them for in the comments!
Today I want to dive into using the Contour tool in the Layers Panel and how I use it to allow me to write in multiple colors.
The Cricut Image Library has a lot of cute files designed to be drawn using Cricut pens. Because we're heading into a new season, I'm using this sweet Spring Is Here file (#MCD03BC).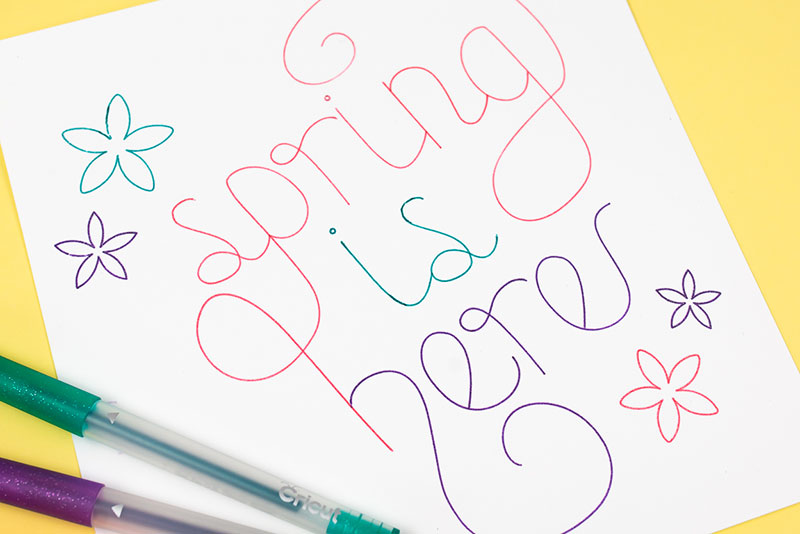 When you import this file, however, it's just a single draw image.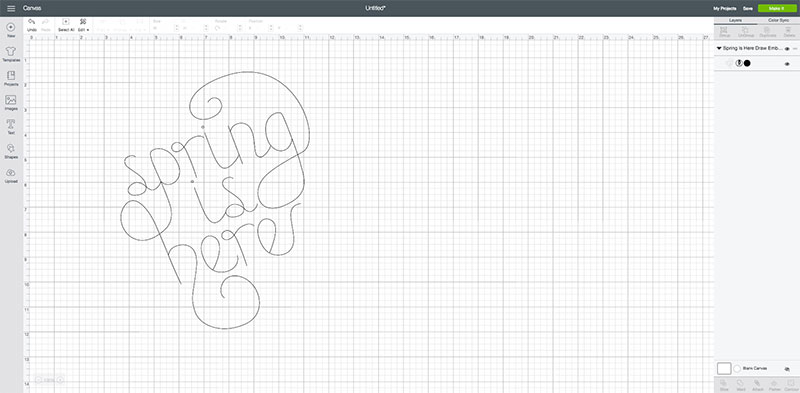 You could change the color, but the entire image changes color. Instead, we're going to use the Contour tool to change each word to a different color.
Have you used Contour? I love it. The Contour tool basically allows you to delete certain portions of a single image. So to change this single image into three colors, we're going to start by inserting three copies of the same image.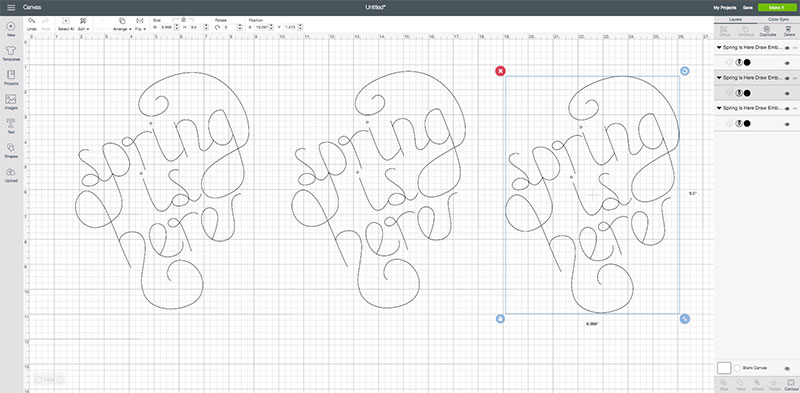 Then select that first image and click Contour at the bottom of the Layers Panel. A window will pop up with your image. From here, you can click on anything you want to delete from your image. In this first image, I'm deleting everything from "is" and "here."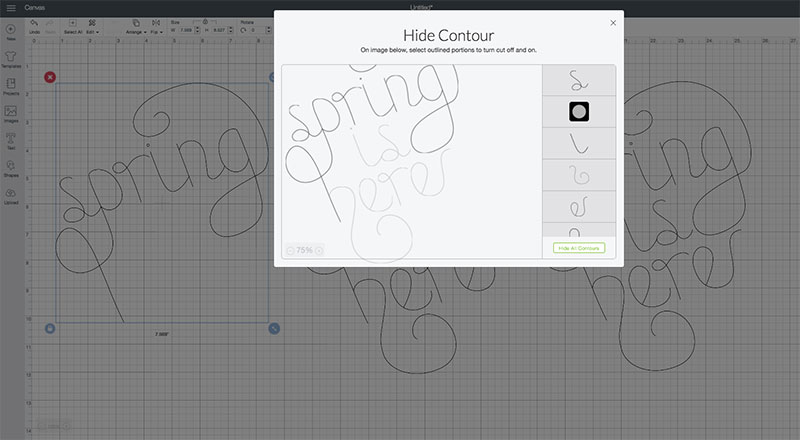 Then repeat with the other two images, keeping "is" in the second image and "here" in the third. When you're done, you will have three separate words.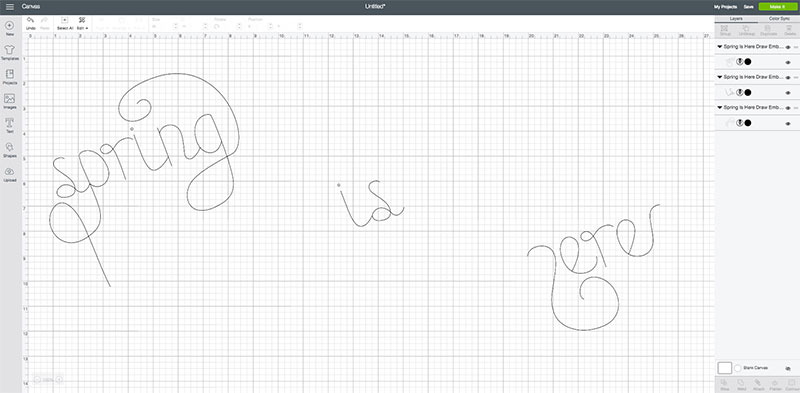 Then move the separate images together to create a single quote.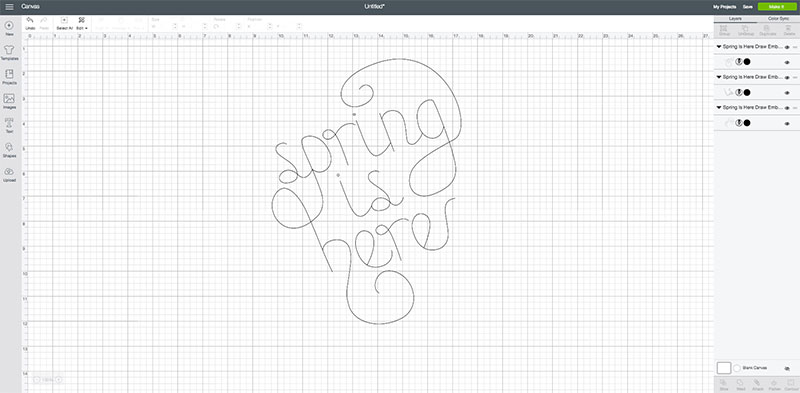 The images are still separate, so at this point, you can change the color of each one. The Cricut Glitter pens aren't in the color selection tool, so just choose colors that are similar to the colors you'll be writing in. This will help you know you're inserting the correct pen when actually drawing your image.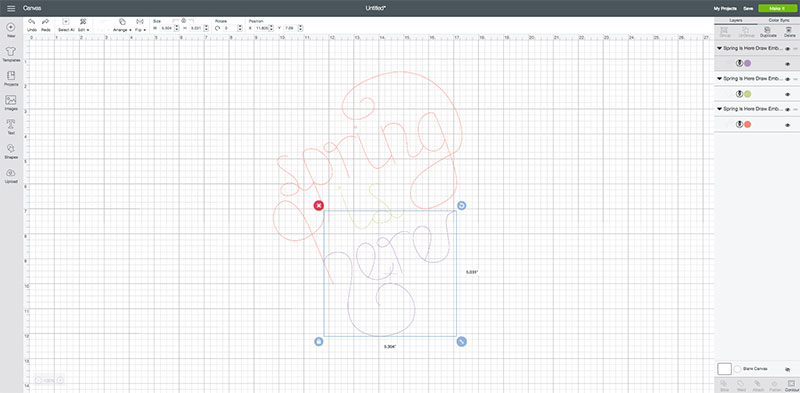 From here, if you want to draw it as is, you can use Attach at the bottom of the Layers Panel to keep everything together and hit "Make It."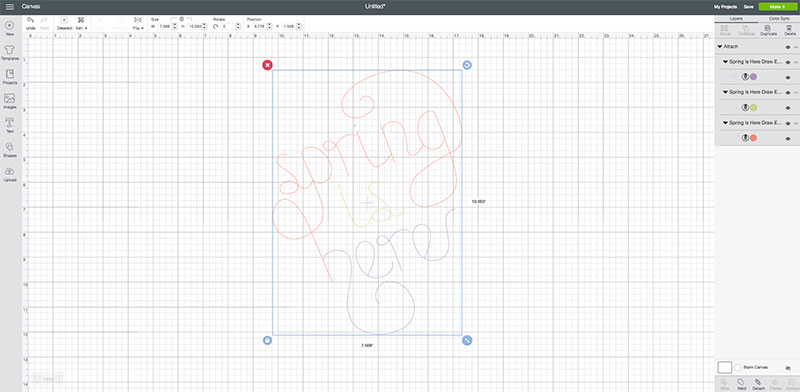 But I decided I wanted to embellish it a little bit with a few flowers. I searched for "flower" in the Cricut Image Library and inserted two that I liked.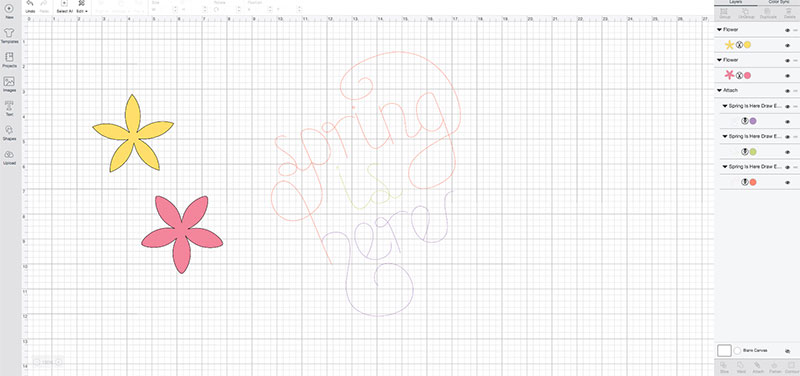 I changed the flowers from "cut" to "write" in the layers panel, and then duplicated and rotated them around my quote.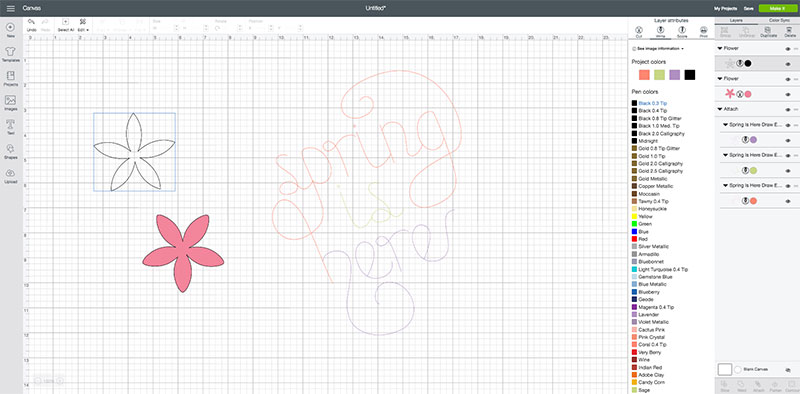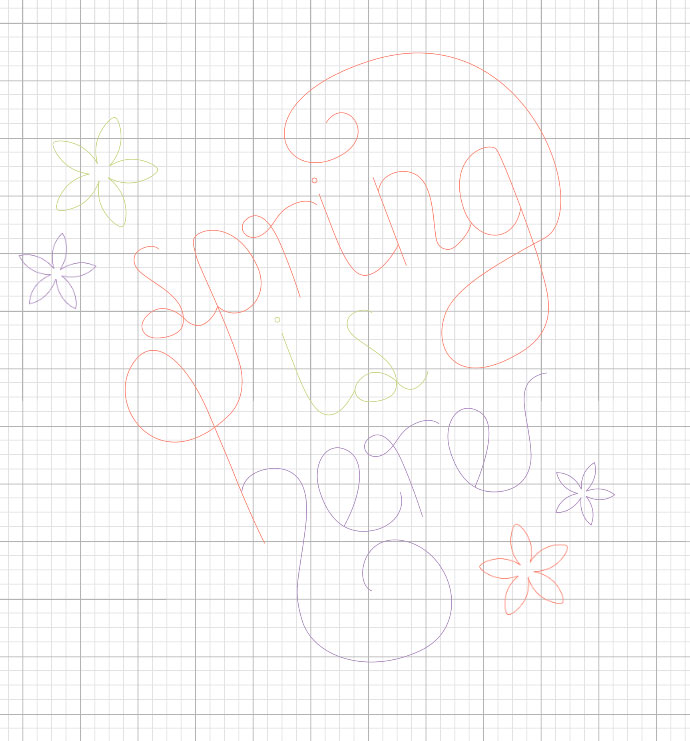 You're almost ready to draw—just make sure to attach everything so it all draws together properly!
As your Cricut works through the file, you'll receive prompts to change the pen. Change the pen without removing your mat from your machine. Make sure to cap your pens when you're done with them, too!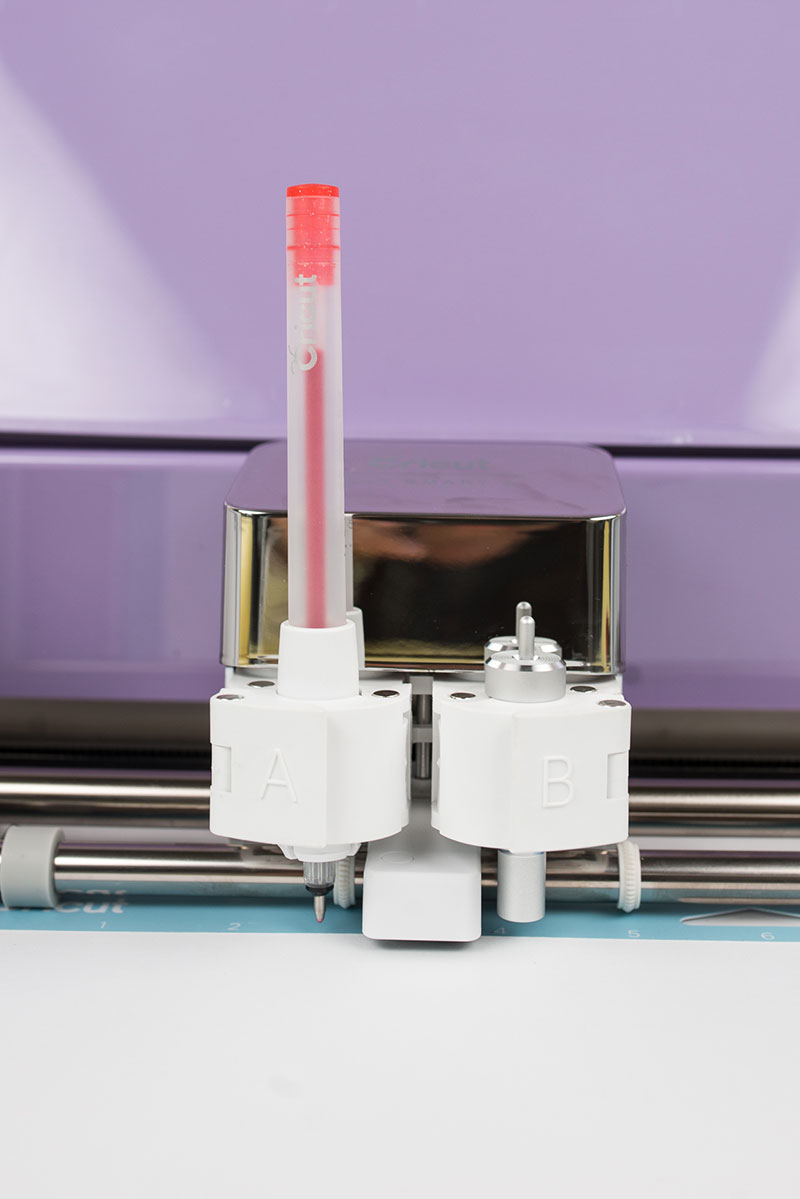 And, if you'd like to draw this yourself without having to do any of the work yourself, you can head over to Cricut Design Space, where I've saved the final file for you to make!
I really do love these glitter pens. It's hard to do them justice in a photo, but you can really see how they sparkle when I get up close.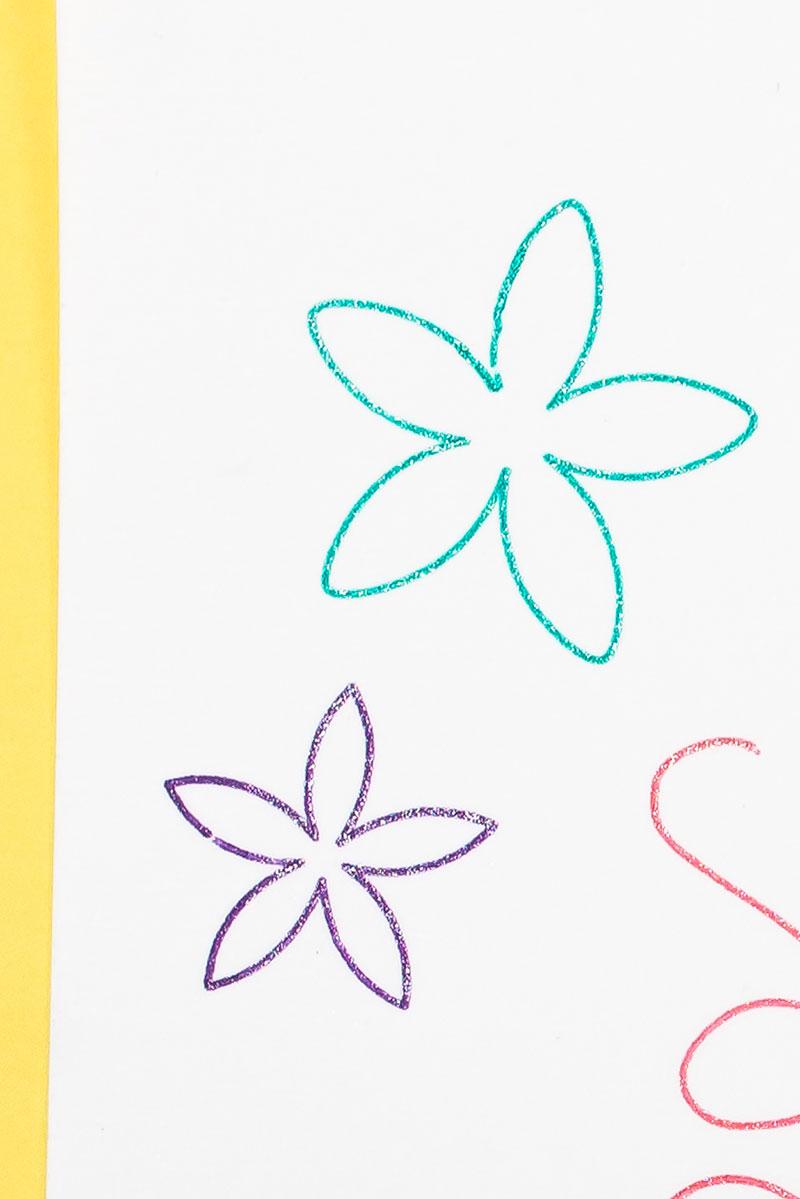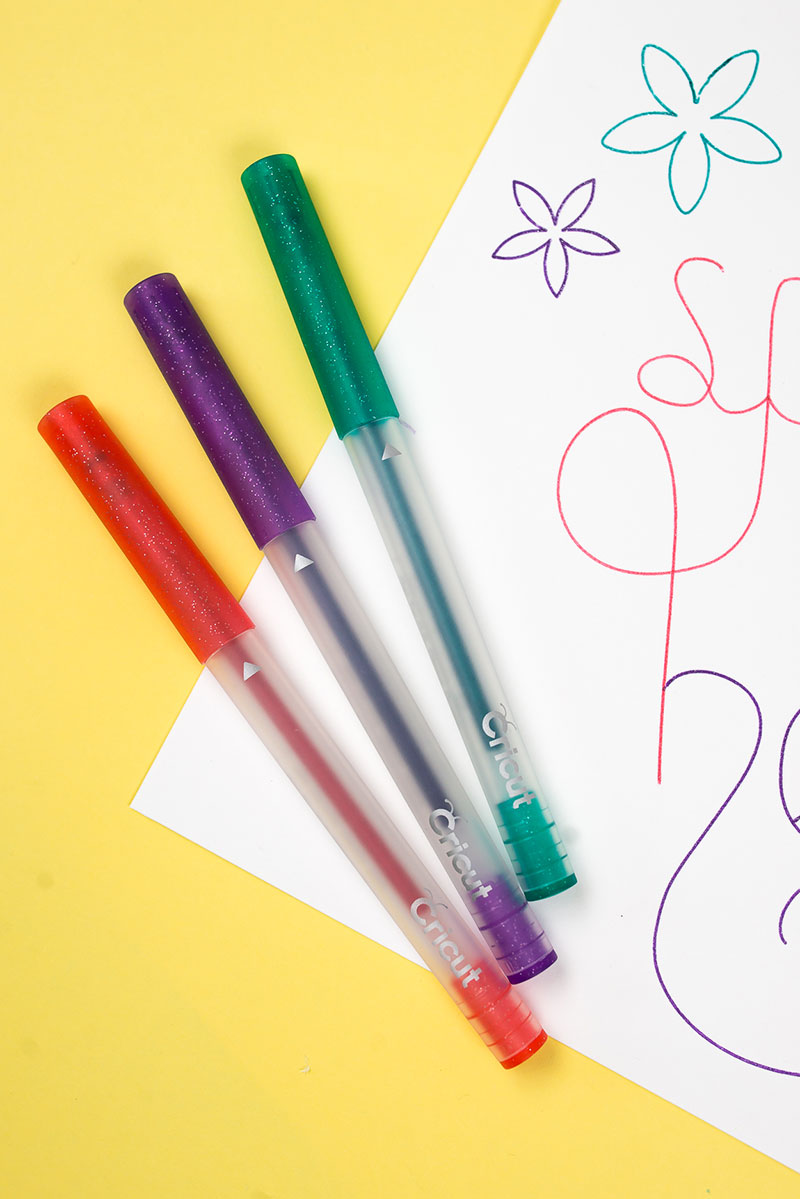 Hope you all enjoyed this tutorial and it inspired you to look into different ways to use the Contour tool. It's definitely a more advanced tool in Cricut Design Space but it really opens up possibilities for modifying files you find in the Cricut Image Library!
Pin this to save for later!