November 26, 2019 • Contributor: Cricut Blog Team
One size does not fit all! That is why we have four EasyPress 2 sizes, and we love every one of them for different reasons. This blog explains why size is important and the benefits of each EasyPress 2. We also take a look at different types of projects that will help you determine which EasyPress 2s will be right for you.
A few things to consider before reviewing each EasyPress 2 size:
When working with heat, size matters. Make sure to choose the EasyPress 2 size that is just right for your project(s)

A heat plate that is too big is awkward on small projects and risks uneven pressing over seams (learn more about iron-on and seams).
A heat plate that is too small may need multiple presses over the same spot and risks over-processing iron-on material
What are the dimensions of the projects you make most often?

Determine what are typical dimensions of your iron-on projects. Then, consider the dimensions of each EasyPress 2. Knowing this information is key to making the right decision for your needs.
Will you travel with your EasyPress 2?

If yes, the petite 6" or EasyPress Mini might be perfect. Not only do they slide into many backpacks and other day-travel bags, but they are also lightweight. You can certainly travel with the two larger EasyPress 2s, they will just take up more space and weigh your pack down a bit more.
Ok, let's take a look at the different EasyPress 2 sizes.
EasyPress Mini
Unusual objects and improbable projects are no longer a challenge! Cricut EasyPress Mini™ makes professional heat-transfer results possible for even your most shapely objects and projects, including baby shoes, hats, stuffed animals, and more. Its thoughtful, compact design makes it effortless to curve with contours, get between buttons, and squeeze into seams. EasyPress Mini is perfect for projects that are up to around double the size of the heat plate, no more than 4" x 6".
We also love the mini for our sewing and quilting projects. We like to keep our Minis right in our workspace – quick, easy access when we need press a seam.
Check out these projects that we LOVE for the EasyPress Mini, including hats shoes, and adding incredible details around seams, buttons, and pockets!
Shoes
Hats
Pockets
Unique Shapes
Small Labels
EasyPress 2 6"x7": (15 cm x 17.5 cm), 3.3 lbs (1.5 kg)
Beyond being just adorable, this small guy is perfect for those wanting a lightweight, portable press that is easy to create those smaller projects like baby bodysuits, children's clothing, and small Infusible Ink projects.
This 6" x 7" press is perfect for those smaller projects that need even heating but are just outside the range of the Mini. Take into account some of these popular smaller projects: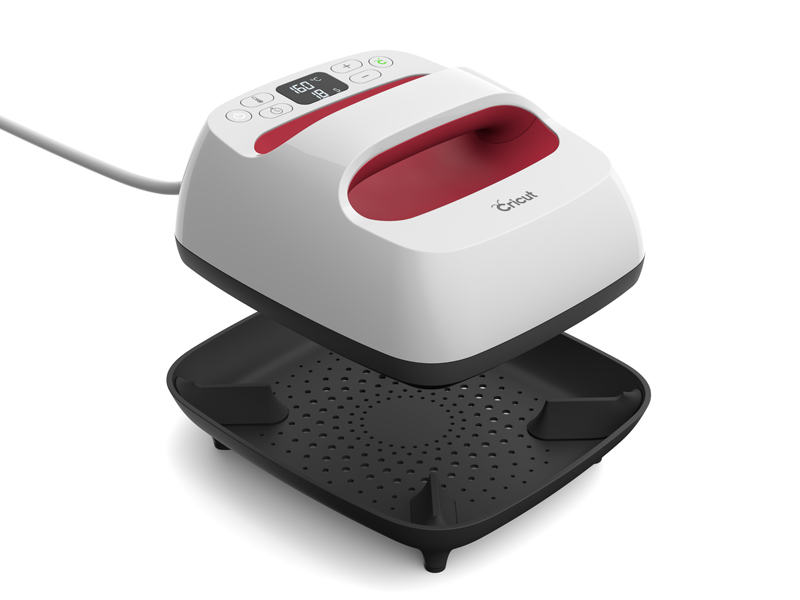 Baby clothes
Napkins
Mittens/Gloves
Scarves
Storage containers
EasyPress 2 9"x9": (22.5 cm x 22.5 cm), 5.73 lbs (2.6 kg)
If you find yourself making a variety of projects that are larger than 6" x 7" area and smaller than 9" x 9" space, then this could be your everyday workhorse! Consider some of these projects that are a good fit for this mid-size unit: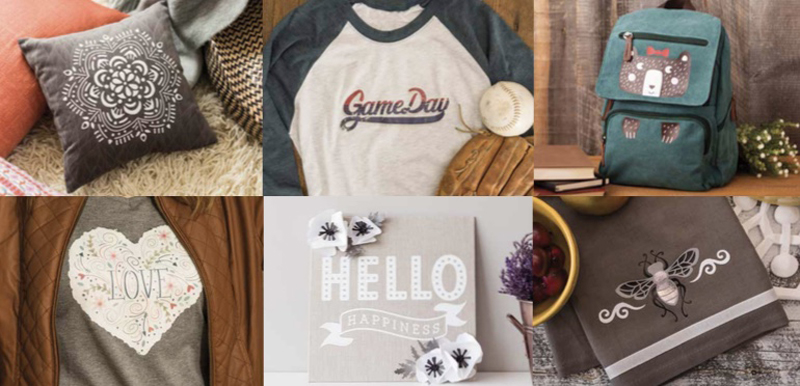 Smaller T-shirts
Bags
Sweatshirts
Pillows
Aprons
Towels
Table runners
Costumes
EasyPress 2 12"x10": (30 cm x 25 cm), 8.6 lbs. (3.9 kg)
Large, in charge, and ideal for jumbo-sized projects. For those of you who are consistently pressing iron-on projects larger than 9" x 9", this is the one for you. This size reduces the chance of having to press multiple times across projects. For this reason alone, you may want to consider this machine. Consider these iron-on projects that are popular and often on the larger side: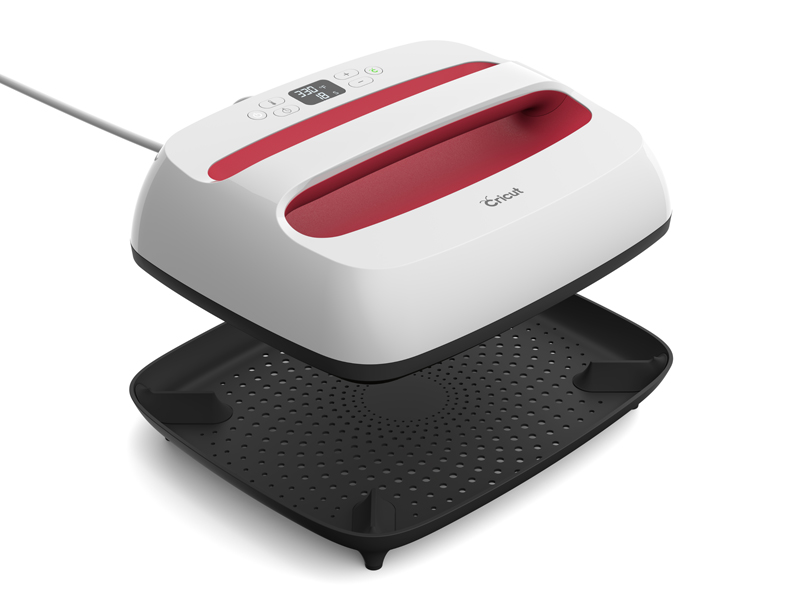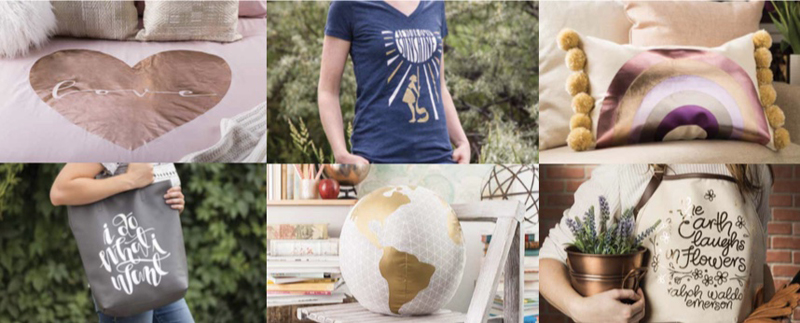 Larger T-shirts
Sweatshirts
Sleeves
Pants
Banners
Blankets
Curtains
Adult clothing
Last, be sure to consider your surface area after selecting your EasyPress 2 size
Use a firm, flat and solid surface that is heat resistant (like a marble-top kitchen island or wooden craft table)
Avoid flimsy tables or unsteady ironing boards
Protect your surface using a pressing mat (Cricut has created four mats that pair perfectly with each Cricut EasyPress. Always use one that is equal or larger in size than the machine you are using).
Cricut EasyPress temperature settings for use with the Cricut EasyPress Mat are different than settings for use with other pressing surfaces. Use our convenient Interactive Quick Reference Guide for more information.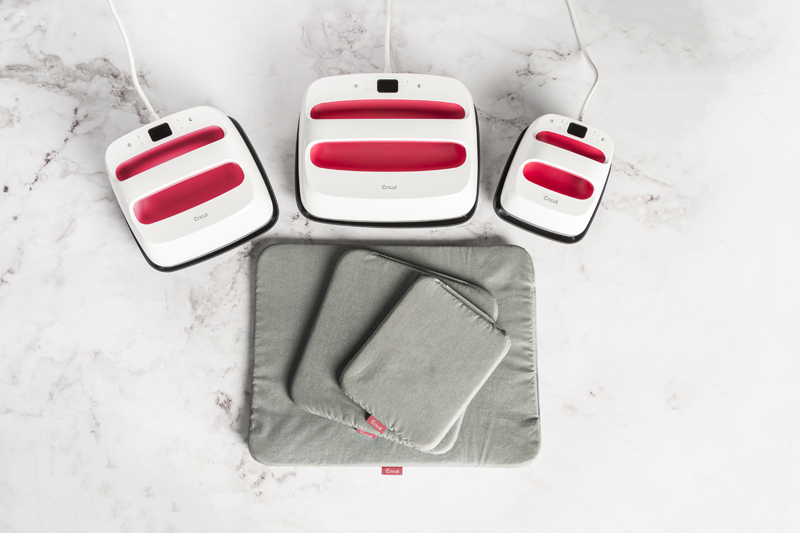 To sum up, from petite to XL, the Cricut EasyPress 2 family has every project covered just right, from pint-size onesies to everyday T-shirts to oversized hoodies, banners, blankets, and more. Determining the right size model(s) for your needs primarily comes down to the size of the projects you most often make. The larger you go with EasyPress 2 size, the less likely you will have to press iron-on material multiple times across one project. For some, like yours truly, owning multiple sizes is the best solution. For others, like new moms interested in making onesies primarily, the small EasyPress 2 is a great solution.
If you are still unsure, be sure to reference our FAQ page on cricut.com and our YouTube channel, as well as reaching out to our member care with any questions you might have.
Which size are you most interested in using? Comment below!