February 20, 2017 • Contributor: Cricut Marketing Manager Lauren Duletzke
Have you ever stared at your walls and wondered, "I really need to paint these but it sounds like so much work!" Well that's exactly what I thought when I moved into my apartment and felt surrounded by stark walls with no color or character. And seriously, when I tell you, I'm super creative but never really took on DIY myself, it's the truth! You can imagine how I felt before I worked at Cricut. Having a Cricut really gives me the freedom to make designs that are personal to me. 
Enter Heidi Moore of Idieh Design, who we've had so much fun working with over the past two months on some amazing room renovations. In working with Heidi, I've learned some great tips for adding pops of color, using materials in unique ways, and importantly, finding the right designs to fit my home style.
One of the things I've been thinking about doing is a DIY vinyl accent wall – either a cool geometric pattern, something like this: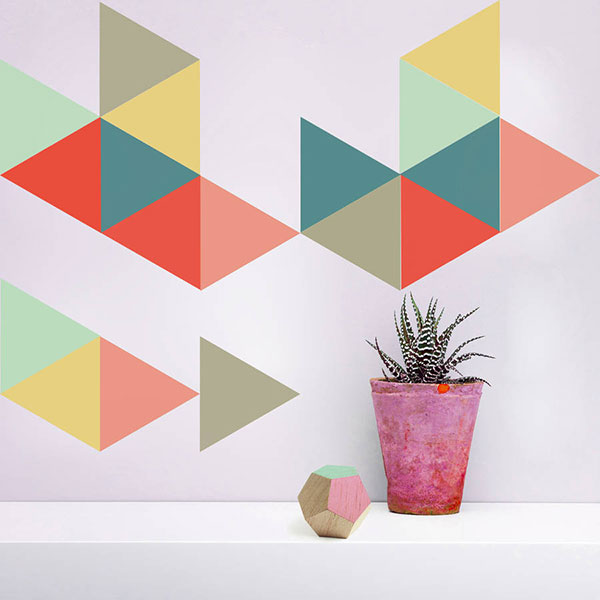 Or a fun contemporary design like this: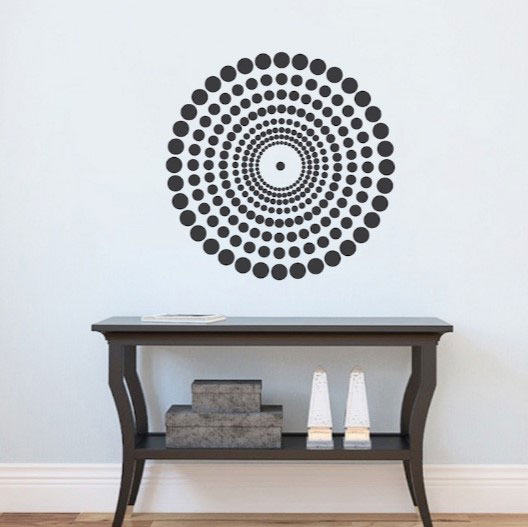 There's so much you can do you, you just have to know what style you're looking for, your priority colors, and oh yeah… a Cricut!
In December, I watched Heidi completely transform this white entry way wall with some of her signature patterns and I was completely in awe. Let me show you how she did it …
Step 1: Measure Your Wall
The wall we were working with was roughly 8 ft. x 3 ft.
Step 2: Decide Your Pattern
Heidi designs with a lot of polka dots and hearts, which was perfect for the room we were making over, and what I love about the pattern she chose is that while it's young at heart, I felt it had a modern touch too.
Step 3: Design It In Design Space
Heidi opened up Design Space and used her signature heart and a circle shapes to cut around 50 pieces for the wall (that was our estimate to make sure we had enough space but also covered the wall). Heidi's project (Hidden Hearts Wall Art) is actually a Make It Now project in Design Space, so it's really easy to click, cut, and apply! Before you cut, make sure your Cricut dial is turned to vinyl, or whatever material you're using.
TIP: Cut out a couple extra pieces when designing larger installation pieces because if you make a mistake you'll have extra to work with on your surface.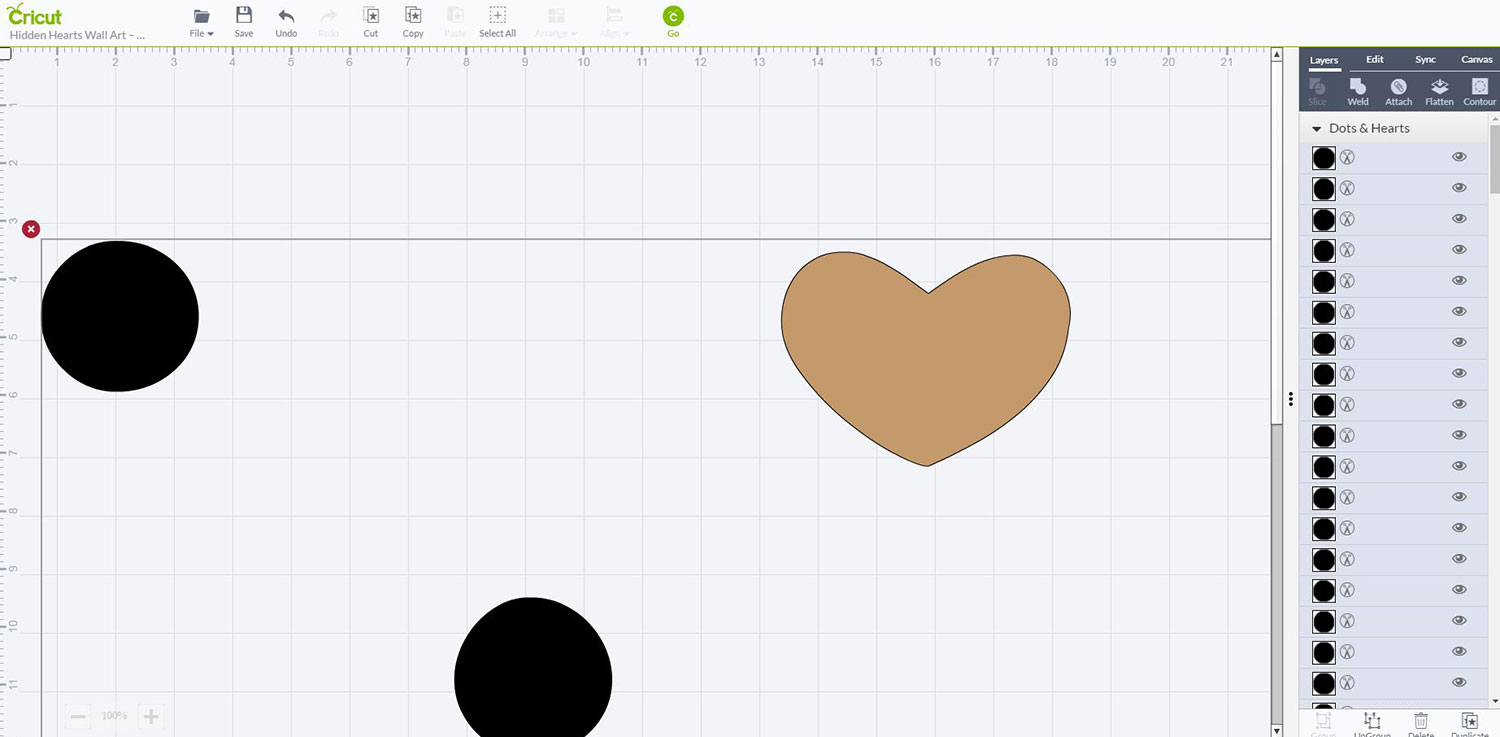 Step 4: Decide On Your Materials & Cut
In this case, Heidi decided to use Cricut metallic adhesive foil for the polka dots and multi-color glitter vinyl for the hearts. She loaded in the mats to Cricut and cut all the shapes out … it probably took us about 20 minutes to cut 50 shapes.
Step 5: Apply To The Wall
As you can tell, Heidi is a total pro at this … she had to use a ladder to apply shapes at the top of the wall but overall, it probably took her about 30 minutes to finish the design on the full wall.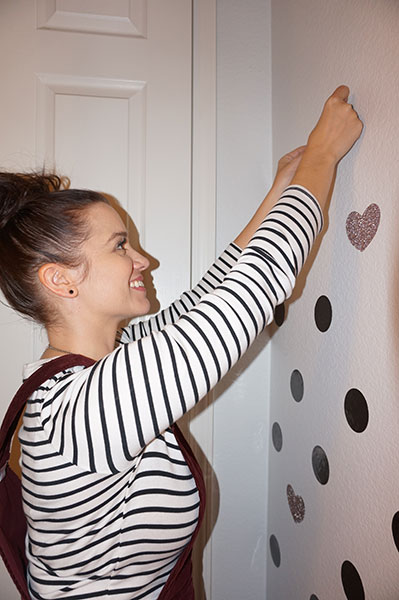 Step 6: Step Back & Fall In Love!
Check out how amazing this wall turned out …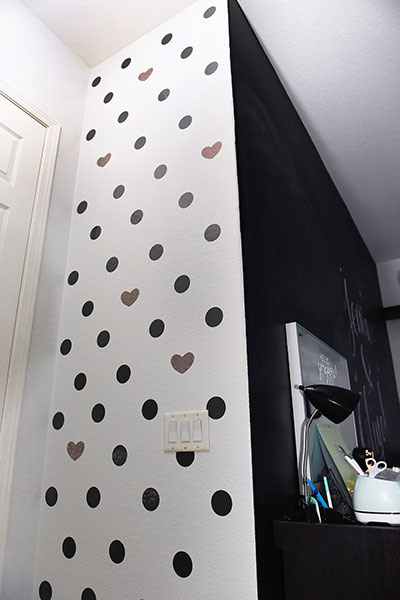 After watching Heidi master this wall from a design perspective, I knew I had to do it in my own home! The nice thing too is like me, if you rent or you're just indecisive with style (aka super trendy, also like me), you can just peel off the design and start over. No messy paint, tape, or paint brushes needed to make your wall truly stand out.
So what do you all think? Is this something you think you could do? Well the nice thing is you don't have to do it alone, remember you can sign-up for our massive home décor contest and get a personal style session with Heidi! This is the last week so don't forget to enter.
Stay tuned because I'll be posting what my finished wall looks like in the next month.