January 3, 2017 • Contributor: Cricut Project Designer Karley Hall
If you are anything like me, just the name, Heavy Duty Snaps, makes you say to yourself, "Nope—that is beyond my crafting ability!" I thought the same thing a few months back. After experimenting with leather, I realized I was going to need to overcome this irrational fear. Today, I am going to share with you the easy steps for you to assemble snaps and before you know it, you'll have added a snap to anything and everything that needs one.
To get started, you will need a few things:
Cricut Explore
12 by 12" Standard or Strong Grip mat
Leather (or other material for your cuff)
Heavy Duty Snaps
Heavy Duty Snap tool
Hammer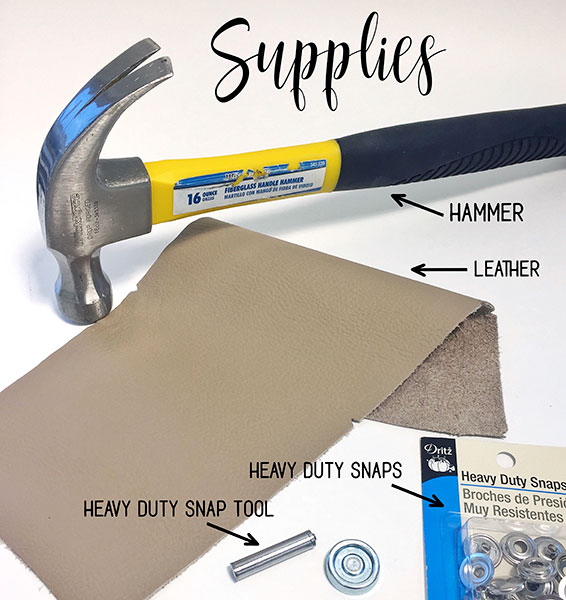 I created a cut file for a basic cuff here. This cuff already has holes cut into it to make placing your snaps super easy. Feel free to create your own design or adjust mine to your liking.
After your design is ready to be cut, adjust your cut settings to match the material you chose. Once you are all adjusted, click the flashing Cricut button to cut your job. After the Cricut is done cutting and BEFORE you click the unload button, check to make sure your material is completely cut out. If it is not, you can click the Cricut button again and the machine will re-cut your job. This tip is great when working with materials that do not have a consistent thickness and may need a deeper cut.
Now the fun part-- adding the snap! Before you get so excited and start hammering away, arrange the different pieces of your snap. I made a fun little visual to teach us what the different parts are. Once you have the four pieces arranged, we are ready to place our snaps.
.
I have gotten in the habit of placing my button first, that has always made the most sense to me, but if you want to start with your stud and eyelet, feel free. Find your button and socket. Flip your material over so that the correct side is facing you. Place the button through the hole so that the smooth metal side is also facing you. Now flip the material over and place the socket on top of the button. This is where the visual will help a lot. Refer to the picture to make sure you are all good to go. Place the smooth side of the button into the metal holder (as pictured) and then use the snap tool and hammer to hammer the button into place. As you hammer, the metal will flatten out into prongs that will hold your button in place. Keep hammering until your button is securing fastened.
You should be feeling pretty confident at this point. You just added a button to a leather cuff! Next we are going to add the stud and eyelet. Place the eyelet through the material so that your material is facing up. Then place the stud on top. Double check the visual to make sure your pieces are placed correctly. Flip over the metal holder so you are looking at the side with the metal circle in the middle. Place your project with the eyelet on the bottom onto the metal holder. Use the snap tool and hammer down the eyelet until the prongs are secure. Woohoo—we did it! Our snap is complete. Now test it out, I know you are dying to try it!
After your snap is added, Cricutize your cuff! Add iron on or other embellishments to give your cuff personality. I had gotten in the habit of adding my embellishments after I have successfully added a snap since I may have messed up on a snap once or twice. This way, if you mess up, you will only be out a snap and some scrap material. Although, I am hoping that with this tutorial, we will get it right each and every time.
I hope you have enjoyed this project and I can't wait to share more tips with you.
Happy crafting!