June 14, 2017 • Contributor: Cricut Marketing Manager Lauren Duletzke
You're thinking about all the last minute details and where to get the decor you need, spending a ton of money on that decor, and you're not sure if it's going to look exactly like what you want, unless, of course, you're a bride-to-be with a Cricut.
Brides write to us all the time with samples of one-of-a-kind place cards, cute wedding signs, props, menus, even centerpieces! Cricut can seriously make your life easier when it comes to making the beautiful decor that you really want for your wedding day.
Today's tutorial is in honor of the June bride. It's an amazing wedding cake topper that one of our internal Cricut designers, Dezi Moss, made that is oh-so-romantic and importantly, easy-to-make.
I'm hoping it will give you some inspiration and confidence that you can DIY for your wedding without spending a ton of time!
You can change out the materials to match your wedding color palette, using anything from basic cardstock to adhesive foil for a little glam factor.
I'm going to use this gorgeous glitter cardstock, because glitter is my favorite color…
Tools + materials you'll need to get started:
Now let's cut out the "Make-It-Now" project:
(... and by "Make-It-Now" it means the project is already pre-designed and ready to cut for your in Design Space!)
1. Go to design.cricut.com (this is where all the design magic happens with Cricut).
2. Click "New Project" in the right-hand corner and you'll be in a new canvas.
3. Click "Projects" in the left-hand design bar.
4. Search for "Cake Toppers" in the search bar and click the "Happily Ever After" project.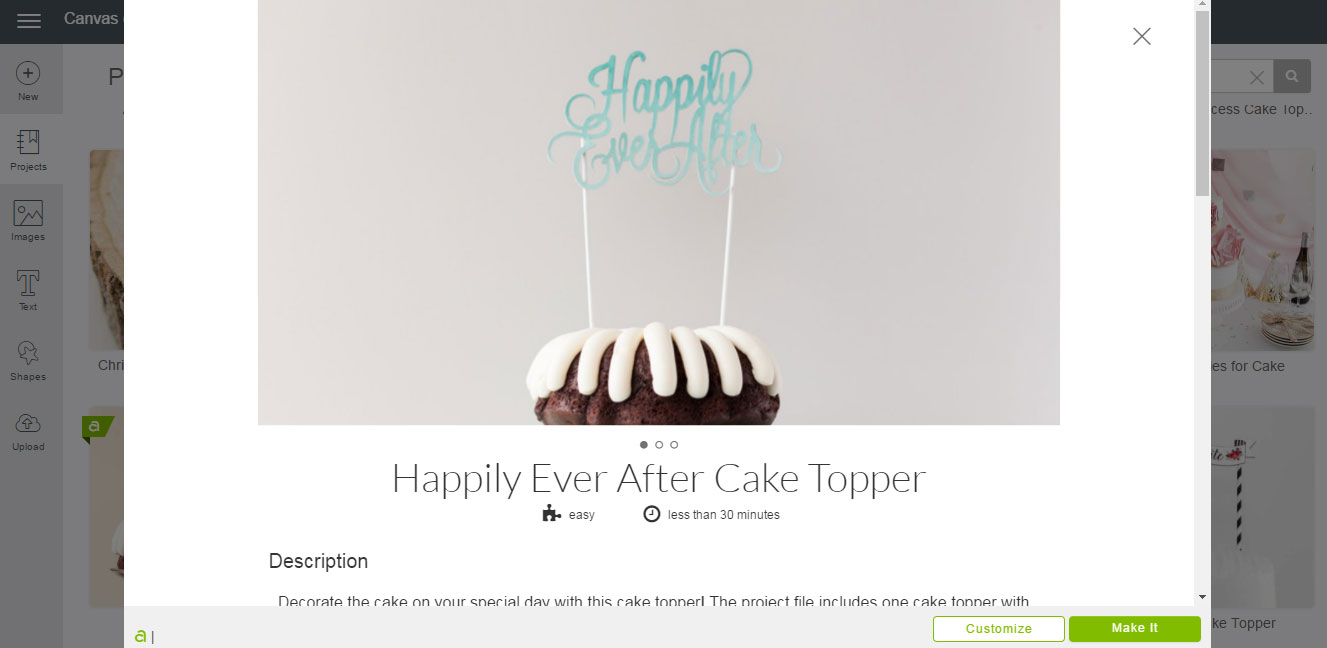 5. Then click "Make It" in the bottom right-hand corner (TIP: Make sure you review the size of the pre-made projects, because you do have the ability to customize it depending on the size of your cake by choosing "Customize").
6. When you click "Make It" you'll go to the next screen where you'll see 3 digital mats on the left-hand corner that have your designs ready to cut (two of the mats are for cardstock and one is for poster board).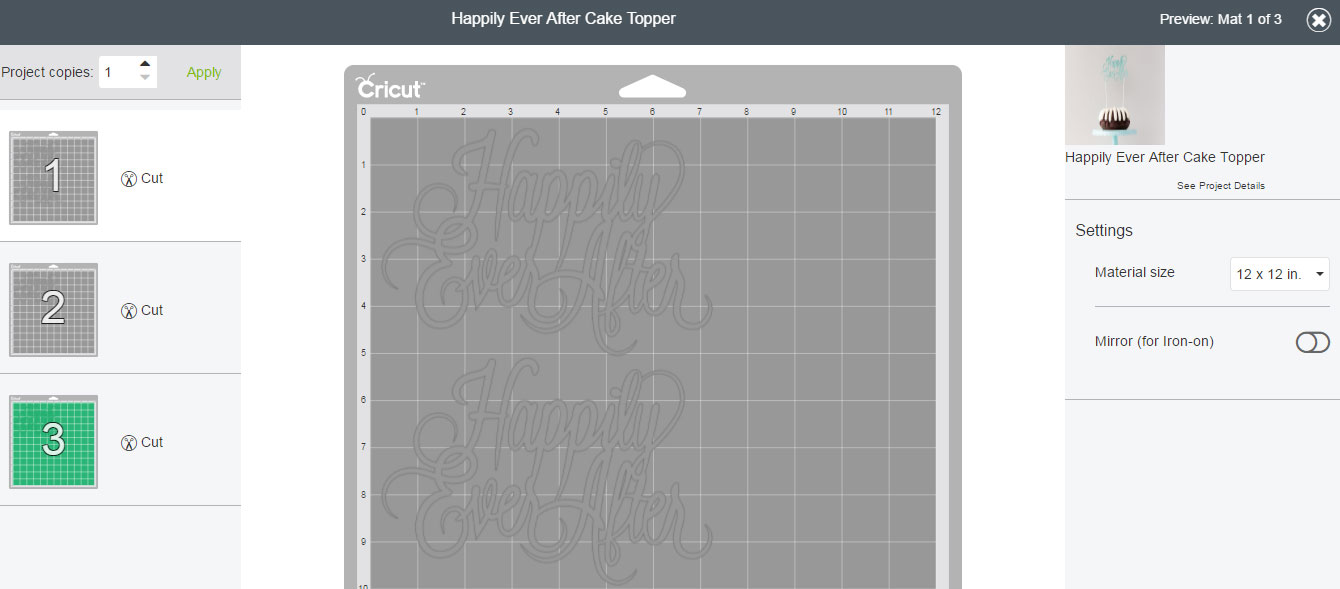 7. Before you start cutting, make sure to replace your standard blade with the deep cut blade by opening the "B" housing on your Cricut - it's super easy, just flip the "B" flap open and insert your deep cut blade and close the flap. Next, you will need to load your physical mats with your material: first the cardstock, then the poster board. You'll want to use a light grip mat for glitter cardstock (or cardstock) and a standard or heavy grip mat for poster board. Cricut cardstock comes in 12x12 in. and 12x24 in. sizes, so all you'll have to do is line it up your material with the 12x12 in. built-in rulers on your mats, as seen below.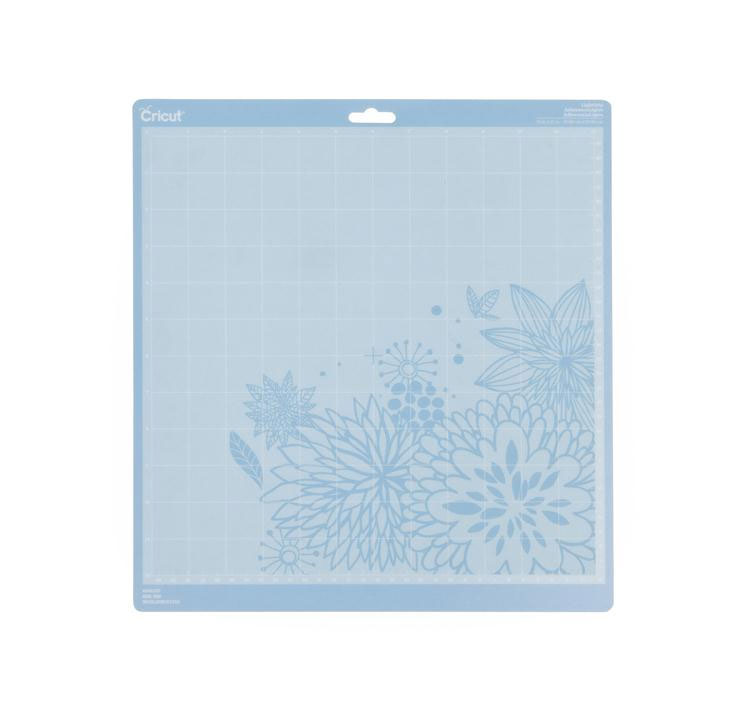 *This is a picture of what our LightGrip mats look like, the StandardGrip is green and the HeavyGrip is purple.
8. Load your glitter cardstock in first and make sure the dial on the right-hand side of your Cricut machine is set to "Cardstock+" - you can also use the "Custom" setting and choose "Glitter Cardstock" on Design Space. When you load your mat, align the top sides with the slits (parallel to the rubber rollers) on the base of the Cricut, press the double sided arrow on the right-hand side of the machine to load your mats in (this make sure it's secure and ready for cutting), and then the Cricut"C" will start blinking… press the "C" and your cut will start!
9. Repeat the same steps for the poster board, making sure that your dial is set to "Poster Board." To do this, set the dial to "Custom" and a drop-down menu will appear in Design Space. Choose the "Poster Board" setting. (TIP: I decided I wanted glitter cardstock on the back and front of my cake topper design so I used the "mirror" option in your cut view on Design Space so that it would flip my design… you'll see shortly in the images below… this design prompts you to layer your cardstock for a thicker topper.)
10. After your pieces are cut, it's time to assemble! Flip your mat over (so the card stock is facing down) and carefully roll your mat off your cardstock and poster board (this helps avoid bending for thinner materials).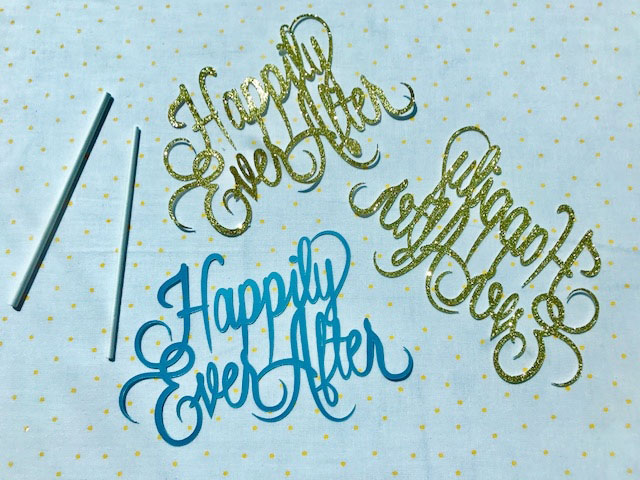 *See how my cut on the right is flipped… I will apply that to the back of cake topper!
11. Apply glue to each side of the poster board layer (TIP: glue adhesive spray works best for this type of project because it give you an even stick so your cardstock doesn't bubble. You can find adhesive spray in any major craft store or online. Also, make sure to stand at least 1 ft. back for a more even spray… if you spray to close it can cause a build of the glue)
12. Apply the cardstock to both sides of the poster board.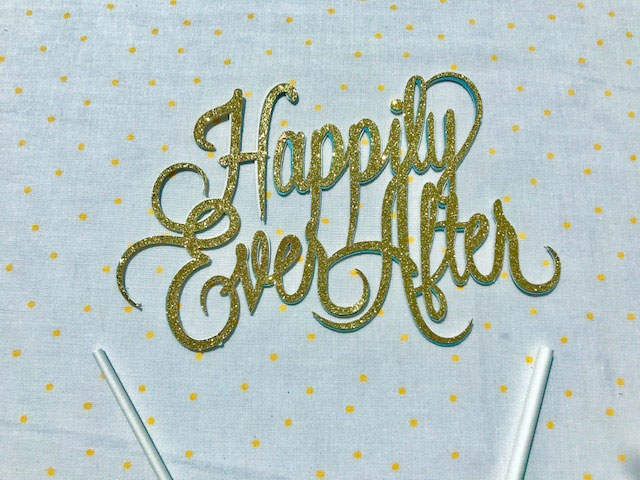 13. With a tiny dot of hot glue or glue dots, apply each dowel to the back of your cake topper.
14. And voila! Place your cake topper into your cake… it's really that easy. All you have to do is to put it on your beautiful cake (as seen in the header of the my post).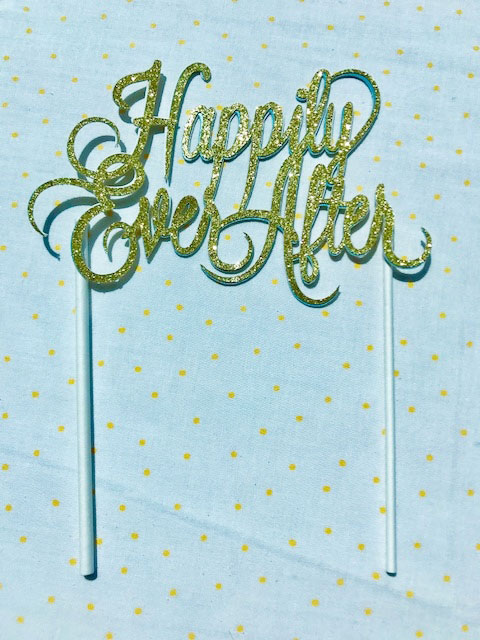 I tried to make this tutorial as specific as possible for anyone who has never used a Cricut machine before (e.g., using Design Space or loading material on to Cricut mats). Once you've used Cricut a couple times making projects becomes easier, and you could likely make and assemble this project in just under 20 minutes. It's the perfect quick craft for any wine night during wedding planning!
As a former bride giving advice to all of you new brides out there, do yourselves a favor and get a Cricut for your wedding planning process. You can make this amazing cake topper project, and so much more, in no time. Put it on your shower registry, it's so worth it. It would have made my bridal life so much easier… <3