March 13, 2017 • Contributor: Jennifer Rizzo Design Company
Hi everyone! I am Jennifer Rizzo from Jenniferrizzo.com, and I am so excited to share a fun project with you today! Earlier on my blog, I showed my readers how to make faux oranges from hard foam balls (you can see the full tutorial here. If you don't want to make your own oranges you can buy fake fruit from the craft store. I didn't see oranges, but they did have some lemons. I wanted to take it a step further and make a faux orange leaf wreath. It's not quite spring yet, and there is something about citrus, even if you can't eat them, that brings in such a fresh look and feel! The best part about this wreath, is since the oranges are fake, they'll last forever! I used a faux floral rose spray to mimic the orange blossoms, and  I used my Cricut Explore Air 2 to cut out all of the leaves. This would have normally taken me hours, but it really only took me about 15 minutes to cut out the 8 sheets.
You'll need:
Cricut Explore Air 2

Cricut scraper tool

Cricut spatula tool

Cricut scissors

Cricut 12 x 12 cutting mat soft grip

Use this leaf design (Cricut project file:

https://us.cricut.com/design/#/canvas/53915719

)

 or similar collages of a leaf of choice

8 different sheets of heavy green cardstock, in 4 different shades of green(2 each) from light to dark

Wreath form with appropriate glue, I used a hard foam wreath (get green if they have it!)

Fake oranges

Floral picks

Small white faux floral
If you have your oranges ready, first, cut your leaves. Use the 12 x 12 cutting mat with a light grip. Place your cutting setting on cardstock. I forgot to change mine at the first run and I was left with a paper full of leaves only partway cut out. That didn't work so well.
I make my designs on my desktop and then open them in the cloud from my phone. it is so much easier and convenient that way!
After cutting, remove the out paper and use the Cricut Spatula tool by tipping the mat and scraping down. They come off so much easier that way. You end up with a nice pile of leaves with out the aggravation of picking them off one by one.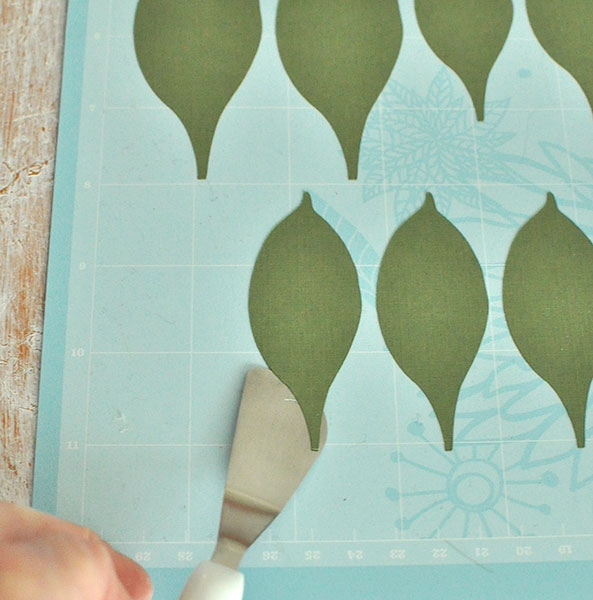 Cut 8 sheets of leaves, once they are done and you have them, give them all a quick fold in half to make them bend, and look like real leaves.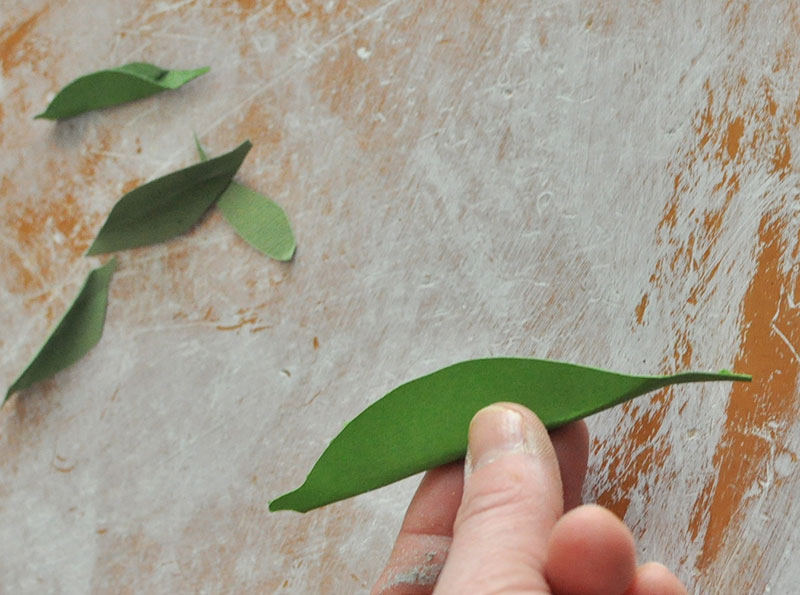 Add the appropriate glue for your foam, and cover the piece. If I had to do it again, I might wrap it with green crepe paper first and then use a tacky white craft glue to adhere the leaves. I did have issues with the white foam peeking through. My store seemed to have a crazy sale on green foam rings and didn't have any left, so I was stuck with white foam. Plus, the paper leave would probably stick better to the crepe paper than the foam anyway.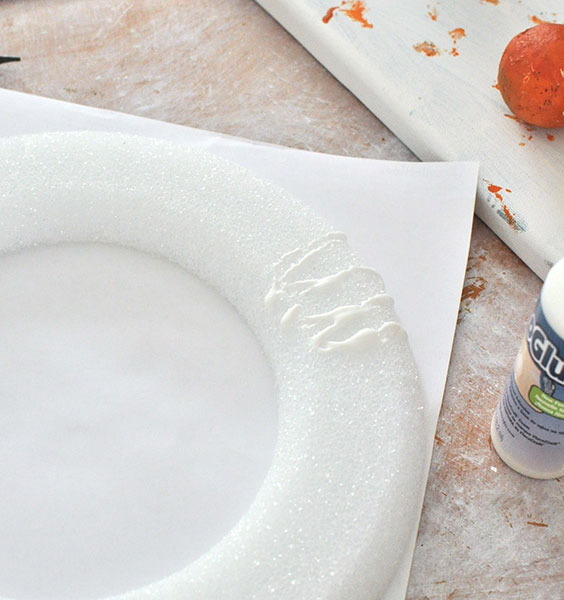 Start gluing the leaves on around the foam ring. I found it worked better to use the large leaves first and then the smaller ones in to fill in.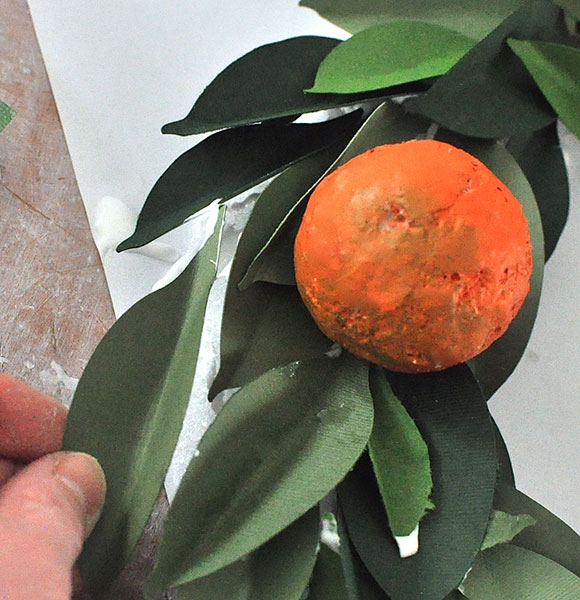 When adding leaves, vary the different shades of green to give it a more natural look.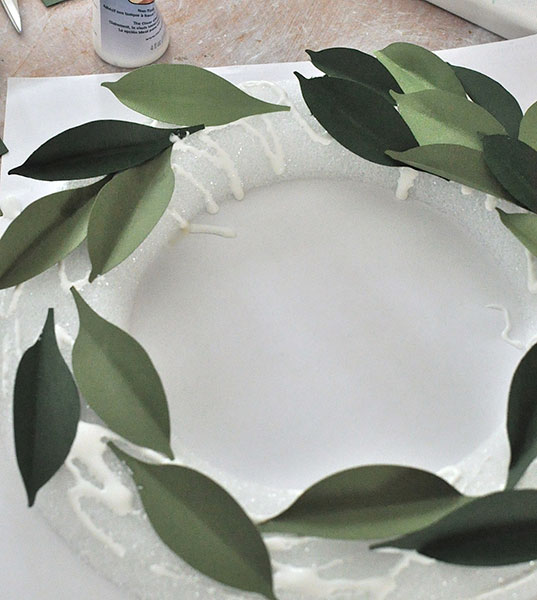 Let the large glue dry on the top, and then add the smaller ones around the outside. Add the oranges with a floral pick.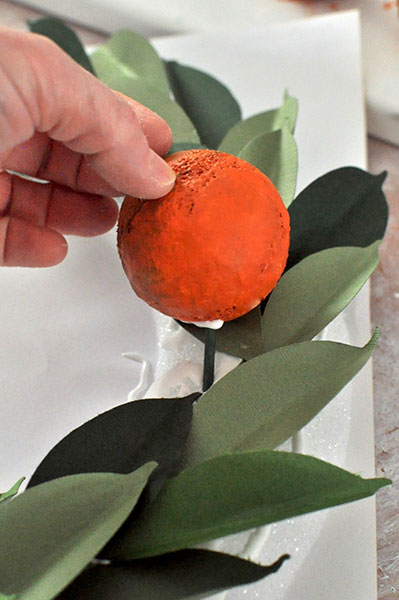 ... And glue underneath faux orange glue to leaves. Remove small flowers, trim off any extra bottom with scissors and glue onto leaves.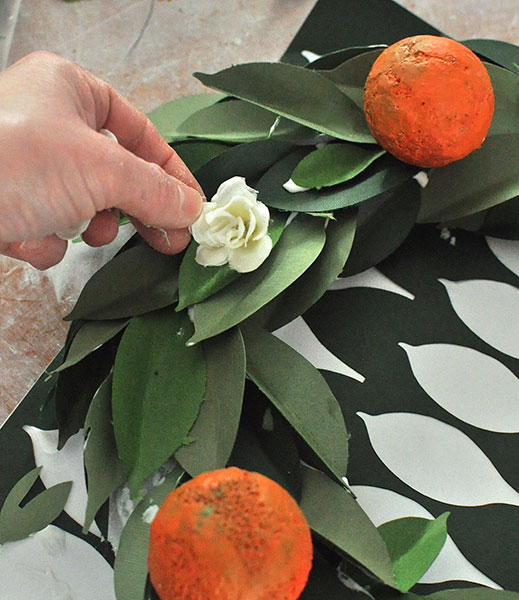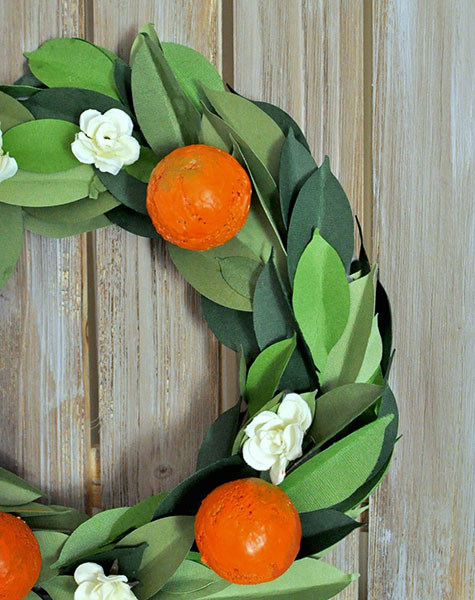 Let dry completely overnight, completely still for full adhesion.
And you can either add a ribbon to your wreath to hang, or enjoy a little touch of spring as a decorative piece!