May 3, 2017 • Contributor: Product Marketing Manager Cortney Haymond
Being a frequent Cricut Explore user, means by default I am a frequent Cricut Design Space User. I like the current Cricut Design Space. It is easy to use, which is good because I design with it a lot. However, I would be lying if I didn't say I was excited for the new update and I know a lot of you are too. So, now that it is in public beta, I thought I would tell you the reasons why I am so thrilled, and why I know was worth the wait.
There is no place like home…
I know a home screen may not be something to necessarily jump up and down about, but I really like the redesign. Rather than seeing all the projects at once, I get to see the project by category. Vinyl, Iron-on, cards… It makes it easy to find a project based on the material I want to use. The other great thing is that all my projects are the first thing I see, which makes the process of finding them much simpler.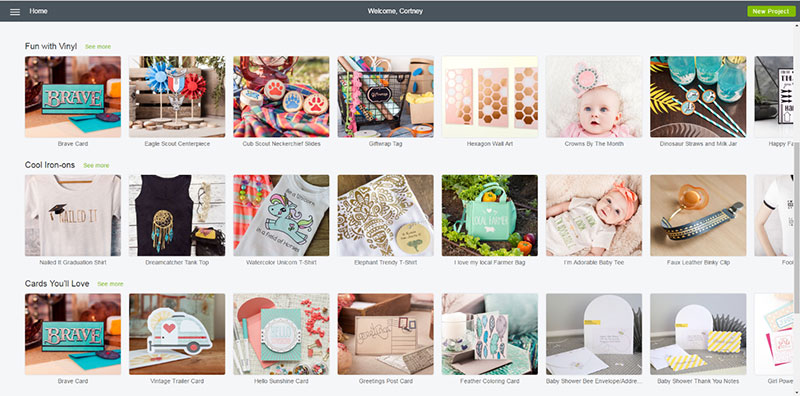 One Project, Two Project, Red Project, Blue Project…
You know you want to make a project, a t-shirt perhaps, but that's as far as you've gotten. If only there was a way to search the pre-made Cricut projects for that criteria. Good news, in the newest update to design space, you will be able to do just that.

You will be able to search for t-shirt projects, vinyl projects, projects with stars, or projects with trees. Basically, if you can think of a search term, you can use it. This is a game changer and one of the main reasons for my excitement for the update.
Or should I say "gone is the flash", Adobe Flash that is. The new Design Space is more rebuild than update which allows Cricut to get rid of flash. This means no more annoying flash updates. Time to celebrate. Plus, it is also faster and more responsive.
Bigger and Better than ever…
The font menu, oh the font menu. This beautiful, bigger than life menu is just what you never knew you needed. Have you noticed that in a lot of the programs we use (i.e. Word, PowerPoint, Google Docs, etc…) the font menu is only 2 inches wide? Well, in the updated Design Space the font menu is the width of your screen, making picking a font much more enjoyable.

Another awesome feature is the ability to still change the font after you have ungrouped or isolated the letters. This means you can change your mind as many times as you want, without having to hit that undo button.
Everything all in one place…
In the current Design Space, everything is placed in tabs on the right of the screen. In the new Design Space, those tabs have disappeared and have been laid out for quick access.

The ability to upload your own images is a pretty sweet feature. It has gotten just a bit sweeter in the updated Design Space. Instead of searching through your files for the right one, now all you need to do is drag and drop. It can't get much easier than that.

These are just a couple of my favorite feature. Do any of these excite you? Tell me in the comments below which one excites you the most.
Also, don't forget to keep checking back for more information on just how the new Design Space works. Tell us what your favorite feature in Design Space is below! #CricutMade