January 23, 2017 • Contributor: Heidi Moore of Idieh Design
Is your teen's room in need of a makeover? We've got some stunning inspiration for you! We came together with stylist Heidi Moore, of Idieh Design, J-14 Decorate Magazine, and hayneedle.com to makeover the room of teen actress, Jenna Ortega. To see the full makeover story from Jenna's perspective, head over to J-14 Magazine, or pick up J-14 Decorate Magazine in stores... you'll see some amazing Cricut DIY projects that will be available on Design Space this week! 
Heidi, the brains behind the contemporary DIY room design, came up with the concept, color palette, and furniture arrangement to transition Jenna and her sister Aliyah's childhood bedroom into a more modern and grown-up space for the girls. We are so inspired by Heidi's versatile designs, which is why we sat down with her so she can share more on her inspiration, motivation, and vision when it comes to creating home décor. 
What was your first reaction when you heard you'd be designing for a teenager's space?
Honestly, a little nervous, but also very excited! My teen years are long gone and I knew I had to find a way to tap into what it's like to be a teen again. My first step was checking out Jenna's personal style on social media. After a quick glimpse, I quickly realized she was a mini me in terms of style. She can rock any style of hats (ME TOO!), she's a fan of black and white (classic & chic!), and she has a little quirk mixed in with pure adorableness. I immediately felt at ease as I knew it would be a breeze to connect with Jenna's style as it, in many ways, was a reflection of my own.
Talk us through your style profile and how that translated to this room.
Jenna is a teenager with a heart of gold, lots of style, and charisma beyond her years, so I knew I wanted to add a ton of spirit & energy to the room to match her bubbly personality. Also, I remember how during this stage of my life, I was searching for my identity, my confidence & the idea of self-love and it was really important to me that Jenna & Aliyah's room be a place where the girls feel empowered and beautiful in their own skin. Therefore, it was high priority to sprinkle affirmations throughout the room such as "Messy Hair, Don't Care" and "Hello, gorgeous!" to remind them just how unique & adored they are. And, because they are in their early teen years, I wanted to challenge myself to find a way to design & create a space that could grow and transform with them. I did this by focusing on a sophisticated design foundation & then added touches of whimsical and fun to still keep the room feeling young at heart.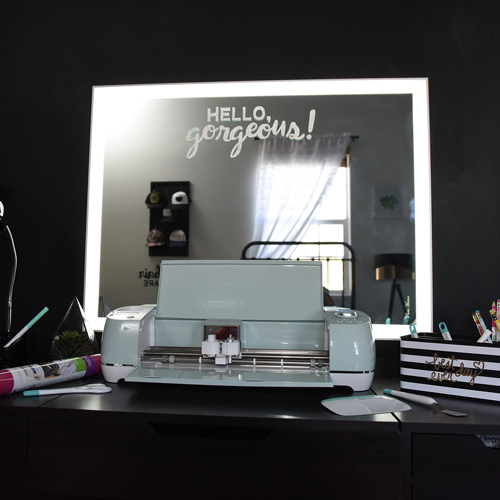 What is your method for inspiration when it comes to color and design?
At my core, I adore a black and white combo with pops of color and I'm always up for ways to mix patterns & textures to add depth and dimension. For this particular design, the focal point for inspiration came from the gorgeous rug from hayneedle.com. I instantly fell in love with the colors & textures of the rug and that jump started my design direction. I also thought about what teen girls like to do in their room and that's what inspired the reading nook with the bean bag & the vanity for getting ready.
Check out the super cool style board Heidi made for the room before it was executed: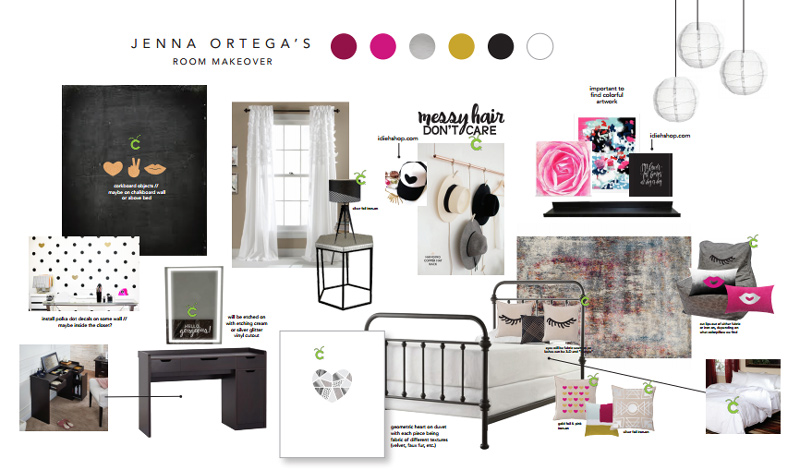 What was your favorite Cricut DIY project in this room? 
Hmmm ... I'll have to go with the wall decal of "Messy Hair, Don't Care." I'm a huge fan of hats and when I came up with idea, I knew I would have to implement it in my own bedroom. (And, I loved being able to add a little surprise for Jenna by leaving one of my signature Heart Black Hats in the display before the big reveal.) I love how it's not only visually funky & artistic, but also very functional. Is it just me or does anyone else struggle with keeping all those hats in order?!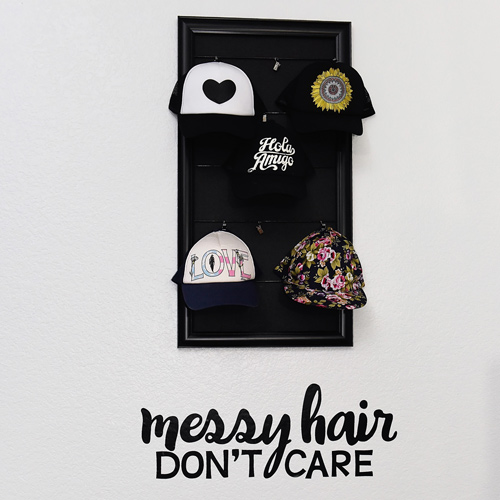 What was the coolest Cricut hack you learned when executing the design? 
Most definitely the use of Heat N' Bond to convert some amazing fabrics into pieces that could then be easily attached to surfaces with just the touch of an iron. I'm always of fan of mixing patterns and textures and the Heat N' Bond allowed me to transform a basic duvet into a work of art. I simply ironed the Heat N' Bond to each of the shapes the came together to create the heart duvet and then ironed them onto the comforter. The Heat N' Bond made it possible to quickly attach the unconventional materials and turn them into some funky room decor (& art!) by only using some heat ... and some patience.
Tell us which Cricut material is your favorite to create with? 
Oooo ... this is such a tough one as there are so many favorites. I'm quick to find ways to utilize the vinyl as I love the versatility of it and that it's only temporary, making it easy to switch out if your mood or style changes. I used vinyl for the "Messy Hair, Don't Care" wall decal, the Hidden Heart wall installation and the "Hello, gorgeous" mirror decal. A close second would have to be the adhesive foil. It has such a sophistication and high-end feel to it that allows you to take a basic form and elevate it to become a statement piece. I used the gold foil to transform a basic black lamp shade into a geometric focal point of the room.
What was your biggest challenge in designing this space?
I learned A LOT. I think the biggest challenge was not being able to see the room until showing up a few days before the shoot. Let's just say, Tim Gunn's saying of "Make it work!" was the motto of the weekend. When designing a space there are so many factors to consider: materials, dimensions, spacial relations, shelves that can't be removed but you didn't know that until you arrived. You get the point. But, that's what makes design & style so exciting and worthwhile. It's through these unexpected limitations and obstacles that emerge your best & most creative ideas! (Not to mention, with the ease & versatility of a Cricut, it made it a breeze to make these changes on the spot and whip up a new idea, if needed.)
If you could give design advice to a parent looking to redesign their teenager's room what would it be?  
As I did with Jenna's room, I think it's important to think about how the room can transform with your daughter as she goes through such a life-changing stage in her life. Teen girls' interests and hobbies change so much during those adolescent years and by focusing on a classic and timeless foundation (color of the walls, furniture, bed frame), it allows the design of the space to naturally transform with their style without having to completely redo their room every few years.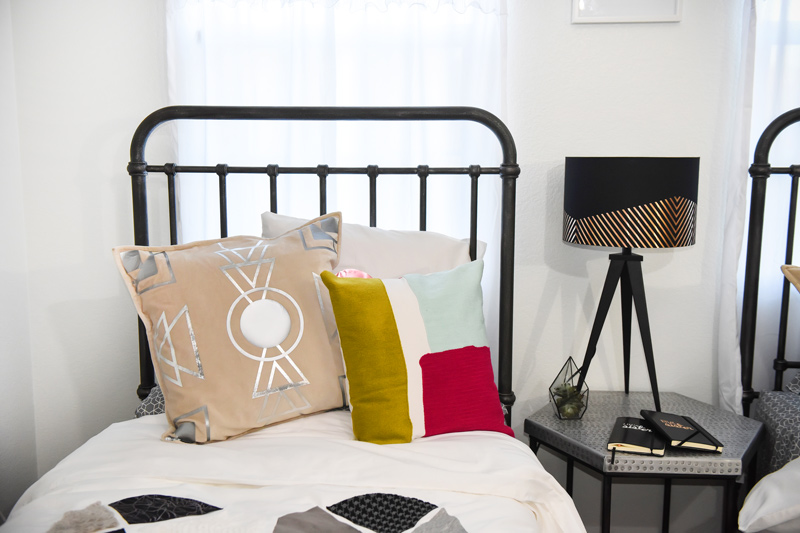 I think we can all agree Heidi did an incredible job designing this contemporary teen room. The color palette alone has us with major hearts in our eyes! For more room inspiration from Heidi, make sure to check out our new Cricut home decor page and you might get a chance to win a style session with her ... along with your own Cricut Explore Air 2 bundle, and a shopping spree up to $2,000 on hayneedle.com! You can re-design your teen's room or give your room a new style. So what are you waiting for?! Make sure to sign-up!