October 20, 2020 | Claire, Cricut Blog Team
Oh. My. GOURD! Who doesn't love Halloween?
Every year, I patiently wait for the weather to get colder and for the leaves to start changing colors. I get excited when I start to see everyone carving pumpkins and decorating their front lawns. I love all things haunted and spooky, and truly believe that October 31st is the most magical time of year.
Being the basic witch that I am, I wanted to use my Cricut Joy™ to create a fun Halloween themed gift to send my 5-year-old nephew. He's almost as obsessed with the holiday as I am and I hear that he's starting to watch the Harry Potter movies, so, of course I wanted to create him his very own potion set. Luckily, I had some Smart Label™ Writable Vinyl on hand.
What you'll need:
Mini potion bottles
Cricut Joy StandardGrip Mat (a shorter one comes with your machine)
Hot glue gun & glue sticks (optional)
Poppy seeds (optional)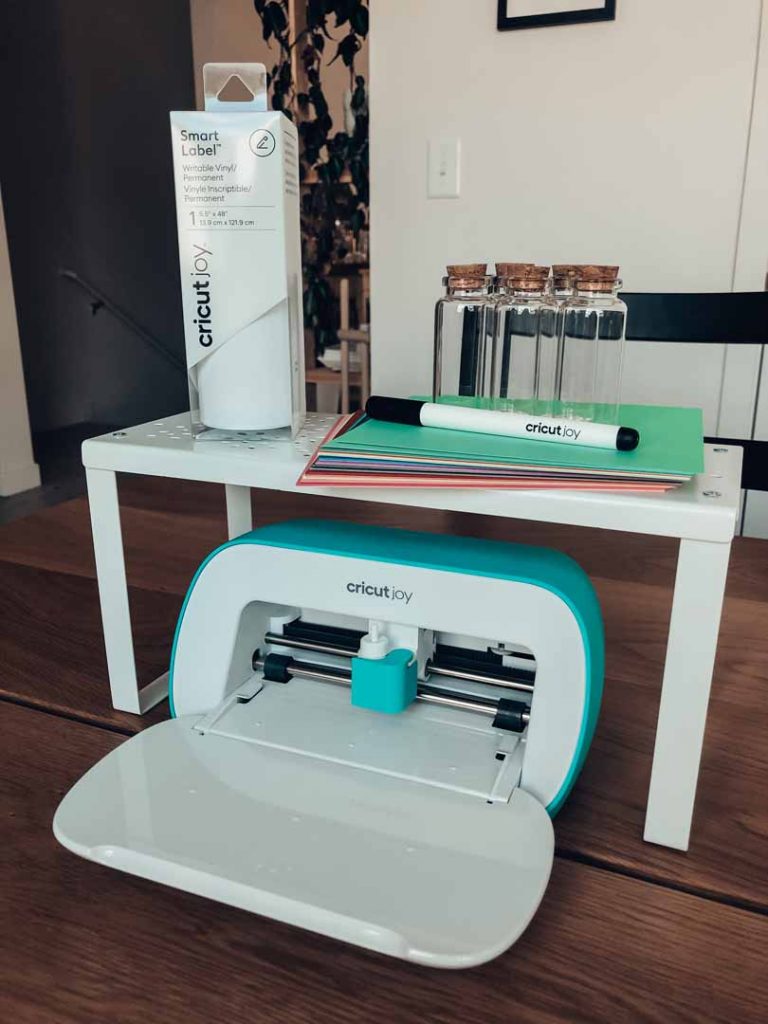 ---
Step 1: Creating your labels in Design Space
If you'd like to use my community project in Design Space®, find it here.
First, you'll select a shape or image for your label. I clicked on the "Images" icon on the left-hand side of my canvas and typed "labels" into the search feature. Once my blank label was selected, I measured my mini potion bottles to determine that I wanted my labels to be no larger than 1" x 1.5" in size.
Next, type out the names of your potion ingredients. I chose the Cricut® font ITC Vinyl STD for my labels, because I thought it looked a little spooky! Don't forget to toggle the linetype from "Cut" to "Draw" before attaching it to the label image.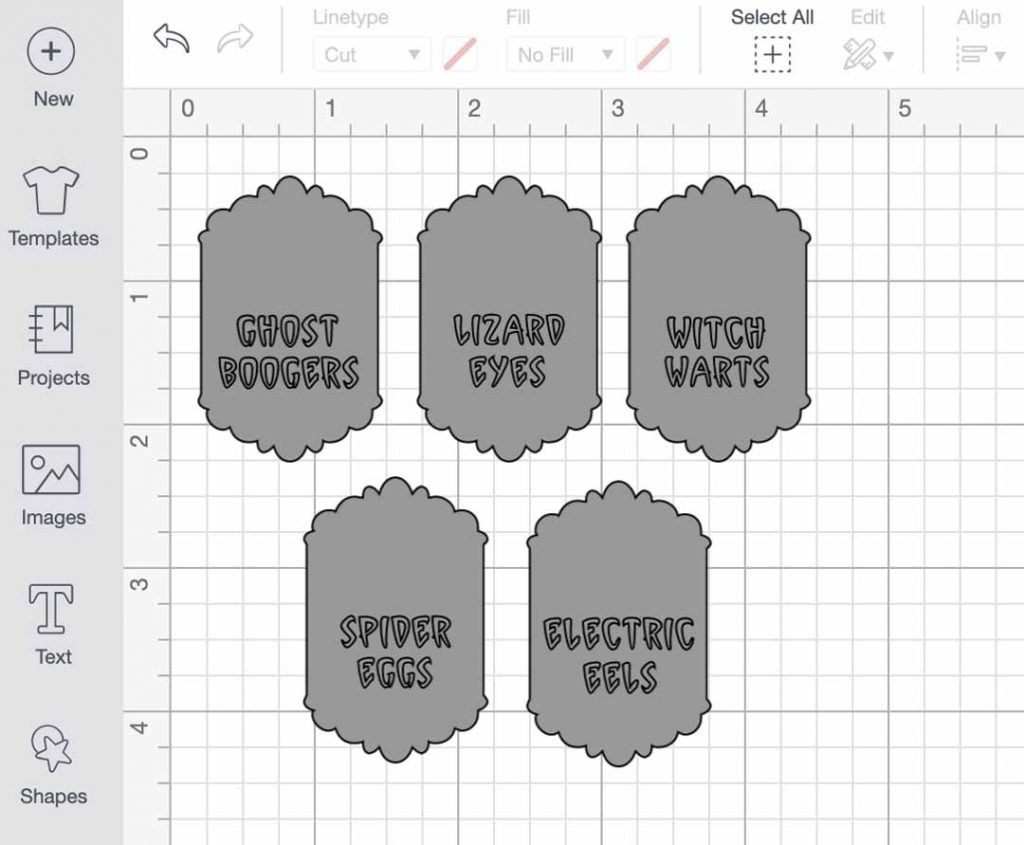 I chose the following ingredients for my potion kit:
Ghost Boogers
Electric Eels
Lizard Eyes
Spider Eggs
Witch Warts
Last, but not least, I wanted to incorporate a little icon at the top of each label to represent the creepy ingredient inside. Click on the "Images" icon again to pick out your icon from a library of ready-to-go images.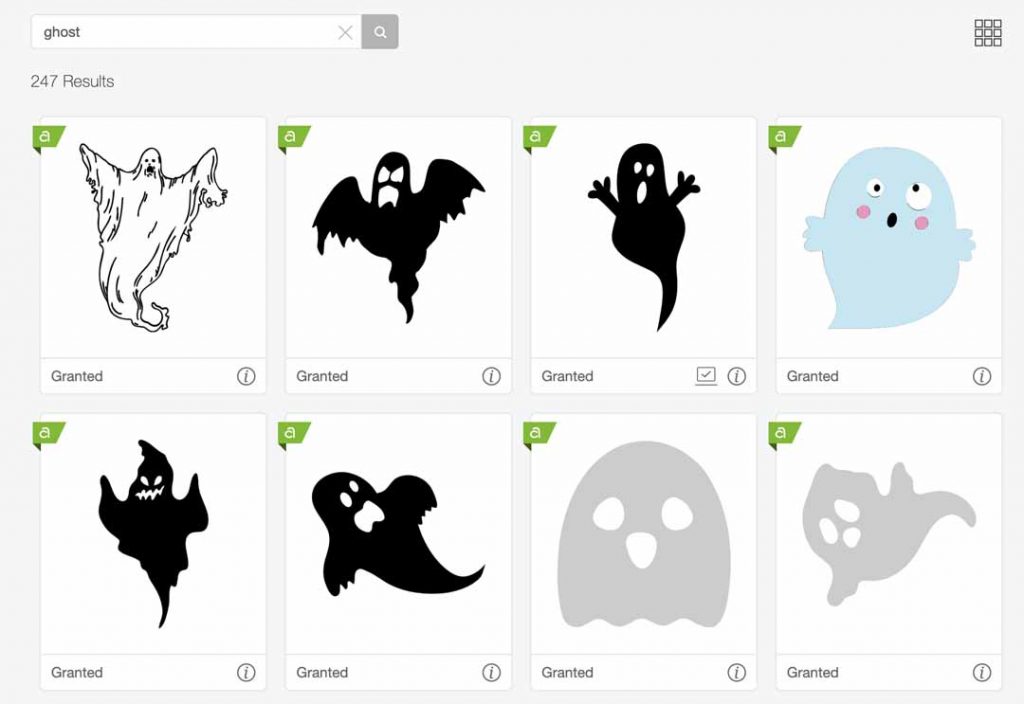 I chose a small ghost, spider, witch hat, lightning bolt, and lizard. Again, make sure you change it from "Cut" to "Draw" before attaching to the label.
Once my label design was finished, I made sure to group and attach all of the images, labels, and text together in the layers panel before clicking Make It in the top right-hand corner.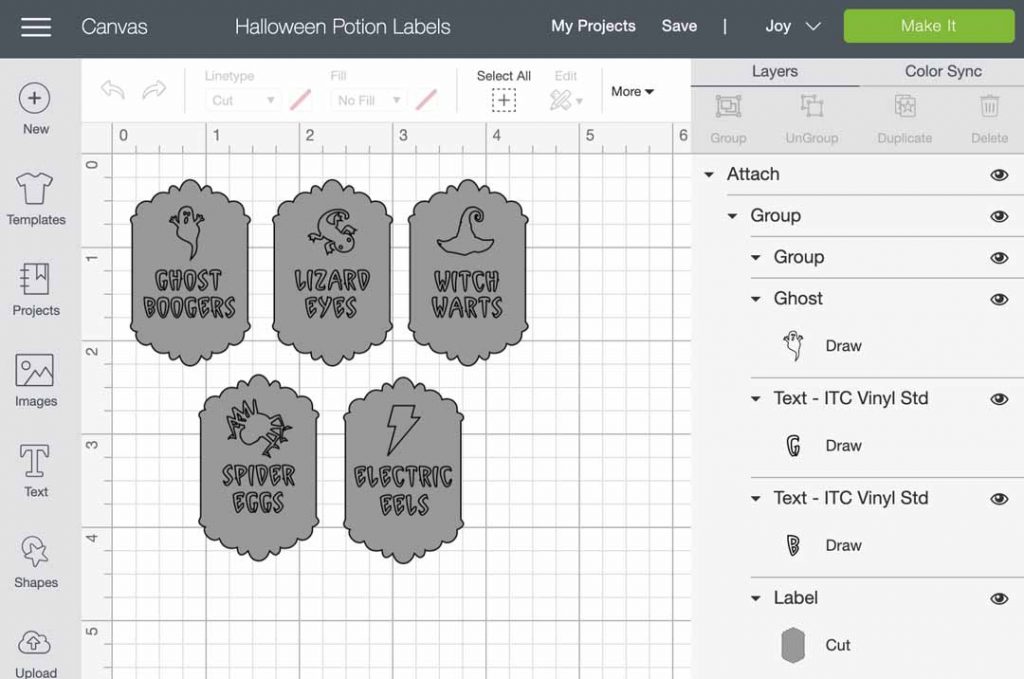 ---
Step 2: Draw, cut, and attach potion labels
Your Cricut Joy will prompt you to insert a pen into the tool clamp before loading the Smart Label Writable Vinyl. I chose to only use a black pen, but you can use as many colors as you'd like.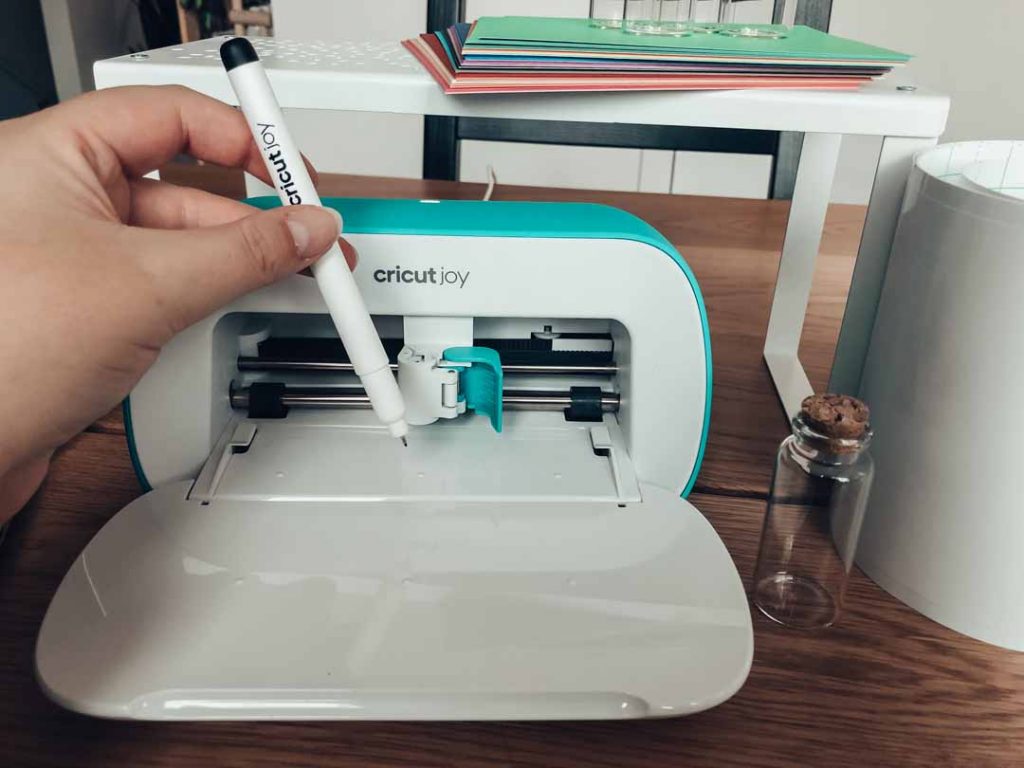 After your pen and vinyl are loaded, sit back and watch your Cricut Joy draw your label designs in record time. Design Space will prompt you when it's time to switch your pen out for your fine-blade tool to have the machine cut the labels for you.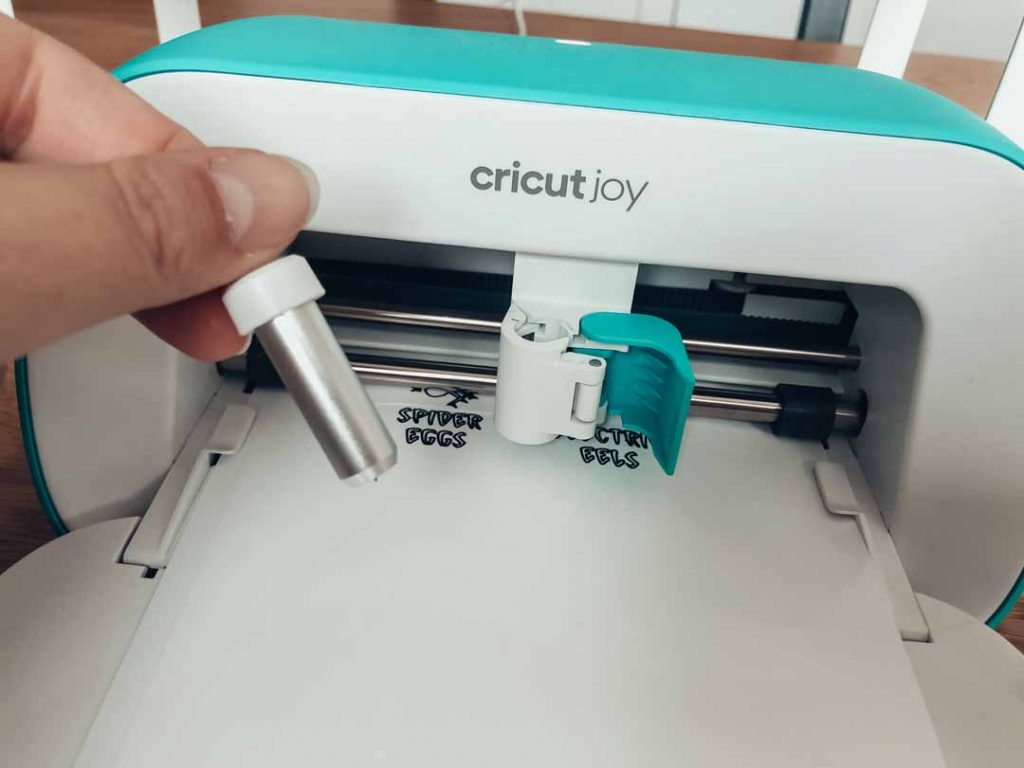 Once your labels have been drawn and cut, it's time to place them onto your mini potion bottles. Align the label at the bottom of the bottle before slowly rolling it to the top, using your fingers or scraper tool to smooth out any bubbles along the way.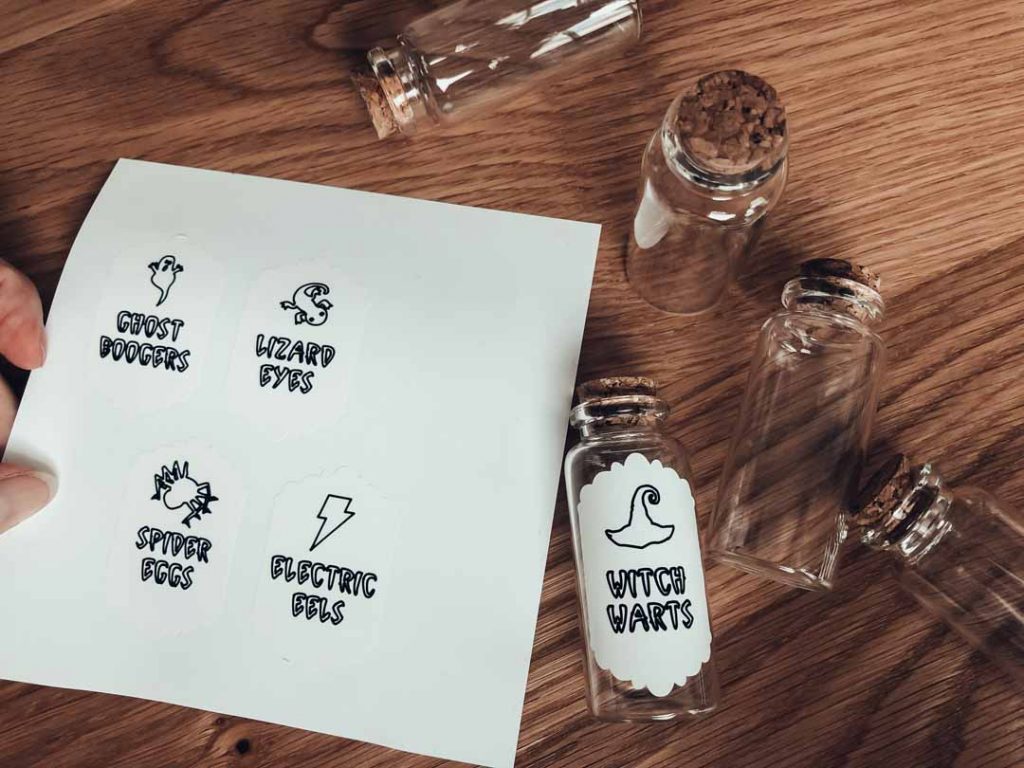 And just like that, your mini potion bottles are now ready to be filled with all kinds of hauntingly creepy ingredients!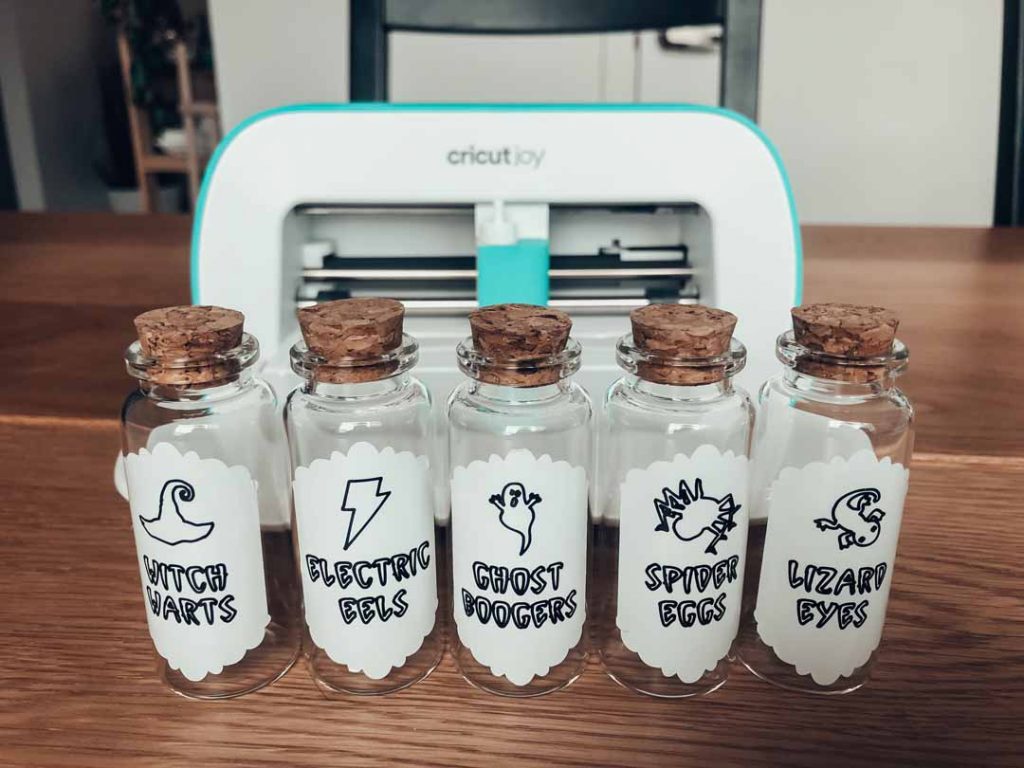 ---
Step 3: Creating your potion ingredients
Next, grab the cardstock. I found small pieces of green, orange, and black cardstock to create lizard eyes, witch warts, and electric eels.
In Design Space, I found images of snakes, poop emojis, and small black dots. Using my Cricut Joy StandardGrip Mat, I cut about 15 of each image on its coordinating cardstock color. I used the long mat for Cricut Joy to cut more at a time, but a small one comes with your machine. Increase or decrease the number of project copies accordingly.
I placed the green cardstock snakes into the coordinating potion bottle to represent small electric eels nestled inside. Do the same with the orange witch warts.
Take a piece of wax paper and place the black cardstock dots on top. Using my glue gun, I dripped hot glue onto the top of each black dots to create a glassy, eye-ball effect. They're not perfect, but they're definitely spooky and I think my 5-year-old nephew will be impressed!
I'm sure, by now, you've been wondering why I put "poppyseeds" in the list of materials you may need for this project. Well, poppyseeds make the perfect spider eggs. If you don't have poppy seeds on hand, chia seeds also work well.
Last, but definitely not least, you can use your glue gun to create "ghost boogers" by dripping hot glue directly into the potion bottle. As it hardens, it will take on the appearance of icky, ooey-gooey snot running down the sides of the bottle. This will definitely put me in the "cool aunt" category when it comes to my nephew.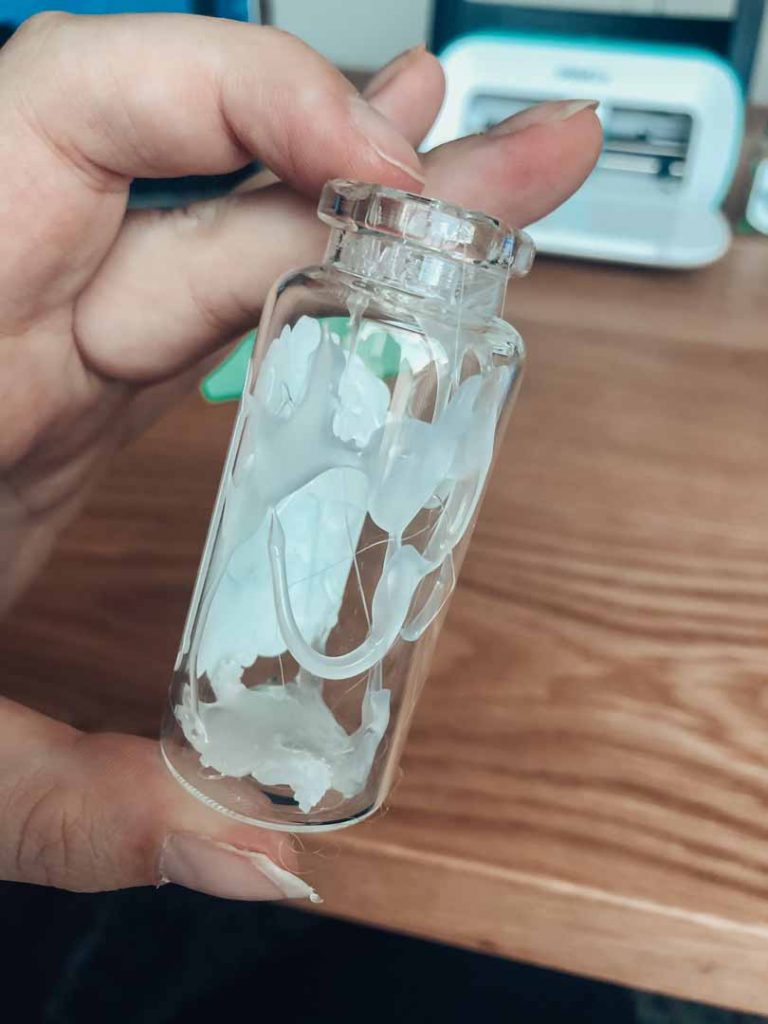 Step 4: Pack it up and ship it out!
Finally, tuck your mini potion bottles into a box. I recommend selecting something with a lid to enhance the big reveal. I also found some purple packing grass to nuzzle the bottles in. I can't wait to see my nephew's face when he opens these up and starts creating some spooky magic of his own.
What potions will you be making this Halloween? Share them with me in the comments below.
From me and everyone here at Cricut, we hope you have a safe and Spooktacular Halloween!