January 4, 2017 • Contributor: Cricut Marketing Director Tiffany Isbell
We're declaring 2017, the year of the pillow. Last year, we had a little "pillow talk" showing you beautiful pillow inspiration. They're so simple to make, and they can instantly transform a room or a life. I know what you might be thinking – yeah, nothing is really that easy. (This really can be.) BUT, we also know how scary or hard some DIY projects can look. Pillows can be made from iron-on, stencil, paint, fabric, felts, and more. We're here to help you learn all the secrets, and give you Pillow Super Powers! Join us as we walk you through the how-tos of everything from picking the right pillow, designing your project, and tips & tricks of cutting your materials. 
Say I Love You
We'll be making pillows throughout the year to inspire you and people in your life. Pillows are such a great way to express yourself, say something meaningful, and a really easy DIY way to make something special. You can tell people you love them:
This pillow uses fabric paint and stencils. The scariest part about this pillow might be picking and sizing fonts.  We know how intimidating that can be. We'll take you through how to match fonts, build your design, and add it to your pillow. Don't fret – whether you're new to the world of making with Cricut or a seasoned veteran, get ready to learn something or share advice!  We're all in this awesome journey together.
Celebrate Life
Whether it's a holiday or a beautiful moment these types of pillows are made with Cricut Iron-On and are easy one-cut pre-designed phrases. Pre-designed phrases can be one simple way to make a quick, yet meaningful pillow. We'll take you through the world of finding and using phrases in Cricut Design Space as well as making your own!
Texture Made Easy
This beautiful Ranunculus pillow can be one of those projects you might shy away from, but stay tuned and we'll walk you through a wide variety from the simple one-cut to more complicated pieces like this one. You'll be a pillow-making rock star by the end of the year. 
Our first step is going to be learning how to find and use phrases to make this great "You're Amazing" pillow (because we truly think you're amazing!):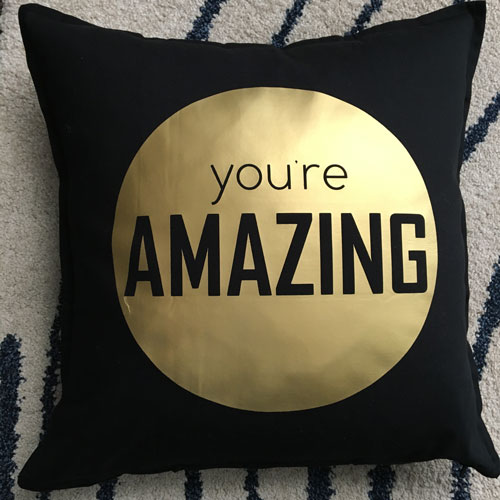 Next, we'll be walking through how to narrow down layered phrases to get a simple one-cut like this: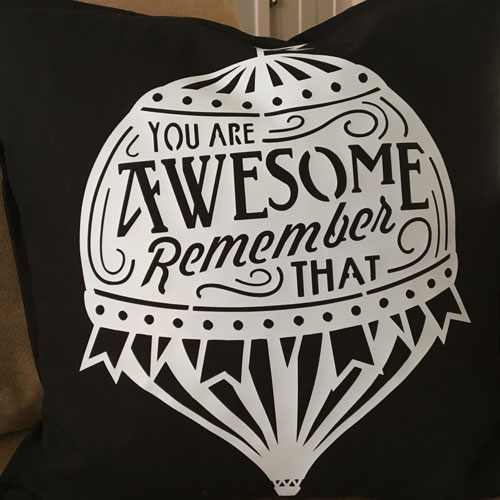 Never fear! Because you are awesome! Together, we are ready to learn and grow. We'll also share tips on how to pick the right color iron-on for your project and using iron-on easily. 
Lastly, we'll be finding and sizing fonts together to make this: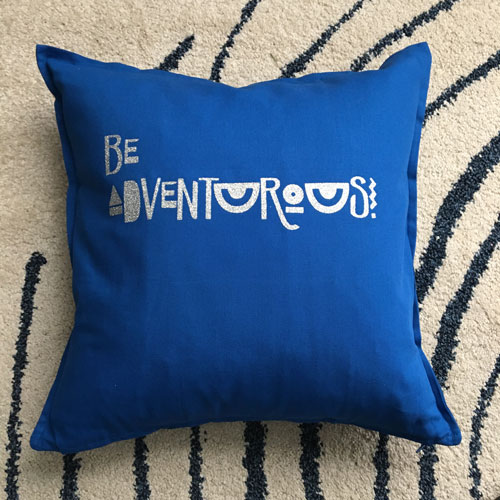 ... and celebrate the beginning of our adventures together. Every couple of weeks, we'll have a new set of pillows to learn new techniques, tips & tricks, and the ins-and-outs of Design Space. Don't forget to subscribe to the blog so that you can get in on all the fun!
Here's a quick sneak peek of our next few pillows: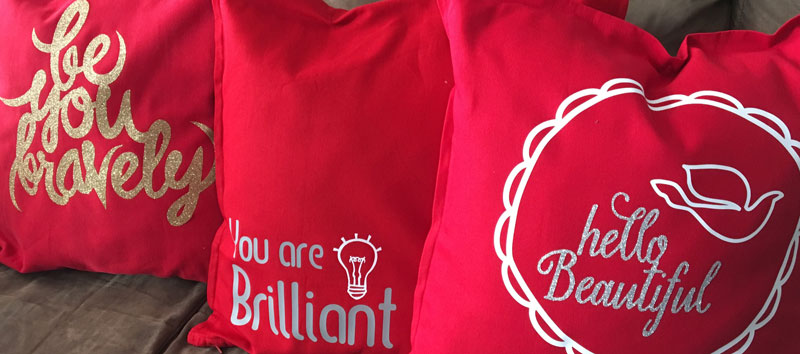 Let's be adventurous, awesome, and amazing as we head into 2017, and let's #SayItWithCricut every week! Tell us in the comments below what tips, tricks, and techniques that you'd like to learn along the way, and we'll work to get you tutorials and answers. Make sure you also follow our #SayItWithCricut Pinterest board to see all of our amazing pillow and phrase projects. Cheers - Tiffany!