How Erica strengthened the family bond through crafting.
August 16th, 2018 • Contributor: Cricut Blog Team
We recently happened upon a heartwarming story in one of the Cricut fan groups. It's the story of Erica Cupples, a long-lost brother, and a very special set of customized matching shirts.
Erica's parents were high-school sweethearts. Discovering that she was pregnant at age 15, Erica's mother made the decision to hide the pregnancy from her parents and give the baby up for adoption. Years later, the young couple married, had 3 beautiful children together, and eventually moved the family from Connecticut to Texas.
But the sacrifice of her first son, her mother never forgot. Once Erica and her siblings were old enough to understand, she told them that they had an older brother. Erica remembers her mother's prayers to be reunited with her son.
One year, when Erica's parents returned to Connecticut to attend a funeral, her mother sought out the adoption agency to re-establish a connection with her son, making sure that if he ever decided to seek out his birth parents, he would have access to her most up-to-date contact information.
That day came about eight years later.
Growing up, Paul knew he was adopted, but didn't really feel like he was missing anything in his life. After the birth of Kristopher, his first child, that all changed. Paul couldn't shake the feeling that something was missing in his life and resolved to piece together his past. Little did he know that he would gain not just a birth mother, but brothers and sisters, and a sizable extended family as well.
Within two days of verifying that Erica's mother was his biological mother, he reached out. After finding out that he had brothers and sisters, and with plenty of nerves and a lot of excitement, Paul planned to travel to Texas with Kristopher and his wife, Alicia, to meet his biological family.
The moment they all met in person, all nerves evaporated and they settled in to catch up on a lifetime of stories. They played board games, laughed, talked, and got acquainted. Erica noticed that Paul shared some of the same quirks and mannerisms with other family members. She mentioned that it was like meeting someone you had known your whole life. "It never felt awkward or strange. It felt comfortable like the missing piece had finally dropped into place," Erica explains.
During that trip, Erica's mom came up with the idea that they should all share in the most Texas experience imaginable—a good, old-fashioned rodeo. They invited family from all over the state to meet in Mesquite, TX in two days' time. Twenty-one family members were able to make it to meet him.
Enter a Special Craft Project.
To commemorate Paul's trip to Texas and the extended family reunion, Erica decided to take on a lofty project – creating twenty-one customized shirts. She found an SVG file of the state of Texas, uploaded it to Design Space®, then added each family member's name into the shape, interspersed with hearts and surrounding one word: FAMILY.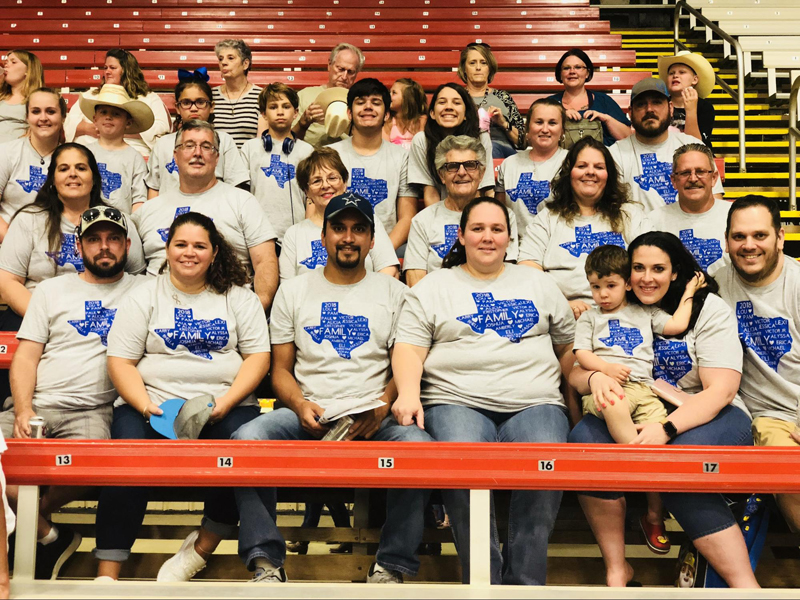 At the rodeo, everyone wore their custom T-shirt for their first-ever complete family picture. Erica Cupples (front row, second in from left).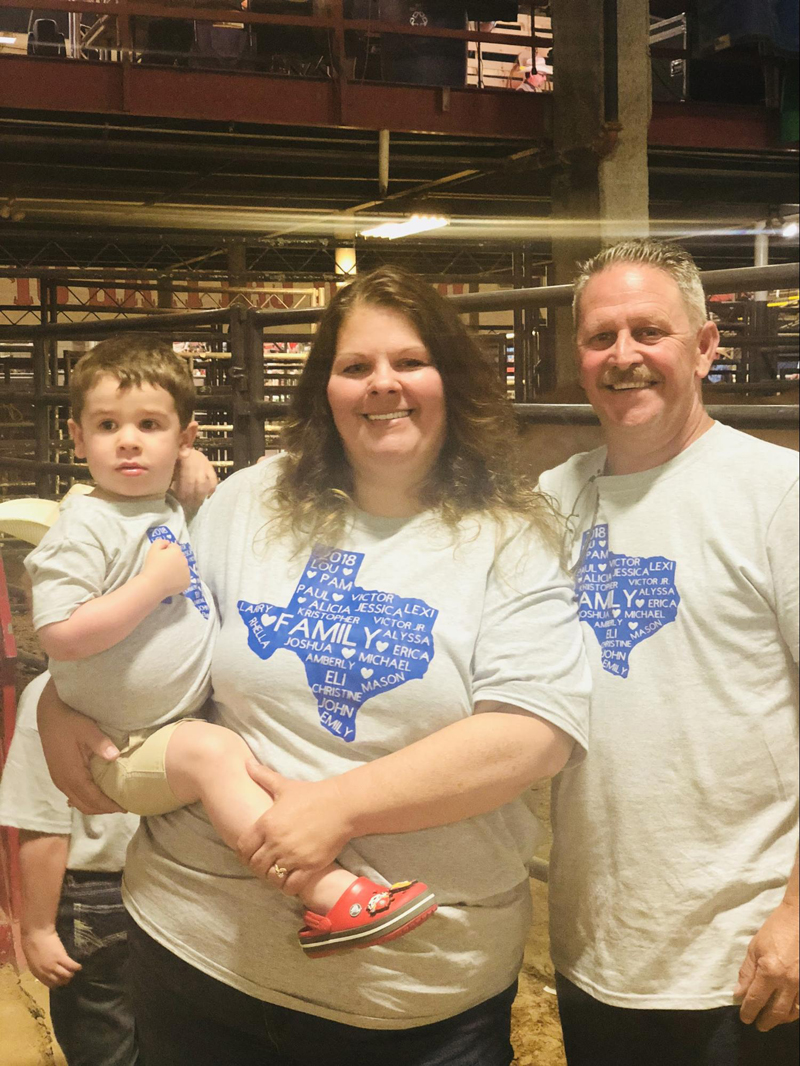 Amazingly, she was able to take on the feat in one day using her Cricut Explore Air™ 2 machine, some iron-on material she had on hand, and a heat press she borrowed from a friend. She designed the image in an hour. Weeding took an entire day. Pressing the designs on to the shirt went quickly.
All crafts are special, but this particular project helped Erica's family make their long-lost brother feel welcome and accepted into the fold — cemented the bond if you will.
Erica's t-shirt design captures her family's story perfectly.
This family reunion was a moment 36 years in the making, but what's in store for the future? The family stays in touch on Snapchat and Facebook, and they plan to visit often. Even better, Kristopher is turning three soon and guess what? She plans to make iron-on shirts for the occasion.
Stories like this remind us that even more important than the WHAT we make is the WHY. Look beyond the beautifully stained wood, richly textured paper, or holographic iron-on and you'll see the most amazing raw material of all — human emotion.
If you have a story to share, use #CricutMade or comment below.
To learn more about uploading your own image files into Design Space like Erica did, check out this Help article.