June 18th, 2018 • Cricut Events
Can you believe we are down to just 42 days until the Mountain Make-A-Thon?! We can't wait for you to see what we have in store.
One of the things we are most excited about is our keynote speaker, DIY expert, Erica Domesek of P.S. - I Made This ... She will be inspiring all of us with her DIY journey and how creating beautiful projects herself has changed her life. You can still get your tickets here. For now, let us introduce you to Erica!
We had a couple questions we wanted to ask Erica about her DIY journey! Check out what she had to say:
1 – What is your favorite DIY hack/trick?
I am a big believer in cutting corners no matter what I'm doing. Something I try to pass along is that I tell people to keep/store their markers / Sharpies upside down so they last longer. The ink can tend to dry out faster if you store them with the tips pointed up.
2 – Where do you find your greatest DIY inspiration?
Everywhere! Shopping, Magazines, scrolling through Instagram and Pinterest. Inspiration is all around. Things with a beautiful design that stop you in your tracks and make you think -- wait, I should or can make that beautiful thing!
3 – What is one crafting supply you can't live without?
An amazing and sharp pair of scissors.
4 – What is your favorite project you have created?
I can't say I have a favorite. That is like asking someone to pick their favorite child. However, things in the home are near and dear to me -- so any artwork or creative storage that I designed that is displayed in my home makes me happy.
5- What sparked your interest in crafting?
I have been designing, tinkering, crafting, basically just living a creative life for as long as I can remember. It's something that was instilled in me when I was young. My family was very artistic and always encouraged me to embrace art and design at a young age.
I tried everything as a kid -- working with clay, stained glass, pottery, jewelry making, sewing, you name it! I am a big believer that if you give a young mind the tools and access to be creative at an early age, it will give them skills to last a lifetime (and of course make them smile).
Erica's creations are so inspiring and we know you will love hearing more from her. She's a pro at taking everyday items and turning them into jaw-dropping, eye-catching masterpieces. Check out some of our favorite projects that she has created!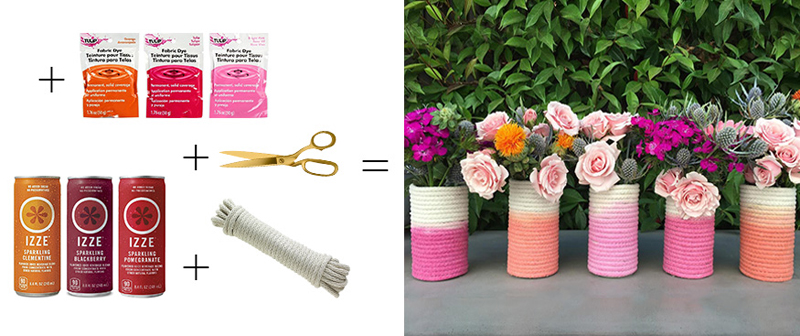 We love Erica's take on taking simple things and turning them into beautiful creations like these Dip Dyed Rope Vases.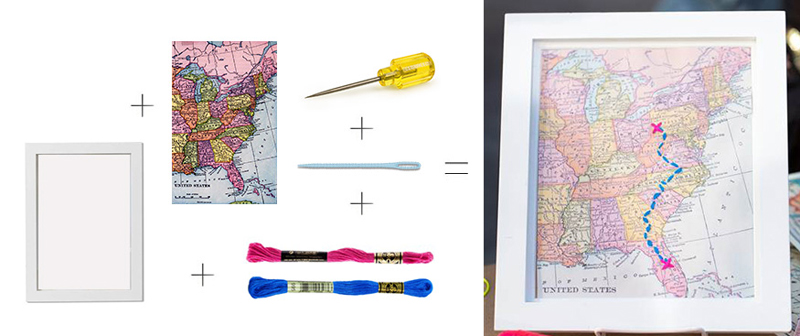 She has such a great way of adding extra flair to everyday items like this embroidered map.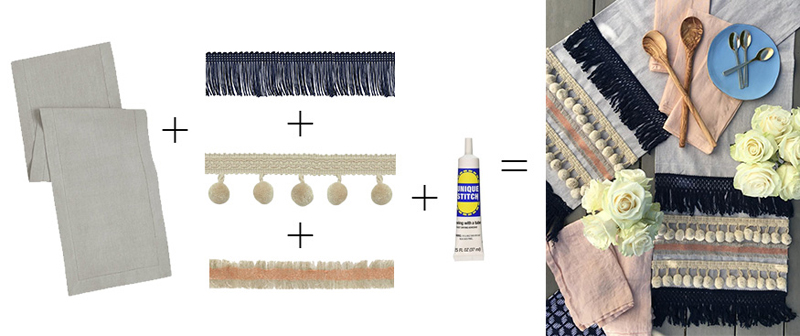 Her projects are so simple yet sophisticated and we LOVE easy DIY! This pom pom table runner has our hearts! You can check Erica out on her Instagram for her more of her latest inspiration and project creations! @psimadethis
Erica's Bio … Erica Domesek is the founder of the innovative do-it-yourself (DIY) lifestyle brand P.S.- I Made This, which launched in 2009. She has been a distinguished expert in the areas of design and style as well as a leader in brand marketing for 12 years. Her personal mission is to inspire and encourage people everywhere to embrace the concept of crafting the life they want.
Her success in connecting with the American consumer, specifically the Millennial demographic, has allowed her to create strategic partnerships with innovative companies ranging from Microsoft, American Express, Gap, Coca-Cola, Express, Mercedes-Benz, AOL, Ford, Lacoste, Express, Levi's, and many more.
She has helped develop and execute hundreds of successful digital and experiential programs with top-tier brands looking to align themselves with connected and passionate audiences.
Domesek has appeared on The Today Show, Rachael Ray, The Martha Stewart Show, E! News, Fox Business News, and as a judge on TLC's Craft Wars. She currently stars in the TLC Digital series Erica in the House. Her work has been featured in issues of Vogue, Glamour, InStyle, The Wall Street Journal, Self, Elle, Teen Vogue, and more.
Her first best-selling, globally published book "P.S. – I Made This…" was released in 2010, and her second book "P.S.- You're Invited…" was released in September 2013.
Over the years, Erica has been a longtime mentor to female entrepreneurs and college students seeking advice on careers in media and creative arenas. She has dedicated her voice to leading organizations such as Charity Water, Pencils of Promise, PS Arts, Art of Elysium and Indego Africa. Erica's passion in lending her guidance and support to people who ultimately want to live their best life celebrate major milestones and moments, all while inspiring the next generation of thought-leaders and change-makers is truly what she lives for.
We are looking forward to learning and being inspired by Erica at the Mountain Make-A-Thon on July 30th - August 1st. If you haven't snagged a seat for the Mountain Make-A-Thon you can grab your tickets here.
If you are excited about the event, be sure to share this post below!