February 23, 2017 • Contributor: Scarlet Letters Copywriting
As you probably know by now, we love weddings… really love them. Whatever the theme, the style, the color palette, we want to know more. And if Cricut is part of the big day, even better!
As part of our current wedding program, we are thrilled to shine our User Spotlight on brides who have said "I Do" to a DIY wedding, and then gone on to make their visions a beautiful reality. Our premiere feature is on the multi-talented Cricut user Amy Voluckas.
First things first, Amy: tell us how you met the mister.
I actually met my husband, Dan, online. I didn't know it at the time, but we both had gone to the same–very small–high school, though he was a couple years behind me, and our parents live about five minutes from each other. We decided each of us seemed normal enough to warrant meeting for lunch, and we've been together ever since. We dated for three years before he proposed, and are now the proud parents of a blended family of three cats (his, mine and ours). He's an amazing guy who is one of the calmest, most supportive and thoughtful people I have ever met, and I cannot imagine my life without him.
A lot of brides become overwhelmed by the seemingly daunting task of choosing a wedding theme. How did you settle on yours?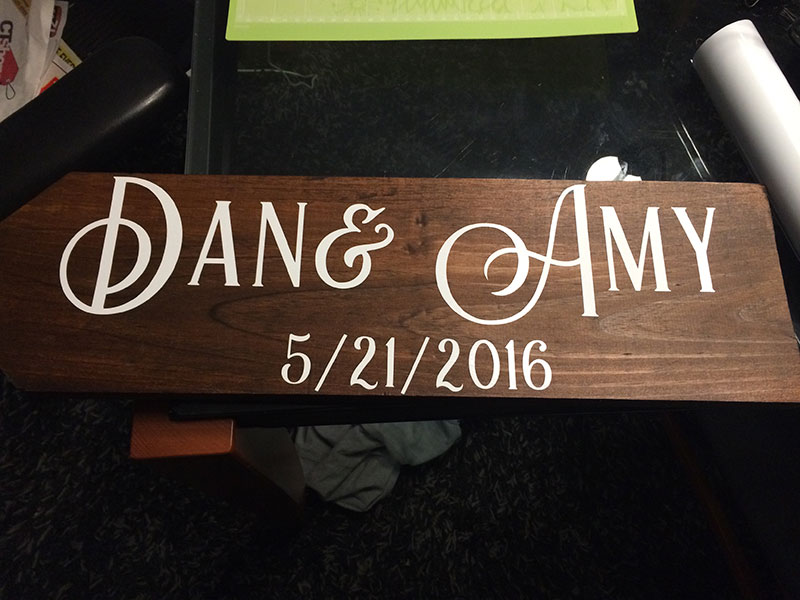 My husband and I both loved all of the weddings we'd been to: each couple curated a gathering that truly represented who they were, and I think that's what made their events so awesome and memorable. When it came time for us to plan our wedding, we immediately knew we didn't want the traditional big affair–it just wasn't who we were. We wanted our wedding to have a laid-back feel and be more of a party where we just happened to get married.
Barn weddings were all the rage on Pinterest, and we loved that causal-yet-refined feel. As it turned out, our local nature conservatory had a great rustic barn that was the perfect size for the number of guests we were expecting. I had gone to youth camp there with my cousins for a number of years, so it was really cool to revisit the place where I spent so many summers and make it part of our big day. The best part was they gave us full authority on every aspect of the wedding, so we were able to truly make it our own, and our rental fee went right back to the nonprofit. It was great to be able to have our day be exactly how we wanted it, and support a fabulous organization that meant so much to me when I was a little girl.
We visited the facility in the late fall, took a million pictures and set to work preparing for our May wedding. My house was in chaos for a good five months, but it was totally worth it.
Why did you choose a Cricut machine to help with the preparations?
I knew I was going to be heavily DIYing my event in order to focus the majority of our budget on the things we really wanted: good food, drinks and amazing cupcakes. I'm also a bit particular, so I liked being able to make everything exactly as I wanted. 
After seeing a die-cutting machine on Pinterest, I started researching the different options on the market. I came to the conclusion that the versatility of the materials the Cricut could cut combined with the ability to use my own images in Design Space would make it a useful tool, both for the wedding and life in general. 
I had no idea I'd end up using it as much as I did! After the Cricut itself, the German Carbide blade was my best investment.
Can you take us through some of the amazing wedding projects you created?
Of course! For my invitations, I cut the pocket folds to hold the invites I designed and then printed with Vistaprint. The most adorable bellybands with our names cut in relief held the whole package together.
Instead of a formal wedding gown, I managed to snag a Chantilly-colored dress at a super sale at Nordstrom Rack. (No joke, it was $25!) Then I used my Cricut to cut a flower shape to make a couple of layered chiffon flowers from the material, and found an applique and satin ribbon on Etsy.  It came out perfect, went wonderfully with my dress and didn't put a dent in my savings.
I really liked the idea of doing small succulents as our favors because I wanted our guests to have something to take home, and also because the plants added to our décor. I made small pots using disposable cups as the molds, and then turned to my Cricut to cut little "Thank You" signs.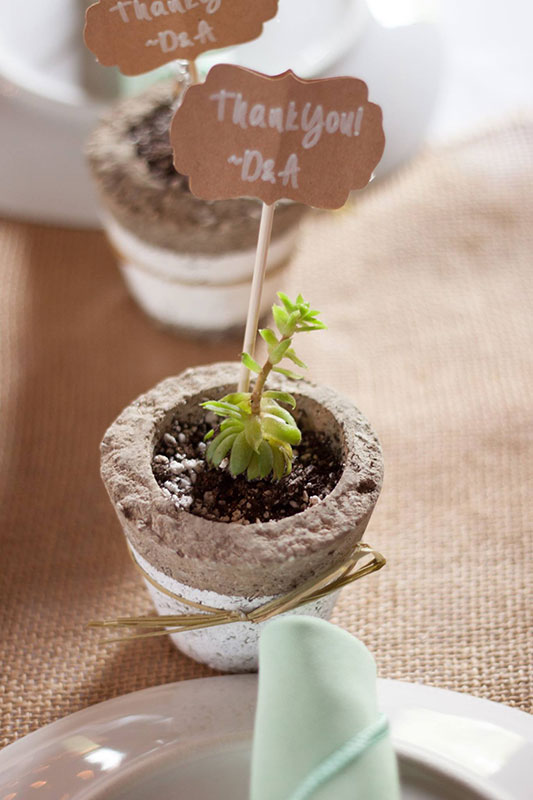 Our caterer had some upscale disposable options, but I felt strongly that I wanted to have "real" plates and silverware for the dinner. I stumbled on an after-Christmas sale on plates and found catering cutlery at Costco, which turned out to be cheaper than any rental option. I used my Cricut to cut and write silverware-wrap tags that thanked our guests for joining us at our first meal as husband and wife. I love how these came out: they were a simple, small detail that helped make our wedding our own.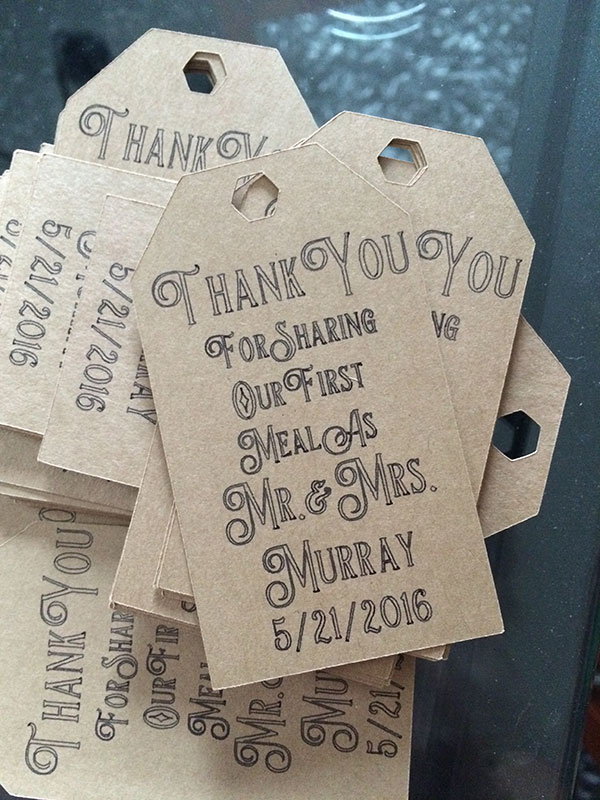 We had a number of guests with gluten allergies, so it was really important that we be clear with our menu signage. My parents found a couple of large frames in antique stores, and I put pieces of chalkboard inside them. Then, I used my Cricut to cut the lettering from white vinyl.
This may have been my most time-intensive project, but they both came out great. I also used the Cricut to stencil the labels for the coffee options, cupcake flavors, beverage choices, bunting over the door and directional signs to get to the venue. Basically if anything needed to be labeled, the Cricut came to my rescue!
You've saved perhaps the best for last. Tell us about your guestbook!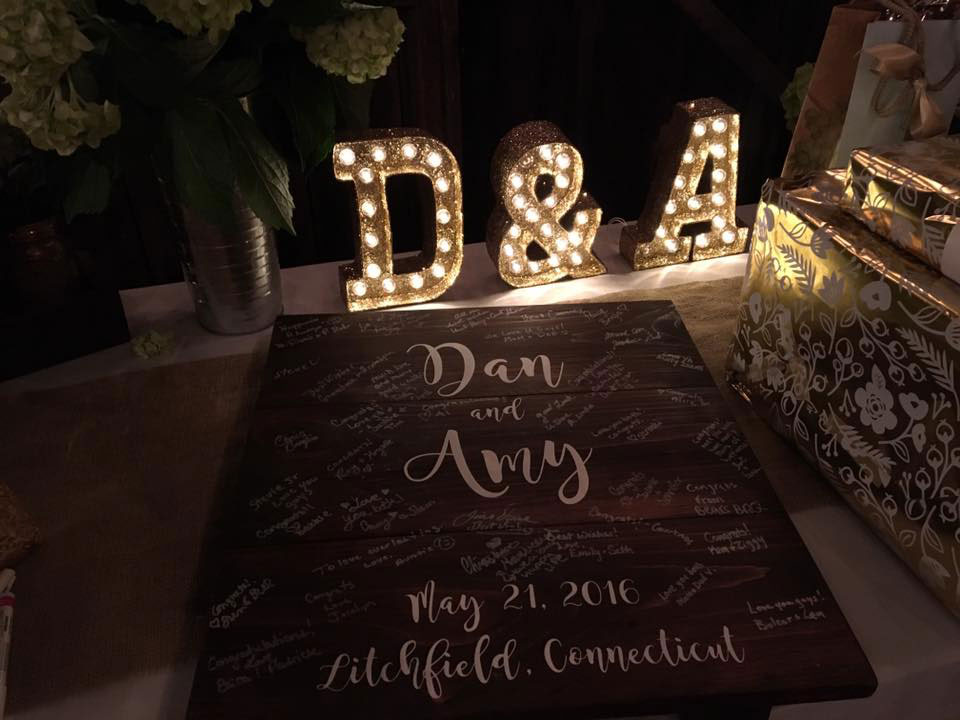 This project is my favorite. My brother had just finished building his own house and had a ton of small wood scraps. I used one of these to put together a simple blank sign (as well as centerpiece boxes, a cupcake display and an arbor.) I finished everything with the same stain, which really lead to a cohesive look throughout the venue.
I used my Cricut to cut a stencil for the guestbook simply with our names, the date and the location. We put it out with some paint pens for our guests to sign, and it came out better than I could have imagined. It now hangs on a wall in our home and every time I walk by it, I remember not only how happy we were, but also the time we spent making everything perfect and how helpful everyone was. It's a wonderful and personal reminder of our wedding day.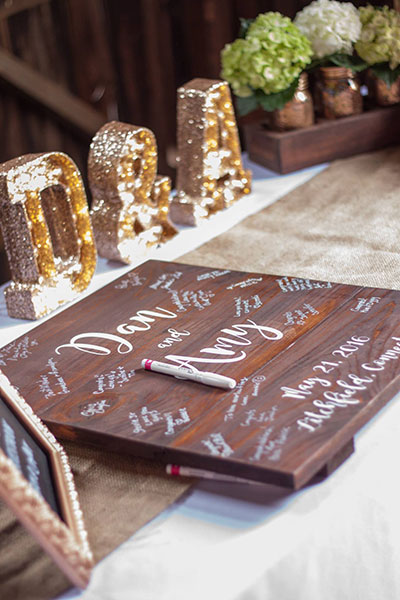 Amy, we can't thank you enough for sharing your incredible DIY wedding with us! We wish you and your husband a lifetime of happiness.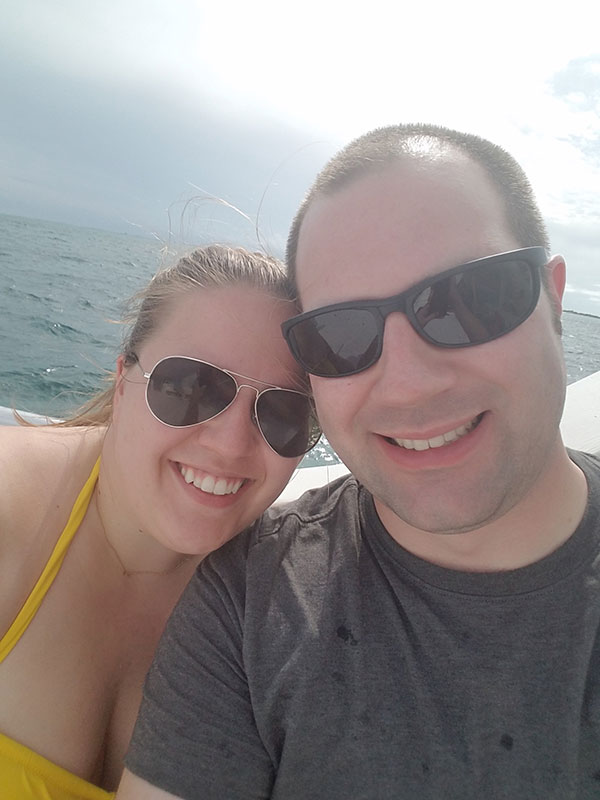 Did your Cricut help you have a dream wedding? Tell us more! #MyCricutStory