February 13th, 2018 • Contributor: Jen Causey from Something Turquoise
Hey there crafty babes! My name is Jen Causey and I'm the resident wedding expert for Cricut. I'm the creative gal behind the wedding blog called Something Turquoise and I use the Slice and Weld tools ALL THE TIME when I'm working in Design Space… so I figured I should share my best tips for using these two valuable tools. Whether you're looking to connect script style fonts or remove unwanted pieces of a shape - slice and weld are for you!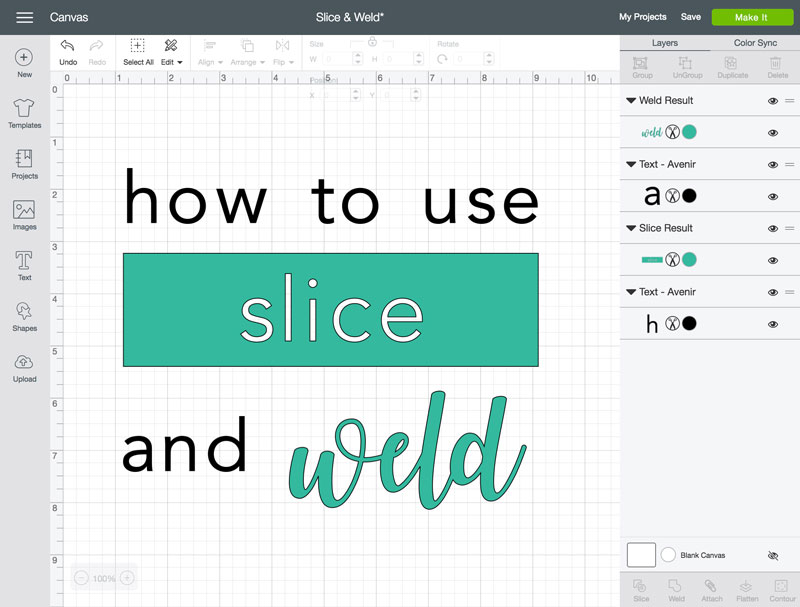 The Slice Tool
The Slice tool splits two overlapping images or text into different parts. Slice creates new cut paths from two images, resulting in three or more completely new shapes! Each of the new shapes will show up in the Layers panel as an individual layer, that you can keep or discard.
Tips:
 You can use the Slice tool to cut out a shape from another shape, cut overlapping shapes from one another, or to cut text from a shape.
When using Slice with images, you can only work with two layers at one time.
If you are using a multilayered image, you can either hide or ungroup the other layers to activate the Slice tool.
When the Slice function is performed with hidden layers, all hidden layers will be removed from the design screen and the Layers panel.
If you would like to use those image layers with your project, ungroup before using the Slice tool.
The Weld Tool
The Weld tool allows you to join shapes to create a single customized image by removing any overlapping cut lines. This can be a great way to simplify a design, keep the letters of a word connected, or combine shapes to create new designs!
Tips:
The images/text that you want to weld must overlap
If you are working with multi-layered images, you may want to ungroup the layers to arrange them separately before welding.
Once you select one or more layers, the weld tool will become active.
You will know that your images are welded when they change to the same color and the new image appears in the Layers panel.
Once welded, the new Layer will move to the top of the layers panel, if needed drag to rearrange