March 24, 2017 • Contributor: Jessica from Every Day Party Magazine
Hi everyone! It's Jess from Everyday Party Magazine again. I am so excited to be back on the Cricut blog sharing tips and tricks that are near and dear to my heart! I love a good party, obviously, but what makes a good party? Is it the food? The games? The decor?The party favors?  I believe it's a little bit of all of them! One of the things I love about my Cricut is the ability to make anything more custom.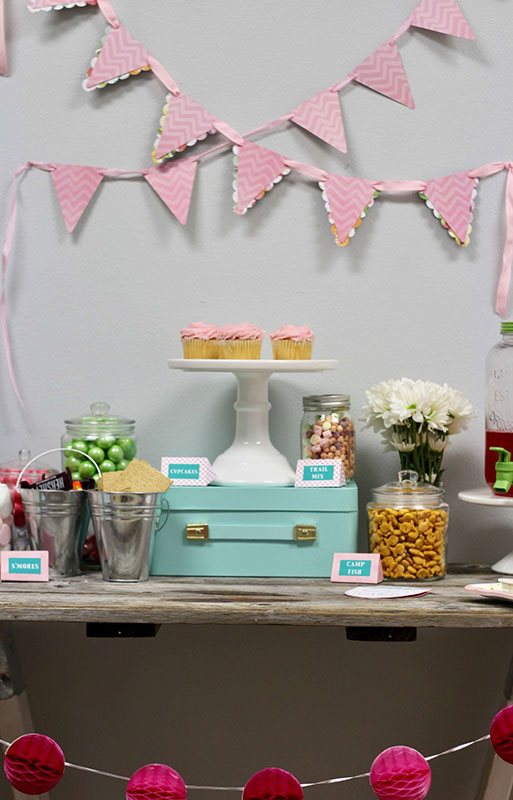 I cannot even begin to count the times I have been to the local party store or Target to shop for party supplies to find that there is nothing I want. Sure, I could find solid colored plates and striped straws, and, I do, but then, I make it fit my party theme. Straws flags? Easy peasy! Vinyl embellishments for the plates? You bet!  Custom shirts, invitations? Literally, your imagination is your only limit.  
My Cricut is my go to for nearly every party we have, not just because I can make invitations, food labels, and games, but because I can decorate for my party with my Cricut.  I can make rosettes, backdrops, banners, centerpieces...nearly all of it!
I decided at 9:30 one night I wanted to have a little camping party with my niece the next day. I had an adorable pink and white striped tent I knew she would love, so that was my inspiration. I opened up Cricut Design Space and got to work. In just a few hours I had tent style food tents, an adorable pennant bunting banner for the backdrop, party favor boxes, fun party signs, a custom t-shirt, and an invitation ready to go! (She's four, and doesn't believe you can go to a party without an invitation.) 
The first thing I worked on was the food tents. I made the labels print and cut on Cricut Printable Vinyl, but I kept the tents a traditional cut file. Once everything was cut and assembled, I stuck the custom food labels on the tent. This was a great way to tie the food tents into the party theme.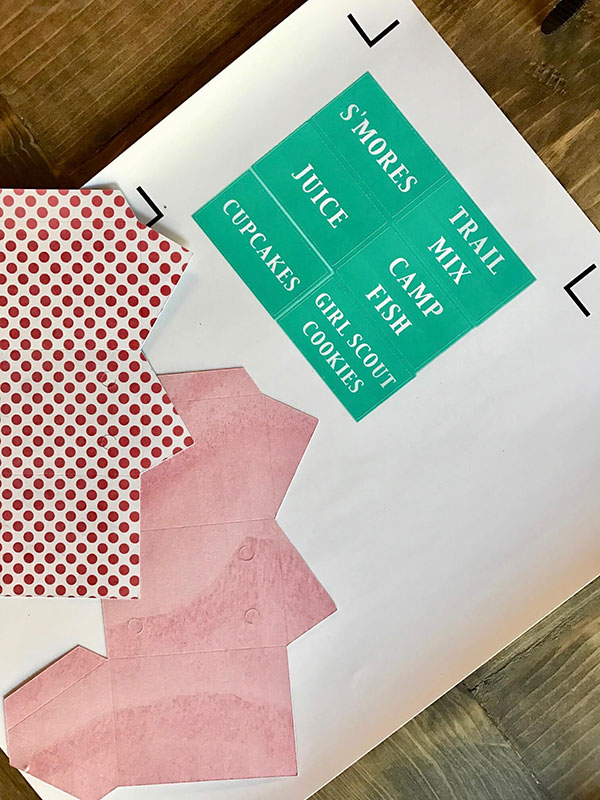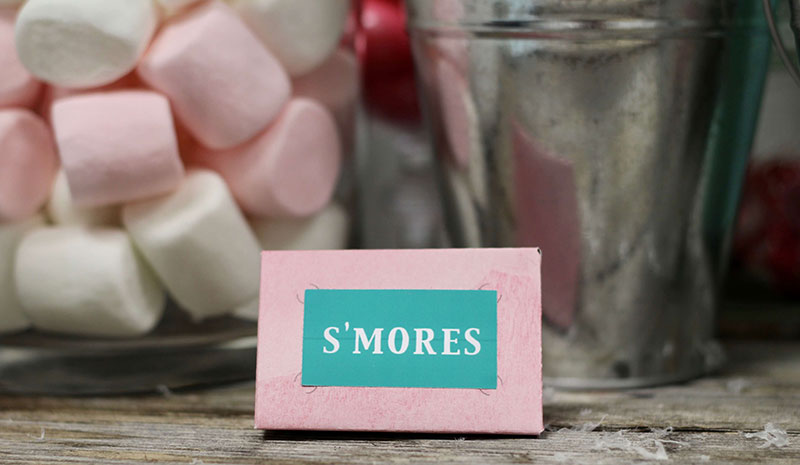 The pennant bunting banner was the easiest backdrop ever! I cut out 6 scalloped edge pennants, and 12 standard triangle pennants. I threaded pink ribbon through the holes and hung them criss cross on the wall above the snack table. A simple and quick decoration with a big impact.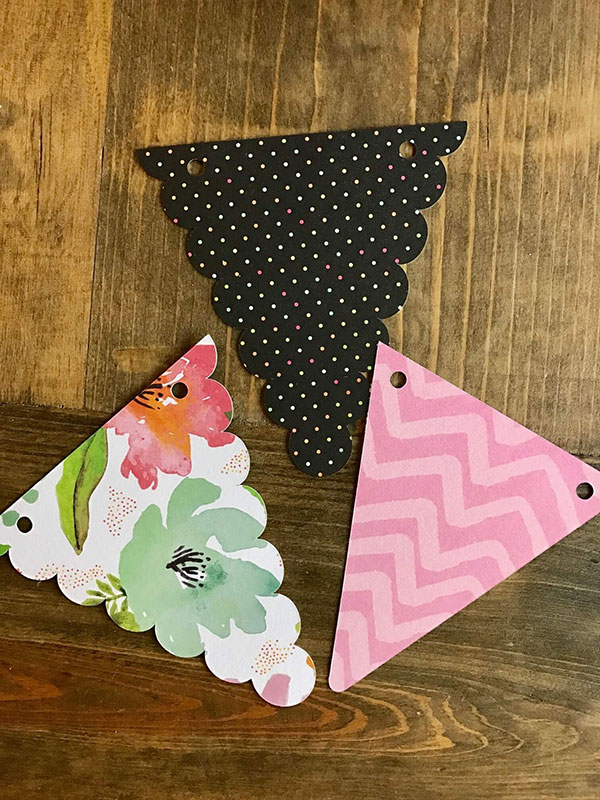 I LOVE the 3-D tents in Cricut Design Space, and I knew they would be perfect party favor boxes. My niece knows a good party has to have junk food and party favors for her and her brother. So, I made two little tents and filled them with candies I had at home.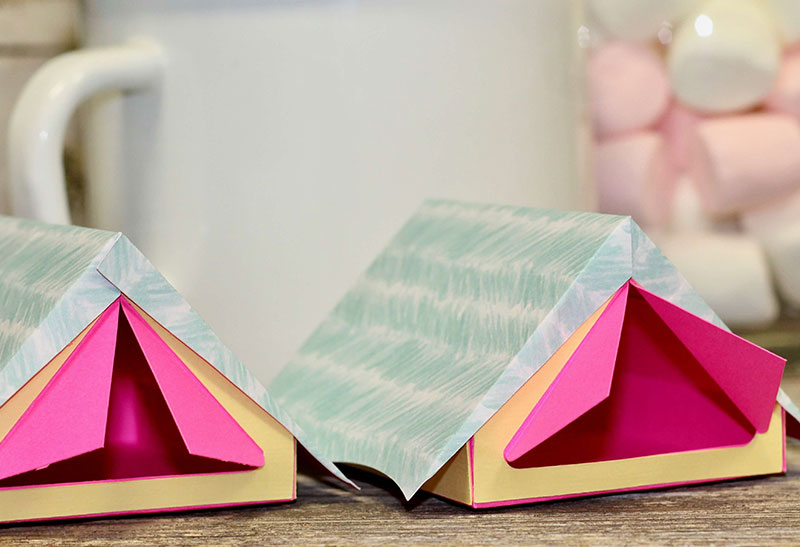 I wanted to make our party area look a little more camp like, so I altered the camp signs in Design Space so they would be layered, and cut them out on coordinating colored card stock. Another simple design with a lot of party impact!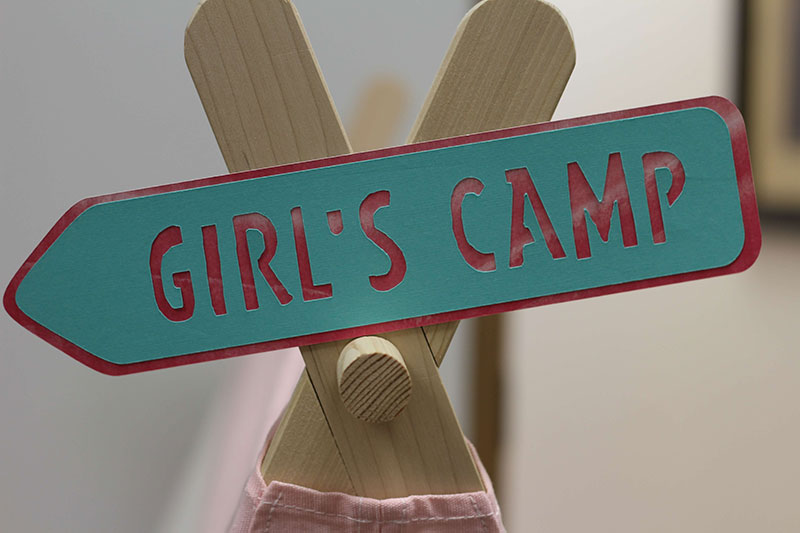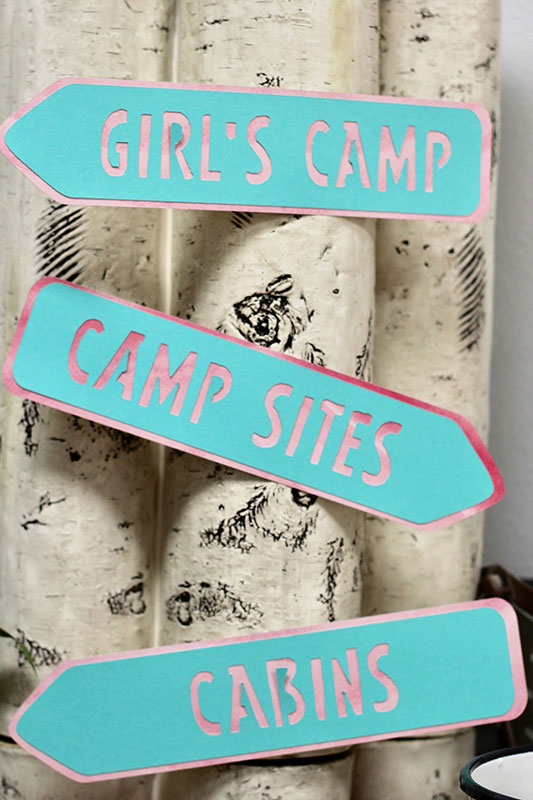 My sweet little niece loves custom shirts, and she knows Aunt Bunny can make her just about any shirt she wants. (In fact, I keep solid colored t-shirts on hand all the time so I can whip up a shirt whenever inspiration strikes...I just grab them on clearance whenever I find them) I used a little Cricut Glitter Iron On and some Lilac Iron On to make a Girls Camp shirt to mimic the invitation. I sliced the text out of the card file and added a layered tent to the design. Next, I ironed them onto a little pink shirt. This is one of my favorite things to do for the guest of honor at our parties. (It's also a great gift idea!)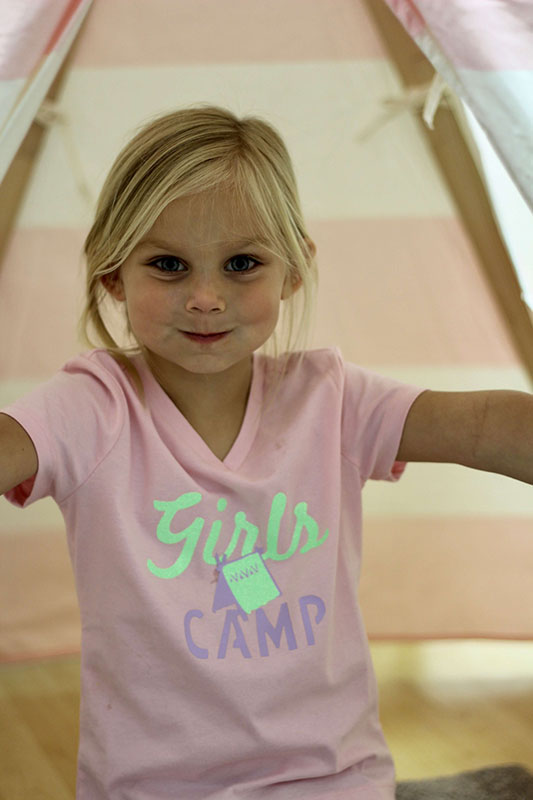 Finally, and I am so glad I remembered this, I made an invitation for my sweet niece. We set up the party at my husband's office so we would have to get ready to "go" to the party. She was so very excited to visit her Uncle Gus and have a little party at his office with him.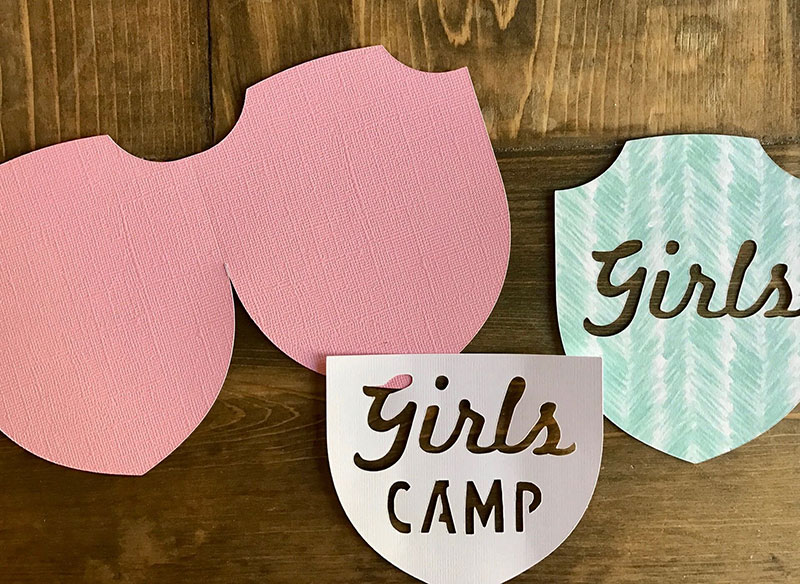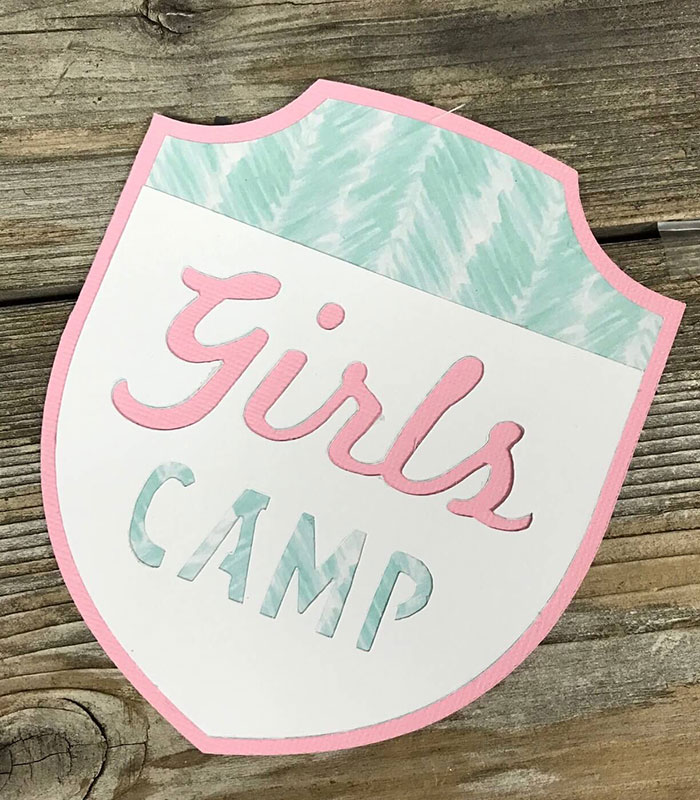 I could have made so much more for the party if I had given myself more time to prepare...cupcake wrappers, party circles, vinyl for the drink bottles...again, my imagination and time were my only limits.  
Be sure to check out my blog for more pics of the full party! There's also a ton of great inspiration in Design Space for all sorts of parties - go check it out here!