December 28th, 2017 • Contributor: Kristen Johnson from A Girl and Her Glitter
Yippee! Hooray! You received a Cricut Machine to call your own!!! Now what?
Ready, Set, Make!
Tools + materials you'll need to get started:
Cricut Explore Air 1 or 2
Fine Point Blade
Deep Cut Blade
LightGrip, StandardGrip, StrongGrip & FabricGrip Cutting Mats
Ultimate Fine Point Pen Set
Cricut Tools
It is finally time to make ALL OF THE THINGS! You've seen the Cricut magic and how all of the machines can cut. Now that you have one, your time has come. Machine, check. Mats, check. Blade, check. Cricut Pens, check.  Now that you have collected all of your necessary tools, let's get started.
You are now a Maker!
"Makers gonna make" and you are ready to create! No doubt you are chomping at the bit to get your first project going, let's start with the basics of design space to start you on the vast amount of possibilities.
Once you get your machine, you will want to visit Cricut.com. In the upper right hand of your screen, you will see "Shop" or "Design." Select Design and you will be opened to a screen to create a Cricut ID and sign in. It's free!  Then you will be taken to a screen that will be the home page of your Design Space.
2: New Machine Setup

In the upper left hand  of  your Design Space screen, you will see an icon that has three horizontal lines as well as the word "Canvas." Click on the three horizontal lines and a menu of items will drop. Select "New Machine Setup" and follow those steps.
3: Start a Project

Once your machine has been registered, you will be ready to create your first project! Click on the plus sign, "New Project." You will then see a blank grid pattern and this space is called your "Canvas." This space is where you create ANY of your materials and is your blank canvas.
4: You are Ready to Create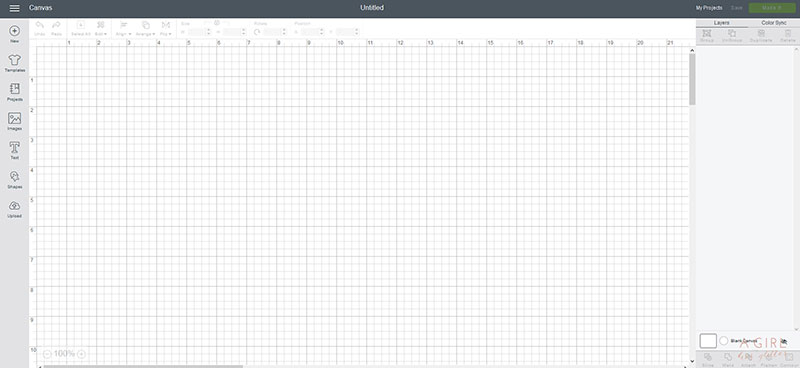 From here, you will see to the left of your canvas screen, you will see different icons for different projects: Templates, Projects, Images, Text, Shapes, and Uploads. This is your key to creating and making anything you can imagine.
* The top of your screen will remain in the grey,  unable to click on, state until you select your canvas by clicking on one of the icons to the left of the screen.*
Templates help you properly design a wide variety of projects. From goblets to T-shirts, you can click the type of product that you will be placing your finished design on and it will provide a visual image of one for better placement.
Projects include thousands of Ready to Make projects that will have you crafting right away. You can also customize most of these if you like.
Images will bring you to a search screen where you can look through thousands of images for your projects.
Text will bring up a box where you can type and customize any text that you wish to add.
Shapes is an easy way to add some basic shapes or a score line to your project.
Uploads allows you to bring in your own images. The types of files that you can use are .jpg, .bmp, .png, .gif, .svg, and .dxf. Follow the prompts on the screen to get it ready for use.
5: Changing Blades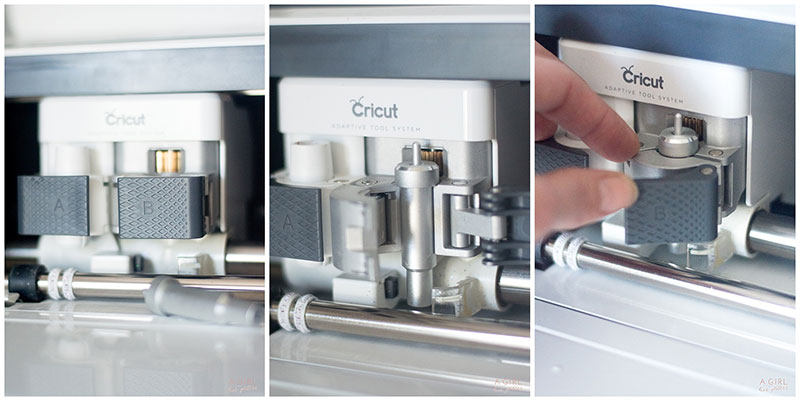 All Cricut Explore machines, as well as the Maker, use the fine and deep cut blades. The Maker is the only one to use the Rotary blade.
To load your blade housing, simply open up the latch on your machine that has the "B" marked on it. Take your blade and drop it into place and secure with the closure tab. You can change out the standard and deep cut blades in their housings by removing it, pushing the button on top, taking off the cap from the new blade, and inserting it into the housing.
You will have four different types of mats available to you; LightGrip, StandardGrip, StrongGrip, and FabricGrip. You will use different mats for different projects and this allows for a seamless and smooth experience. Learn more about selecting the right mat from a previous post.
You will want tools for weeding out everything from vinyl to iron-on to paper. Be sure to pick up Cricut's amazing tools that were created just for your enjoyment and ease.