December 7th, 2018 • Contributor: Jenn Crookston, Team Cricut
Did somebody say Ugly Christmas Sweater?!!!  I don't know about you but I am all about a good Ugly Christmas Sweater. Quite a few years ago I created an epic ugly Christmas sweater the old fashioned way...with scissors, by hand, I think my wrist is still recovering.  I'm happy to report that today I'm going to show you multiple DIY Ugly Christmas Sweaters you can create in no time at all using your Cricut machine.
Ugly Christmas Sweater #1
This sweater definitely qualifies as an ugly Christmas sweater.  Around the office, it was decided any time you attach Tupperware to your clothes it's guaranteed to be ugly (and possibly prize-winning?...).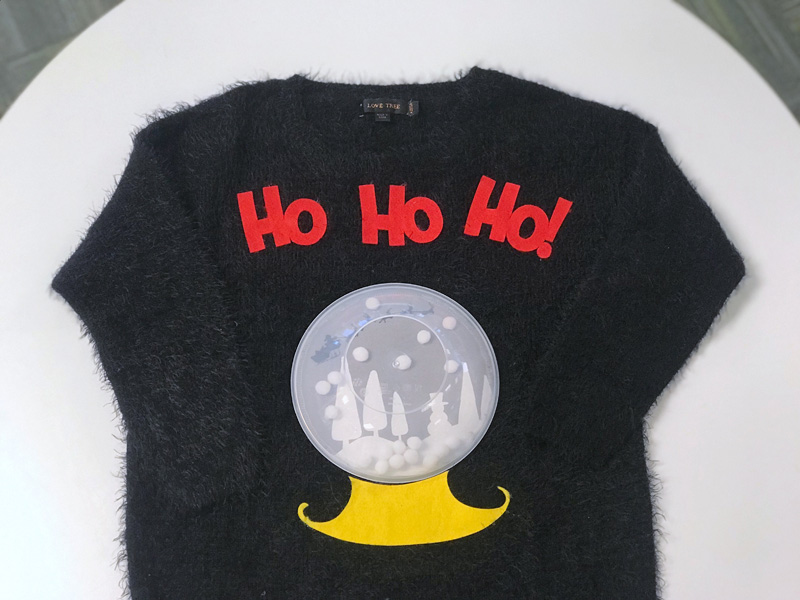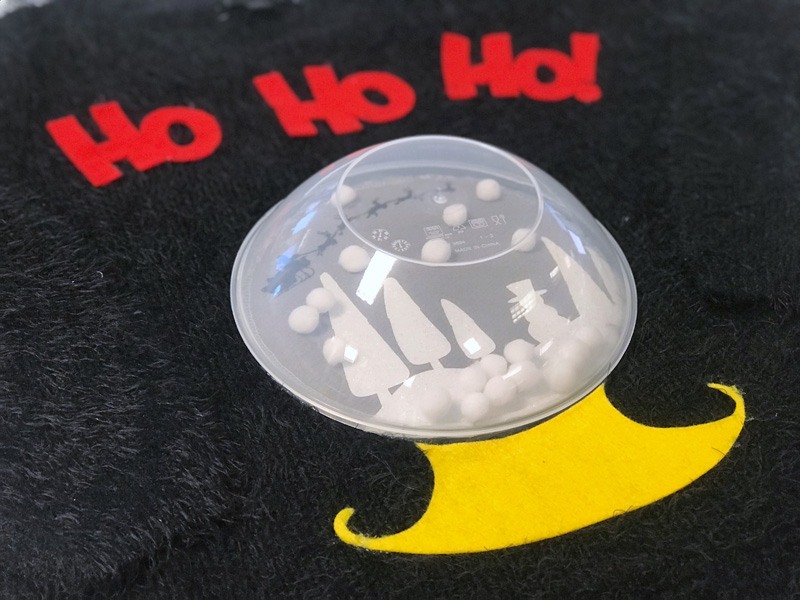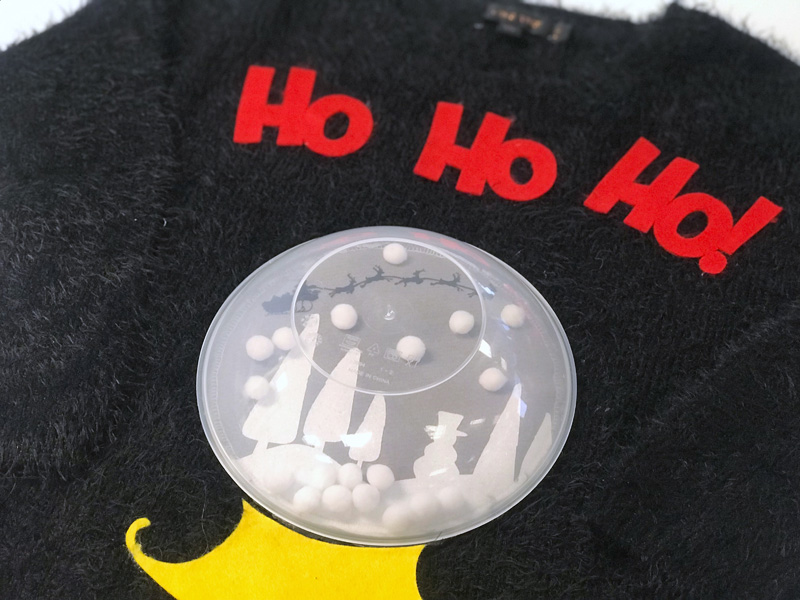 To create this sweater you're going to need this cut file, red, golden yellow, and light grey felt, black Everyday Iron-on, white Glitter Iron-on, some mini pom poms, and a clear bowl.  How you adhere everything to the sweater is completely up to you.
Step 1 - Cut out all of your images.  You'll cut Ho Ho Ho! and the snowglobe top and base from felt (we used red, light grey, and golden yellow).  Because our felt is not backed we used the Rotary Blade in the Cricut Maker® to make cutting a breeze.  Once those were cut we used the fine point blade to cut out our sleigh and reindeer out of black Everyday Iron-on and our snow scene out of white Iron-on Glitter.
Step 2 - Using an EasyPress 2, press your Iron-on onto your light grey felt.
Step 3 - Attach everything to the sweater.  There are a number of options you could use for this project and we used a couple different ones.  The first thing we did was place our snowglobe onto the shirt right where we wanted it and then pinned it in place.  Then we slowly stitched around the edge to attach it to the sweater using a sewing machine. Because our particular sweater is VERY fuzzy we didn't want to take a chance that heat n bond wouldn't stick to it.  Once we had the globe stitched in place we used a hot glue gun to adhere a few of the pom poms to the snow scene so even when all the others were settled to the bottom of the globe you would still get the *snowing* look we were aiming for.  
Once those were dried we added a small handful of poms to the middle of the scene and then using hot glue (in small sections so it wouldn't dry,) we attached the bowl all the way around the circle (make sure you put something between the front and back of your sweater so you don't accidentally glue it together.  I used the Iron-on Protective Sheet and it worked awesome, no sticking at all). This worked even better than I had imagined.  There was very little glue that showed around the outside of the bowl which was great.
Once the bowl was completely adhered to the sweater I finished adding the other pieces.  Because I had already used hot glue to attach the bowl (and let's be honest, that bowl is keeping this sweater from being machine washable in a big way) I decided to go ahead and use hot glue for the rest of the pieces.  I laid each piece out where I wanted it to be and then using hot glue just did half at a time to help keep the pieces in place.
I'm kind of obsessed with how perfectly ugly this sweater turned out! If you want to recreate this look I found this bowl for about $2.50 at Walmart, it comes with a lid that has a fork built in so I think it was in the lunch supplies area. I double dare you to wear this shirt and NOT shake the bowl at every person you walk past so they can see your snowglobe *snowing*, it's addicting!
Ugly Christmas Sweater #2
There was some debate when I first started this sweater that it just wasn't ugly enough but once we got all the fur trim added and brought out the attachable matching scarf it was just ugly enough to get a seat at our Ugly Christmas Sweater table.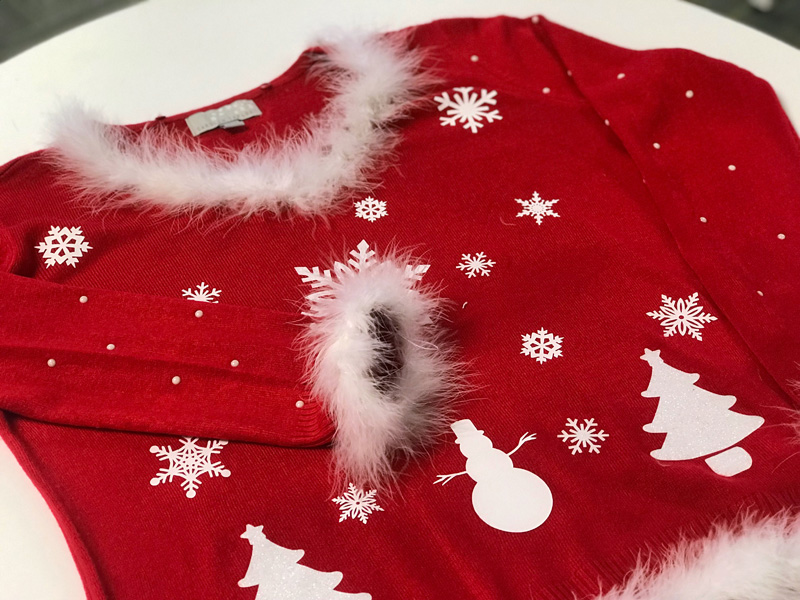 This sweater was super easy to create and took very little time.  The snow scene idea started because the sweater had the little white dots on the sleeves when we purchased it which looked like little snowflakes in my head.  Using white Glitter Iron-on, white Everyday Iron-on and our EasyPress 2 we created this sweater in no time at all.
To really take it to the next level we used a cheap feather boa that we purchased from Hobby Lobby to add to the wrists, collar, and the front waist.  We chose to hand stitch the boa onto the sweater with loose stitches so it would be easy to remove so the sweater could be washed. If you plan for your sweater to be a one hit wonder you could attach the feather boa with hot glue like we did the felt on the previous sweater.
You can find the cut file for this design here.  Please note - we set it up in Design Space how we thought we wanted it but once it was all cut out we rearranged the snowflakes and laid them out one at a time so our design in these photos isn't the exact same as the canvas in Design Space.
Ugly Christmas Sweater #3 (and 4 if you watch the Facebook Live below)
If you've been following us for a while this sweater may look familiar to you.  This sweater was actually created last year on a Facebook Live with my friend Cortney.  She and I actually won 3rd place last year at our Holiday Christmas Party for these amazingly perfect Ugly Christmas Sweaters.  I'm going to be honest, I love them. I think they're so fun that I would wear them all season long - no ugly sweater party invite needed!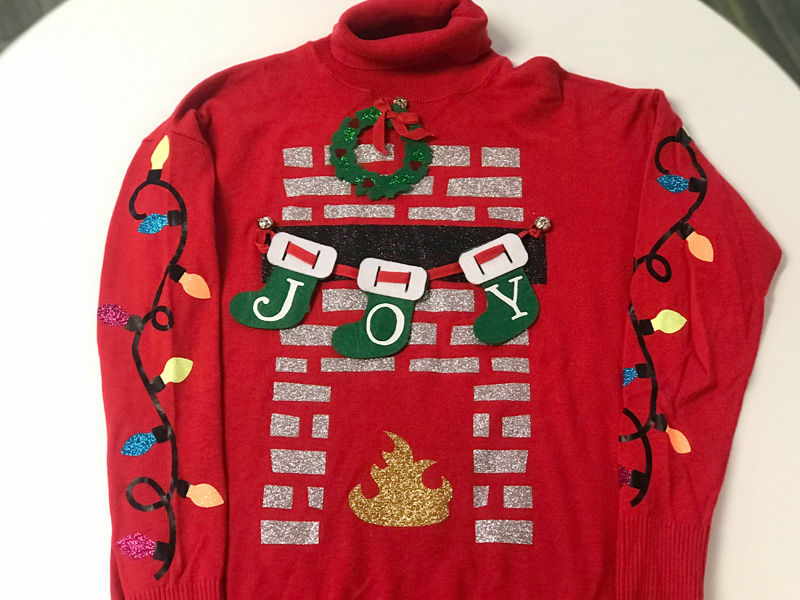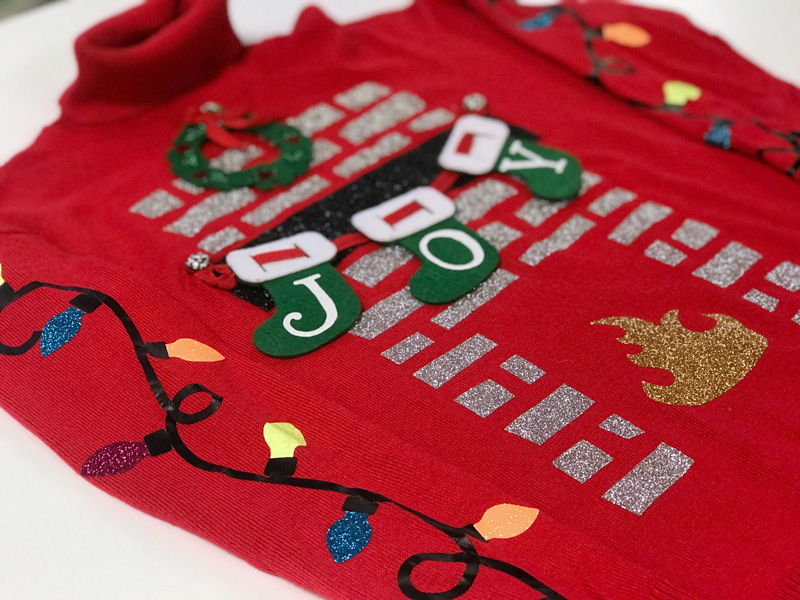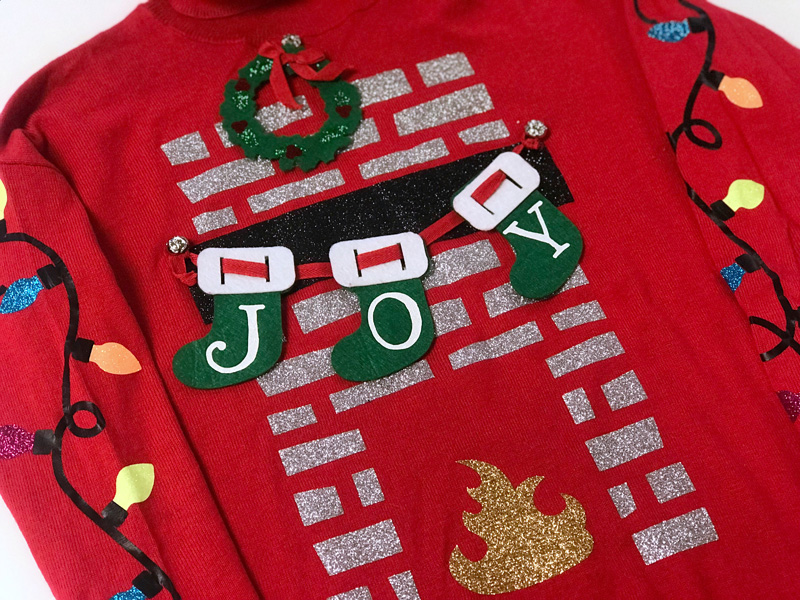 This sweater includes a whole variety of Iron-on and felt.  We've got black, silver, gold, pink, green and blue Glitter Iron-on, black, white, yellow, orange and red Everyday Iron-on, green and white felt, 3 silver buttons, and some red ribbon. You can find the cut files for this project here (fireplace) and here (lights on sleeve) and you can watch the whole Facebook Live below.
Link to 2018 FB Live - https://www.facebook.com/OfficialCricut/videos/2164918440439898/
Link to 2017 FB Live - https://www.facebook.com/OfficialCricut/videos/10155020692811434/
I cannot wait to see the DIY Ugly Christmas Sweaters you create with your Cricut machine and EasyPress!  As you post them, make sure you use #cricutmade so we can see what you're creating and tag us in your photos.
Happy Crafting!!
Jenn