October 20th, 2017 • Contributor: Kristen Johnson from A Girl and Her Glitter
When trick or treating, everyone loves that one house that hands out the full sized candy bars… look no further because we have an entire party just for those anti- fun-sized candy bar kids inside us all!
A Bright Side to Spooky
This time of year can often get a little too eerie so we went from the dark side and turned toward the light. At the end of the tunnel were brightly colored foams, holographic vinyl and shimmer cardstock that still gave us a fright… and our Cricut Maker was leading the way. Every kid, young and young at heart, would be able to attend this fun-filled Trick or Treat party and leave with a side smirk and a mouth full of multicolored sugary goodness.
The Good Stuff
Bats with more bats and holographic vinyl were a must! The different textures and vibrancy of the bats play really well off of any wall you choose. Pair these vibrant bats with the "Treat Yo Self" welcome (don't mind if we do!) and your party is going to light up more than just their eyes. Time to grab your Trick or Treat pumpkin and grab your candy!
Tools + Materials You Will Need: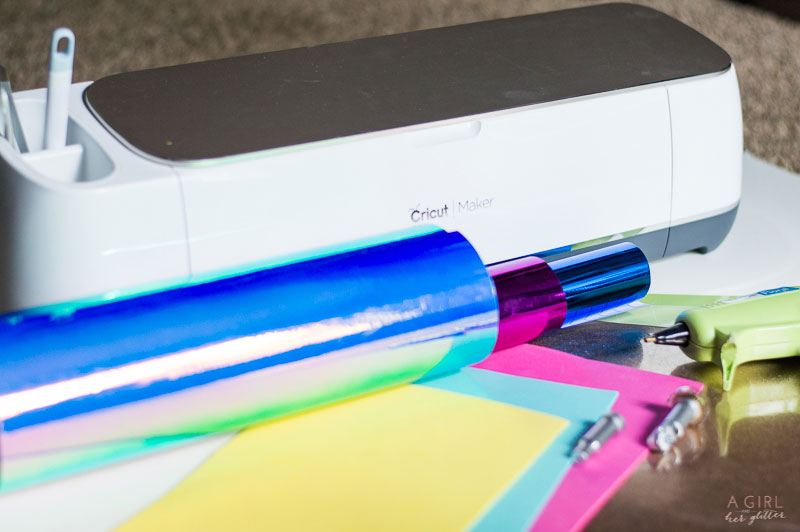 1: Cut Cardstock Bats

Cut your Cricut shimmer cardstock using your Cricut Maker with Design Space, search image and select your bat. Use your contour button to remove anything you do not want to be cut. Once all set, proceed to cut your shimmer cardstock.
2: Cut Foam Bats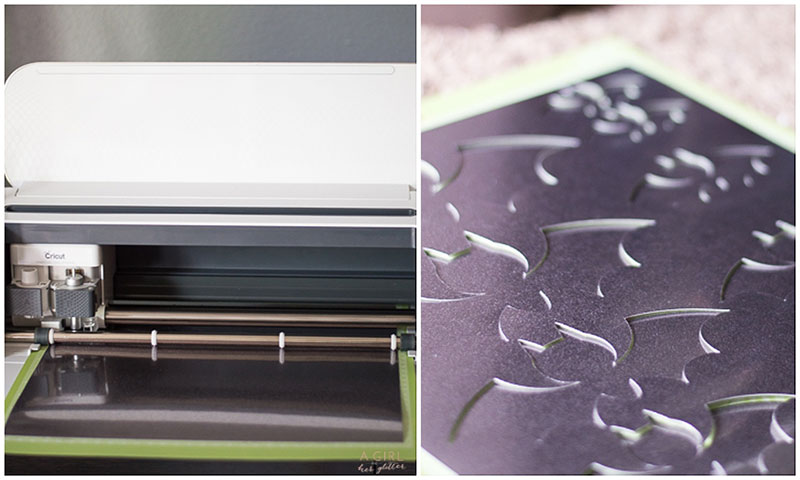 Follow the instructions from step number 2 for your craft foam. Be sure to switch your blade and your material, but no need for a full redesign.
3: Fold Wings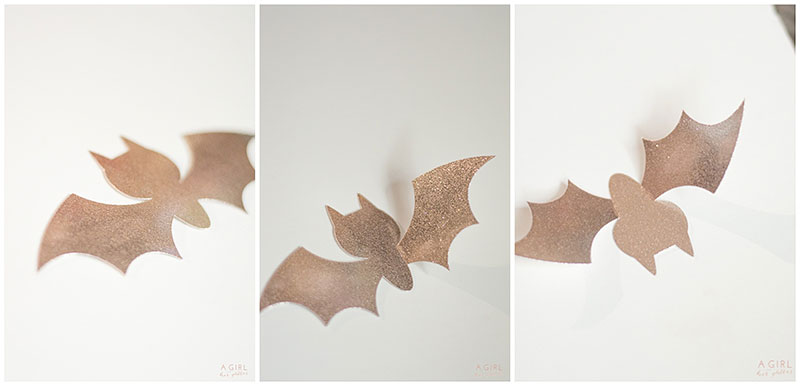 .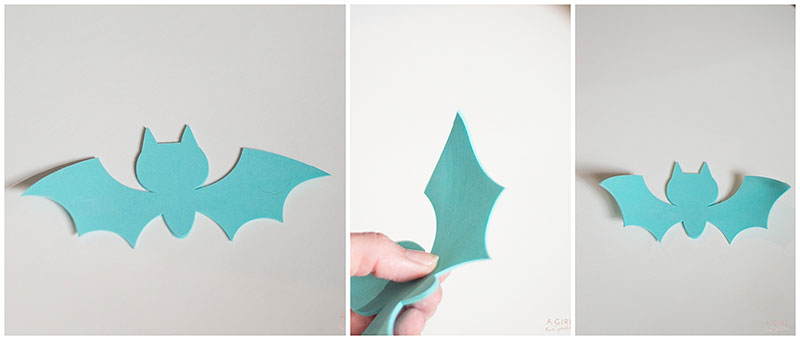 One by one, take your shimmer cardstock and fold each wing where it attaches to the body and fold toward the body. With your foam, use your fingers to massage the wings toward the body in a rolling motion.
4: Attach to Wall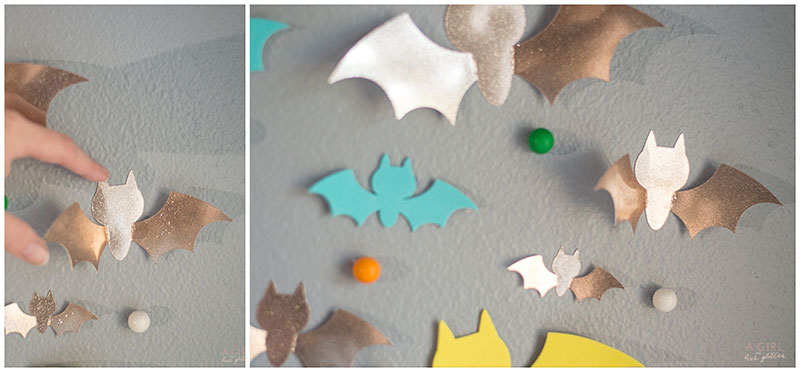 Take an adhesive, like hot glue, and add a dot of glue to the head and attached to your backdrop. Use a removable adhesive for walls. Continue in a cascading form mixing the colors into each other in an ombre type feel. All done with this batty project - on to the next simple party element that will tantalize the senses!
5: Create and Cut Your Sign

Time for the sign. Use your Cricut maker to cut your holographic vinyl. Choose a font that works for your party feel. To make your sign bigger, you may need multiple pieces of your material. When you set your font and size desired, select the vinyl setting, ensure you are using the correct blade, and begin your cut. Weed out your excess vinyl to reveal your spooktacular letters.
6: Weed and Transfer Sign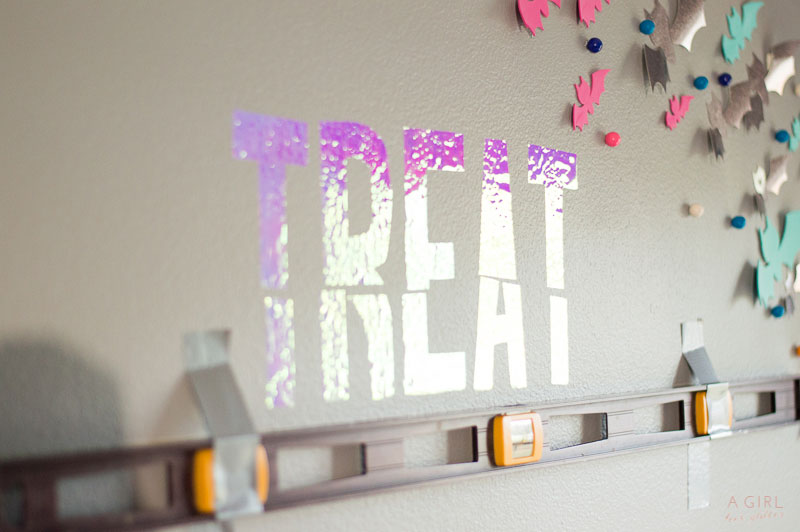 After your cuts are complete, weed out and remove the excess vinyl. Apply your transfer and apply to your backdrop/wall. *Using a level will help* Remove your transfer and your party is ready to go!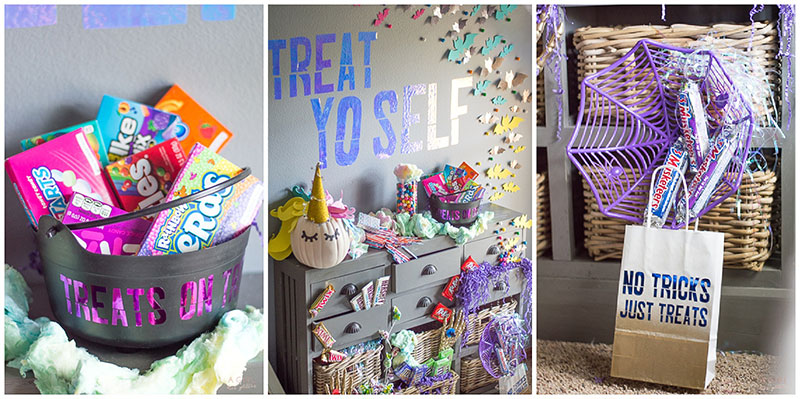 Following these quick and easy steps will make a big impact on your candy craving ghouls and goblins. Add in your sweets and treats, more personal touches, with your Cricut and get ready for the most cheerful Trick or Treat party around.
The magical unicorn pumpkin was also made with the Cricut Maker and can be found here.
How do you decorate for your Trick or Treaters?