September 14th, 2018 • Contributor: Jen Causey from Something Turquoise
Hey there, Cricut lovers! My name is Jen Causey and I'm the resident wedding expert for Cricut. I'm the creative gal behind the DIY wedding blog Something Turquoise, but today I have something extra special to share with you. I'm pregnant with my first baby and just a few weeks ago I helped throw my own shower.
I pretty much went Cricut crazy with it and so the team asked me to share some of my creations with you. My Cricut Explore Air 2 Special Edition, Martha Stewart Machine Bundle and Martha's new Celebrations Party Supplies line (The Mint & Blush Collection), both sold exclusively at Michaels, took center stage at my shower. You'll be able to see my entire shower both on MarthaStewart.com and SomethingTurquoise.com in the coming weeks.
This name tag project was my absolute favorite project from the entire event, while it was also the most time-consuming. It took me a little over 8 hours to create 40 of them, so make a note to yourself that this one takes time.
I used the Martha Stewart Wall Rosettes file in Design Space to start with, shrunk her designs down, and added a few shapes to create these unique name tags. Along with a rosette for each guest, I made funny baby sayings and a name tag banner.
On my shower welcome table I created a little "Name Tag Bar" display where each guest got to choose their rosette, find their name and pick a sticker saying to assemble their name tags and It was a major hit!
Photo Credit for Featured Image Above and Pinnable Image Below: Steve Cowell Photography
Supplies Needed: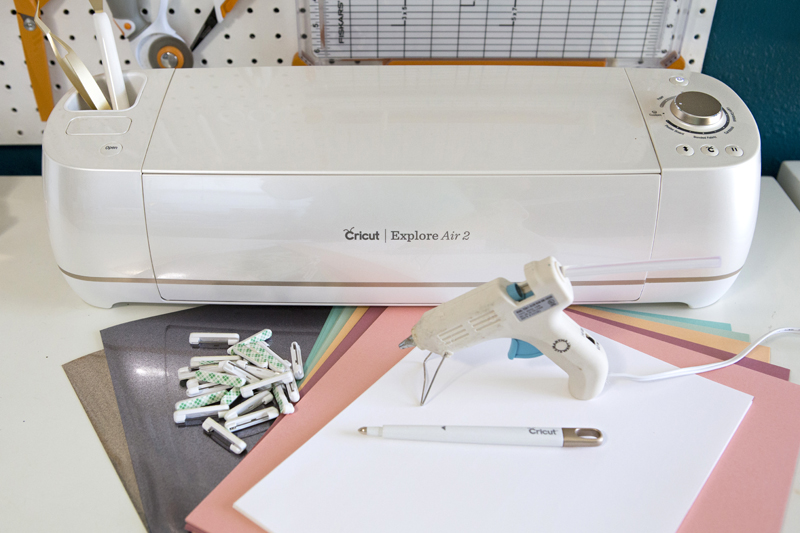 Cricut Explore Air 2 Special Edition, Martha Stewart Machine Bundle
Cricut Cardstock 12x12, Sorbet Sampler
Cricut Sparkle Paper, Classic Sampler
Cricut Scoring Stylus
Self Stick Name Tag Pins
8.5" x 11" White Sticker Paper
8.5" x 11" White Cardstock
Home Printer
Glue Gun
Public Canvas: https://design.cricut.com/#/design/103070067
1: Create Your Design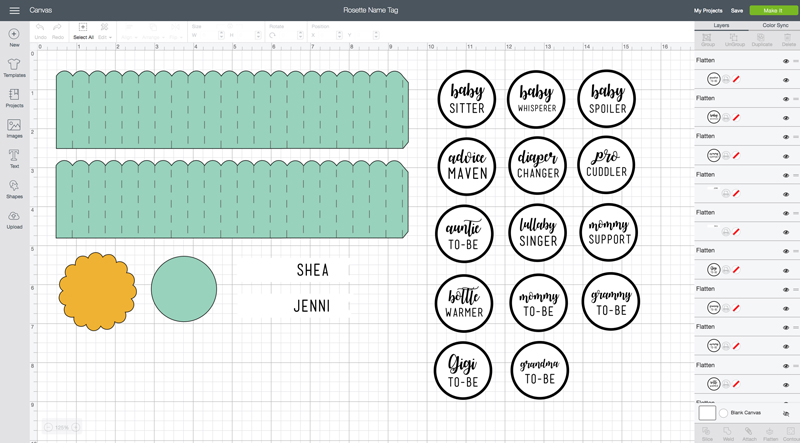 As I mentioned above, I used the Martha Stewart Wall Rosettes file in Design Space to start with, shrunk her designs down, and added a few shapes to create these name tags.
We have the two rectangle pieces of the rosette, the rosette center scalloped circle, the rosette backing circle, a banner tag with the guests' name and a silly sticker saying. The banner name tags and the stickers are available on my canvas for you to personalize. I chose to use the Print then Cut feature with both the name tags and the sayings.
2: Cut Out Scalloped Circles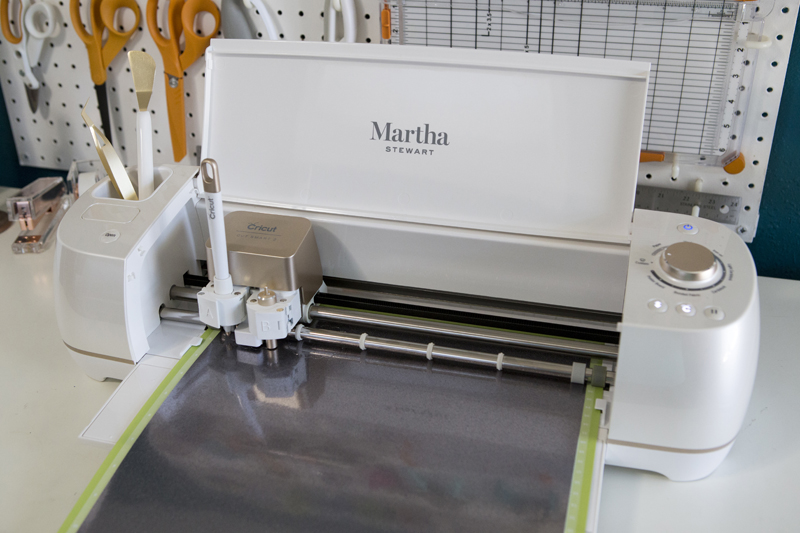 .
I used the amazing Cricut sparkle paper for the rosette center scalloped circles. I cut as many per page as I could; it turned out that 25 fit on a 12x12, so I only had to cut 2 pages. This paper is like glitter paper but it's glossy and there is no loose glitter that falls off, it's fabulous.
3: Cut Out Other Rosette Pieces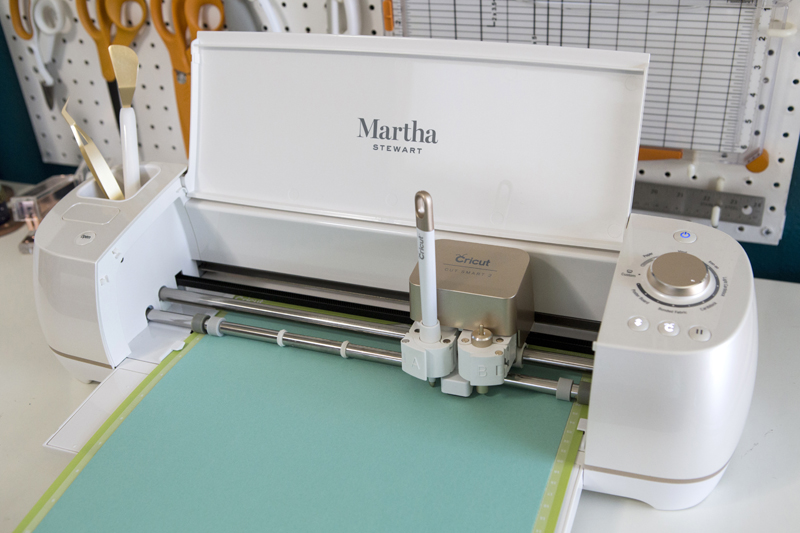 .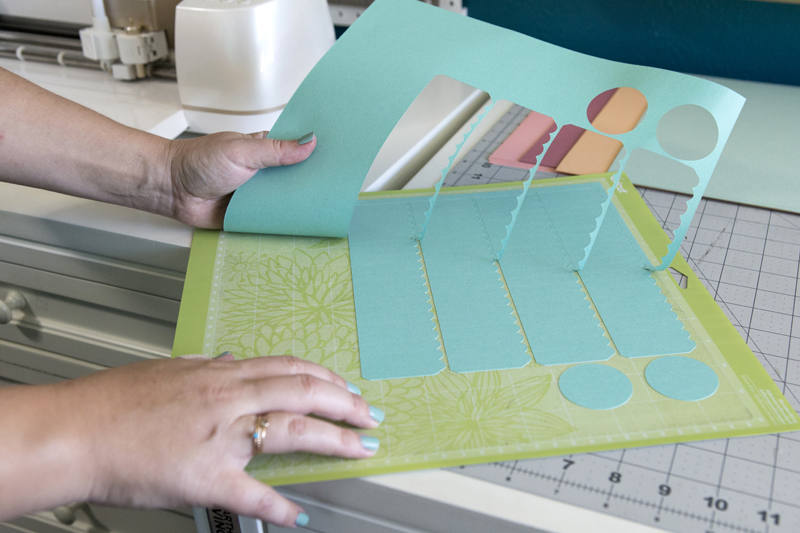 Next, I cut the rosette rectangle pieces and backing circles, only two sets fit per 12x12 page so I had to cut 20 sheets of 12x12 to add up to 40. I used the Cricut Sorbet sampler cardstock pack which was the perfect fit for my shower theme.
4: Cut Out Banners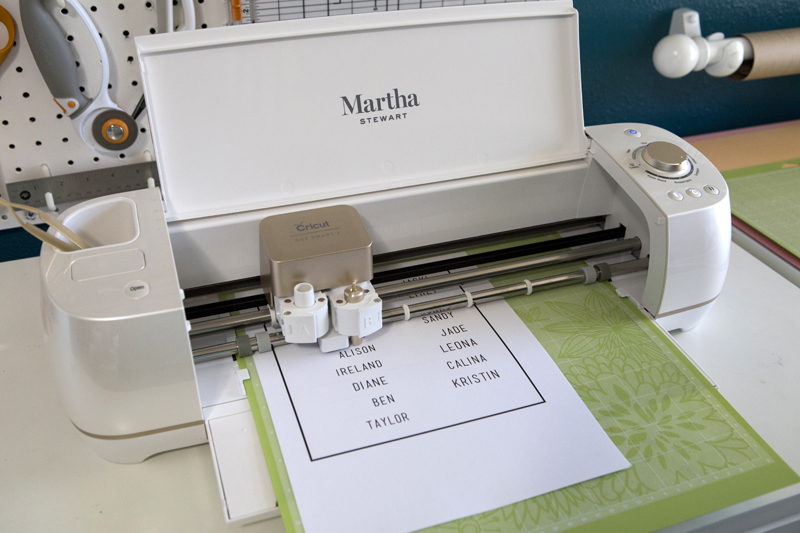 .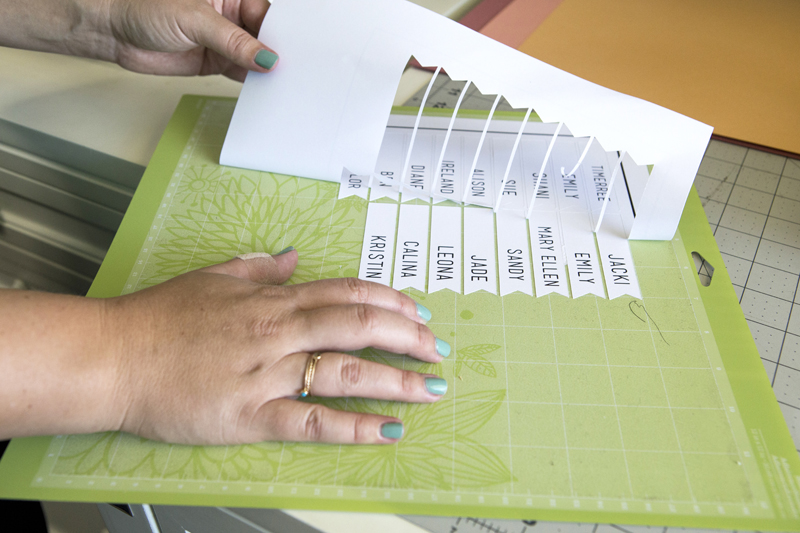 .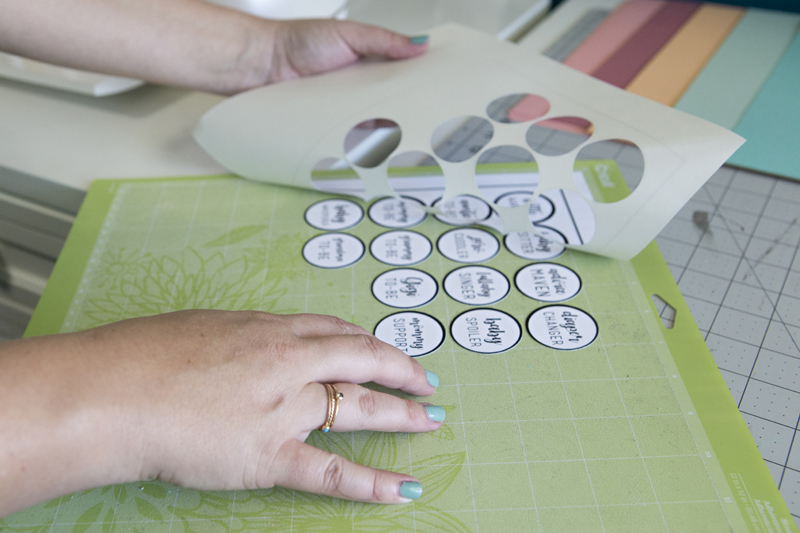 I was able to Print then Cut 18 name tag banners at one time, so I ended up doing three sheets on white cardstock to reach my 40 person guest list. I was able to get 16 saying stickers per Print then Cut sheet, and I used 8.5" x 11" white sticker paper.
I used the fonts Mensch and Watermelon Script for this project. Both the tags and stickers were printed using my laser printer so that I could add toner reactive metallic foil to the prints.
5: Fold Rectangles for Rosettes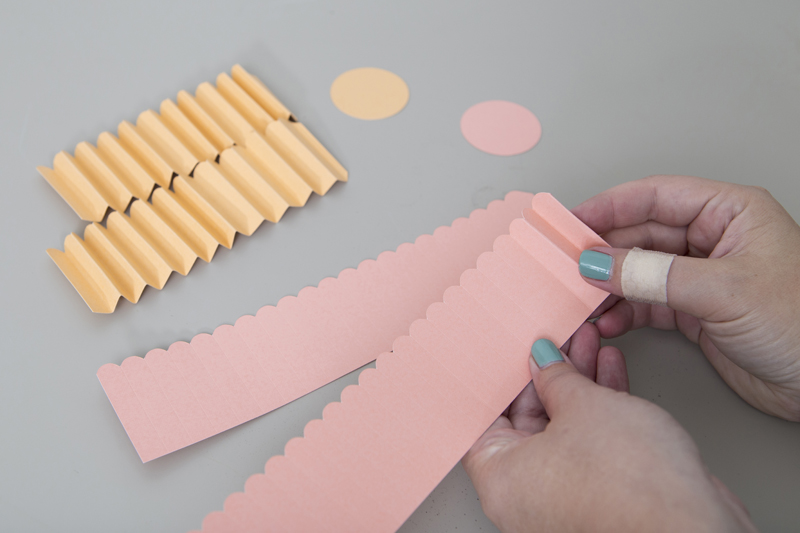 Start to assemble the rosettes. Fold back and forth on the score lines until both rectangles look like an accordion.
6: Glue Together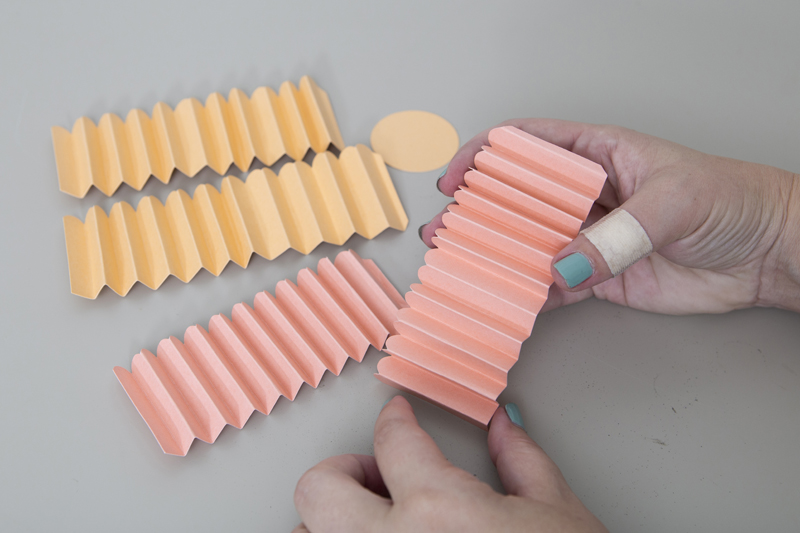 .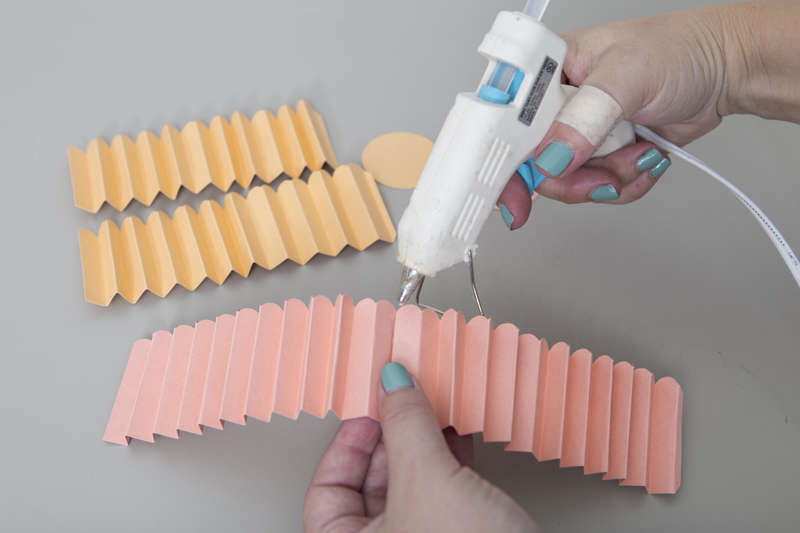 .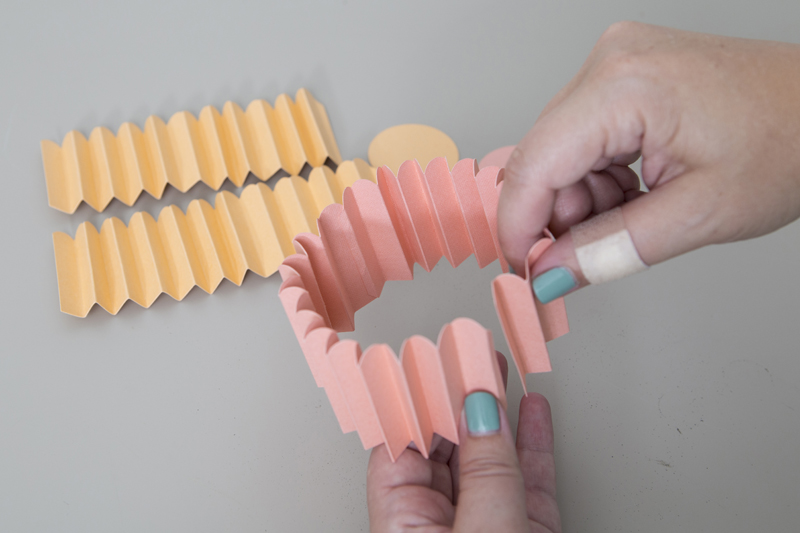 On the cut tabs, hot glue the two rectangles together to create an accordion circle shape.
7: Glue on Backing Circle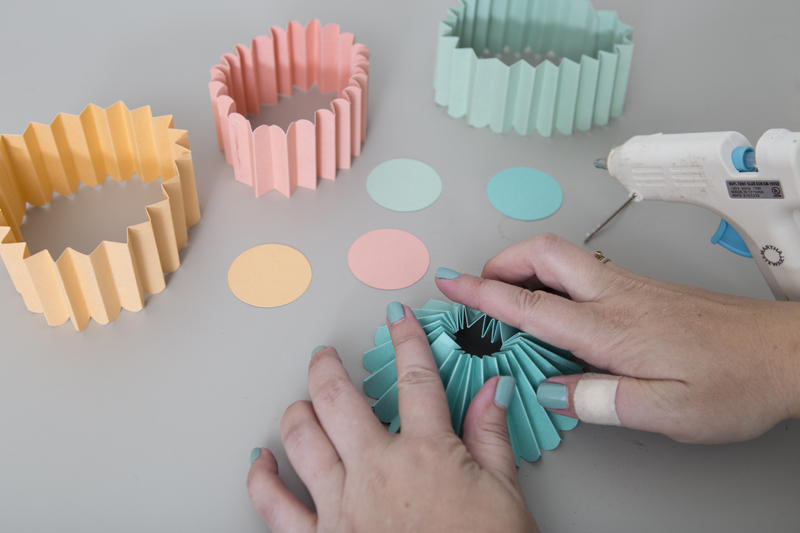 .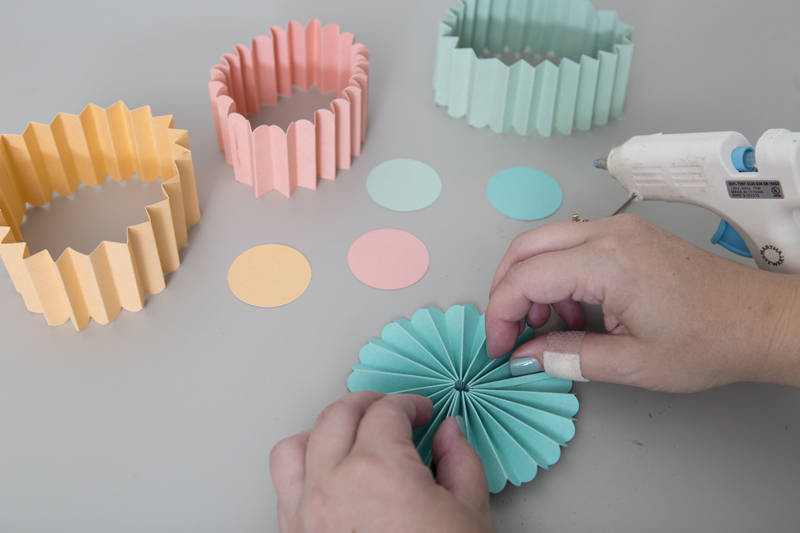 Now glue the backing circle in place. It's easiest to do this after you've completed the above two steps. Press one side of the accordion inwards and firmly hold it down.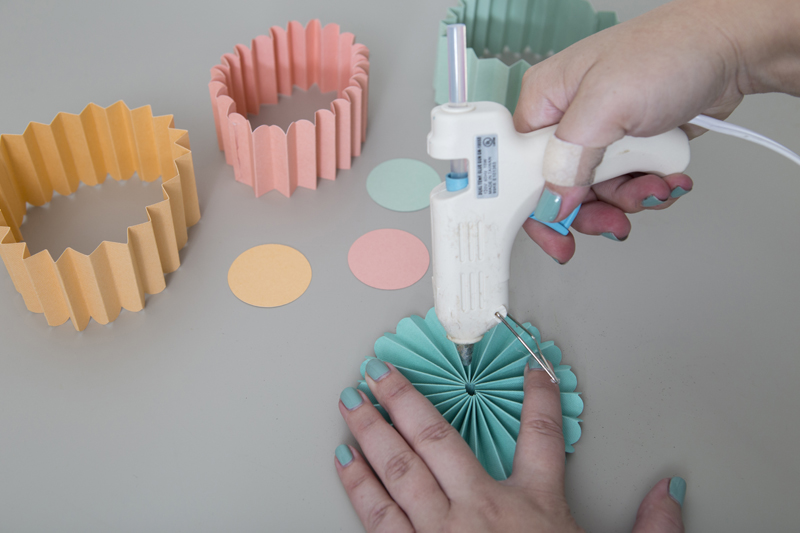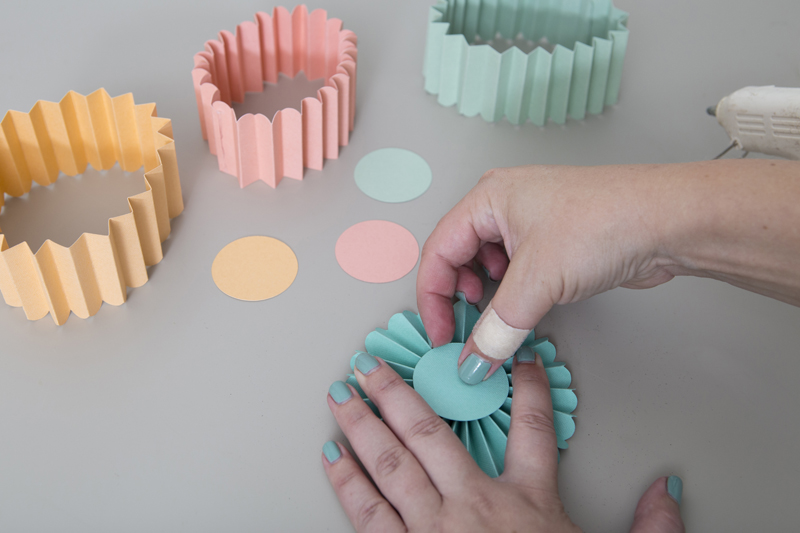 Then add a few squirts of hot glue and use the circle backer to hold it in place. You'll want to firmly hold the entire shape down flat on the table until the glue is cool. These folded rosettes are strong and will bounce up on you!
8: Glue on Sparkle Circle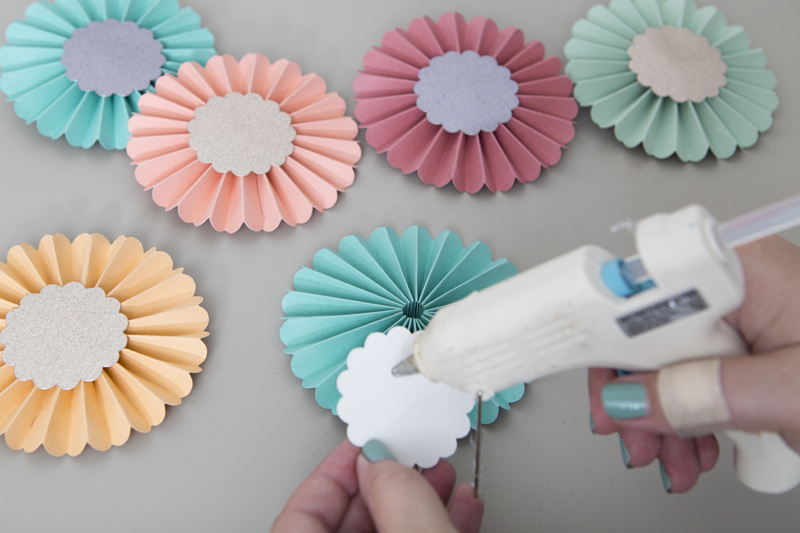 .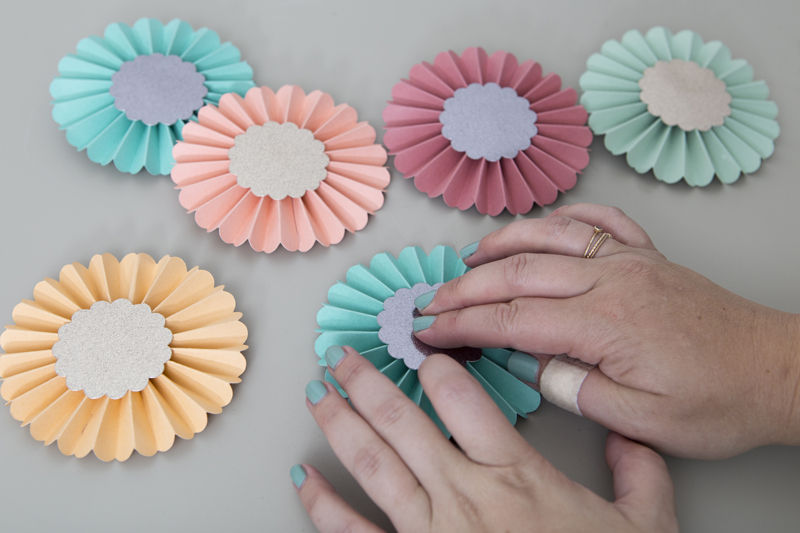 Next, glue the scalloped sparkle circle on the front of each rosette and hold until the hot glue is dry.
9: Add the Circle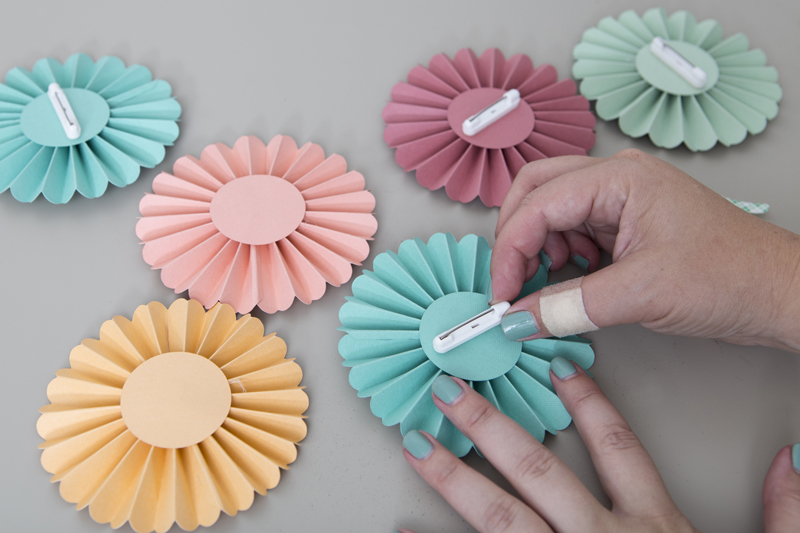 Peel the sticker backing off your name tag pins and adhere to the back of the rosettes. Now your crafting is complete and your guests get to do the rest from here!
10: Add Metallic Foil if Desired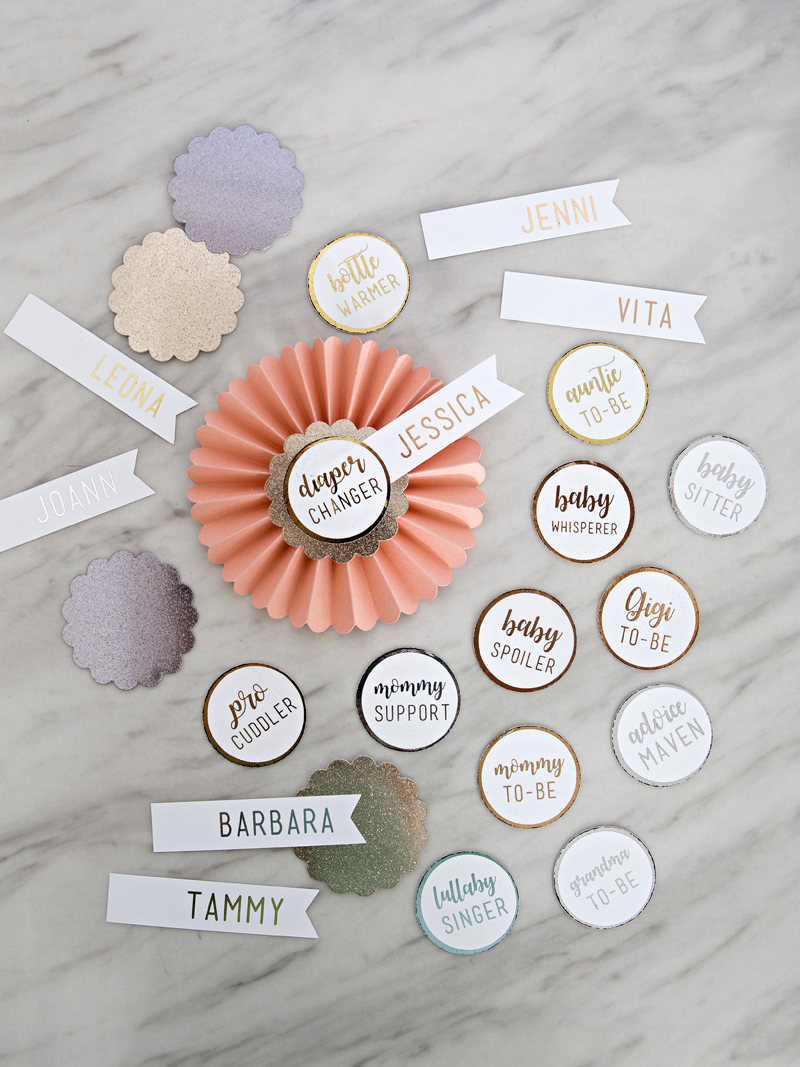 As I mentioned in step 4, I used my Minc Metallic Foiling machine to add toner reactive metallic foil to the name tags and the sticker sayings. You can do the same or you can choose to print the designs in color!
Thanks for letting me share this peek into my crafty baby shower, I hope it's inspired you to get creative and customize files you find in Design Space. I'm super excited to see you amazing and creative Cricut users, create these adorable name tags for your next baby shower or special event - so make sure to share them on social and tag @something_turquoise and @officialcricut!
Pin now to save for later!