October 27th, 2018 • Contributor: Tiffany Isbell, Team Cricut
For me, the Christmas tree is a moment to celebrate our family.  It's full of memories and the people we love. I discovered some new ways to really bring that personal touch to what goes on our tree.  Every single part of the tree was handmade to mean something to our family, and I hope you can do some of these things for yours too!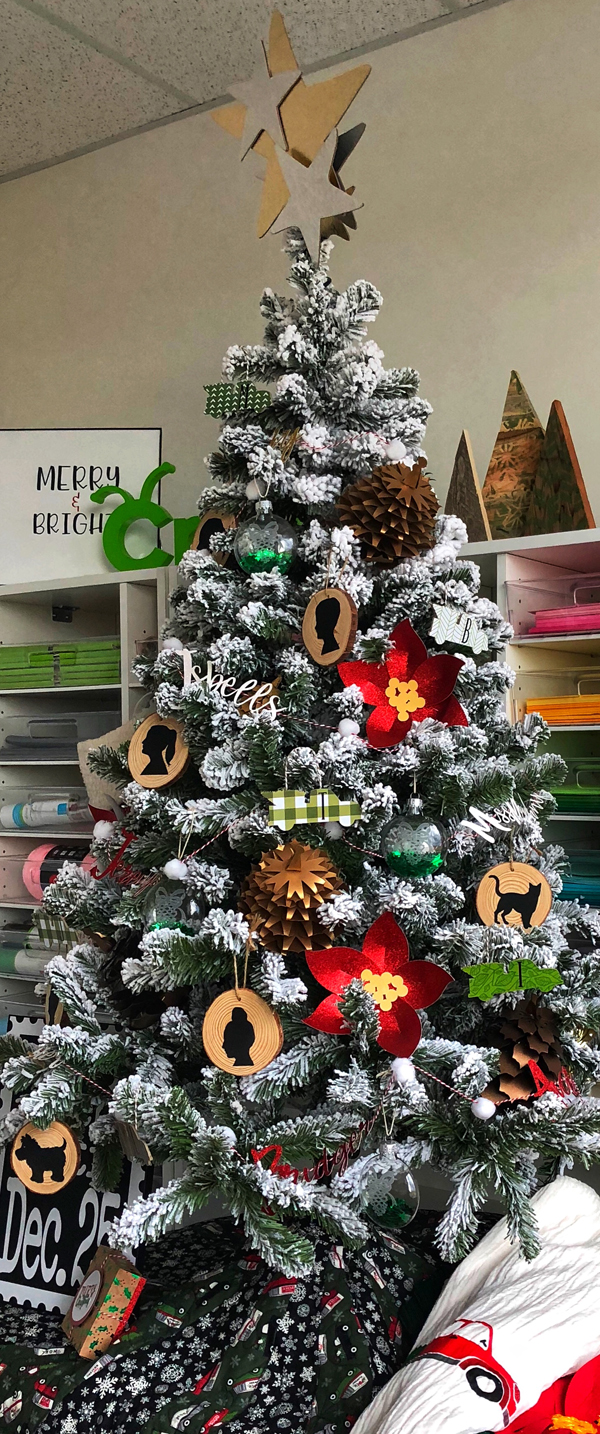 By far my favorite thing was the custom silhouette ornaments of each of my kids!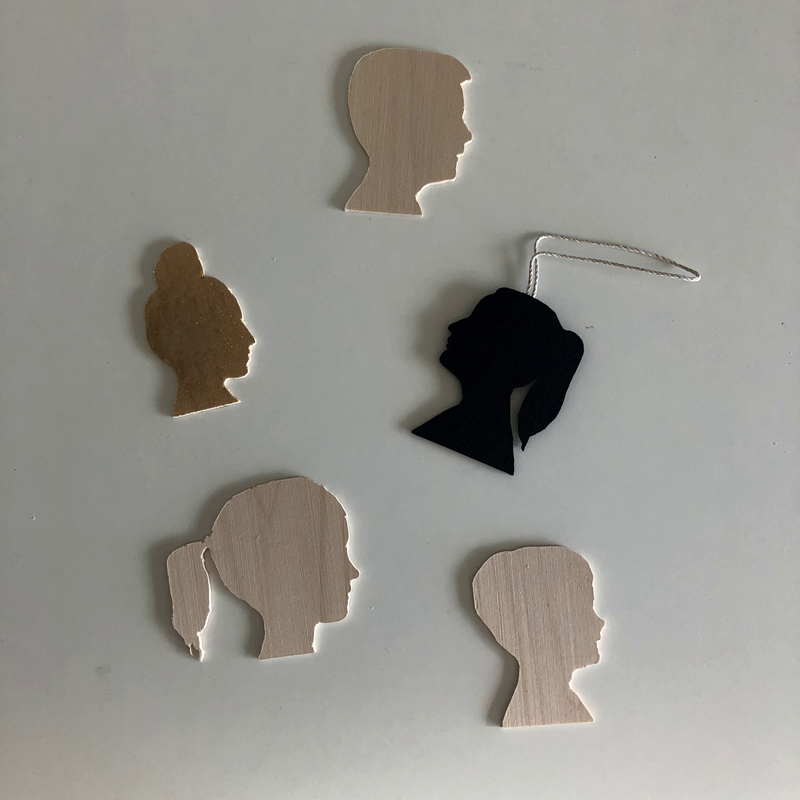 Being able to cut those little faces out of wood with the Cricut Maker™ was such a satisfying moment. It wasn't a memory that I could buy, and it was definitely a fun way for all of us to spend an afternoon.  Watch the Facebook Live to get the tutorial on how to take your own picture and turn it into a silhouette ornament.
The great part about this is that you can use any treatment you want on the wood so it'll match exactly.  We are debating whether or not to just glitter the wood or paint it black first and then spray glitter.  You can paint or stain your wood in any color that works for your décor!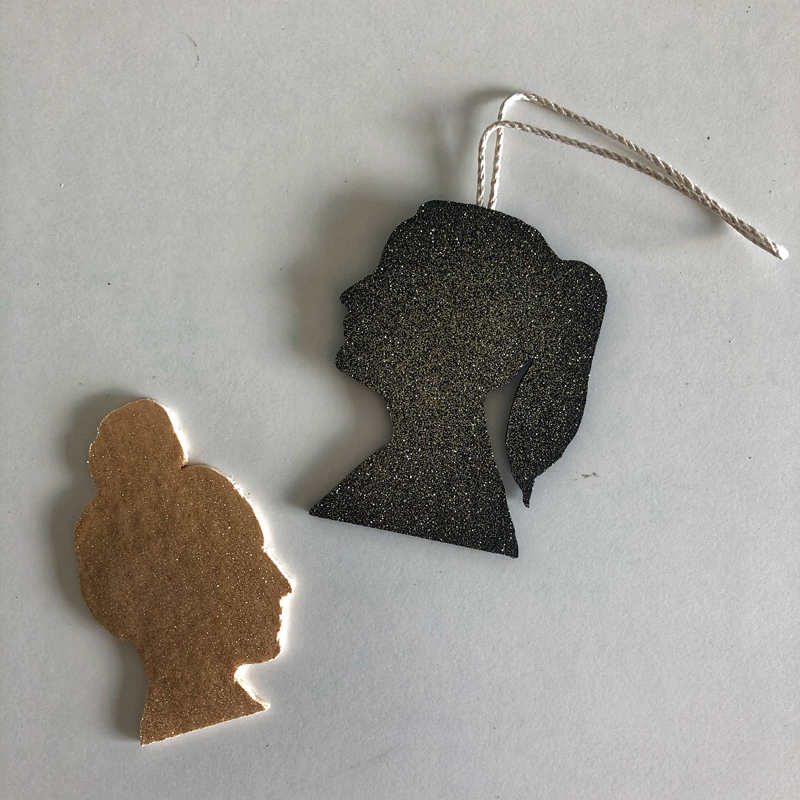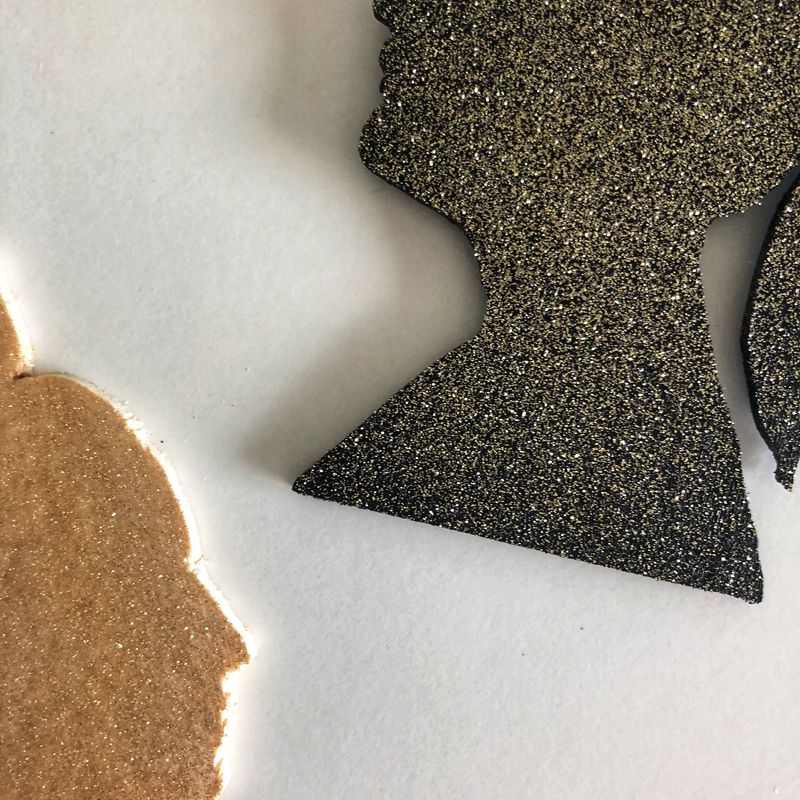 Don't forget to start our series at the beginning with the first week's Mantel Collection. Now, let's jump into the supplies list.  Order the supplies you need and get an extra discount with our special holiday promo code: 8WEEKDIY for an additional 10% off all your materials (excludes Cricut machines & Cricut Access and needs a $50 minimum purchase).
You should have leftover material from the last two weeks to use for some of the projects this week too!  Here are the Cricut supplies you will need:
Permanent Premium Vinyl, Frosted
Removable Premium Vinyl, Patterned Rustic Lodge (Coming Soon)
Removable Premium Vinyl, Patterned Nature Walk Green (Coming Soon)
Glitter Cardstock, Red (or white or gold) – you pick!
Christmas Delivery Fat Quarters (coming soon to Cricut.com!)
Textured Premium Vinyl (coming soon to Cricut.com!)
Here are the other supplies you will also need (you likely have some of these from the past two weeks!):
(1) Spool of Red & White Twine
(1) Bag of White Felt Pom Poms
(1) Package of Floral Wire
Hot Glue
Wood Ornaments
(1) Sheet of Basswood
Acrylic Ball Ornaments
Black Paint
Spray Glitter
8"x10" Blank Chalkboard Sign
Plain Tree Topper
Now, let's get into more of the projects!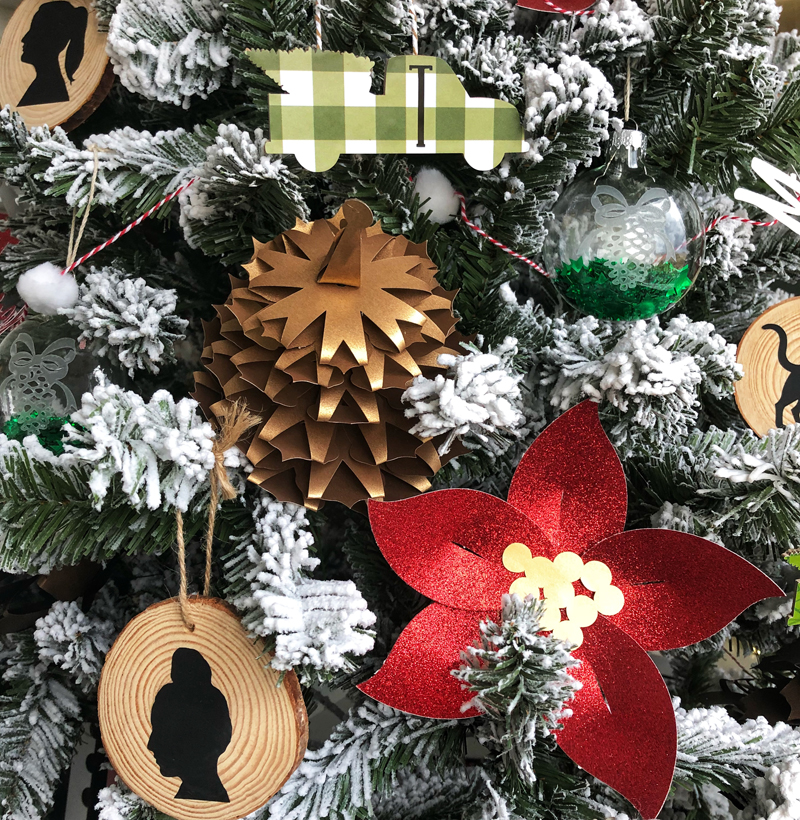 We're using the same color palette – white/cream, grey, forest green, black, and a few scattered pops of red.  You'll see the same imagery too – vintage trucks, pine trees/cones, and poinsettias.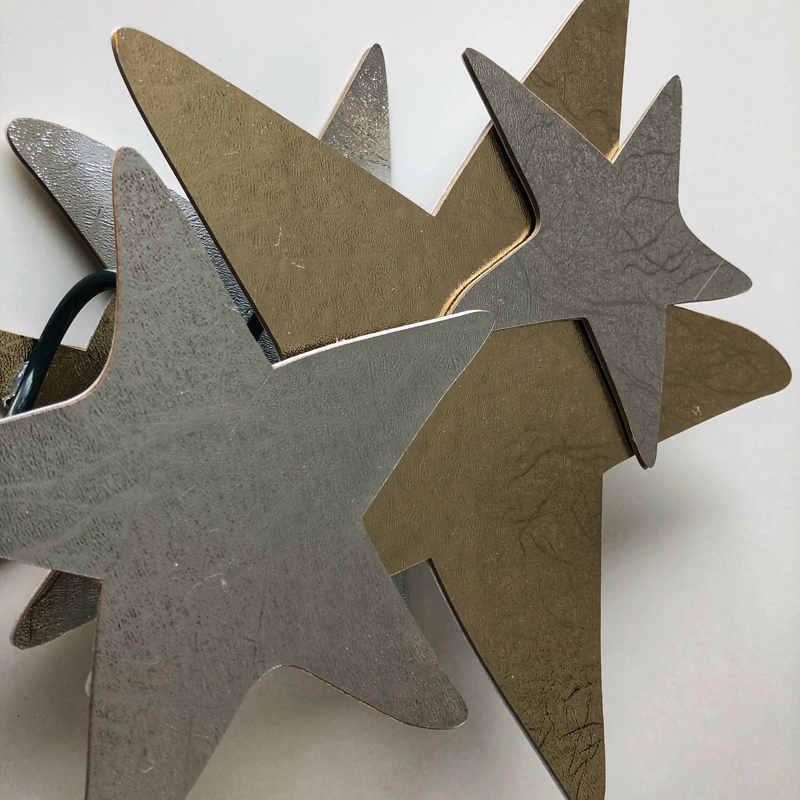 The tree topper used the same stars that we had on our Reindeer Sign.  It's quite simple: cut your stars out of chipboard and textured vinyl, apply your vinyl onto the chipboard, and then hot glue the stars to your liking.  We used a simple plain tree topper from Amazon.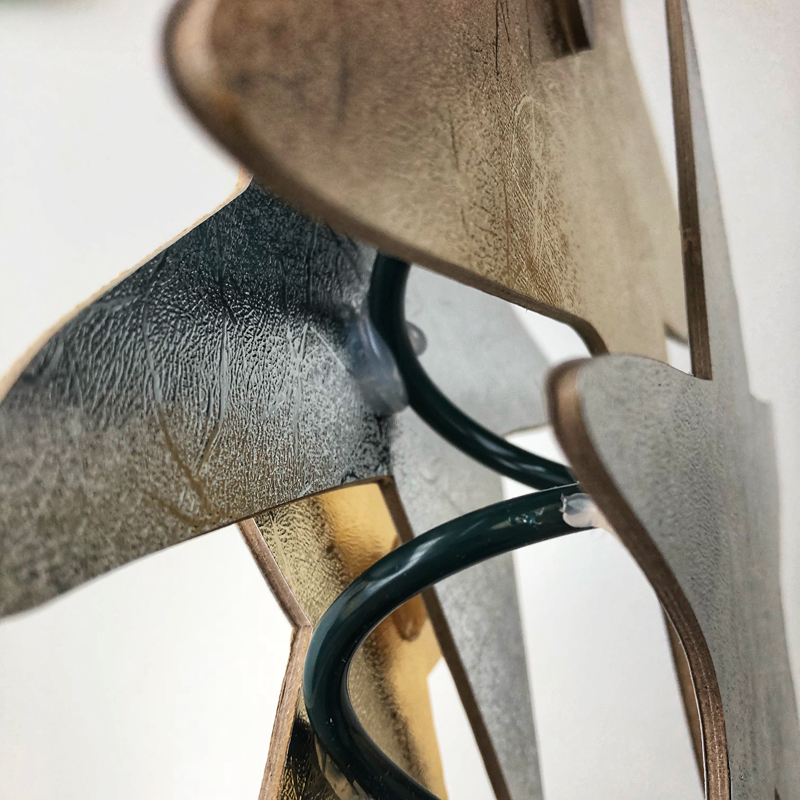 Including the woodcut ornaments, we made 4 custom ornaments – Wood Cut, Wooden Iron-on, Pinecone Frosted, and Monogrammed Trucks.  Let's dive into some of the applications to give you that top-notch tree look!
Wooden Ornaments with Iron-on Silhouettes – once again, Check out the Facebook Live to get the tutorial on how to take your own picture and turn it into a silhouette ornament.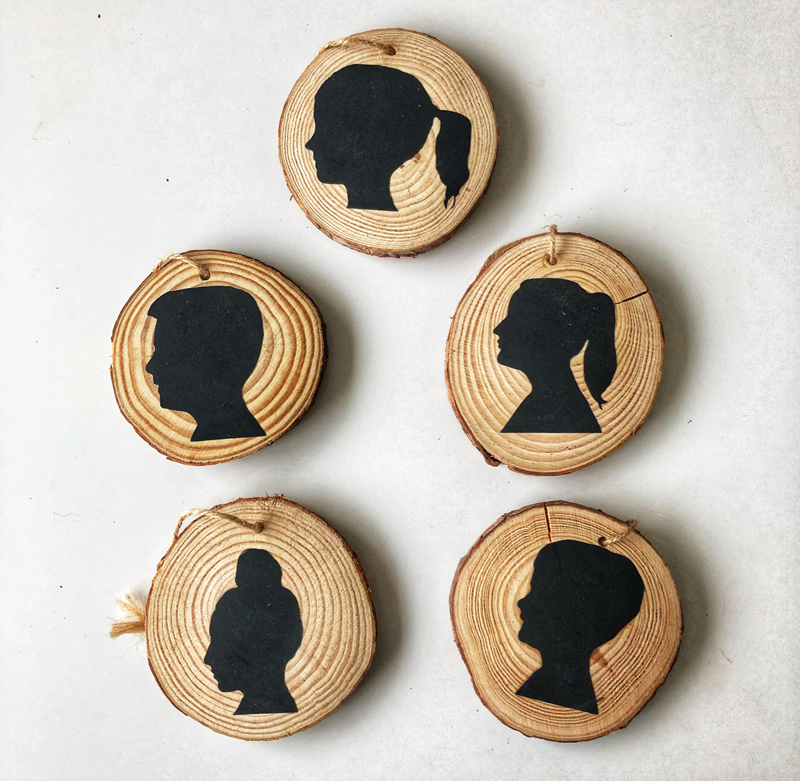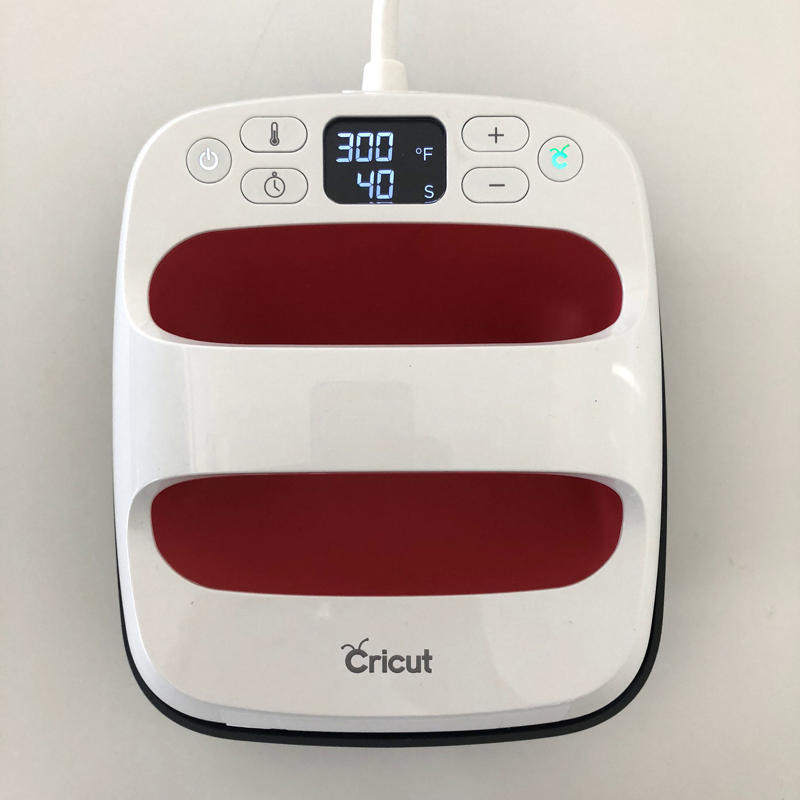 Make sure to read the peel instructions – cold peel or warm peel.  For Everyday Iron-on, the recommendation is typically a warm peel.
The pinecone ornaments were made with the Permanent Premium Vinyl in Frosted.  I used the tip of my weeder to help burnish the frosted vinyl onto the acrylic ball without any bubbles.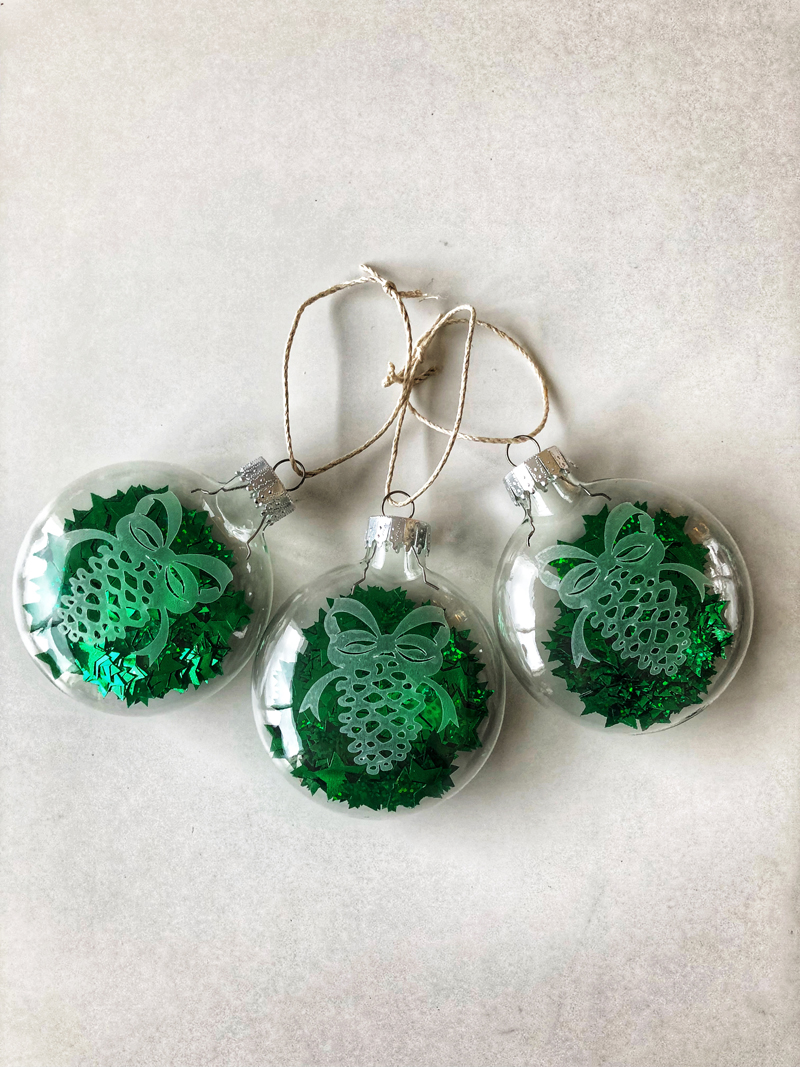 Then, I added some party foil cut confetti with stars to echo the stars on the tree topper.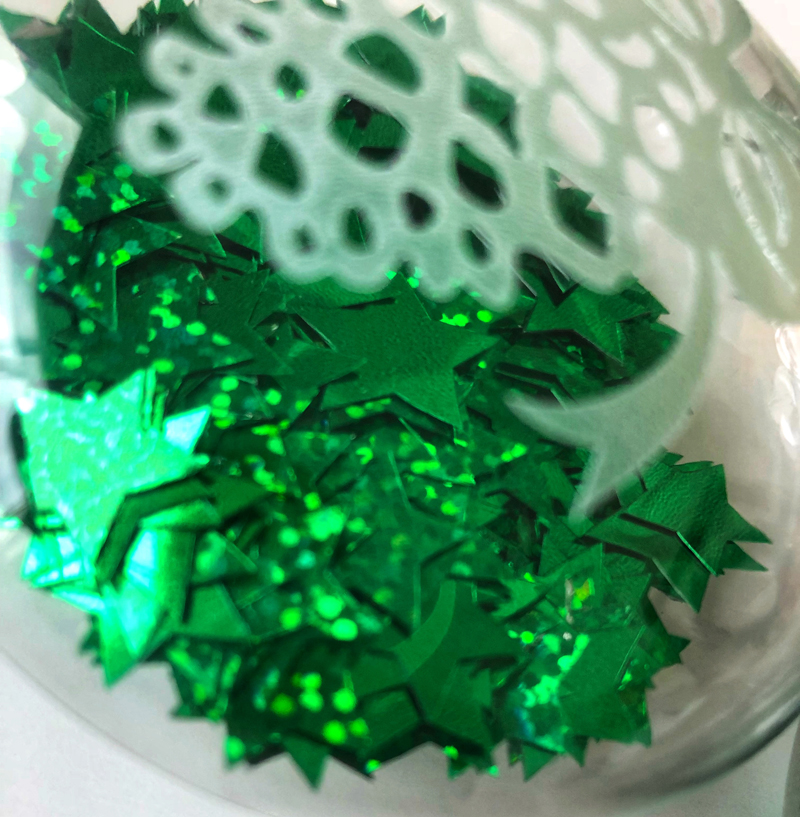 The last ornament for our collection is a combination of chipboard (for durability), patterned vinyl (for an eye-catching look), and black vinyl (for the monogrammed uniqueness). Similar to the tree topper, simply cut your materials and layer them together.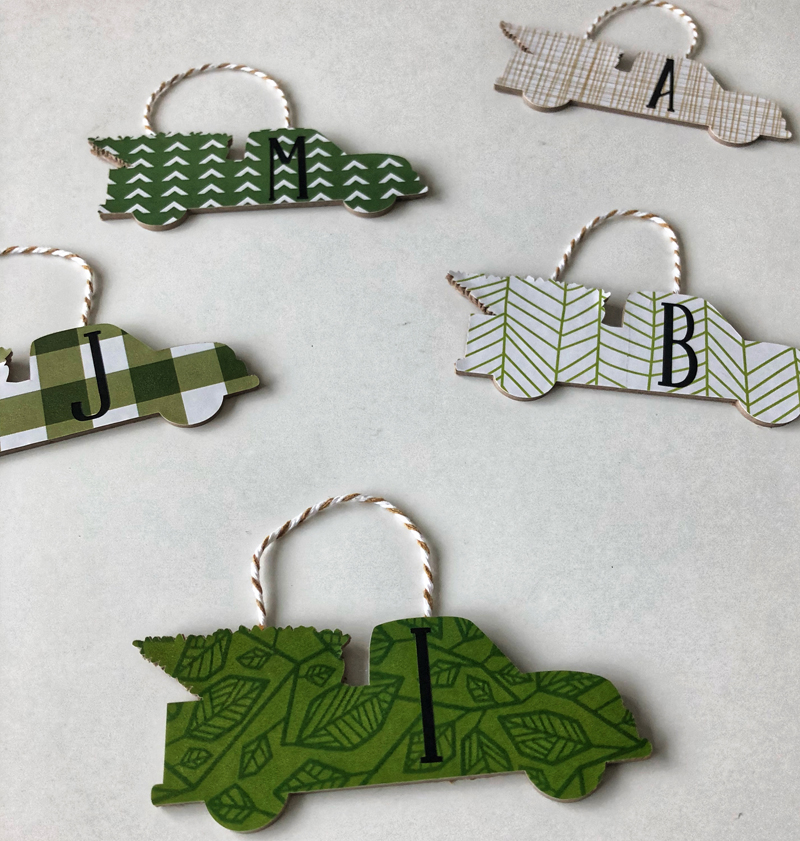 Monograms are a great way to add a little unique touch. With a last name like 'Isbell', it can sometimes be hard to find the letter 'I' anywhere. And finding your children or family names spelled correctly can also be difficult. That's why these custom tree projects can be so great.
I even made a garland with everyone's name! I used the font 'Babette' and welded the letters together. For these purposes, I dropped the dots of the 'I's.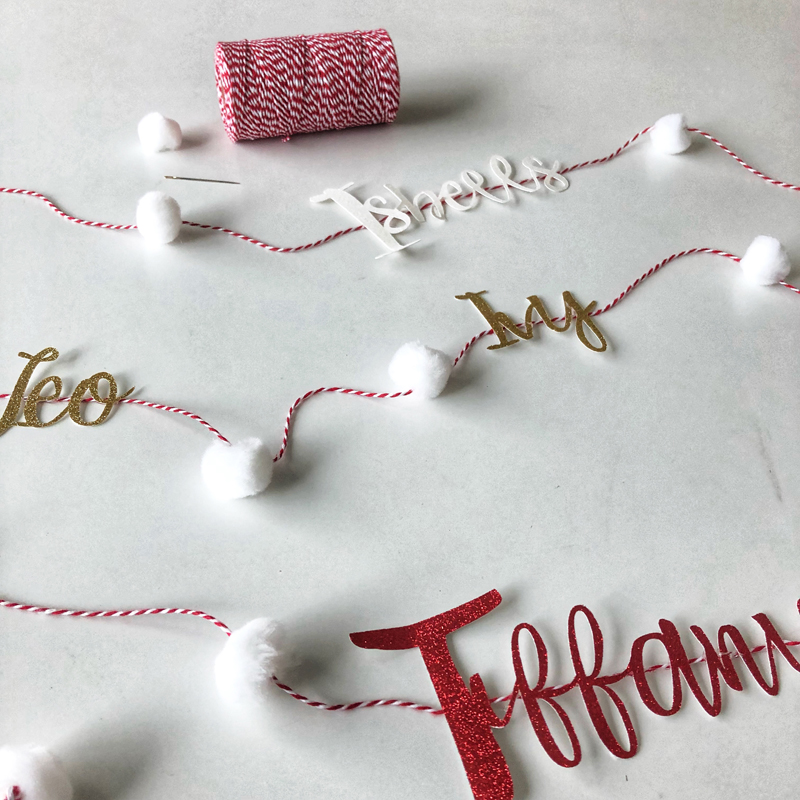 Take a needle and use the same twine (check out our other projects over the past two weeks!) to thread your white pom poms.  You can adjust the poms to the right spacing to fit all your names.  Some of ours are longer and some short! Then, just hot glue your names in place.
The tree skirt was another great tie to the rest of the room décor – stockings, pillows, and more!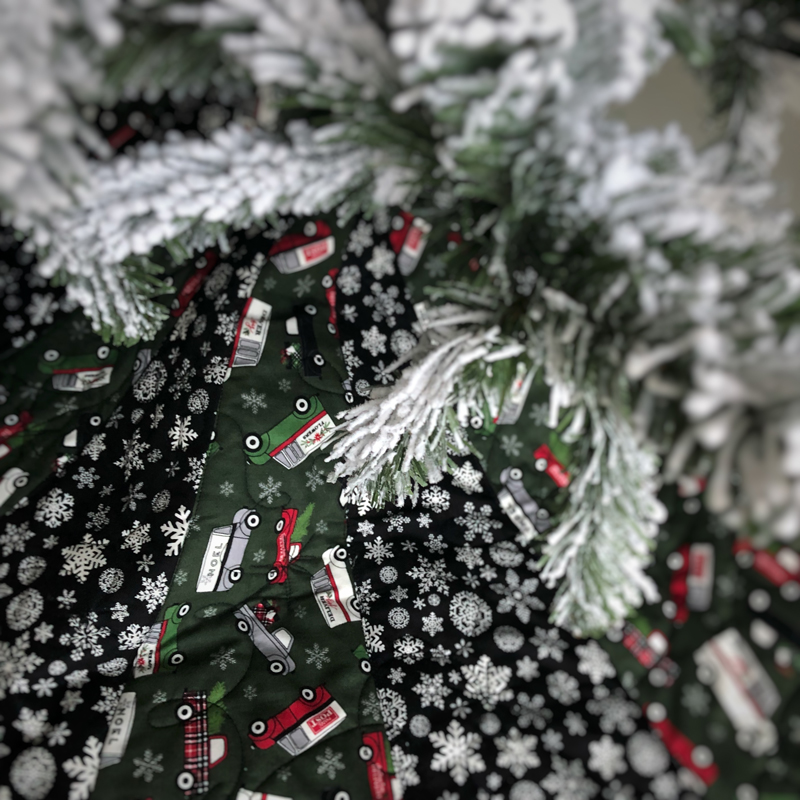 On the spectrum of sewing projects, it's on the more beginner side. You are sewing together mostly straight lines down the triangle pieces. If sewing the curved outside edge scares you, use a bonded fabric solution to make the edge!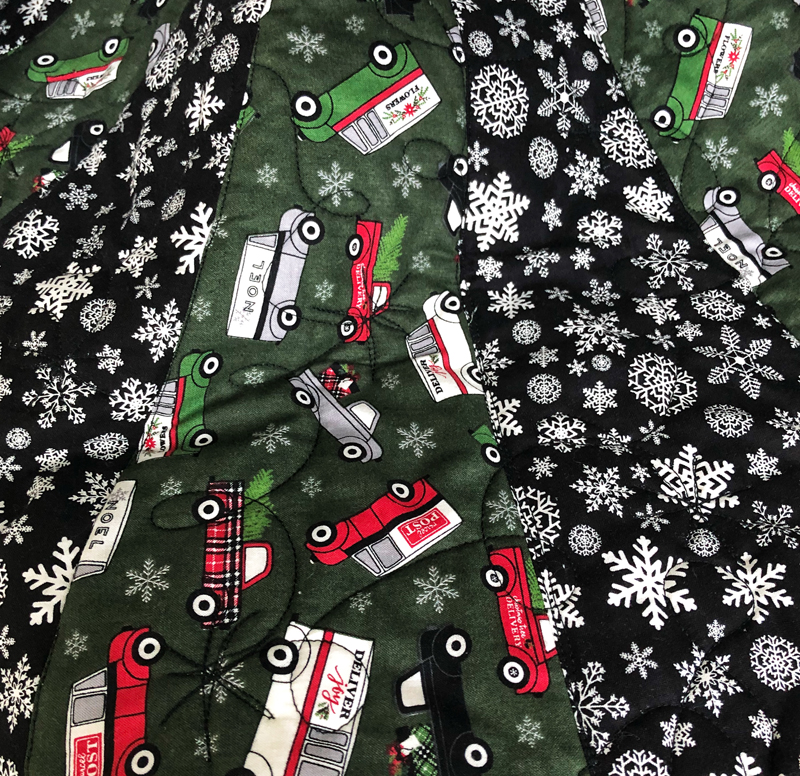 For those of you who are taking all your projects to the next level, we also made a cute underside to our tree skirt so it's reversible!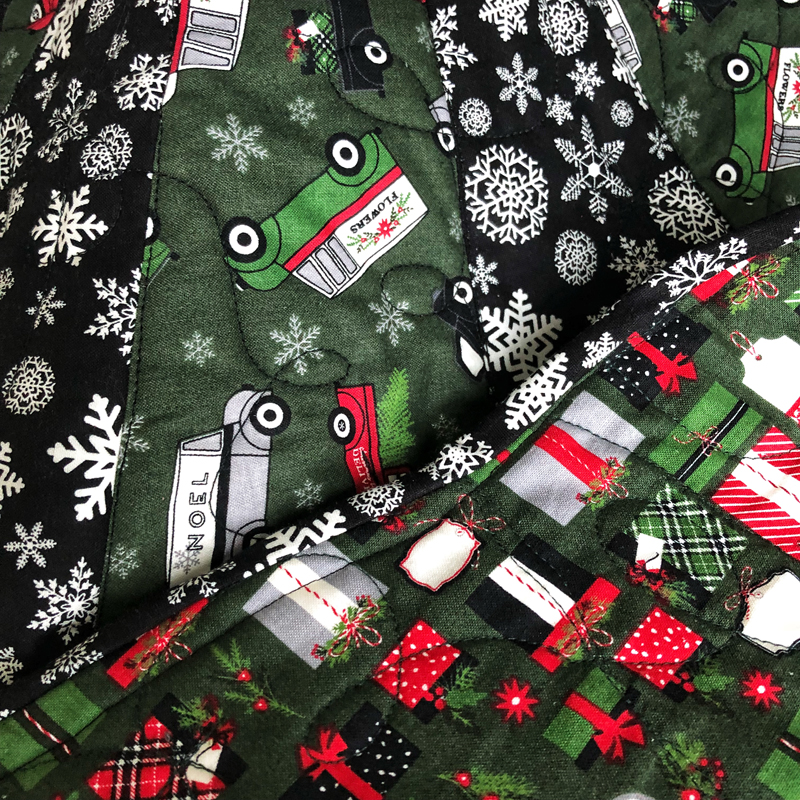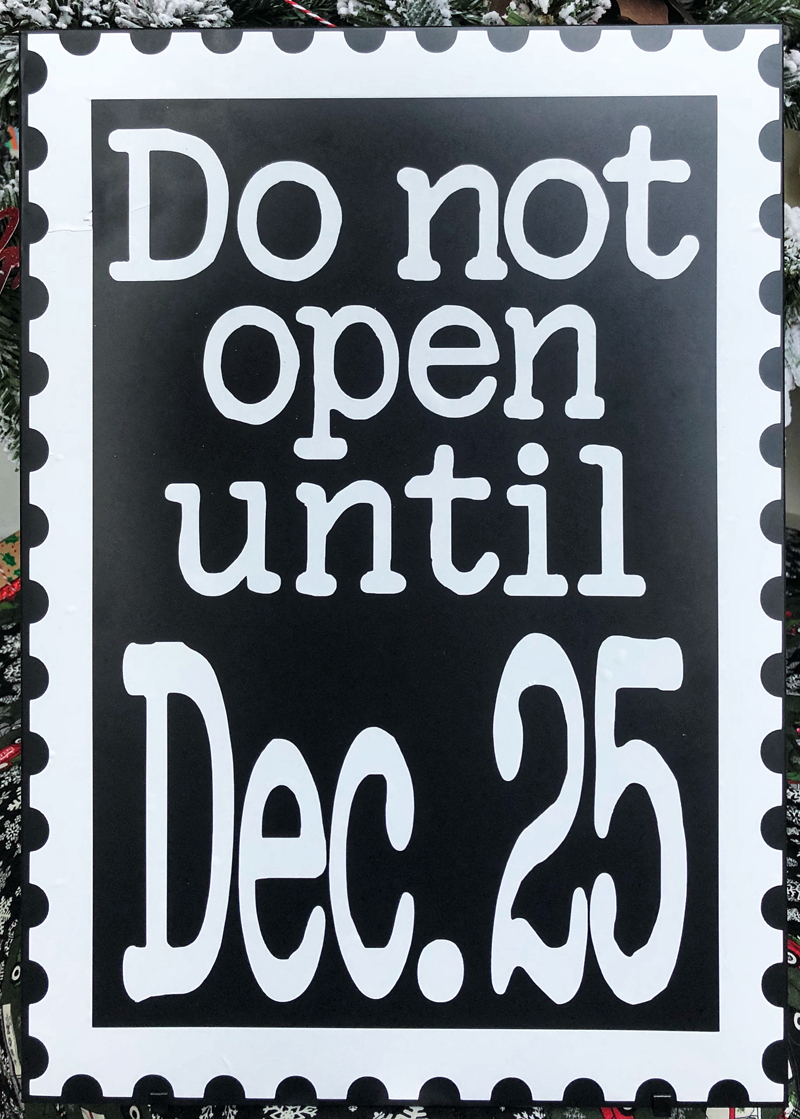 [Mostly] For Fun, I love this sign.  It is a simple application of vinyl on a blank chalkboard sign. For easier application, make sure to measure your sign and adjust the dimensions.  Start application at the top of the chalkboard and apply in a downward motion.
The last pieces I added were the pinecones and poinsettias that we're using throughout our entire house.  Can't wait to see you next week!
As an added touch, don't forget to capture your pets!!  I made silhouette wood ornaments and added their names to the garland.