October 19th, 2018 • Contributor: Cricut Designer Meagan Patterson
I must admit, I was already in awe of all you talented makers who meticulously make your Christmas cards each year. After making this card I am just that much more impressed by your creativity and determination to make your heartfelt cards for those you love each and every year. No one can deny how incredibly thoughtful handmade cards are to make and to receive. I hope that this card not only inspires you but also helps those of us that may be a bit hesitant to handmake cards feel much more confident in our ability.
This festive card may look a bit intimidating, but thankfully - in this case, looks are very deceiving! Especially with a little help from my versatile Cricut Maker™ and Scoring Wheel. So, let's get crafting!
Cardstock, Light Blue
Cardstock, Dark Blue
Cardstock, White
Wool Felt, White
Ink pad, Blue
Ink sponge applicator
Iron
Sewing machine
Thread, Blue
Gems
Hot glue
Foam squares
1: Cut All the Things
Ready-to-Make Project Link: Merry and Bright Card
I will never cease to be amazed by all the variety of materials that the Cricut Maker™ can cut so effortlessly. In this project alone, you will cut 3 different materials (using Rotary Blade and Fine Point Blade)as well as use the pen tool and scoring wheel.
Follow the prompts in Design Space® to cut the images from the cardstock and felt. When you cut out the glitter cardstock be sure to put the pretty side down so that the scored line does not crack your paper when you go to fold it.
2: Fold and Stitch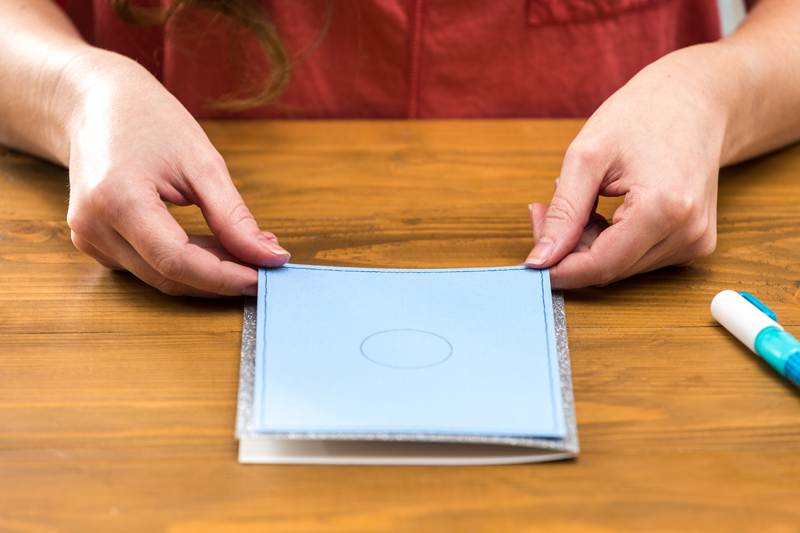 Once all of your pieces are cut, fold along that beautifully scored line of your glitter cardstock. Press firmly with your fingers so that your card is nice and crisp.
Next, head over to your sewing machine and start stitching that lovely blue border around your light blue cardstock. I used an edge stitch foot on my machine although you definitely don't need to. It just helps me to stay straight…for the most part!
Take your foam squares and place them on the back of your light blue cardstock in each corner and adhere it to your glitter cardstock card.
I don't know about you, but it is my belief that you can never have enough sparkles during the holidays. So, just to add a little bit more pizzazz I added a nice gem to all four corners of the stitched cardstock.
3. Press Those Leaves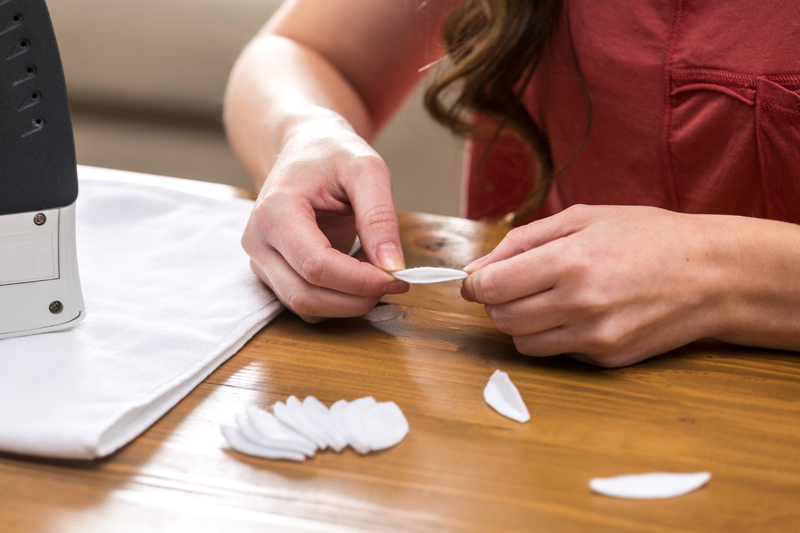 .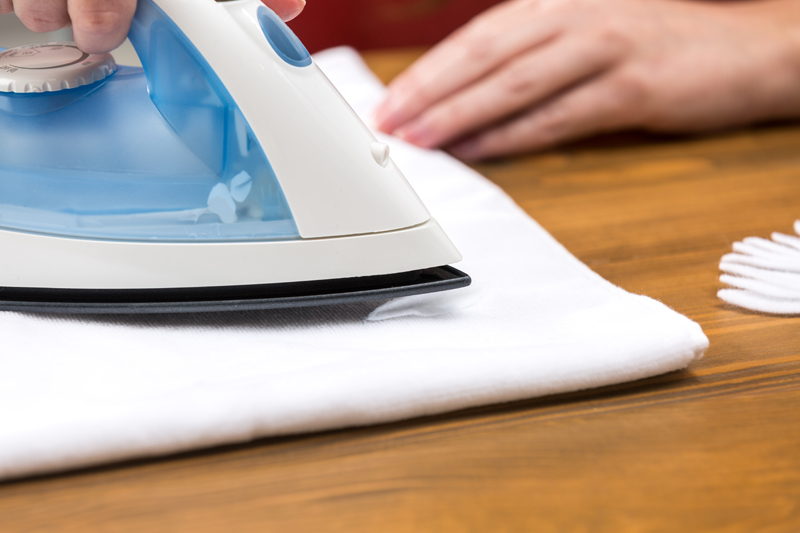 I really wanted to create even MORE dimension with this wreath than just simply layering each leaf, so I decided to press them in half. Be careful with those fingers though, we wouldn't want to burn those tips-they will come in handy later.
4: Ink it Up!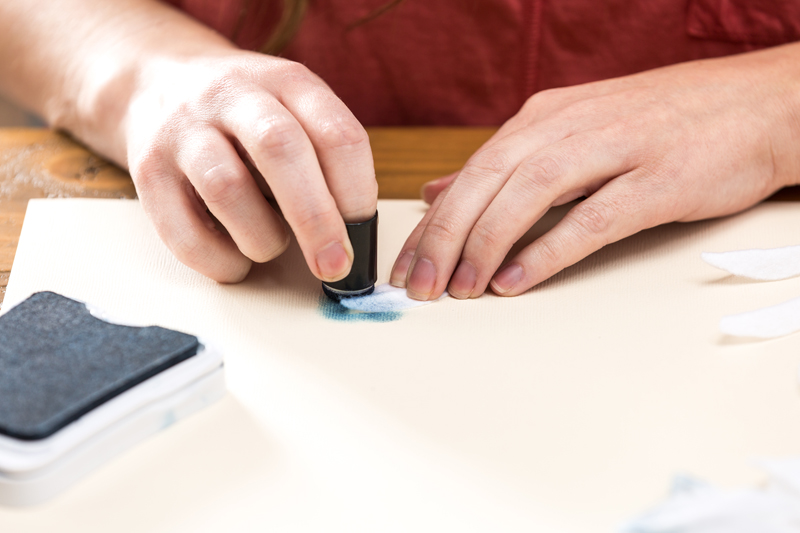 Once all your leaves are pressed, there is one more step before you begin assembling your wreath. Inking my projects is one of my favorite things to do. It's super simple and yet it adds so much to your project.
I like to use what I call a finger sponge applicator with a separate ink pad, however, feel free to use whatever method you are most comfortable with. Simply dab your ink on the end of each leaf mimicking the point and ending about 1/3 of the way down your leaf.
5: Build the Wreath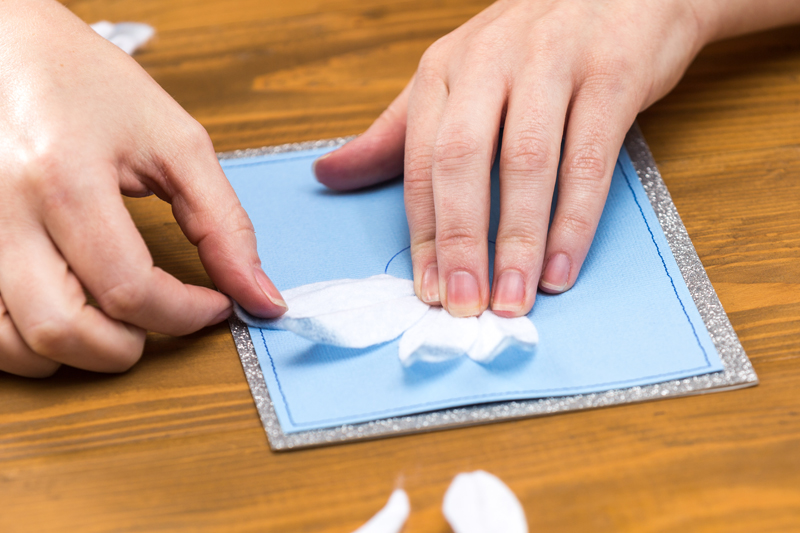 Here is where it all starts coming together. After all the leaves are inked and pressed, it is now time to start assembling your wreath.
There are 3 different leaf sizes: Large, medium and small. Starting with the largest leaves, place some hot glue following the drawn circle on the light blue cardstock. I would only do about 2 inches at a time. That should allow you to place about 4 leaves at a time. Depending on your hot glue, if you try to do more than that at once, your glue may cool before you can place all of your leaves. Which is not a fun conundrum to have.
Repeat this process, doing small increments at a time, with the remaining two sizes – medium to small. Before you know it, you will have a wreath!
6: Look to the Star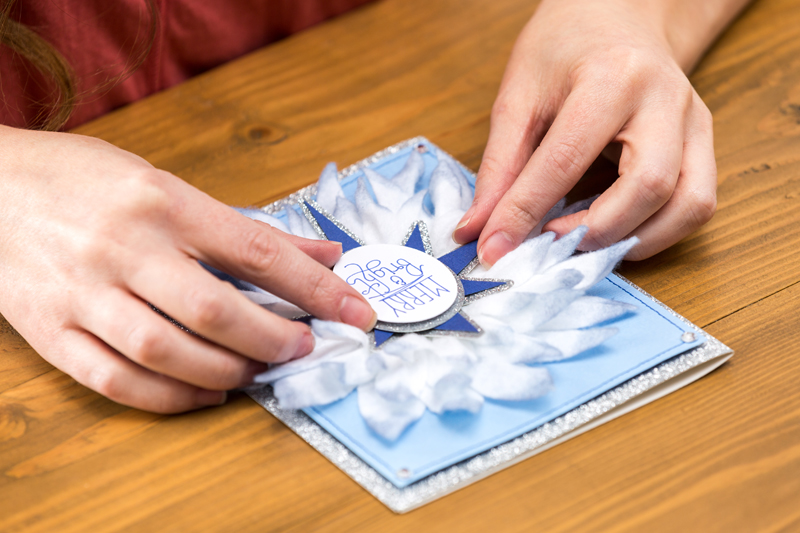 In the center of this beautiful wreath, I placed a festive star with a fun greeting written with our awesome gel pens! If you haven't tried them out-you need to. They are simply amazing!
Alright, getting back to business. The center has 4 pieces each layered on top of one another. I used foam squares in between each layer. If I haven't mentioned this enough-I LOVE DIMENSION! And foam squares are an easy go-to when I'm looking to spice up my projects.
Place 4 foam squares evenly on the back side of the dark blue star and adhere it to your silver glitter star. Then place 4 foam squares on the back of your silver ovals and place it in the center of your star. Lastly, put 4 foam squares on your white cardstock oval and place it in the center of the silver glitter oval.
Now that all the layers are complete, grab your hot glue again and put a generous amount on the back of your star and place in the center of your wreath.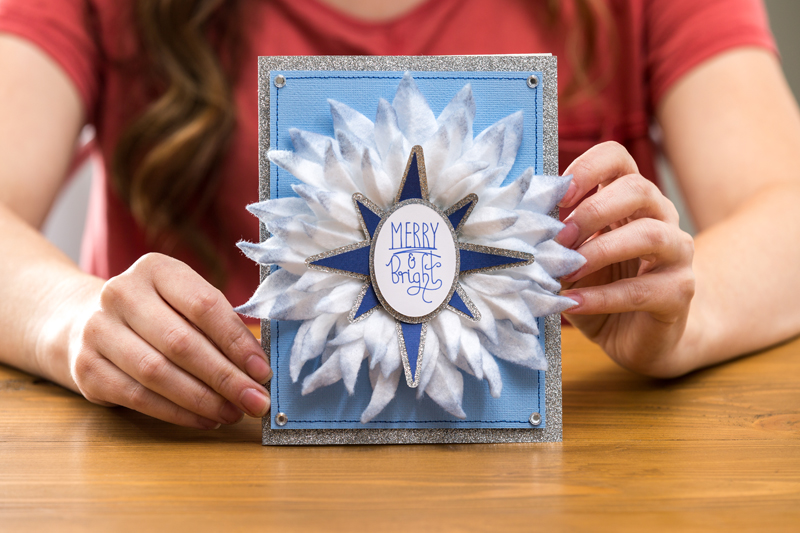 And there you have it! Your beautiful "Merry & Bright" holiday card. I hope this card has helped to inspire your creativity and will bring light and joy to your holiday season. Be sure to tag us and let us know what festive cards you are whipping up this year!
Warm holiday wishes and happy making!
Meagan Patterson