June 20th, 2018 • Contributor: Cricut Project Designer Karley Hall
We promised that we would share a fun how-to on some of our projects from the Summer Outdoor Patio Party! Follow along to learn how to make super cute coasters for your next party!
Materials: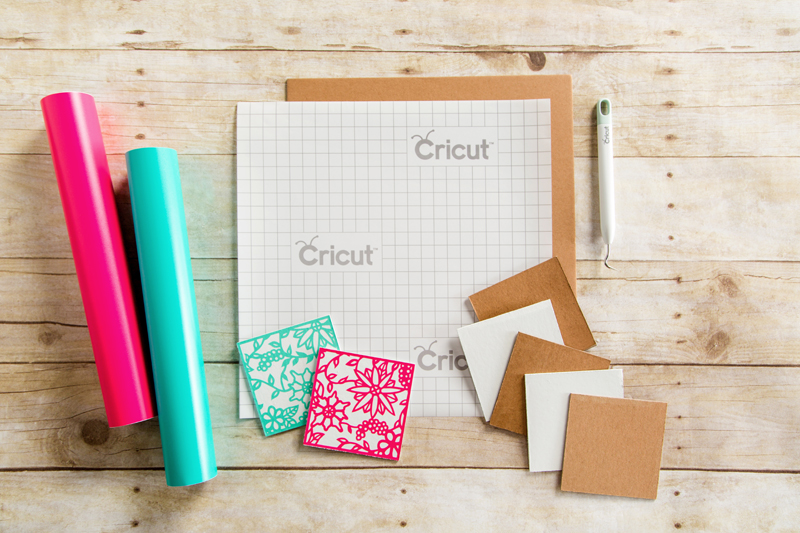 1: Open Project Instructions
Begin by opening Cricut Design Space using this link to the project, Outdoor Coasters. This project makes 6 coasters, but you can customize it to make as many as you need!
2: Prepare Cricut Chipboard
For best results, open Cricut Chipboard and lay it flat for 24 hours to acclimate the material to your climate. If you notice your chipboard starting to warp, place it under a heavy object. I use a large workout weight plate. Now you can craft and workout at the same time!
Once your chipboard has acclimated, use a Cricut® StrongGrip Mat and firmly press (or use a brayer) to create a strong bond between the chipboard and mat.
Use masking tape or blue painters tape to secure all four edges of chipboard to the mat within 1" of the corner.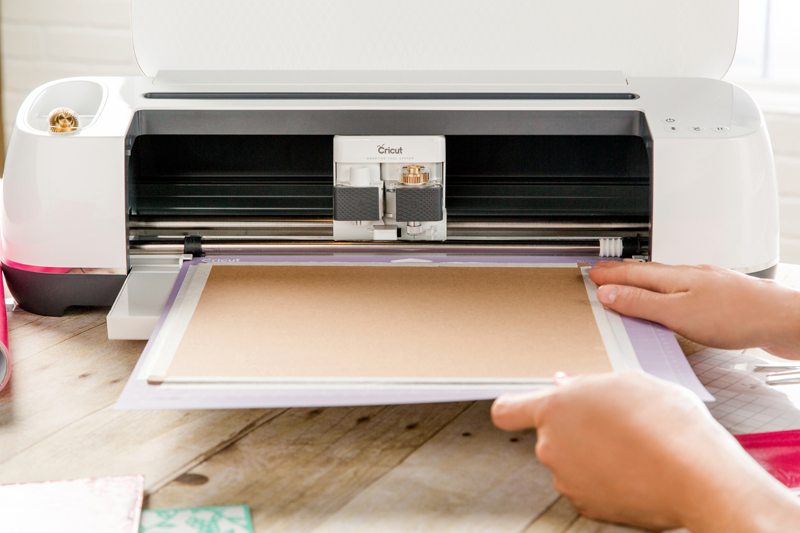 Move the white star wheels all the way to the right side of the metal bar so that the chipboard can fit under the roller bar. Ensure that no part of your chipboard will go under the rubber rollers. From personal experience, if your chipboard goes under the black roller, your machine will jam and error. Don't worry, your machine isn't dead, you just need to scoot your chipboard over so that it does not roll under the black rollers or white star wheels.
I know this seems like a lot, but once you do it, you will be a seasoned pro!
After everything looks good, cut your chipboard. Once the cut completes, unload your material and repeat the process with your second piece of chipboard.
3: Seal and Paint Your Chipboard
Remove your pieces and seal one side of your chipboard. I am super lazy efficient and prefer using a spray sealer instead of brush on Mod Podge. This is a personal preference—Mod Podge works great too. I spray one side, let it completely dry, flip it over, and spray the other side.
Sealing your chipboard allows you to get a smoother finish on your material when you paint it. Chipboard is extremely porous and will suck up paint quickly. By sealing it, you are preventing the paint from seeping in, which results in a nice smooth finish. If you wish to make your coasters more durable, I would recommend sealing the paint again using the same sealer. This will seal in your paint and make your project a little more water resistant!
4: Cut the Vinyl Pieces
Once you have cut all your chipboard pieces, remember to move the star wheels back to their original location and swap out your Knife Blade with your Fine Point Blade.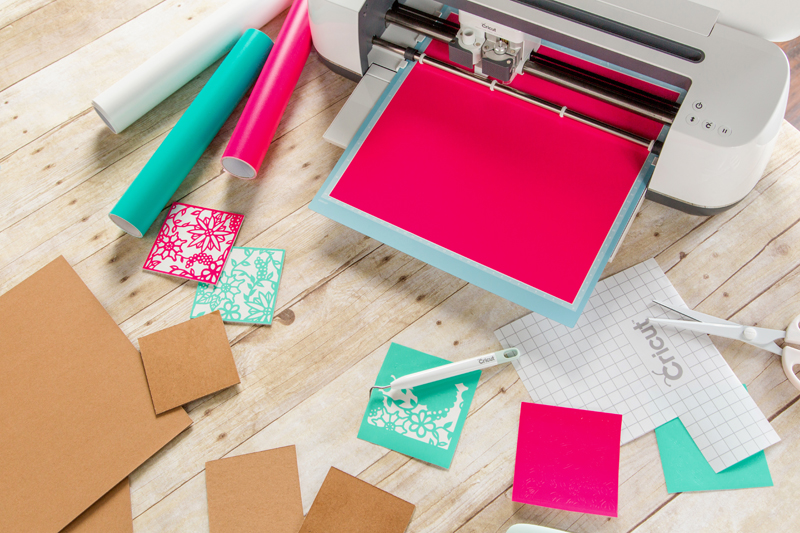 Load your blush or teal vinyl and let the Cricut Maker do the rest! Once the material has been cut, unload and load the second vinyl color.
5: Weed, Weed, Weed
If you are new around here, you may be unfamiliar with what weeding is. Weeding is the process of picking out the excess vinyl from your image. You can remove these tiny pieces by using a sharp hook like the Cricut® Tools Weeder. And if you are already a weeding master and are looking to step up your game, with less strain on your eyes, check out our Cricut BrightPad™! The Cricut BrightPad™ illuminates the cut lines and makes weeding a blast!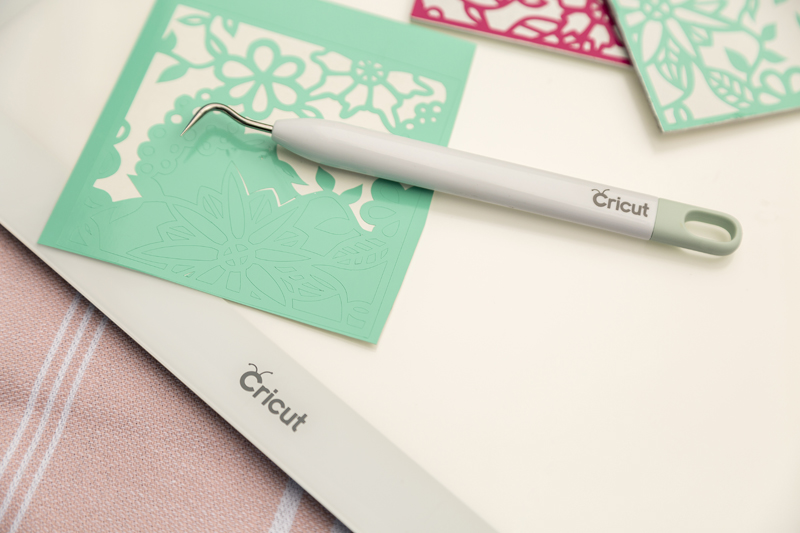 Once you are all done weeding and your coasters are all dry, it is time to transfer your design to the chipboard.
6: Transfer Your Design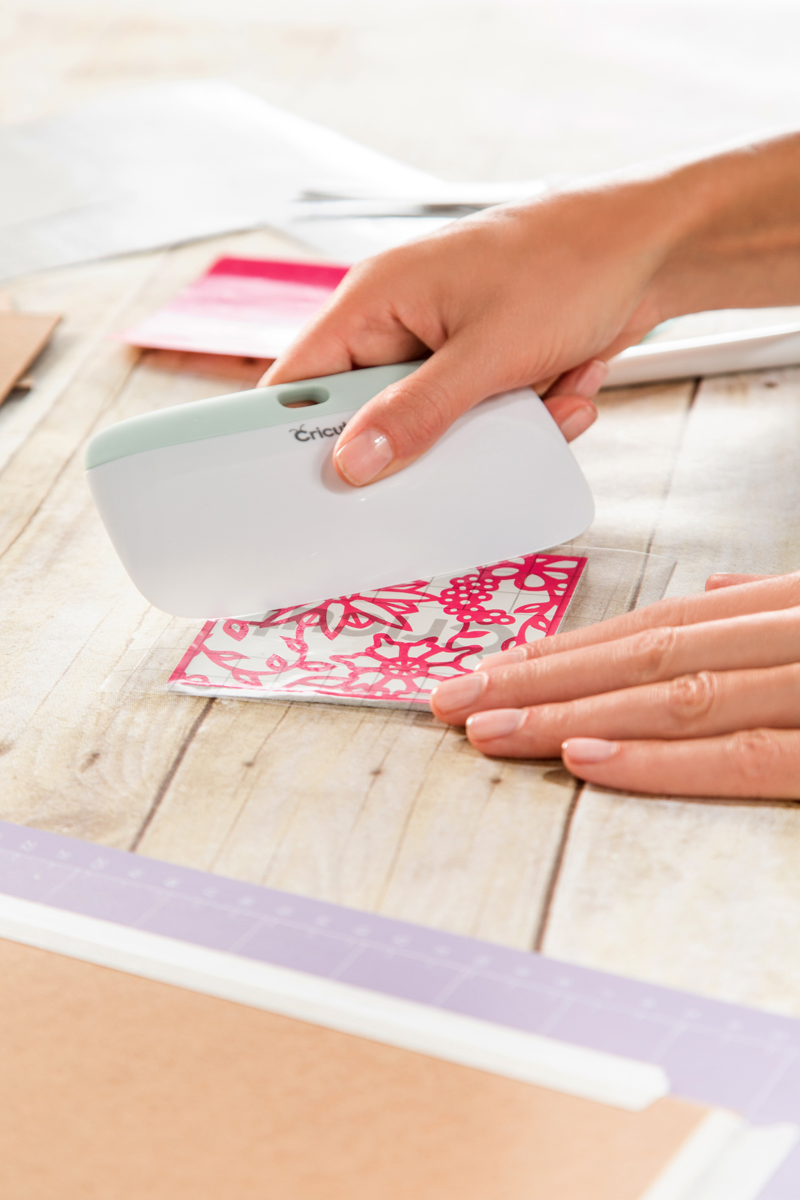 Using Cricut® Transfer Tape, transfer your image onto the coaster. Begin by trimming a piece of transfer tape to fit your vinyl image. Stick the transfer tape over your entire image and use your scraper to burnish the tape onto the vinyl pieces. Peel up one corner of the transfer tape and gently pull until the tape is off the liner. Place the transfer tape and vinyl onto of the chipboard coaster and burnish on with your scraper tool.
Peel off the transfer tape and enjoy your coasters! Repeat this process until you are done with all six coasters!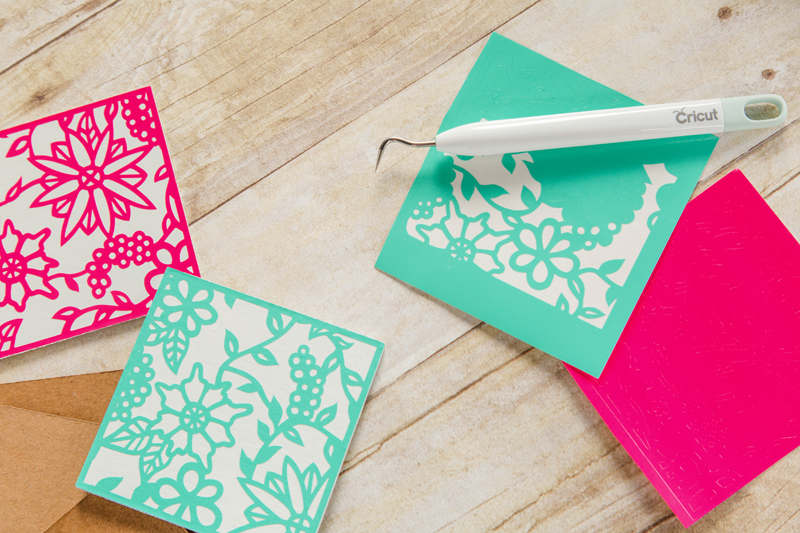 You did it! How cute are these coasters? Since the vinyl is waterproof and the chipboard is water resistant, you can use and reuse these coasters all summer long. Make sure to share your coaster creations with us on social media!
Happy Crafting!
Karley Hall