March 30th, 2018 • Contributor: Cricut Project Designer Karley Hall
Hi everyone!
This month was a super exciting month for us here at Cricut! We got the opportunity to make three mini sets to show off just how powerful and versatile the Cricut Maker is! We designed and created a gorgeous tablescape to highlight projects with foil iron-on, vinyl, and crepe paper! I designed these cute little coasters that double as place cards and favors for our guests. I mean come on—how cute is that?!
If you are looking for something to wow your guests, then this project is for you! I found my coasters online from a variety of retailers. Depending on how big or small you want them, you can find agate coasters in all sizes to fit the budget you are working with! I ended up choosing agate gems that had about a 4-inch diameter.
I used foil iron-on and my Cricut EasyPress to create this project, but if you are more of a vinyl fan, you can use vinyl instead. Iron-on is a more permanent solution, but if you want your guests to be able to peel off their name, vinyl would be a better option.
The other reason I used iron-on is that the liner is already attached to the material; with vinyl, you also need transfer tape. Again—totally a preference thing and I love each material so I included details on how to complete the project with both!
Agate Coasters
-Or-
Agate Coasters
1: Create the Names in Design Space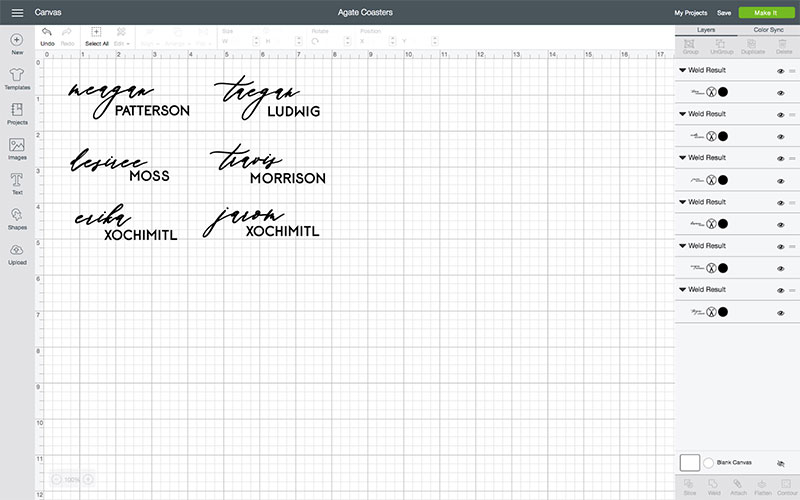 Open Cricut Design Space and choose any font on your computer to begin typing your guests' names. One of my favorite parts of using my Cricut Maker is that I can use any Cricut or system font in Design Space. I chose a script font and paired it with a thin sans serif font to highlight the elegance of the agate coaster.
2: Cut Out Your Design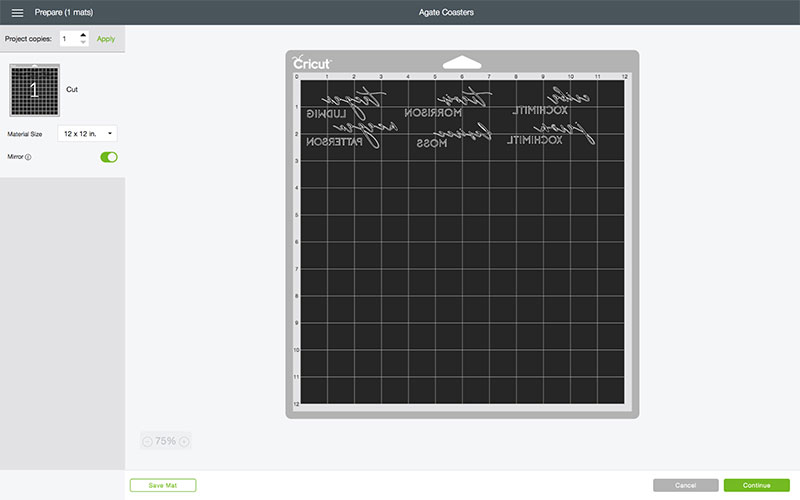 a. This screen shows a preview of your images laid out on the material.
i. Vinyl: If you are cutting your image from vinyl, click the "Continue" icon.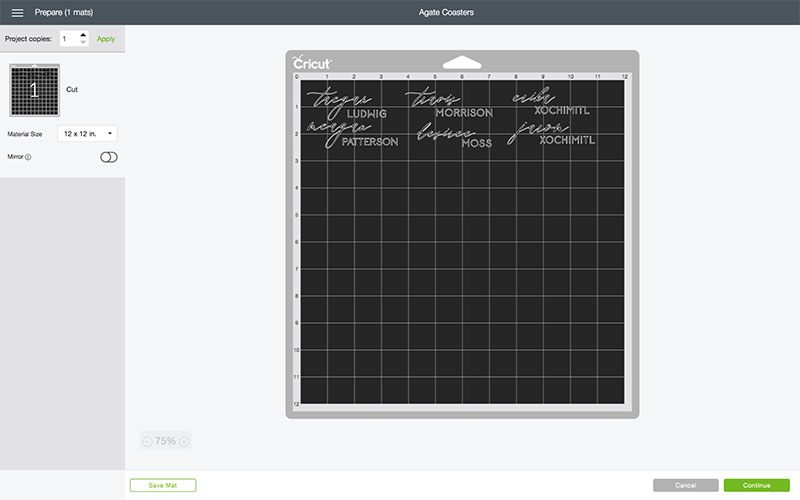 ii. Iron-on: If you are using Iron-On, click the "mirror" icon on the left side of Design Space. This will horizontally flip your image. When using Iron-on, you will place the shiny side (liner side) down. This way when you flip it over, your image will appeal in the correct orientation. Click the "Continue" icon.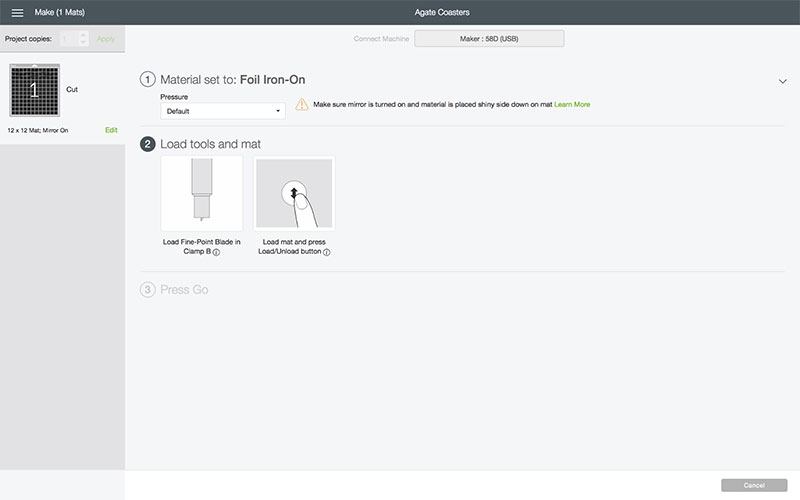 Choose the material you plan to cut. I chose "Foil Iron-on." Load your material onto your mat.
i. Iron-on: If you are using iron-on, make sure the mirror option is turned on and your material is placed shiny side (liner side) down on the mat.
ii. Vinyl: For vinyl, place the liner side on the mat so that the color of the material is right side up. Ensure the correct blade is loaded and press the flashing Cricut icon on your machine.
3: Weed Design
After your cut has finished, press the flashing "load/unload" button and remove your material from the mat. Remove the unneeded pieces using a weeder tool. It is usually easiest to move from the inside out while weeding.
4: Transfer Design to Agates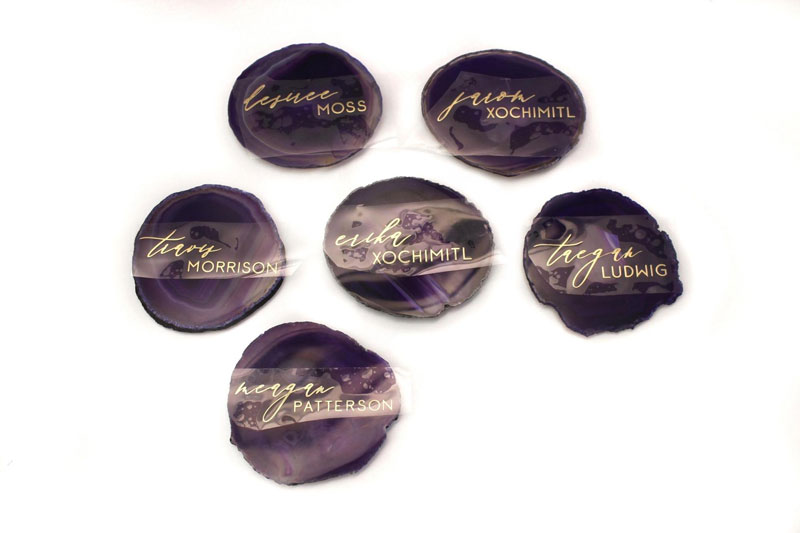 a. Iron-on: Place your weeded names on the agate coasters.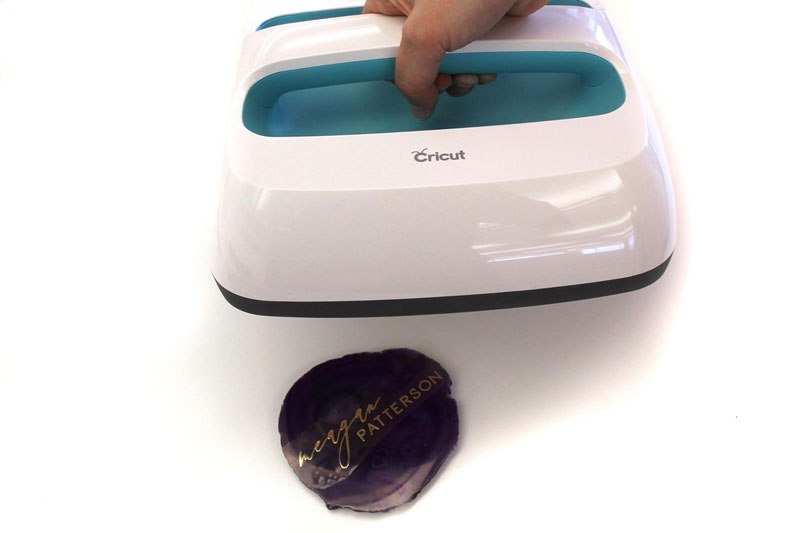 Vinyl: Take your roll of transfer tape and remove the liner. Take the transfer tape in each hand with the adhesive side facing down. Gently place the transfer tape over the images.
Start in the center and move out toward the edges. A craft stick or the Scraper from the Cricut Tool Kit can be used to burnish (rub or polish) the tape onto the vinyl.
5: Finish Application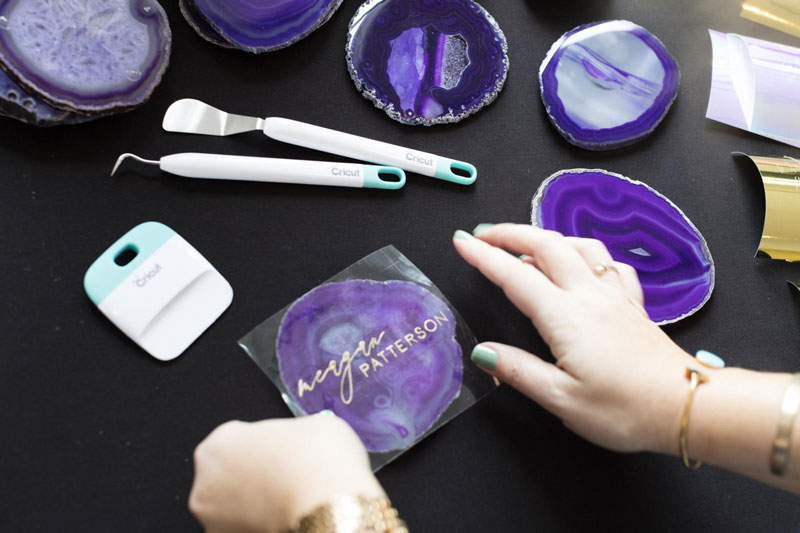 a. Iron-On:
Use your Cricut® EasyPress, or an iron and press cloth, to apply the gold foil iron-on. Let the plastic liner cool before removing. I used a heat setting of 340° F for 30 seconds. I let the coaster cool down for several minutes before peeling off the liner. Be careful! The coaster retains heat for a while.
b. Vinyl:
Carefully place the transfer tape with vinyl images on a clean and dry surface, making sure the images are straight. Peel the transfer tape away from the vinyl at a 45-degree angle. If the vinyl sticks to the transfer tape, simply burnish the vinyl onto the surface again. Peel the transfer tape away from the vinyl.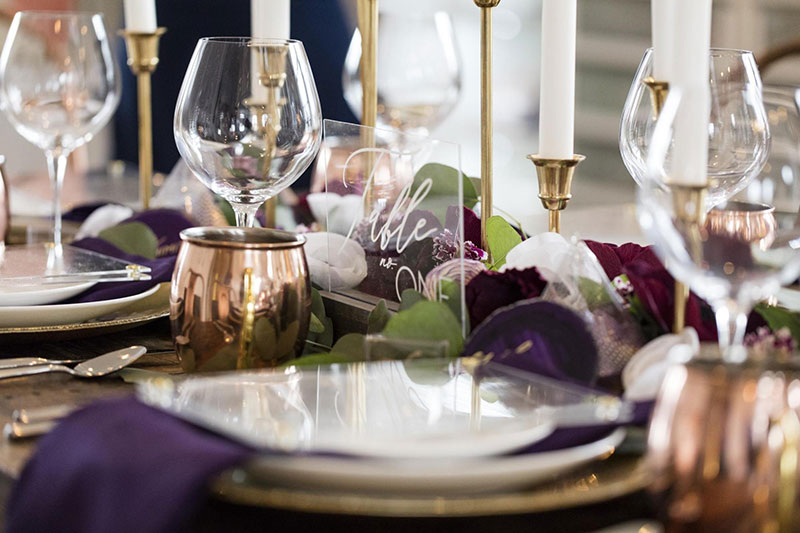 I hope you enjoyed this project! Check back to find more tutorials on how to create this stunning tablescape!
Happy crafting,
Karley Hall