March 12th, 2019 • Contributor: Cricut Blog Team
To celebrate my parent's 50th, my sisters, aunts, and daughters came together to create a party that celebrated their life and allowed guests to walk down memory lane with them. The world was a very different place in 1969 and we wanted to capture the spirit of the day by incorporating themes from that era. At the same time, with help from our versatile Cricut Maker, we came together to personalize the event by incorporating elements of their past in a fun, interactive way.
Let's start with the Giant Daisies we created as our backdrop for the Polaroid photo-op station.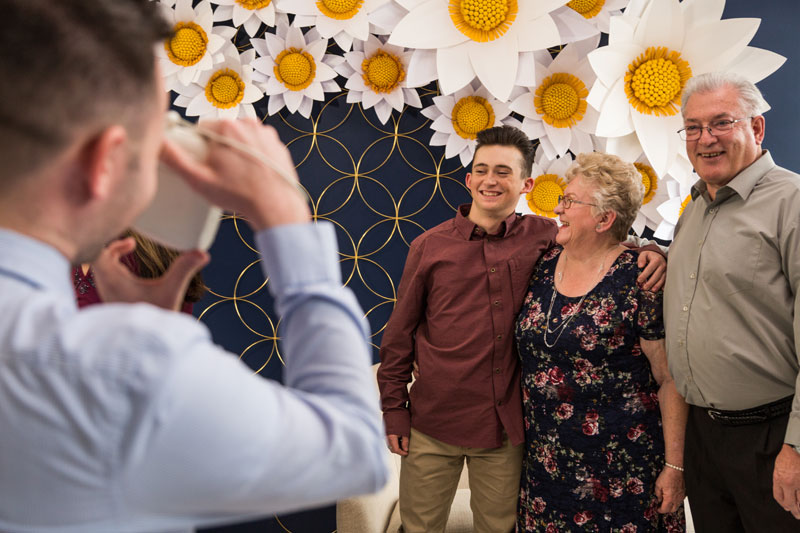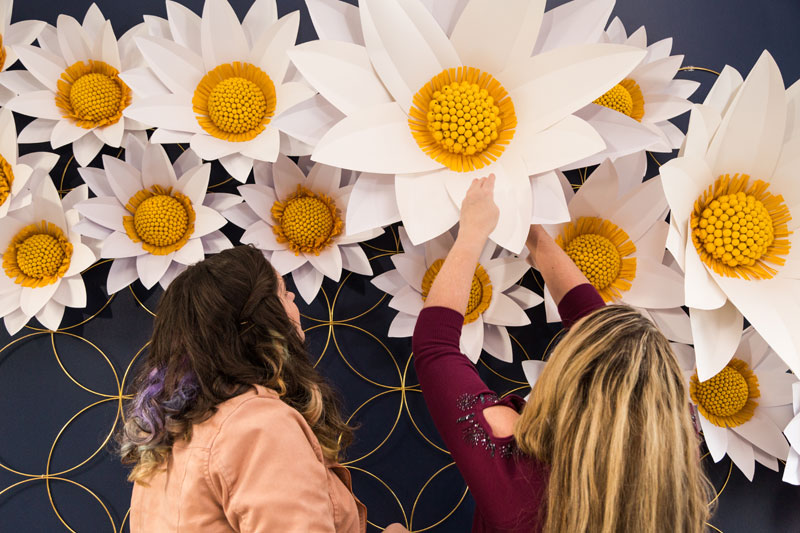 What says 1969 more than giant daisies?  I have a deep passion for paper flowers so when we came up with this concept of making giant paper daisies I just couldn't wait to get started!
The more you pay attention to the details of a flower, the more real you can make it seem. We decided to use wooden beads on a half foam dome surrounded by crepe paper fringe to create more texture and depth to each of our daisies.
This project creates three different sizes of large paper daisies. Exact size will vary a bit based on personal constructions. I love how these turned out and delivered the "flower power" feel we were hoping for. For step-by-step instructions, check out the tutorial.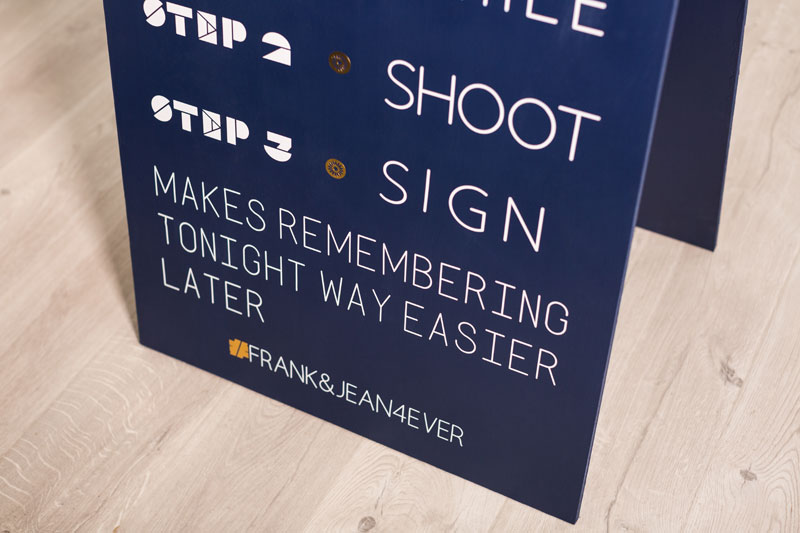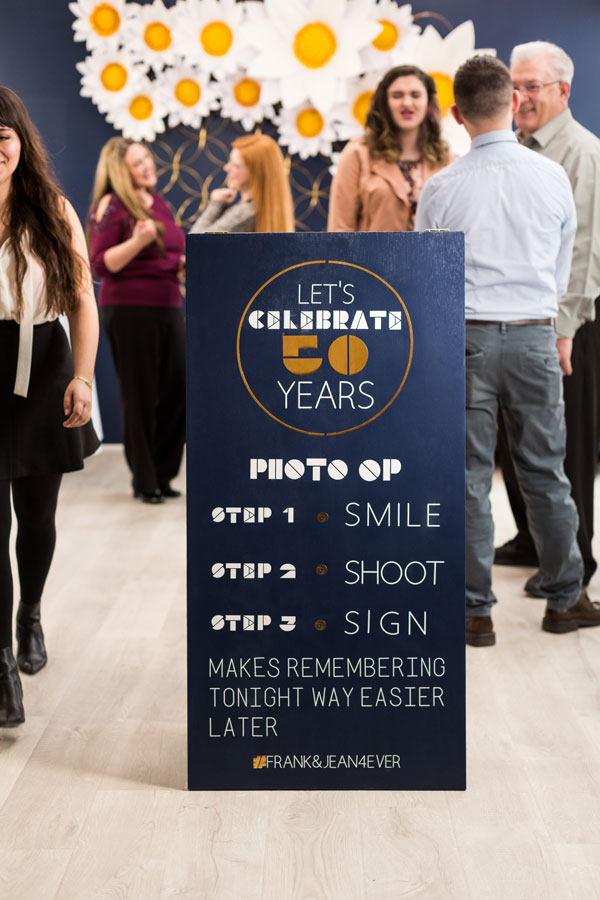 We created this "sandwich" sign using some plywood and hinges bought at our local hardware store. To tie into the party theme, we used this hip Wedge Monogram 60's-style typography. The sign directed guests to participate in creating a memory by shooting a polaroid, placing them in the memory book and writing a short note to my folks. My daughter applied a midnight blue paint to the plywood and then used Premium White Vinyl and Gold Adhesive Foil Matte for the lettering and design.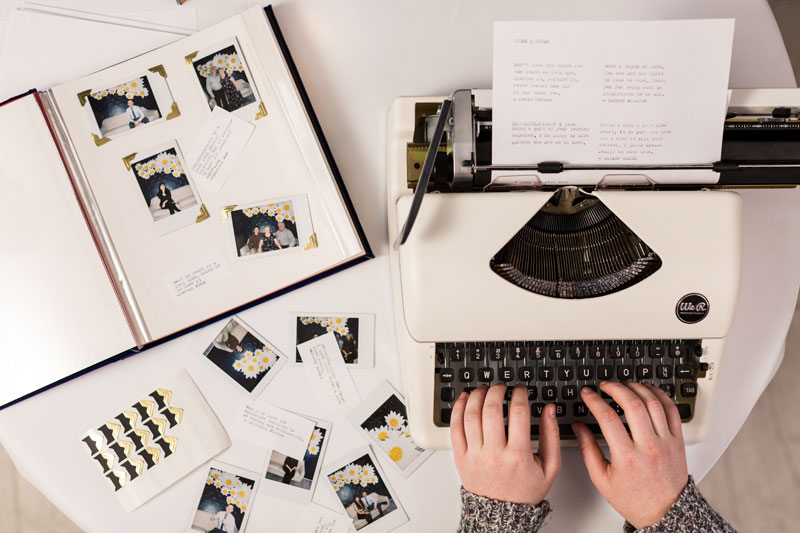 We found this vintage-looking type writer that allowed guests to share memories and connect them with their picture in the memory book. The guests loved using the typewriter and my parents loved the sentimental and goofy notes.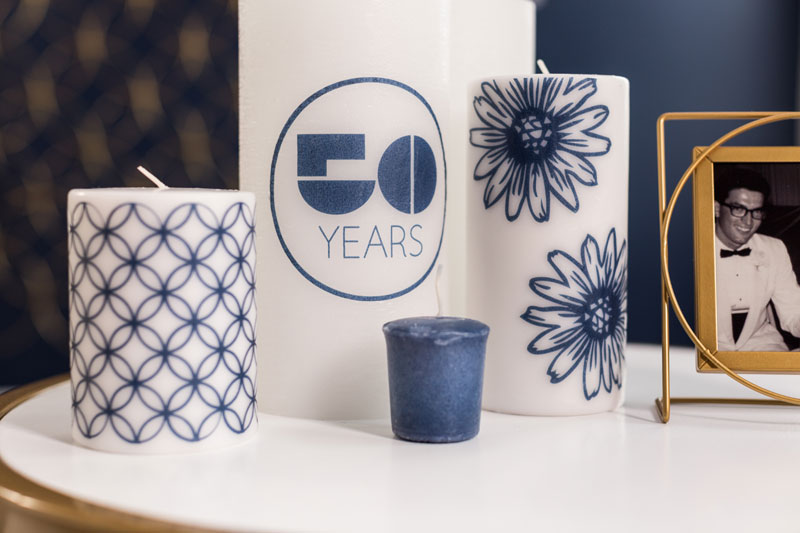 We thought these DIY Customizable Candles would be super fun for the party and to bring some of the design motifs into some unexpected areas of the room. Not to mention, it would make a great takeaway for Jean and Frank. It was amazing to cut the tissue paper using the Rotary Blade. Often considered too delicate for most crafting, tissue paper can do some amazing things when paired with another material. Check out the techniques found in this tutorial blog and make your own candles for any occasion.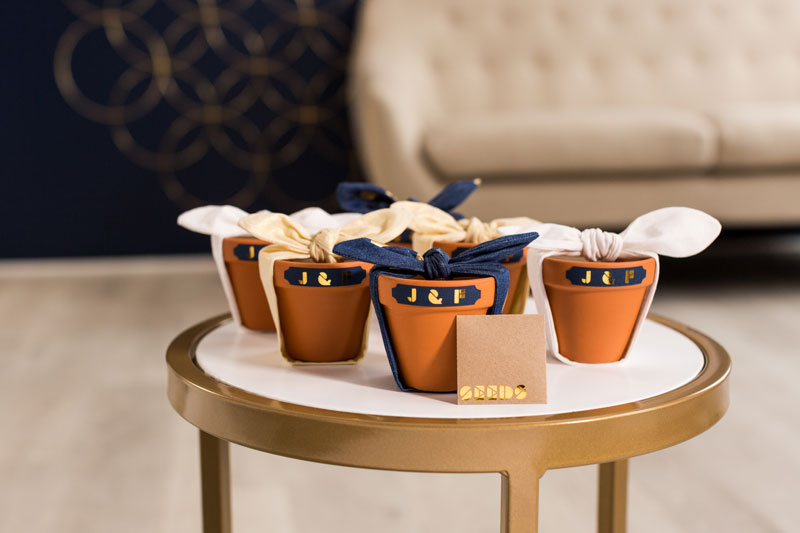 To tie back to the Giant Daisy backdrop and our 60's theme, we pulled together these customized terra cotta pots and petite seed envelopes for guests to take home and grow their own daisies.  For this project, there are three different elements: personalized initials on the pots created using vinyl, the tiny envelopes with Everyday Iron-on "Seeds" lettering and fabric bow ties to finish off the presentation.
Super fun and my parents loved the idea of visiting with others in the coming months to see how much their planted daisies had grown.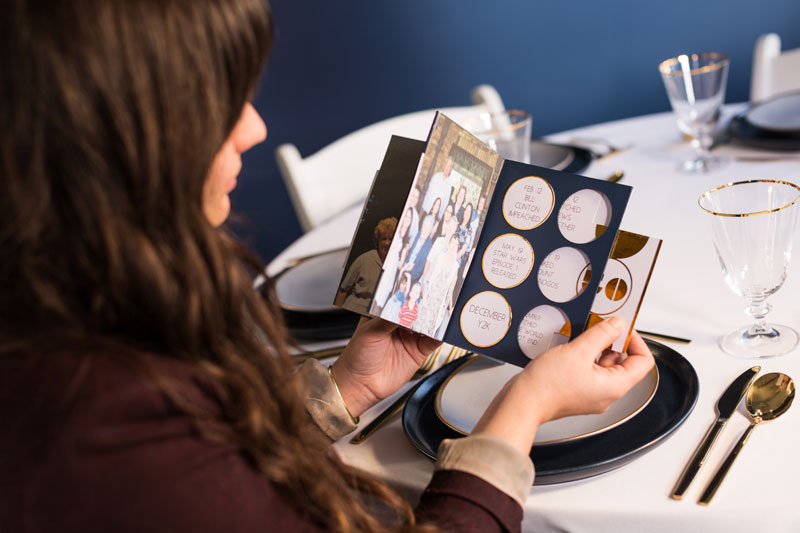 To celebrate and capture how much has changed over their 50 years, we wanted to create an interactive way to take folks back through my parent's past. We came up with this table centerpiece trivia game that ties historical moments with my parents' own life moments.
For example, a guest would guess what family event took place the same month and year as the Berlin Wall coming down). To discover the answer, they would pull the slider piece out to reveal the family went on a road trip covering 9 states. Everyone loved playing and it turned out to be a great ice breaker.
We used our Knife Blade to cut the heavy chipboard (TIP: for best results, take out chipboard 24 hours before cutting to acclimate to climate). You can see a tutorial on the blog by clicking here.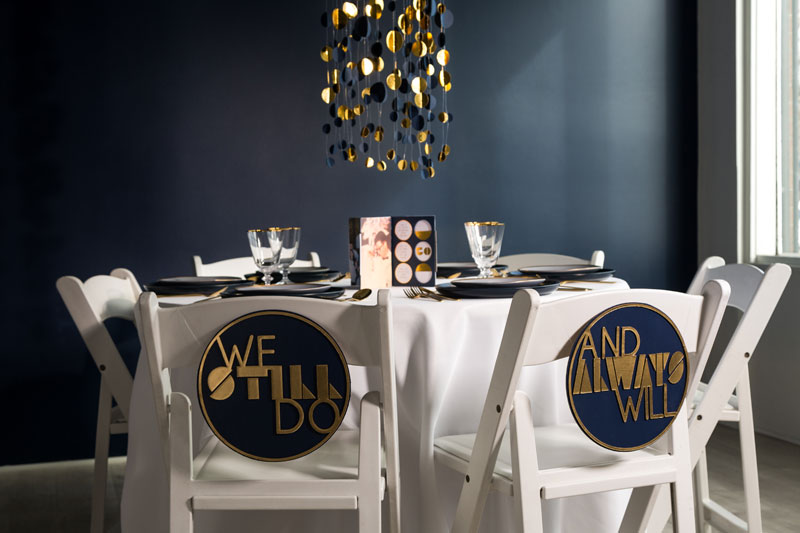 The piece that I love most about this project was the fact my parents had little table cards at their wedding with, "We Do" & "And Always Will". Sadly, there are no photos of the cards but my aunt recalls them vividly. To play off of this, we wanted to take this opportunity to recreate the sentiment with chair signs that read, "We Still Do" & "And Always Will". We cut heavy chipboard using our Maker and Knife Blade and spray painted blue and gold paint to tie back to our color theme.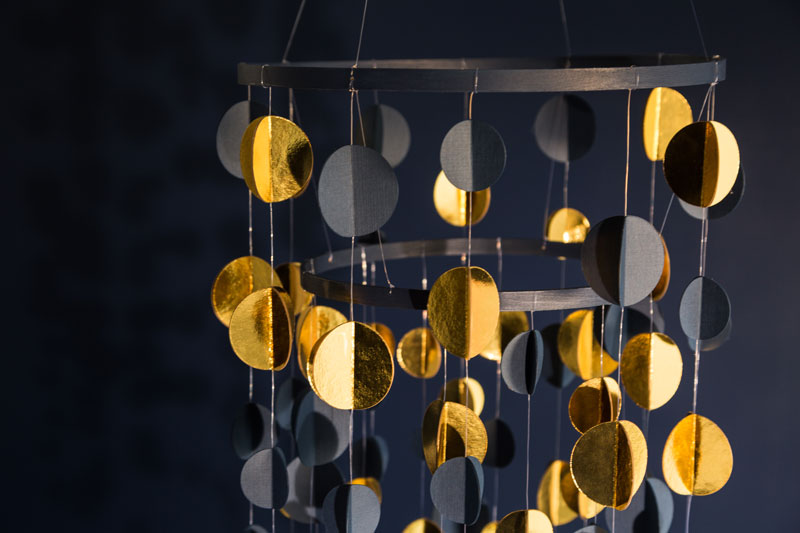 As I mentioned, I love working with paper and these hanging chandeliers were perhaps my favorite project. They really brought the room together and my mom absolutely adored them. Creating the first took a bit of time but they were really easy once we finished that initial one.
We first painted embroidery loops of varying sizes, then tied them together with monofilament so they hung evenly (one below another). We then cut all our cardstock circles with the Maker - I can't imagine having to cut and score all of them by hand!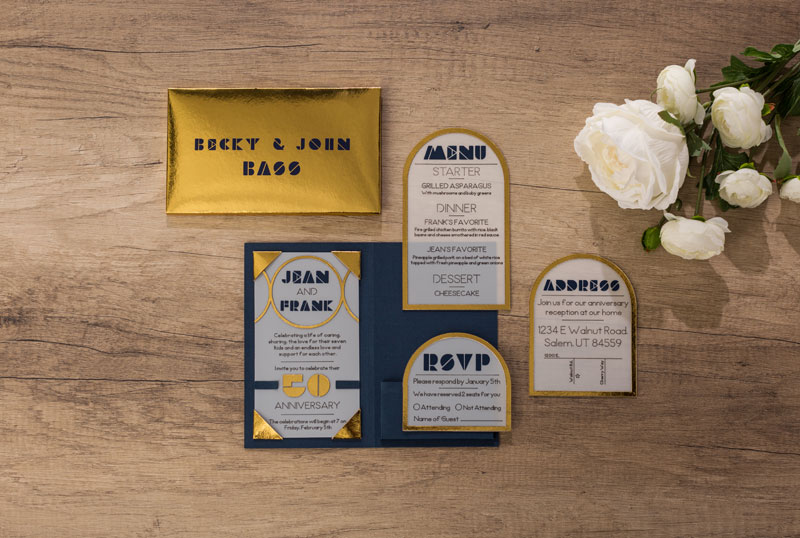 Going back to when the planning all began–the invites. This is the first project in which I brought to life the theme and was able to apply the color palette, typography and combining different materials like vellum, cardstock and Kraft board. I loved the invites then and I love them even more now.
With a different font and color combination, this design would transform into an entirely different look and feel. Please be sure to show and tell us how you would customize any of these designs on our Facebook page.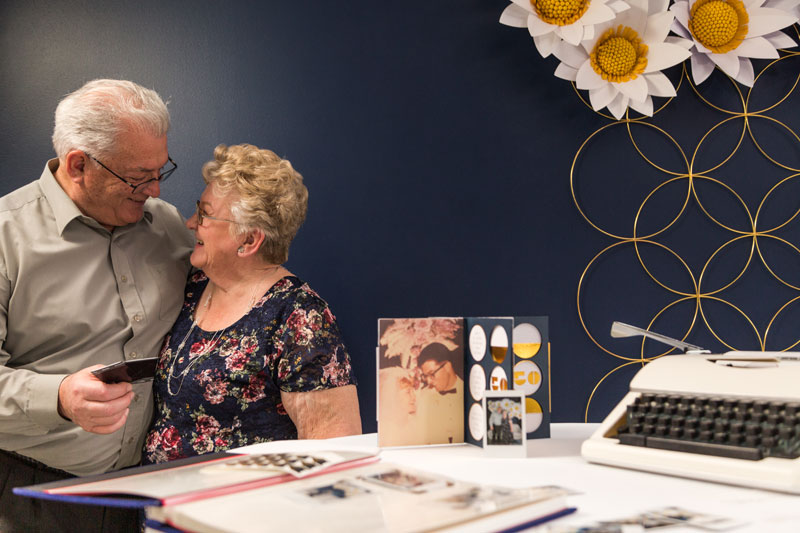 In the end, my folks had an amazing time. It was also a labor of love for me and my family members who helped pull it all together. I love seeing it all come together! I hope you get some ideas from this post that you can use in planning your next party.