June 28th, 2018 • Contributor: Lindsay Fekitoa from seeLINDSAY
The Cricut Knife Blade is essential when you're cutting thicker leather materials. What better way to utilize your Cricut Maker than to turn it into a money making machine? I'm going to be cutting the same shape out of all different types of leather. I'm here to share with you some tips about selecting your own and where you can find quality leather online and in-person.
How Do I Apply the Leather to My Cricut Mat?
There are two different sides to your leather materials, the grain side which is the smooth side and holds all the hair follicles in place - this side is the most durable. The bottom side (or fuzzy side) is called the flesh.
When placing your leather onto your Purple StrongGrip Mat, there are a few things you can do. The flesh side of the leather will always stick better to the mat just because of its gripping nature. That can make you go through a lot of mats and it gets expensive. You have two options here, either place it grain side down so the smoothness will be against the mat or you can place StrongGrip Transfer Tape on the fuzzy side and then place that on the mat. It all comes down to personal preference and what you're comfortable doing.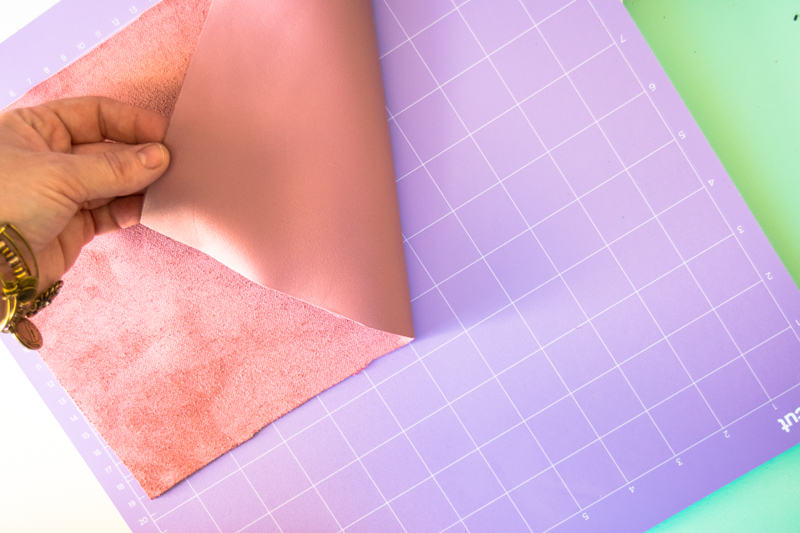 You want to use some standard masking tape to secure your edges just like you do when you're cutting other materials with your Cricut Knife Blade. Some leathers will have a waxy coating on the grain side of the leather which won't allow the masking tape to stick very well so just be aware of that. The Cricut Brayer also helps with securing your material to a mat that may not be brand new.
How to Tell if It's Genuine Leather
When choosing real leather, you want to see imperfections in thickness. If it is the same thickness and smooth, it is most likely faux leather.
Check the label. Look for the label to read "genuine leather" or "full grain leather".
Does it warm to the touch? Real leather should warm up in your hands when feeling it.
How does it smell? If you smell plastic, it's faux. Leather retains its smell after the tanning process so that is all you should smell.
What is the cost? Real leather is expensive because of all the resources it takes to tan a quality hide. If it seems to be too good to be true, it usually is.
Does it absorb water? This is the one that I like to use. Real leather will absorb the water. Faux leather will obviously not and you'll just have a pool of water on some material. Just splash a tiny bit on your material and rub. The real leather will soak it right in.
Where Can I Buy Leather for My Cricut Maker?
Cricut has a line of genuine leather that can be cut using the Knife Blade or the Deep Cut Blade. This leather is 3 oz in weight and you can cut up to 6 oz with the Cricut Knife Blade. I would only cut up to 3 oz with your Cricut Deep Cut Blade.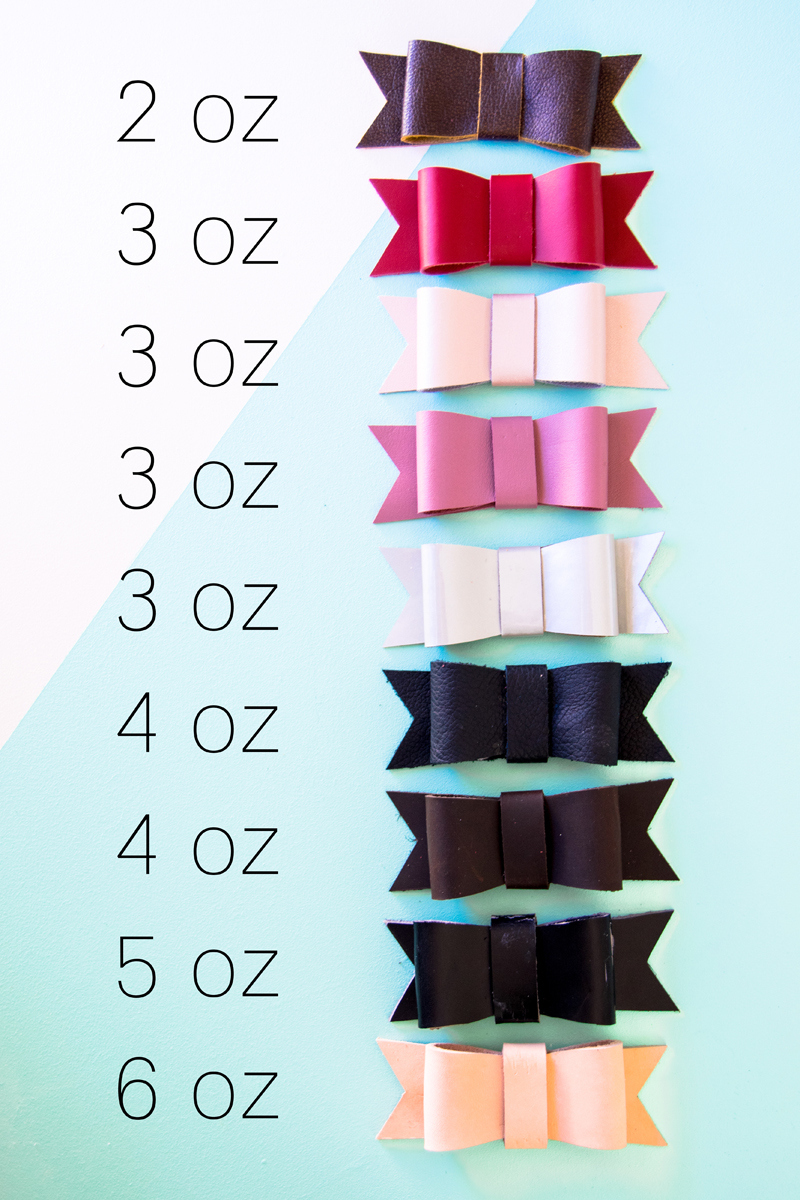 Using a Leather Thickness Gauge is a great tool to use when buying leather. They usually cost around $3 and are one of the essential tools that I recommend. Usually, every ounce is 1/64" thickness but don't guess when it comes to buying genuine leather. Leather can be very expensive and so this is an inexpensive tool that can save you a lot of money. Genuine leather will vary in thickness and that all depends on where from the animal it was cut.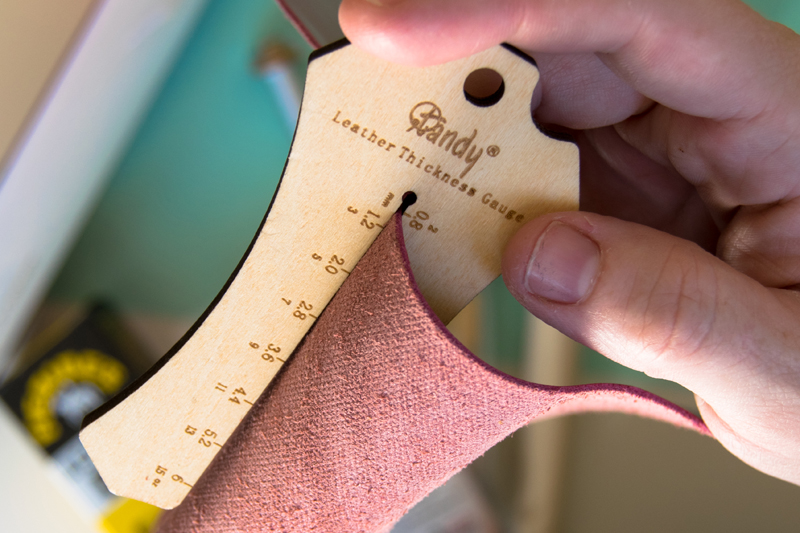 Tandy Leather is a nationwide leather retailer that is very reputable. I recommend taking some time to go into a specialty store like theirs and ask questions. They also have scrap bins which are great for smaller projects like bracelets or headpieces.
You can also try online markets like Etsy but because you're not seeing the product in person, be sure to ask a lot of questions and to buy through a system, like Paypal, that will guarantee your purchase.
What Leather Tools Should I Buy?
The number of tools that you could buy to do one thing can add up quick. There are some essential tools that you want to use when you're cutting and assembling your leather knife blade project.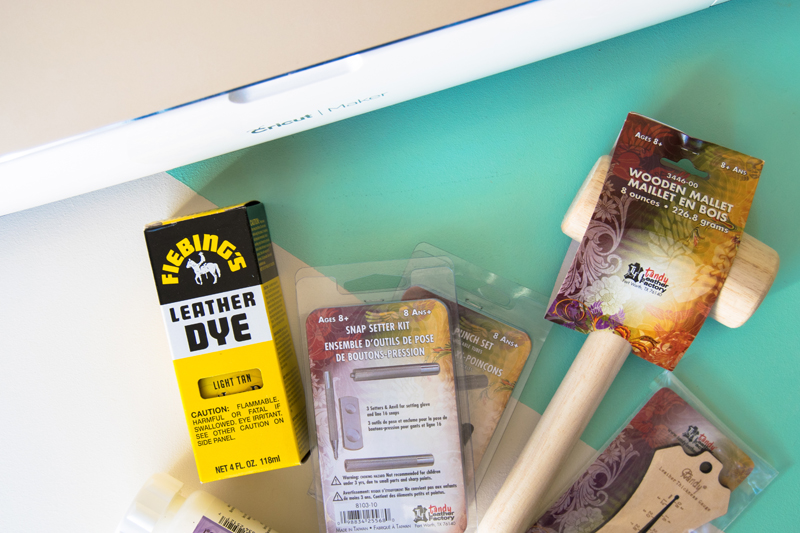 Eyelet or Rivet Setter - these are used to help punch holes into the leather to create snaps on your items.
Skiver - This will help shave some of the flesh from your leather to make items as thick or as thin as you need them to be. These are great for when you're trying to set a snap and the leather may be too thick for it to set properly.
Mallet - This is to help use your setter tools so that it can actually punch through the leather.
Rotary Cutters - This is to help you cut through the leather smoothly so that it will fit on your mat and not have any hanging pieces.
Leather Thickness Gauge - This is probably the most important item you'll need when trying to find leather for your Cricut Maker. It measures the thickness of each piece so that you'll know what is too thick for your Cricut.
Cricut Brayer Tool - this isn't just for fabric. I use it to help adhere my leather to the mat so that I can be assured that my leather won't move while it's cutting. I also use this for paper on mats that have kind of lost its stick.
How Do I Shape Leather After I've Cut It With My Cricut Maker?
Genuine leather has the ability to get wet. You're just going to get it wet and then lay it on the surface of how you want your leather shaped. Let it air dry and then your cut piece will be the shape you want.
If you bought a piece out of a clearance bin, it will most likely be folded. Just wet it and allow it to dry with a book on top or something heavy enough to weigh it down. Be sure that it is completely dry before you adhere it to your mat and cut it with the Cricut Maker.
How Do I Dye My Leather After I've Cut My Shapes Using My Cricut Maker?
Dyeing leather should be your last step prior to assembly. There are many different kinds of dyes on the market but I suggest getting an alcohol-based dye. This will keep the colors from bleeding and give you a durable finish.
Use a small amount of dye and rub it along the grain of the leather with a dry cloth. Allow it to dry between each coat. When you apply a second coat, apply it in the opposite direction.
Use a dry buffing cloth to buff your grain side of the leather.
Use a top coat like Super Sheen or Mod Podge for leather. Use a damp sponge to apply the top coat and allow it to dry for 1-2 hours and then use a dry buffing cloth in between coats. You can choose a satin or matte sheen with many of these top coats.
What Adhesives Can I Use on Leather?
I recommend industrial adhesives like E6000. You can buy them online or at your local craft store. This strong bond adhesive will guarantee that your product will last a long time. You can use some hot glue but that will not stand the test of time.
My Main Recommendations for Cutting Leather With Your Cricut Maker
From the start, I make sure that I am using genuine leather. I make sure that my leather is dry and smooth. When I apply it to the Strong Grip Mat, I place it grain side down or you can use Strong Grip Transfer Tape and apply that to the flesh side of your leather. The Cricut Knife Blade will pass through your leather at least 4 times. With each pass, the force is stronger than the last so it is crucial that your leather has adhered correctly. Use some standard masking tape and tape the sides of your leather to the mat.
Load your mat and select your material from the Cricut Maker menu. Be sure that your white rollers are pushed to the right and then proceed with your cut. When your project is done, check to make sure it doesn't need one more pass. Unload your project and assemble.
So remember that your Cricut Maker and the materials you cut are investments. Try to use scraps and experiment. You're not going to be a pro the first time you open that box but hopefully, this post will help you to be more comfortable when buying and cutting leather material. Experimenting is what makes your Cricut knowledge grow. The Cricut is very new-user friendly and I highly recommend using/getting a Cricut Maker.
Be sure to visit my blog, seeLINDSAY and visit my Cricut Projects. I will be teaching at this year's Mountain Make-A-Thon and I can't wait.