April 3rd, 2018 • Contributor: Shelby Jones, Cricut Social Media Specialist
It's here! It's here! You all have been asking for...curved text and we are here to deliver! If your mind is flowing with creative ideas like ours is right now, let's jump into the software and curve all the things!  We will show you just how simple it really is.

The Curve tool can be found in the Text Edit bar at the top of the Canvas, between the Alignment and Advanced tools.
1: Add Your Text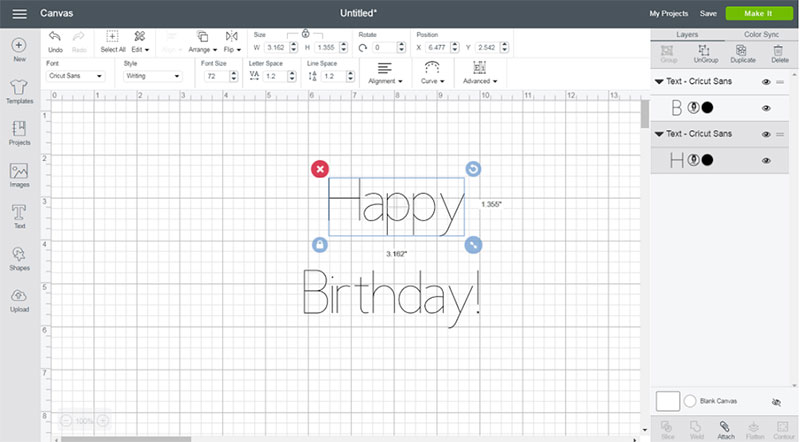 Click on the text icon, and type whatever your heart desires, for this project we will be using the words "Happy Birthday".  Choose your font, font style, and use the Letter Space tool to adjust letter spacing as needed.
If you have multiple lines of text you are wanting to curve you will want to create a separate text box, or use the "Ungroup to Lines" tool to separate your lines of text just how you want them.
2: Curve That Text!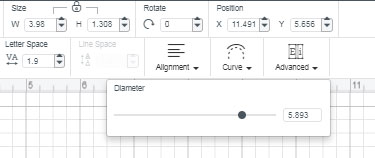 Now for the fun part - click the Curve tool. Don't see it on your toolbar? Make sure your full screen is open on your computer.  If it isn't all the way open check for the "More" button and you will see it under that menu.
Once you highlight your text and click the curve option it will take a few moments to register and then display a slider and number field. Drag the slider to achieve your desired curve.
Wondering what those numbers mean? The Number in the Diameter field is measuring an imaginary circle to determine the curvature of the text. So in the video, you will see us taking the diameter number of the first line.
For our project, we copied that number and applied a (-) sign to create the inverse of that top line. Now we have the look we want with even curvature and we can adjust the spacing as needed with the Line Space tool.
Remember that the Curve tool will only enable for single lines of text! The Curve tool cannot be used on text that has been ungrouped to individual letters, then regrouped, so if additional manual letter spacing adjustments are needed after you have used the Letter Spacing tool, wait until you have curved the text to do this.
How Simple Is That?
Before we get to crafting our project we wanted to share with you some final nitty gritty details!
Curved text will remain completely editable unless welded or flattened. You can continue to adjust letter spacing, rotate, edit the text, and change the font style and style after curving your text!
The Curve tool is currently only available in your desktop computer version of Design Space.
At this time, projects containing curved text will not open in mobile apps.  However, if your text has been welded or flattened so that is functions as an image rather than a text box, the project can be opened in mobile apps.
Our head is swimming with ideas and we can't wait to see what you will add some curve to! Head over to https://design.cricut.com to try the brand new tool out!
Like what you see? Be sure to share this to your Facebook or Pinterest to refer to later or share with a friend!