May 3rd, 2018 • Contributor: Cricut Project Designer Karley Hall
Hi everyone!
How excited are you about our big announcement?! We partnered with Star Wars™ to bring you new art and I could not be more thrilled.
My husband is a total Star Wars fan and when I told him what we were adding Star Wars to Design Space, his first question was, "When are you going to make me a shirt?" To his surprise, I needed him to model for this post and his shirt was already in the works
1: Create Your Design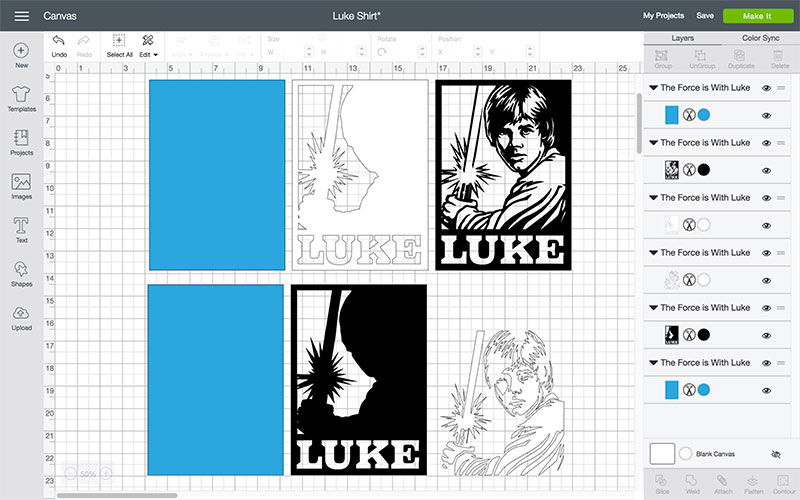 All right—you guys this is so cool! Our team has thought of it all. Have you ever noticed that when you layer iron-on, your images may be off just a little bit? Iron-on shrinks a bit when heat is applied and makes it almost impossible to line everything up exactly. To compensate for this, Cricut has designed two files for each image! One for iron-on and vinyl and one for everything else like paper.
Each of the character images will come onto the canvas with a visible "paper" version of the image and a hidden "iron-on/vinyl" version of the image. You can see the difference above!
The top image is the one is for paper. For example, if you cut this image on paper, you can stack each layer on top of each other without fussing over little pieces. Can you say time-saver?!
The bottom image is for iron-on and vinyl. When you layer them on top of each other, even if your layers shrink a tiny bit or shift, no one will know! The iron-on/vinyl version of the image makes layering easy when dealing with iron-on and transfer tape.
For this project, I used the bottom images.
2: Cut Out Your Design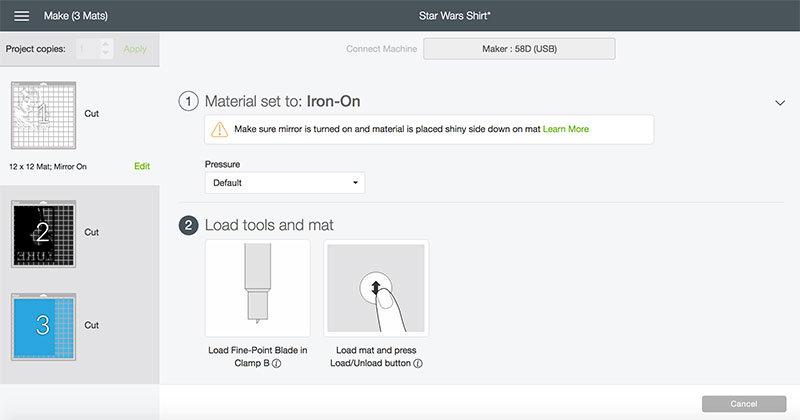 Make sure that your material is set to "Iron-on" and mirror your image on each mat.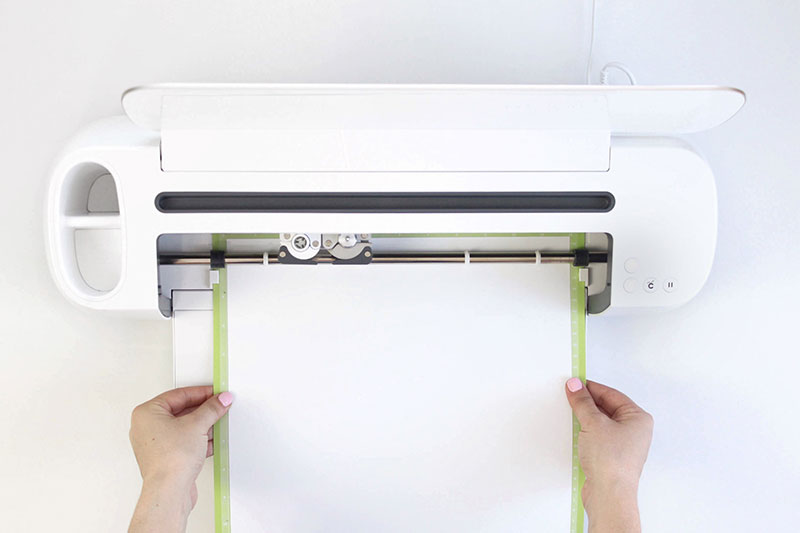 Load your material shiny side down on your mat and click the flashing Cricut icon to start your cut. Repeat this step for each color.
3: Weed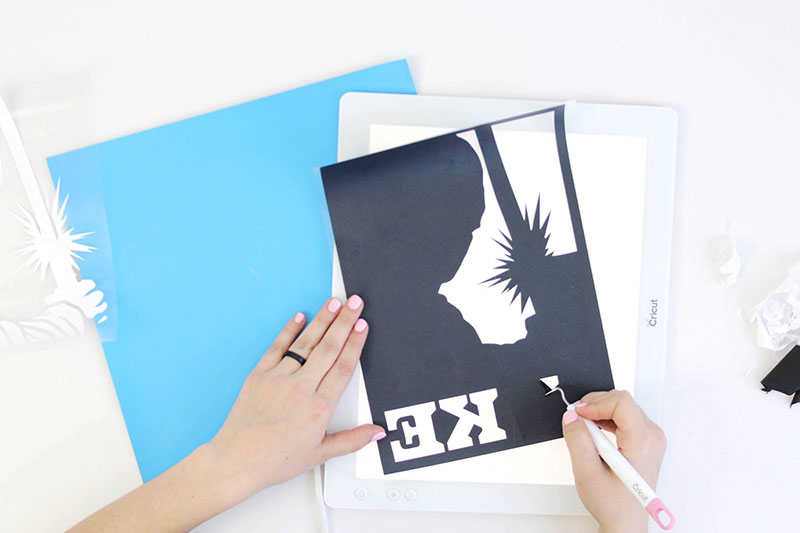 I used my Cricut BrightPad and weeder to pull out all of the negative pieces. I like to reference the image on my computer screen so that I don't accidentally pull out a piece I need or miss any pieces.
4: Apply Iron-on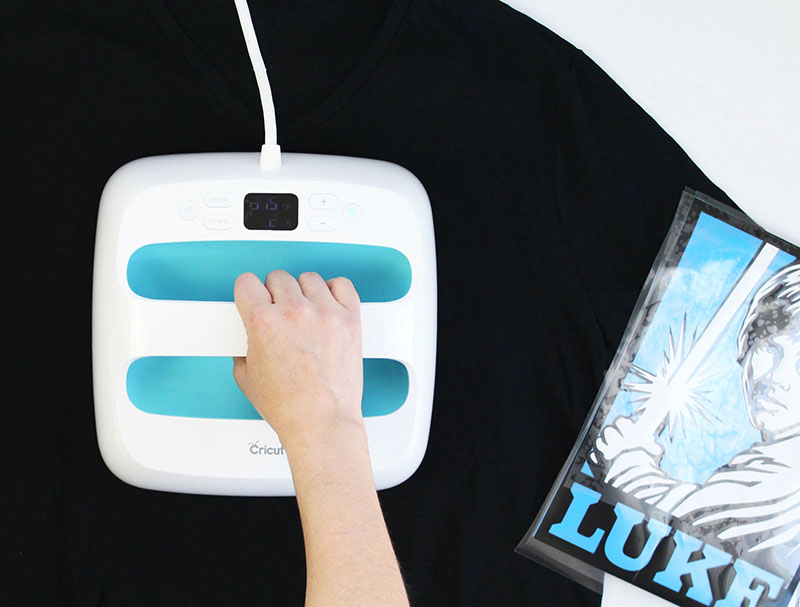 Before you begin, pre-wash your shirt. Many companies treat clothes with chemicals that make the colors look more vibrant on display in stores. These chemicals need to be removed before applying iron-on. Avoid using fabric softener when pre-washing materials.
Use your Cricut EasyPress or iron to preheat the area of the material in which you will be applying your cut image for 10-15 seconds. This will wick out any moisture that is in your fabric and allow the iron-on to really grip on.
Place the weeded image, liner side up, onto the preheated material. Always use a press cloth (or a clean cotton cloth, such as a dishtowel) over the top of your material when applying heat. I used a Cricut Iron-On Protective Sheet. If you haven't ordered yourself one, I highly recommend it! This will protect your base material from the heat of the iron.
With layering, begin with your bottom layer (the blue one in this case). I set my Cricut EasyPress to 315˚F. "Tack" your first layer down by applying medium pressure for 2 seconds. Peel away the liner while it is still warm. "Tack" the next layer (black) on top for 2 seconds. Peel away that liner while it is still warm. On your top layer (white), press for the full amount of time, 30 seconds, and flip your material over and press the back for an additional 30 seconds. Peel off your top layer and enjoy!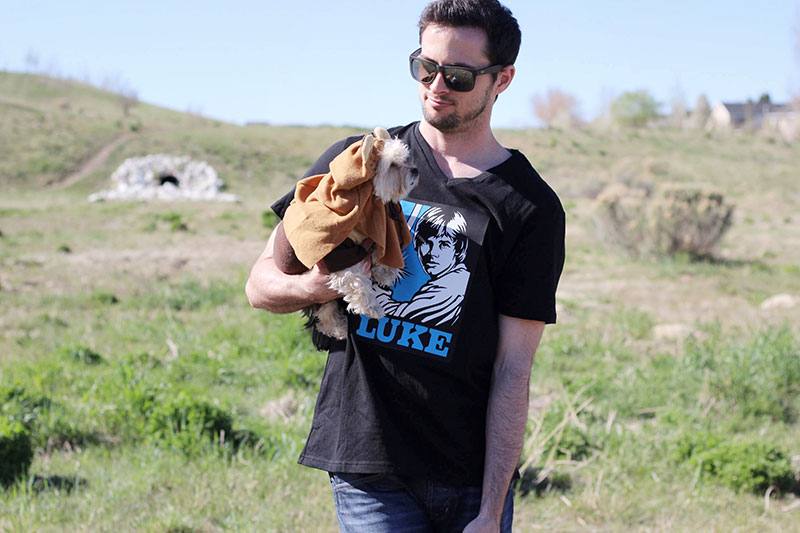 Finish off your masterpiece by dressing your pup up in an Ewok costume and handing your husband a lightsaber! And tada - perfection.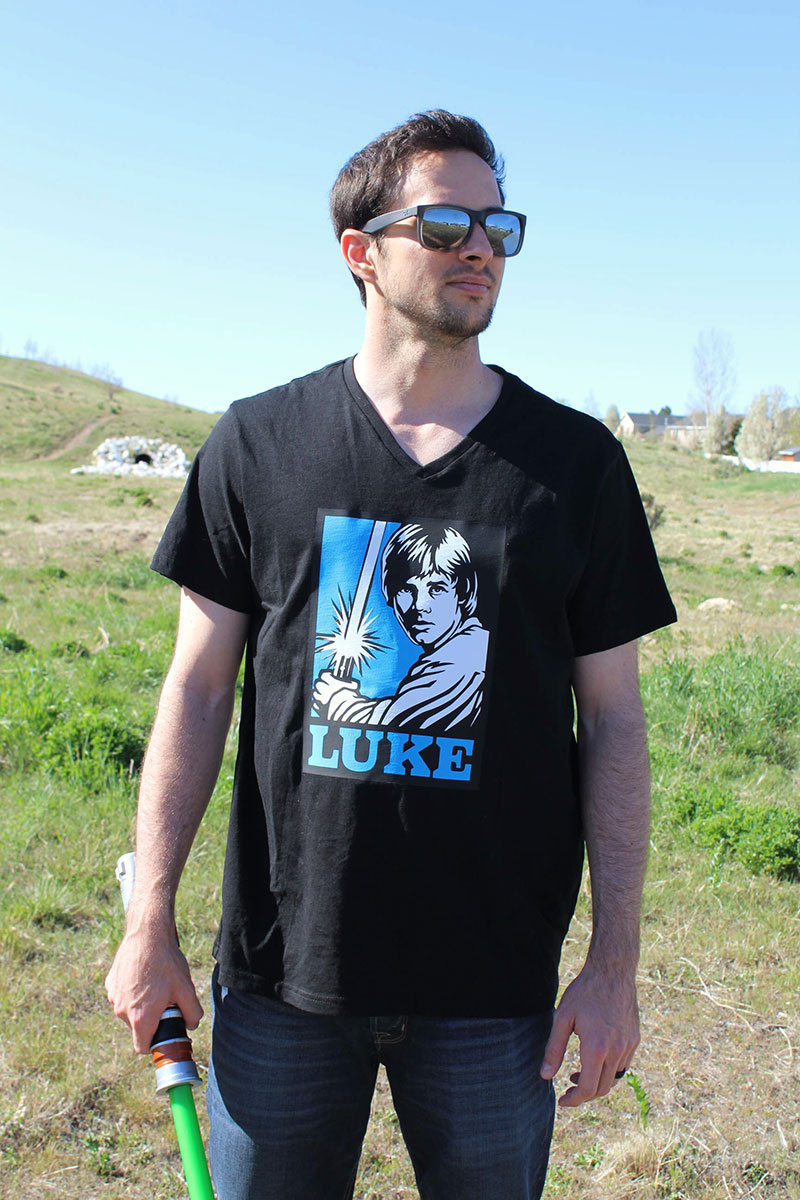 To see more Star Wars images in Design Space, click here.
Happy Crafting,
Karley
Which of our new Star Wars designs will you be using first? Let us know in a comment below!