February 17th, 2020 • Contributor: Cricut Blog Team
You have received a Cricut Joy machine - LUCKY YOU! Welcome to the Cricut family. Let's help you get started.
First, let's see what's in the box!
Getting Started
Your Cricut Joy machine comes with everything you need to get started. You will even create a simple sticker at the end of the new machine setup process.
First, let's setup the machine:
Plug in the machine to power it on.
Select Cricut Joy
Follow the prompts to set up your machine. One of those steps will be to download the Cricut Design Space App.
Connect Cricut Joy to your computer or mobile device by pairing it via Bluetooth.

Visit this help article if you're unsure how to use Bluetooth
Now that you're all setup and have cut the sample image, let's talk a bit more about Design Space!
Design Space
During setup, you were able to play around a bit in Design Space. Pretty cool, right? All Cricut cutting machines work with Design Space, an app that allows you to select images that you can then turn into projects. We have lots of helpful articles and videos to guide you through making everything from cards to vinyl decals to t-shirts. Watch my favorite YouTube playlist here to understand how it works:
https://www.youtube.com/playlist?list=PLmMKNg1O7D-d1MfAtzzU51tlSmGc5iIbr
Once you get the hang of Design Space, you'll want to cut and write more and more things! Lucky for you, there are more than 50 different materials Cricut Joy can cut, including our innovative and easy-to-use Smart Materials™.
Smart Materials
These clever crafting materials work without a cutting mat, so you can just load the material directly into your Cricut Joy machine and go. Smart Materials come in a variety of material types, including Smart Vinyl™, Smart Iron-On™, Smart Label™ Writable Paper, and Smart Label™ Writable Vinyl.
With Smart Materials, Cricut Joy can cut an individual, continuous shape up to 4.5 inches wide and 4 feet long, and repeated cuts up to 20 feet long! For all other materials, the size of your mat would limit the size of your design.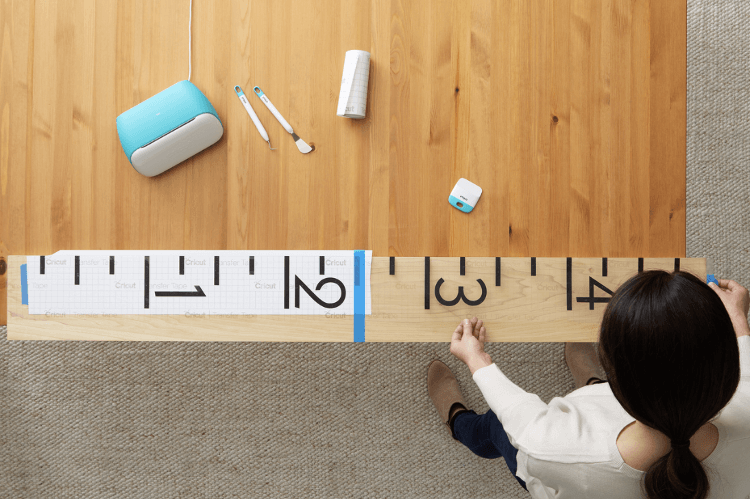 Insert Cards
One of our favorite innovations design specifically for Cricut Joy are the Insert Cards.
Insert Cards come in 10 and 12 packs of pre-scored cards, coordinating liners, and envelopes. The cards slide onto a Card Mat so that Cricut Joy cuts the card design on just the front flap of the card! No need to score or cut a coordinating envelope. You don't even need to use glue because the card designs include a way to secure the card insert without the mess!
We've written a handy Card Mat Help article that will assist you in the basics. Learn more, here. 
Here's a helpful video to get started with the card mat.
Let's make a simple card to start! We love this project: 
Here's what you'll need to make this card:
Cricut Joy™ Card Mat
Scraper
Cricut Joy™ Insert Card Kit
Follow the assembly instructions on the Ready-To-Make project to complete the card.
We are so excited to start seeing what you make with Cricut Joy. Share them with us by tagging @officialcricut on any social media platform you use with #CricutJoy.
Still need help? Checkout our helpful articles on the Cricut Joy Help Page.
Have more questions? Email CricutJoy@cricut.com or call Member Care.