October 28th, 2018 • Contributor: Karley Hall, Cricut Team
Calling all paper crafters!!! I have 10 gift ideas for you to add to your own wish list or gift to your favorite paper crafters. If you don't have a Cricut Explore Air 2 or Cricut Maker just yet, love crafting, and are ready to take the plunge… don't wait any longer! The holiday season is the best time of year to purchase a machine and craft your holiday socks off. If you are already team Cricut, but need additional gift ideas, read through this post and start adding gifts to your shopping cart! These tools and supplies will help you achieve Pinterest worthy paper crafts that you will be proud of for years to come.
1. Cricut Explore Air 2 or Cricut Maker™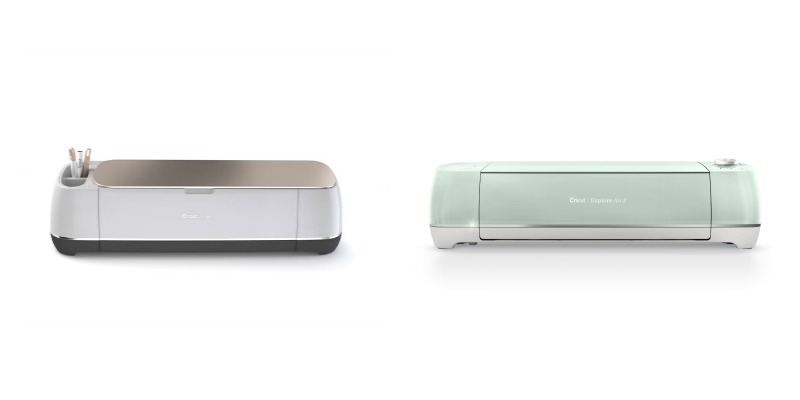 Okay—so you don't own a cutting machine, but you know everyone recommends a Cricut! Which one should you buy? We wrote an entire blog post to help you choose.
Here is a peek at what that article shares-- "Our best-selling Cricut Explore family of machines have opened up the possibilities of what crafters can make for more than five years. Cricut Maker takes those possibilities to the next level. If you are a crafter, designer, sewer or really any type of creator, Cricut Maker gives you the possibilities to take on new projects you couldn't imagine you could do from your home. If you love your Cricut Explore family machine and really stick to cardstock paper projects, iron-on and vinyl, the Explore lineup is a great option for you. However, if you're someone who likes to push the boundaries of what you can make - from 3D to sewing and fabric projects - and are looking for the next evolution in cutting machine technology, Cricut Maker is the right choice. We want to bring you more tools, more materials, and more possibilities so you can make anything you can imagine."
Check out the entire article to help make your decision on what machine is right for you! There is no right or wrong or good or bad choice! With Cricut, there is no buyer's remorse. Shop machines here.
2. TrueControl Knife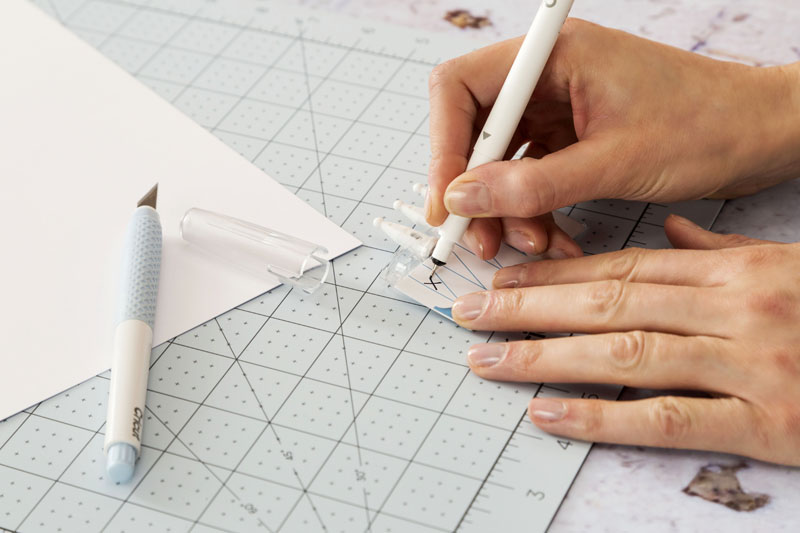 If you are anything like me, you have an embarrassing amount of craft knives. Well you may as well just toss those, because after you cut with this TrueControl Knife, you will not want to use anything else. This knife is the perfect complement to your Cricut machine. Trim your materials, cut intricate designs by hand, and power through 100s of materials with ease. My absolute favorite part, is that you do not have to touch the blade to change it. The blade replacements are easily swapped and you can safely store old blade or indicate which blade you use for what! Now you will have a sharp blade ready for every project.
Find the TrueControl Knife on shop.cricut.com.
3. Essential Tool Set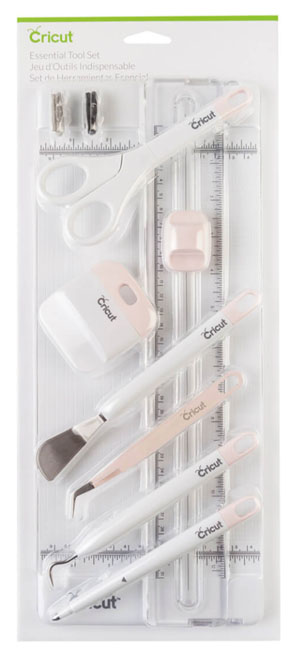 If you can swing it, invest in the entire Essential Tool Set! These tools will make paper crafting so much easier. You have your scissors for snipping ribbon to embellish your cards, a scraper to clear your mat off, a spatula and tweezers for lifting and holding small paper cuts, a weeder for poking out any details, a scoring stylus to score your cards and boxes, and a paper trimmer (with blade replacement and scoring blade) to easily trim down your materials.
Visit shop.cricut.com to purchase the tools in Rose.
4. XL Scraper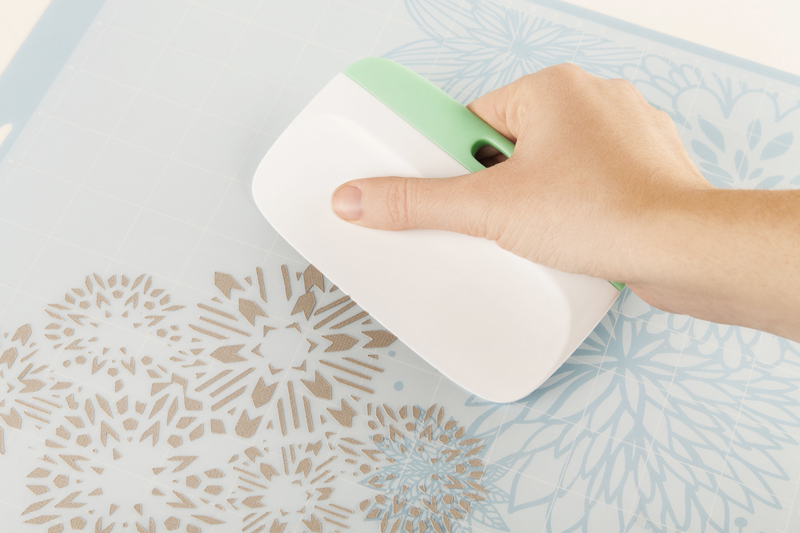 You may have noticed that a scraper comes in the tool set above, but I would recommend also investing in the XL Scraper. This tool will save you so much time clearing off all of your intricate paper cuts from your mat. I also love using this when making cards and boxes. Fold your paper on your score line, and then rub your scraper along the edge to make your fold lines extra crisp.
Find the XL Scraper on shop.cricut.com.
5. Paper Crafting Set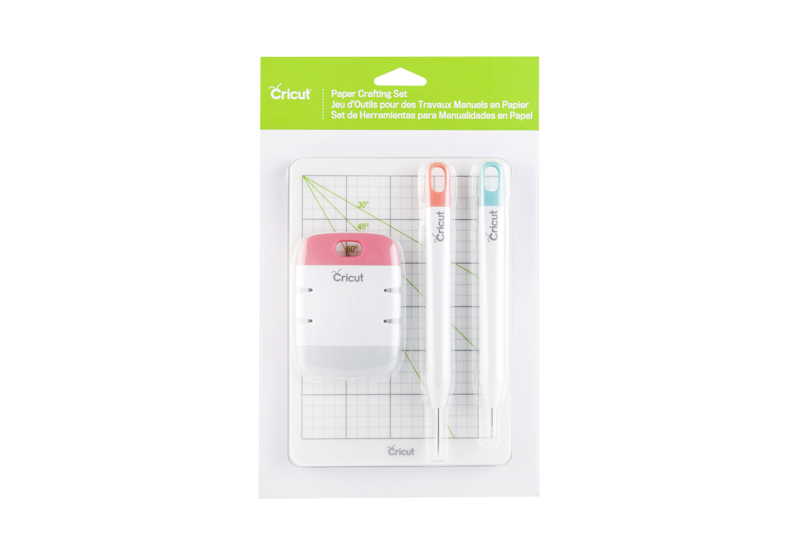 I feel like some elements of paper crafting are considered a lost art—like quilling! But with this Paper Craft Set, you can bring quilling back to life. The quilling tool helps you create tight curls or you can use it to roll up paper flowers. Use the piercer to help place intricate details or poke out material from your small paper cuts. The edge distresser adds texture and personality to your project. And the craft mat makes a great work space to cut and pierce into. Before you know it, you will be a quilling pro.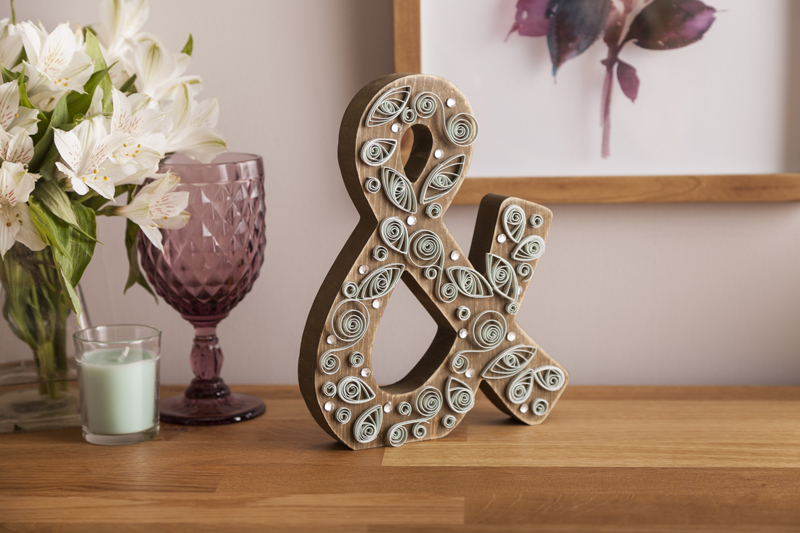 6. Cricut Cuttlebug® Machine, Mint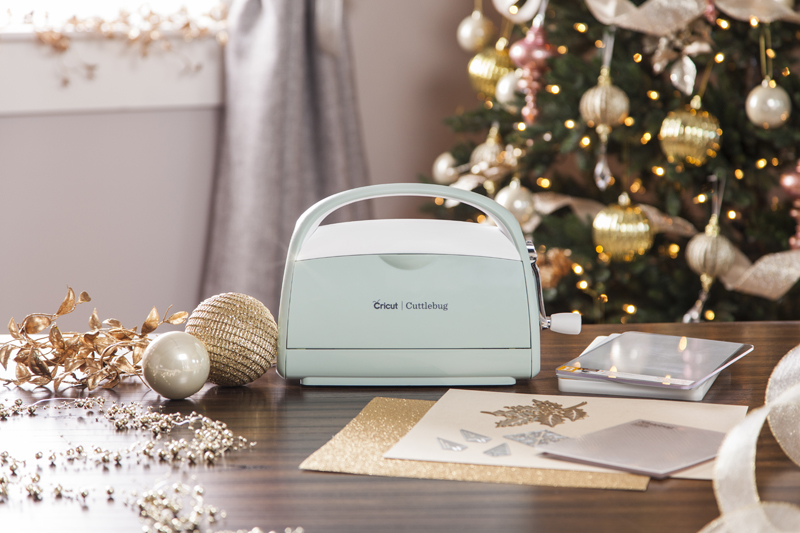 Are you looking to add more texture and life to your cards and paper projects? Have you heard of the Cricut Cuttlebug? This is a die cutting and embossing machine that is super portable and does not require any electricity. It comes with one A2 embossing folder and two metal dies to get started right away. Open your embossing folder, place your paper inside, use the included plates, and turn the knob. Once it is cranked through, the paper will be transformed into a textured piece of art that will make your paper crafts even more impressive.
You can find the Cuttlebug on shop.cricut.com.
7. Pen Sets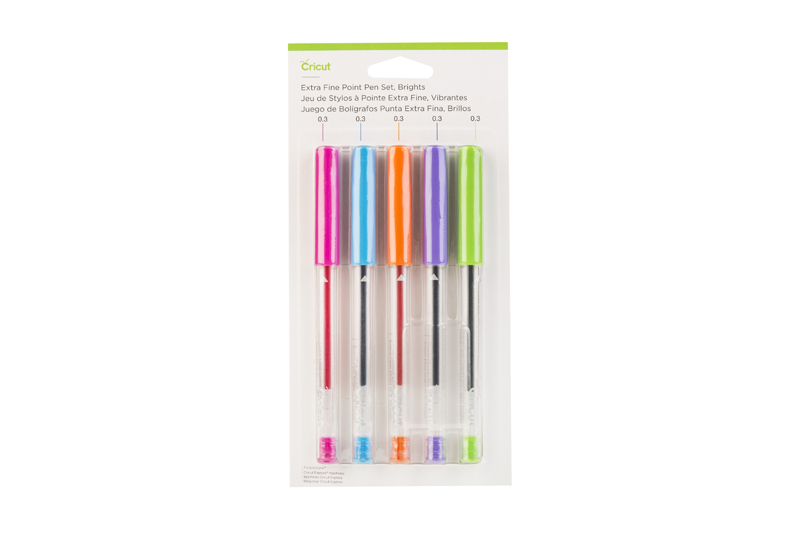 Did you know your Cricut Explore Air 2 and Cricut Maker can write and draw for you?! These Extra Fine Point Pens are my favorite. Use a font with a "writing" style or turn any image into a "write" line to add some extra pizzazz to your paper projects. Or create a 12 x 12 coloring page like this project! Create a whole coloring book and gift it to your favorite little ones.
Shop for this set at shop.cricut.com.
8. Printable Materials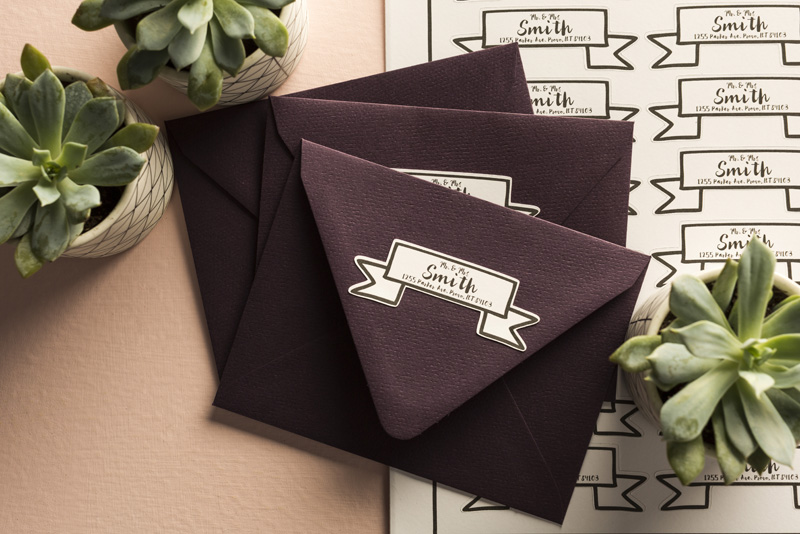 At Cricut we offer a variety of materials that you can use to print on and then use your machine to cut it out! I love using Cricut's Print then Cut option to add detail and color to my projects. Or if you can't find the pattern paper you need, fill your images with a printable pattern in Design Space, and Print then Cut it with your machine! We have printable sticker page in clear and white, printable vinyl, printable magnet sheets, and printable fabric.
Find these printables at shop.cricut.com.
9. Paper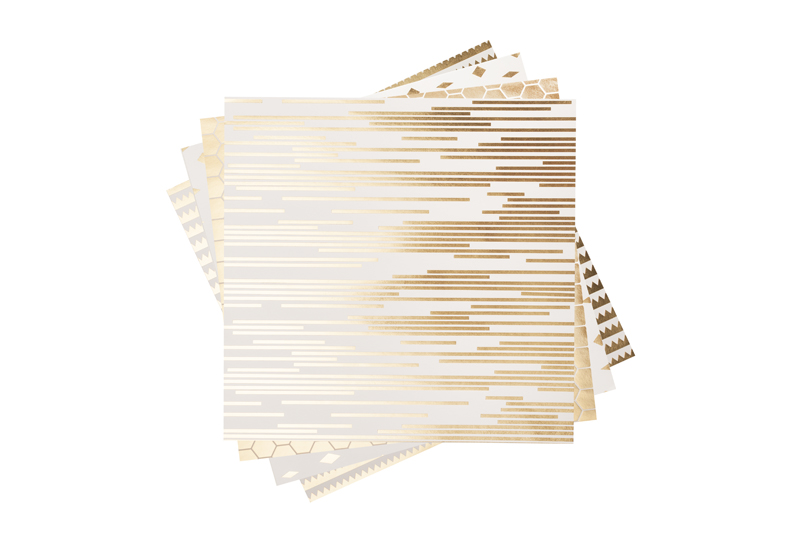 As a paper crafter, you will need lots of paper! We have you covered. Not only do we have patterned paper, but we also offer corrugated cardstock, foil embossed, kraftboard, pearl paper, poster board, sparkle/shimmer paper… so many fun options! And rest assured, all these materials have been testing by our Cricut Quality Assurance team so we can recommend the best possible cut settings to give your perfect cuts time after time.
Find our paper offerings on shop.cricut.com.
10. Mats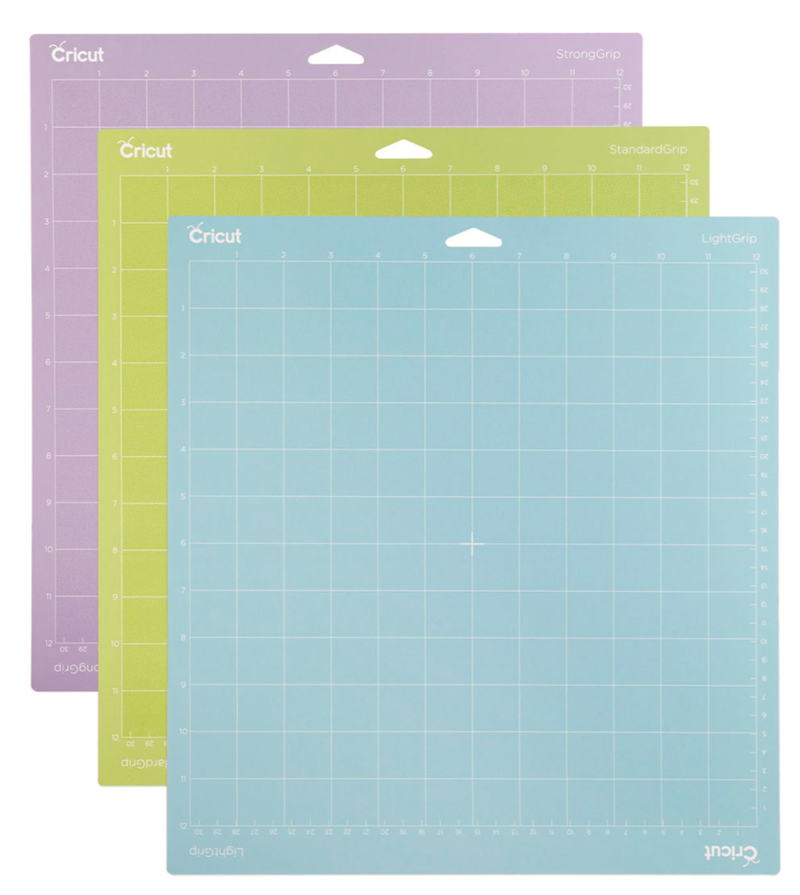 With such a wide variety of paper offerings, you want to make sure you have the correct mat to use with your materials! To see which mat we recommend for each material, check out this helpful article. Using the correct cutting mat will ensure that your material properly cuts and is not damaged when you try to remove it from the mat. Stock up on mats so that you always have a fresh one on hand for your marathon crafting sessions.
Shop this variety pack at shop.cricut.com.
This was so hard to choose my top 10! I have so many additional recommendations that could fill a list at least 50 items long! Since I only have 10, I tried my best to choose my must haves… but I will add, stock up on replacement blades too! These are great to have. When you notice your cuts aren't as clean, replace the blade and your Cricut will be as good as new.
Okay—so there you have it, my top 11! These tools and materials will help you build amazing paper craft creations. And if you are shopping for a significant other, family member, or friend, any of these will make amazing gifts. A gift that encourages creating is really one of the best give you can give!
Do you already own some of these Cricut products? Tell us in the comments which ones you have and already love. Or if you don't own any, share which ones are on your wish list this year! We can't wait to see what you create!
Happy Crafting,
Karley Hall