September 22nd, 2018 • Contributor: Cricut Blog Team
Are you a fan of everything purple? My daughter certainly is, so I am always on the lookout for ways to delight her with her favorite color. Here are some lovely projects from our Cricut Community.
Isn't this crepe paper tulip simply gorgeous? Julia learned how to make these from Lia Griffith herself at our Mountain Make-a-Thon. Use these and other paper flowers throughout your house for long-lasting beauty.
Click to Make: Crepe Paper Tulip
Purple has long been associated with royalty, so it's perfect that Lisa used it to make invitations for a princess party.
Click to Make: Crepe Paper Tulip
It's so easy to add special extra touches to things you buy. Lisa added "You're Awesome" to this already awesome glitter frame and made it exponentially awesome.
Click to Make: Allyssa's 4 x 6 Glitter Photo Frame
Have you tried the knockout method yet? That's where you slice out images from other images to make one seamless design. Cyndy used it to make a cool purple glitter and silver shirt for her local team.
Click to Make: Mount Union Knockout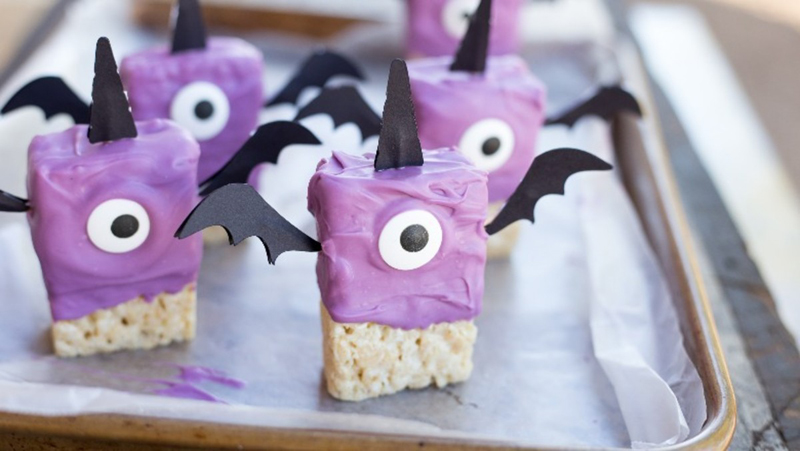 These Flying Purple People Eater cereal treats will be a welcome addition to your next Halloween party. Rachel made it super easy to dress up these otherwise simple desserts.
Click to Make: Flying Purple People Eater Rice Crispy Treats
I have fond memories of hummingbirds zipping around me when I was working at a public garden. This purple-themed version by Cathleen is gorgeous.
Click to Make: Purple Hummingbird
Wear this inspirational reminder to "Be a Pineapple" created by Kristen. I love the colors she used and that there's glitter iron-on too!
Click to Make: Be a Pineapple Shirt
As the wife of a cancer survivor, I know all too well how much hope you cling to when it comes to this type of battle. This one by Michele is a reminder for breast cancer patients and supporters to keep hope alive.
Click to Make: Cancer Hope Shirt
Is purple one of your wedding colors? This Favorite Love Quote sign by Kestin would be a lovely addition. Simple yet profound.
Click to Make: Favorite Love Quote Sign
Our Cuttlebug embossing machine turns simple cardstock into art. Rebecca used it to make this You Are Awesome card.
Click to Make: You Are Awesome Card
Lilac is perfect for this Frozen birthday banner by Heather since it's both a cooler color and a symbol of royalty.
Click to Make: Frozen Birthday Banner
Make this REMIX love stamp envelope and quote card designed by Allison to give to that special someone in your life.
Click to Make: REMIX Love Stamp Envelope
Which one of these is your favorite purple project? Tell us below and pin for later!