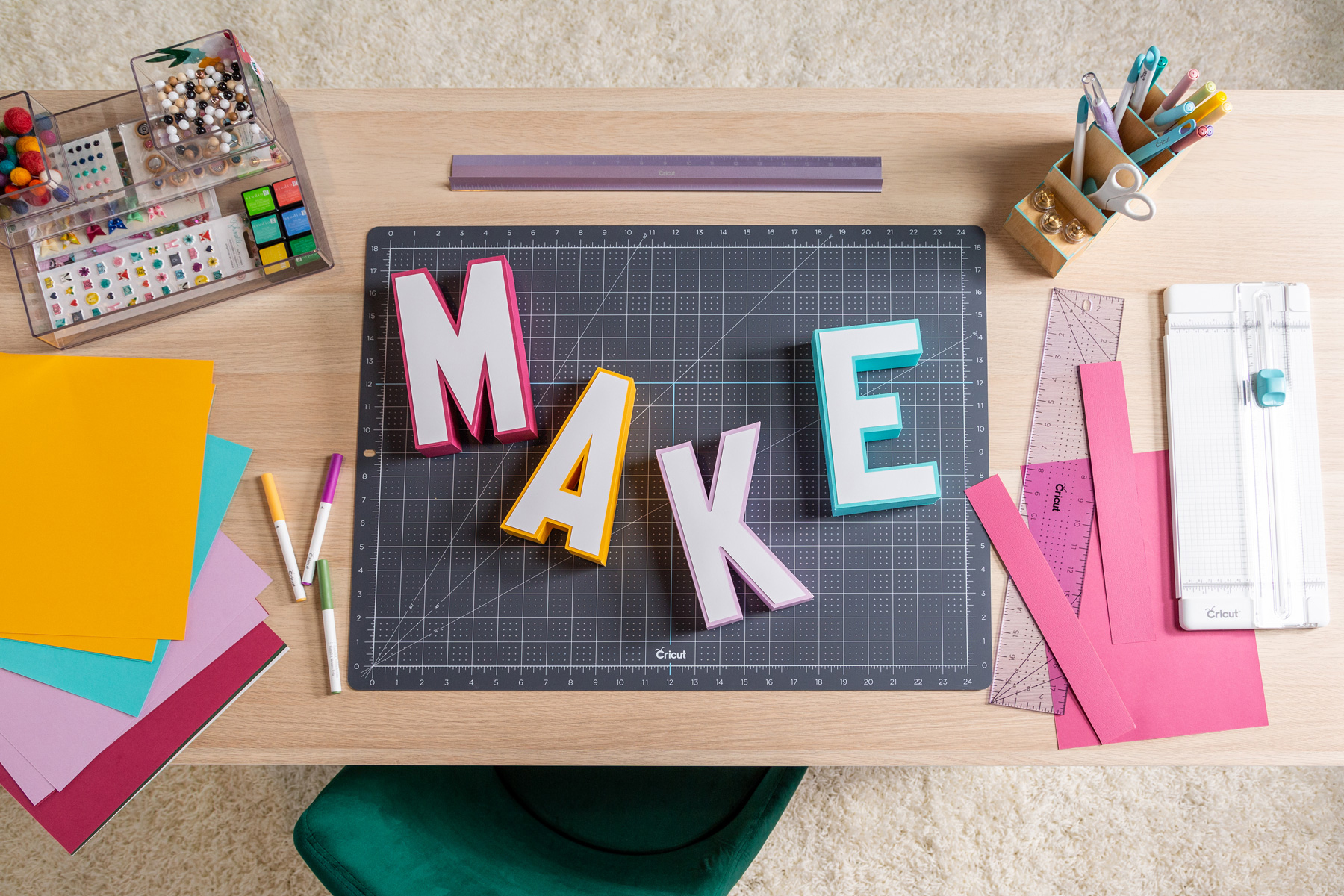 Join us for a free Cricut workshop
We know when it comes to cranking out a new project, getting started is the hardest part.
---
Whether your Cricut machine still has that fresh-out-of-the-box sheen or you've made a few cuts and are stumped on what to do next, a Cricut Workshop is the perfect way to grow your skills and confidence.
You've got the inspiration, materials, and tools — now get expert-led guidance on putting it all to use to make the projects you've been dreaming about.
Getting started with Cricut 101
Each Cricut Workshop is a real-time, interactive learning session led by an official Cricut coach with one goal in mind: to help you start (and keep!) making. Alongside fellow Cricut newbies, you'll receive the support of Cricut experts eager to help you bring your vision to life.
What you'll learn
Design Space, the design app that powers every Cricut machine
How to cut a vinyl sticker using your machine
Skills to keep cutting with confidence
What you'll need
On top of showing up ready to learn and ask our experts anything, you'll want to prepare a few supplies:
Your pre-activated Cricut Explore or Maker (meaning you've already connected and registered your machine online and created your Design Space account)
A computer or iPad to run Design Space
Cricut vinyl and transfer tape
Cricut Light Grip cutting mat (or Smart Materials if you're using a Maker 3 or Explore 3)
Scraper (you can even use a credit card!)
A tumbler/water bottle (optional)
How to sign up
Check the schedule below
Click the date you want to register
Follow the prompts to complete the registration
Check your email for confirmation and add the date to your calendar
It's worth knowing ahead of time that our workshops are hosted via the Zoom app. If you've never used Zoom, don't worry — it doesn't take long to download and install. And, if you've graduated from making basic vinyl stickers but still want to craft along with us and your fellow Cricut members, check out our new Cricut 102 Workshop lineup.
Make along with us in Cricut 102  
Cricut 102 is for anyone with a foundational knowledge of how to use their Cricut machine, who's eager to keep making alongside other members and a Cricut coach.
What you'll learn
How to create a custom design in Design Space
Including using shapes, text, layers and actions to design and assemble more complex stickers
What you'll need
Cricut machine
Cricut Light Grip cutting mat (or Smart Materials if you're using a Maker 3 or Explore 3 machine)
Water bottle
Cricut permanent vinyl in two colors that coordinate with your bottle
Cricut transfer tape
More projects to make along with us
We're always eager to hear what members want to make but are a little hesitant to try solo. With that in mind, we're designing intermediate/advanced level workshops to walk you through the projects you've been building the skills for but can't yet execute on your own. You'll get friendly expert guidance and an opportunity to ask questions and learn with a virtual community of crafters just like you.
Introducing: Paper Flowers
Have you had a paper flower project on your to-do list for a while but don't feel comfortable starting on your own? Join us to learn some of the ins and outs of cutting, assembling, and arranging paper flowers. We'll make a paper flower shadow box with vinyl text on the front. Once complete, your project can be hung in your home or gifted to someone special, plus you'll be ready to tackle all kinds of paper flower designs.
What you'll learn
Cutting, assembling and arranging paper flowers
What you'll need
Cricut smart cutting machine
Blue Light Grip mat to fit Cricut machine
Cardstock: 65-80 lb. solid core cardstock. 3 sheets of 3 colors (for a total of 9 sheets)
Cricut fine point tweezers or quilling tool
Cricut spatula tool
Hot glue gun
Cricut Permanent White Vinyl
Cricut transfer tape
9×9 shadow box frame
Cricut Access Rolled Flower Design IDs #M3D7E1
Check out our upcoming Workshop schedule below. We look forward to seeing you in the craft room!
Cricut 101 workshop schedule
| | | | |
| --- | --- | --- | --- |
| Date | Eastern Time (ET) | Mountain Time (MT) | Registration Link |
| 13 Sept 2021 | 4:00 PM – 6:00 PM | 2:00 PM – 4:00 PM | Register |
| 16 Sept 2021 | 6:00 PM – 8:00 PM | 4:00 PM – 6:00 PM | Register |
| 20 Sept 2021 | 4:00 PM – 6:00 PM | 2:00 PM – 4:00 PM | Register |
| 27 Sept 2021 | 4:00 PM – 6:00 PM | 2:00 PM – 4:00 PM | Register |
| 30 Sept 2021 | 12:00 PM – 2:00 PM | 10:00 AM – 12:00 PM | Register |
Cricut 102 workshop schedule
| | | | |
| --- | --- | --- | --- |
| Date | Eastern Time (ET) | Mountain Time (MT) | Registration Link |
| 15 Sept 2021 | 4:00 PM – 6:00 PM | 2:00 PM – 4:00 PM | Register |
| 22 Sept 2021 | 4:00 PM – 6:00 PM | 2:00 PM – 4:00 PM | Register |
| 23 Sept 2021 | 4:00 PM – 6:00 PM | 2:00 PM – 4:00 PM | Register |
| 28 Sept 2021 | 12:00 PM – 2:00 PM | 10:00 AM – 12:00 PM | Register |
Paper flower workshop schedule
| | | | |
| --- | --- | --- | --- |
| Date | Eastern Time (ET) | Mountain Time (MT) | Registration Link |
| 21 Sept 2021 | 12:00 PM – 2:00 PM | 10:00 AM – 12:00 PM | Register |
---