May 17, 2017 • Contributor: Cricut Marketing Manager Lauren Duletzke
If iron-on projects are your favorite, like mine, I know how frustrating it can be to cut your project, adhere it with an iron and something goes wrong… maybe one of your letters warps because your iron is too hot or worse, you wear your awesome DIY shirt and the design starts to peel off. Permanence with iron-on is possible (I promise!) and today I'm going to walk you through 5 easy steps to get the best results on your cotton t-shirts.
Before we get started I want to discuss a few things to get us prepped for a solid iron-on experience. I've learned the importance of two things to make my iron-on projects super permanent…
Know my fabric: Figure out what fabric you're working with (if it has a tag, read it!), know the right temperature for the fabric (most irons have temperature settings), and wash instructions.
Know my iron-on material: When picking your iron-on make sure you know what you're working with. At Cricut we have 3 different types of iron-on: iron-on lite, glitter iron-on, and foil iron-on. Here's three quick things you should consider when using these iron-on materials:
Iron-on lite: Be careful with too much heat.
Glitter iron-on: Super strong and can take higher heat.
Foil iron-on: Lower heat + longer time settings and make sure it's fully cool before you remove the plastic.
OK, now that we've got that out of the way, let's make a t-shirt! I cut out this design for my t-shirt on the new Design Space (it's amazing if you haven't played around with it yet!). 
(Also, if anyone is interested in the design I created, I used Arial Black font for the "Weekend" and Opposites Attract font for the "I Love You." You can find both fonts in Design Space. And some of you may be wondering why I didn't connect the letters... I actually prefer the style without connected letters 😉 ... I used a circle to help me curve my letters just slightly by lining up the bottom of the letter with the circle edge.)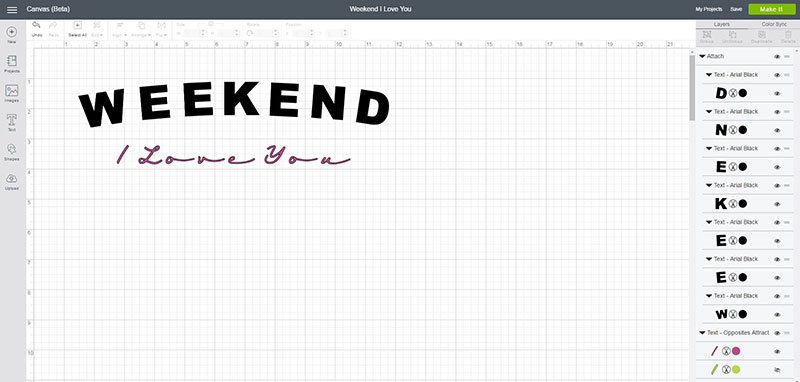 STEP 2: PREP YOUR SHIRT
For cotton, make sure you've put your iron on the cotton setting (with this iron it's setting 6) and warm up the part of your shirt where you'll be placing the iron-on design.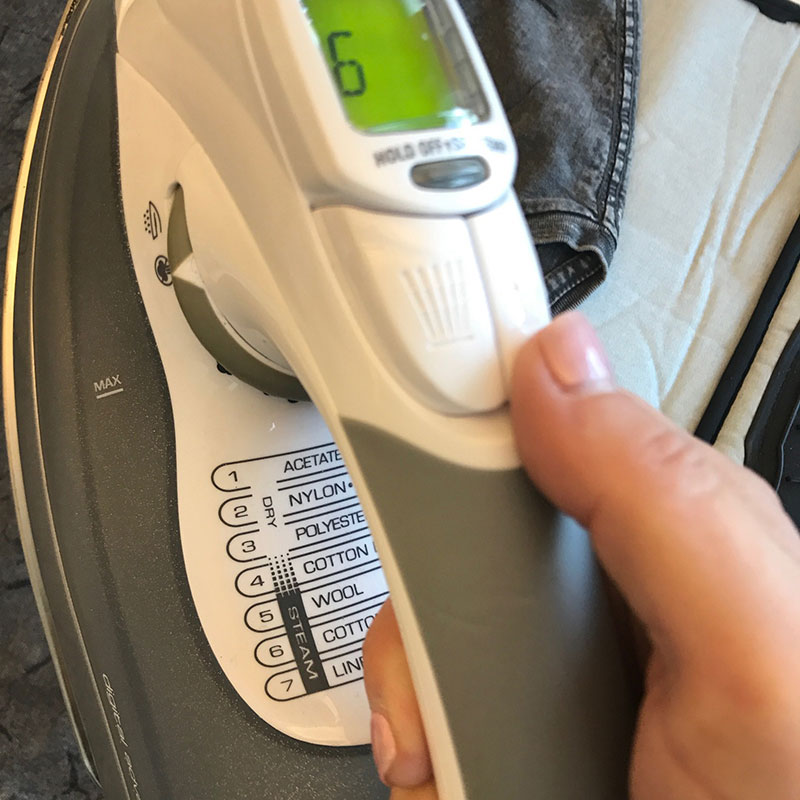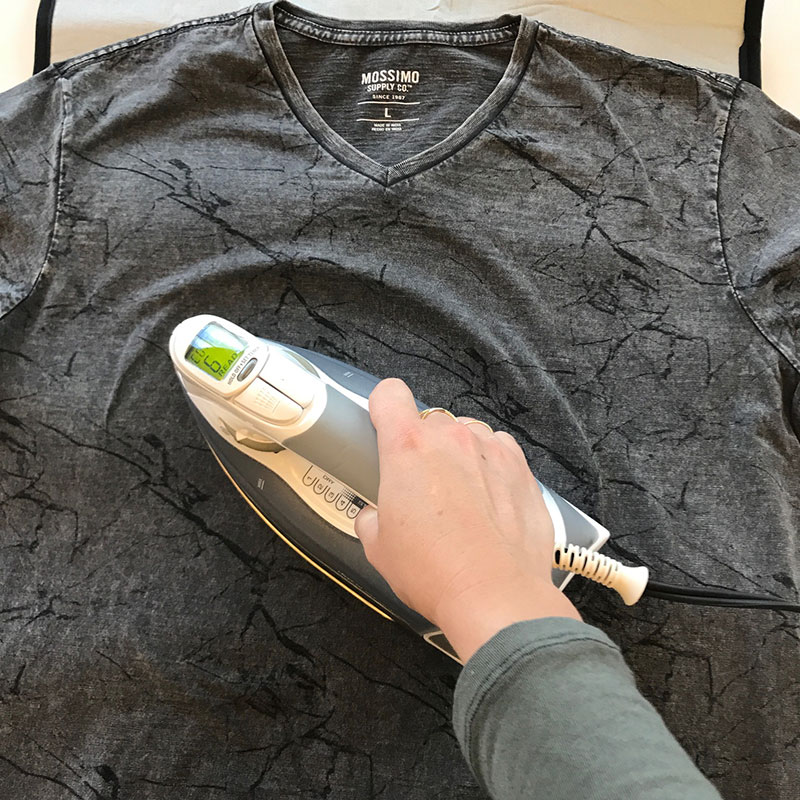 STEP 3: START YOUR IRONING
Because I'm using iron-on lite and foil iron-on in my design, I am ironing them separately. I'm starting with my iron-on lite "Weekend" design in white.
Put down a thin cloth over your design and instead of ironing flat across the design, try the method of press and push (meaning you press down on the iron over a spot on your design for a few seconds and then move it to the next spot and repeat). After I hear my iron beep, I check my design by pulling the corner of the plastic back and slowly rolling it all the way off my design.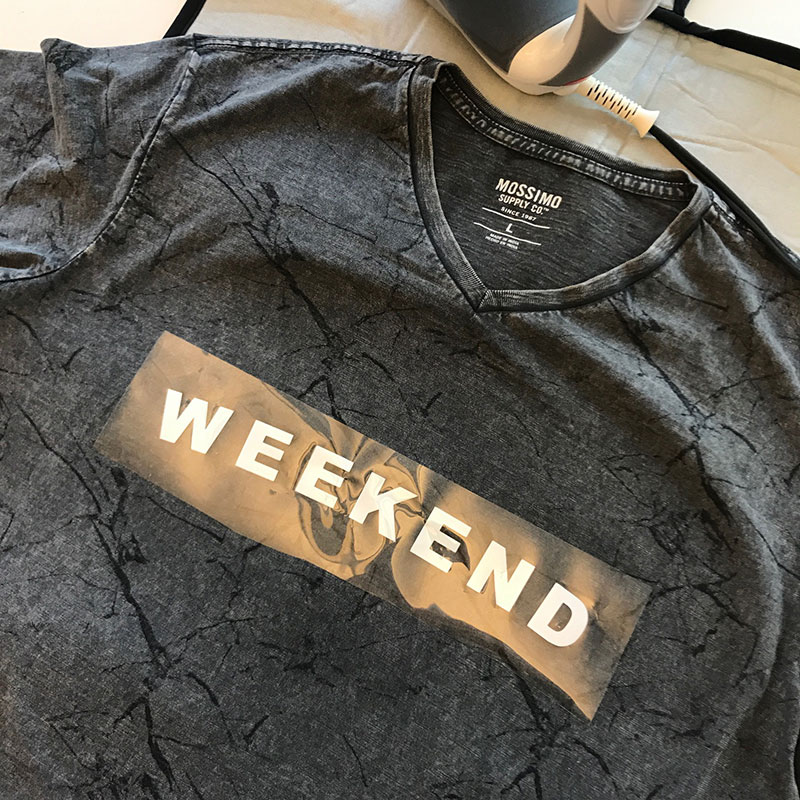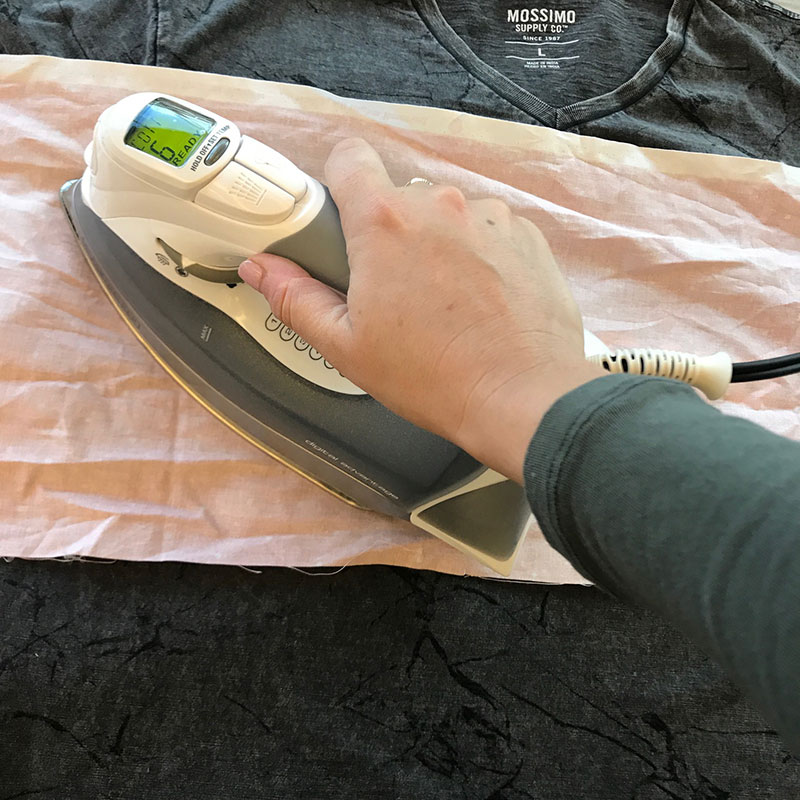 TIP: Keeping the plastic tightly rolled when you pull it off helps protect the design from coming up while it's cooling.
Now I iron my foil-iron "I Love You" design in silver. I'm going to turn my heat down to 4 and press down a little longer before checking if it's done. After I've checked the corner of the plastic and it seems finished, I let it fully cool (I know you just want to rip it off but wait, it's worth it!). I peel of the plastic and voila!... my design came off the plastic perfectly.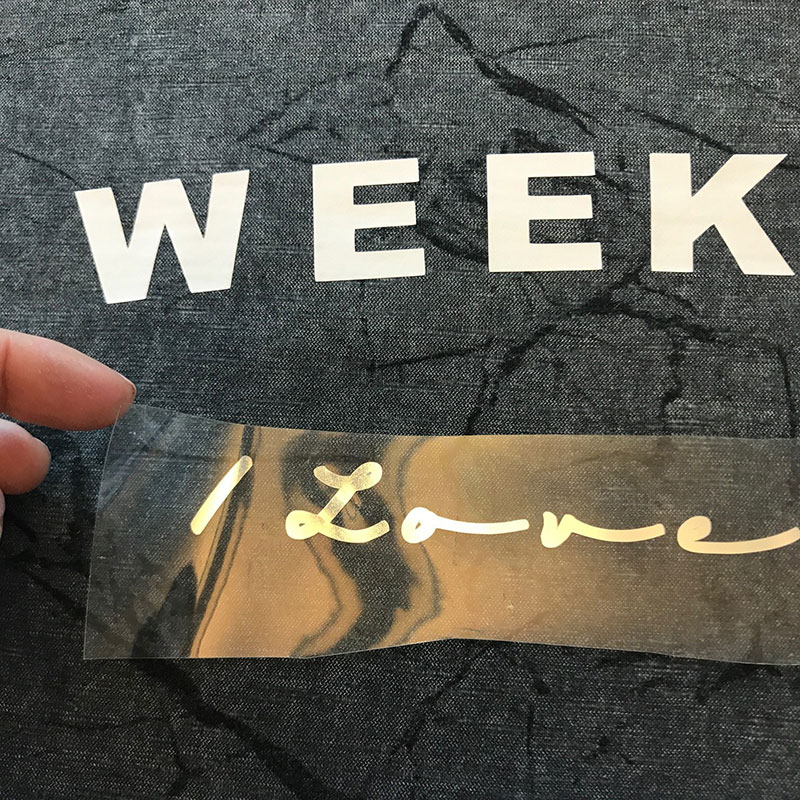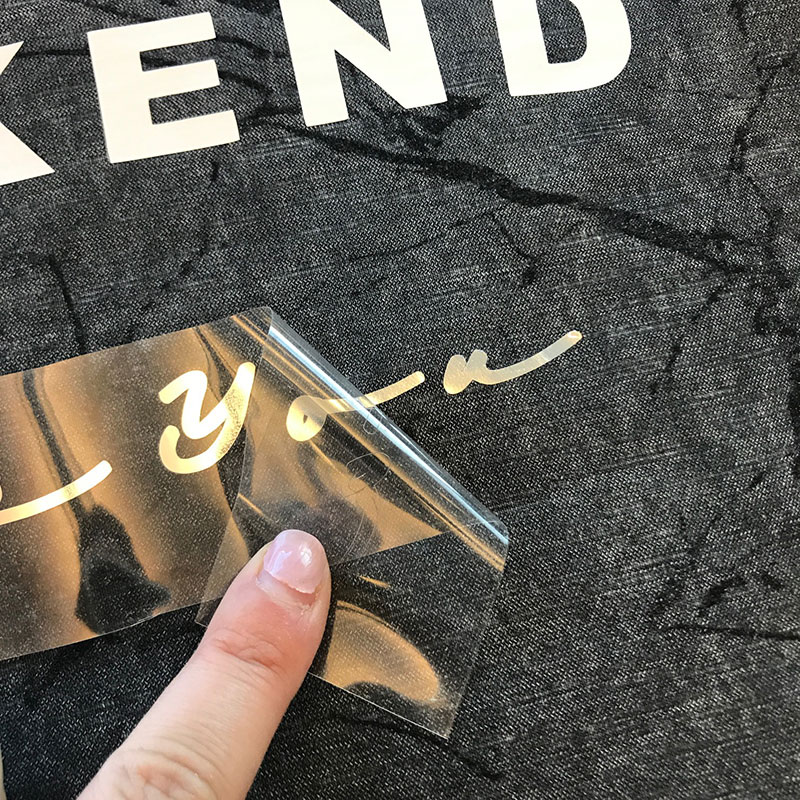 STEP 4: IRON OVER THE FINISHED DESIGN AGAIN
Now remember this tutorial is about permanence, so don't go putting on your t-shirt just yet. Put your thin cloth over your finished design again, turn down the heat a bit and press along your design for about 20-30 seconds. This steps makes sure that your design is completely flat (just in case you missed anything). Now take your cloth off and let the t-shirt cool… and you're ready to go!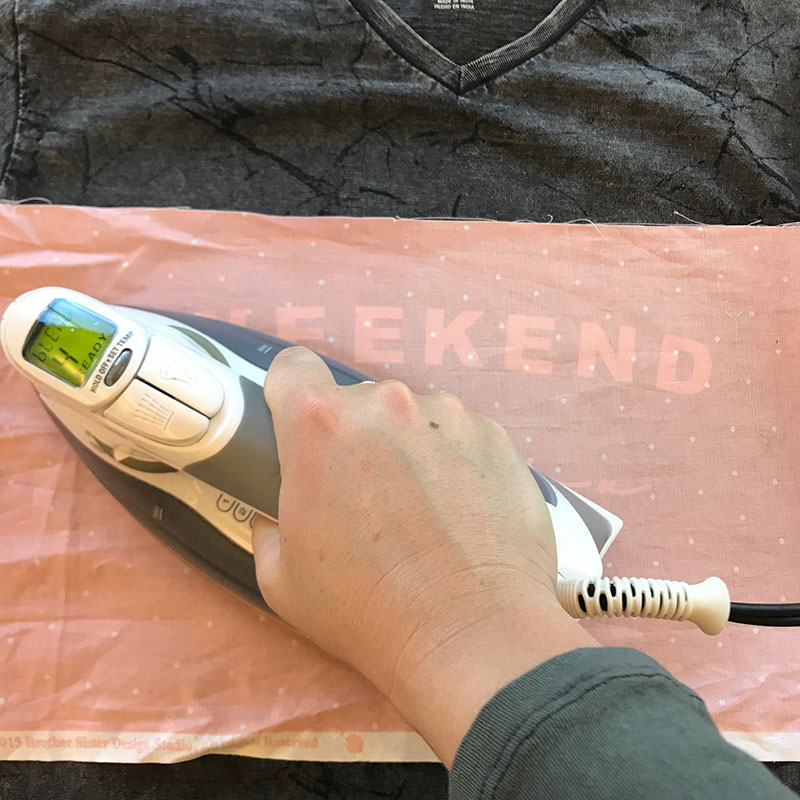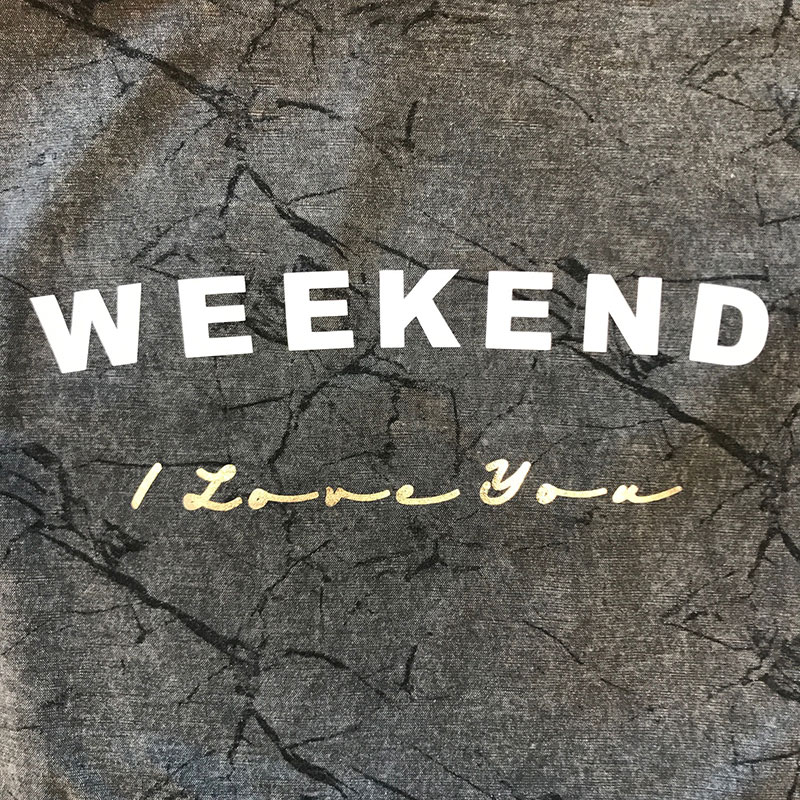 STEP 5: WEAR YOUR SHIRT THEN WASH/DRY
Make sure after wearing your shirt that you wash and dry it inside out to protect the iron-on material.
…And for a fun step 6, you can cut your shirt like I did to make it even more unique! I love to wear my DIY crop shirts to yoga or around town on a casual day. Super fun and people always ask me where I got it!