October 7, 2016 • Contributor: Andrea Greco
When asked for a little last minute styling help from my friends, Jake and Nyra, all I needed was Mother Nature, a crew of awesome volunteers and some help from my Cricut to create a rustic-chic wedding look.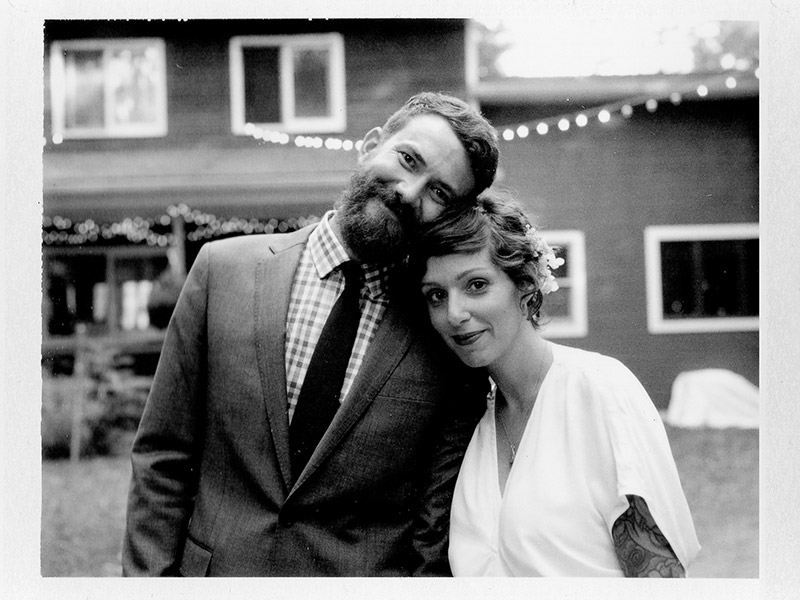 Polaroid of Jake and Nyra  – photo credit Kevin Faulkner
We all either know firsthand or can imagine how much time, work and money goes into planning a wedding. Most people start to prep a year or more in advance. So, when my longtime friend, Brooklyn based fashion photographer, Nyra Lang, told me that she and her fiancé were going to "just go for it" in two months, I was torn between feelings of elation for their upcoming nuptials and projected decoration anxiety. Congratulatory words were immediately followed by the question, "How are you going to put this together in two months?" Once she told me the location- her weekend house in the Catskills-  my brain immediately went into stylist mode and, of course, I volunteered my services.
Since the wedding was going to be in an outdoor, wooded area, we had an amazing palette with which to start. Nyra wanted to incorporate natural elements and white, making use of the plethora of wildflowers and wood stumps in the area. With the help of about 30 of her amazing friends who showed up the morning of, we transformed her backyard into a woodsy, dreamy wedding spot. Side note: most of the "help crew" looked like they stepped straight out of Nylon magazine. It was like a "cool" bomb went off, and I was merely hoping to get hit by some of the shrapnel.  At one point during our party prep, I heard someone say, "did anyone bring a tattoo gun?" Bible. Round hole, square peg - that was me. But, I digress. Anyway, where was I? Oh yeah - dreamy party spot. So, we all arrived the morning of the wedding. Thankfully, tents and  tables were set up the day before, so we were able to get straight to work. Jake, the groom, made a few dozen log cuts for us to use as bases for the center pieces at each table. The crew foraged the forest and picked as many wild flowers as they could, and I arranged them in bottles and jars we'd collectively collected.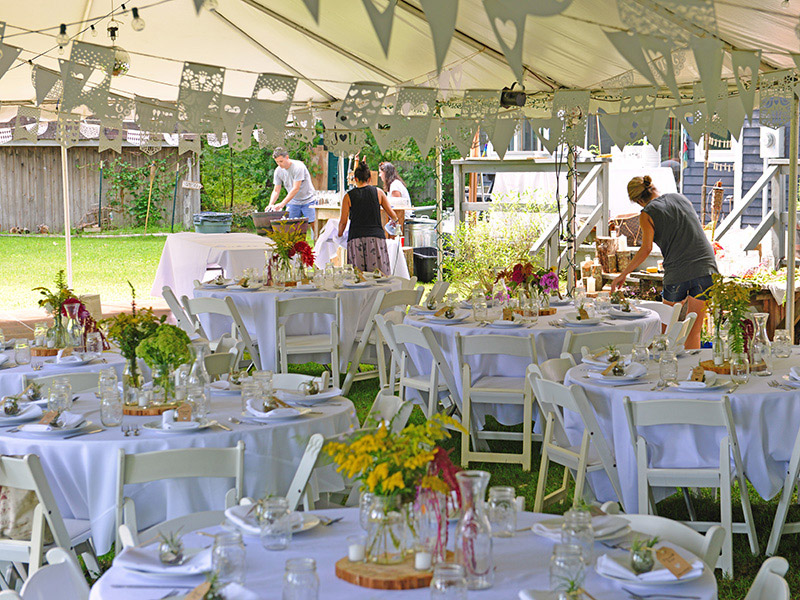 The crew at work  – photo credit Mike Bogart
Flowers in progress – photo credit Mike Bogart
Three to four arrangements were placed at each table.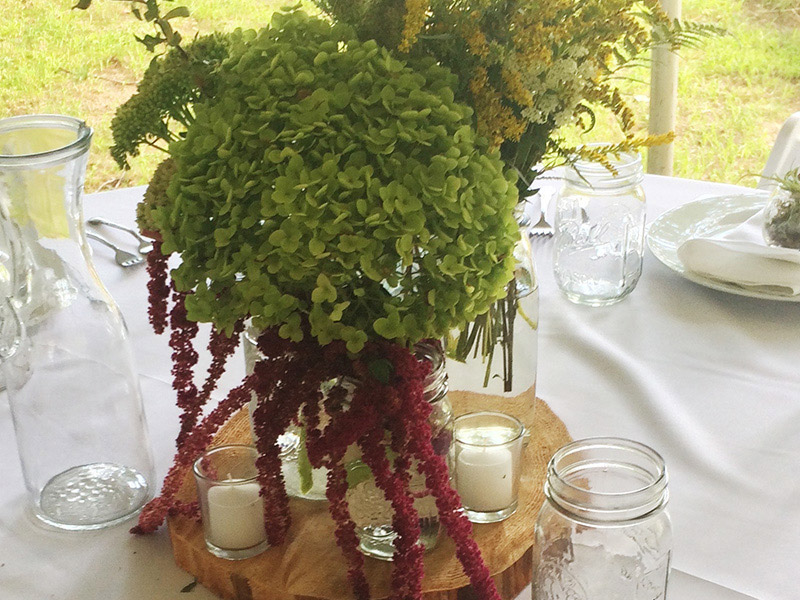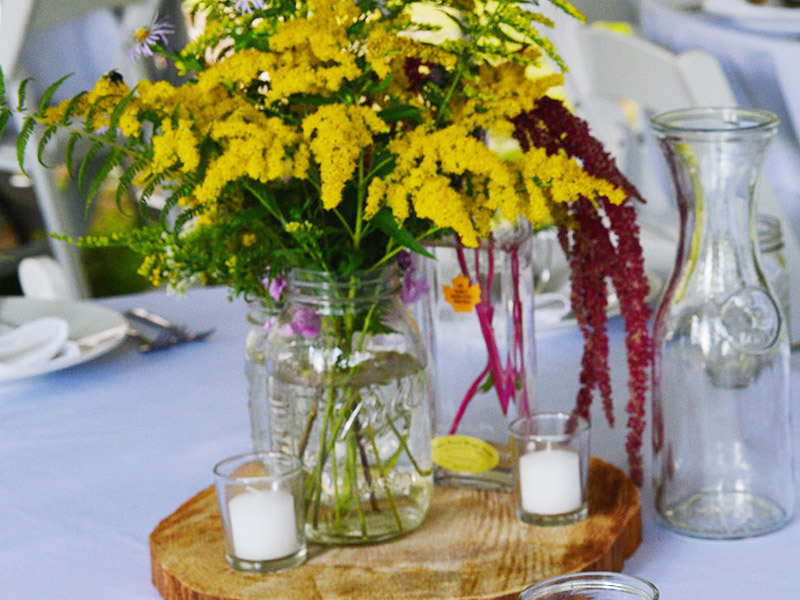 Wildflower table arrangements  – photo credit Mike Bogart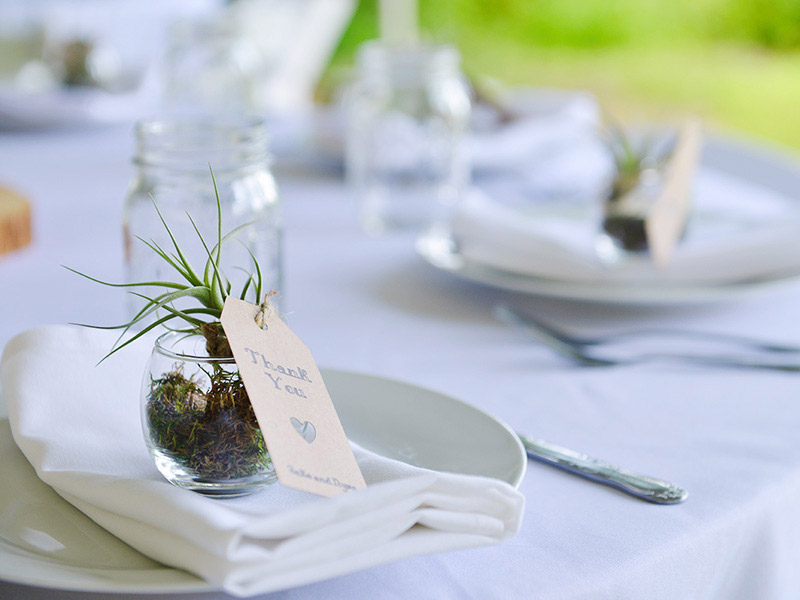 Succulent guest gifts (tags cut with Cricut)  – photo credit Mike Bogart
To finish off the tent, I cut dozens of white, paper lace flags (with my trusty Cricut!), strung them together and hung throughout.  I loved this decorating technique because it not only hid the tent poles, but it closed up much of the negative ceiling space thereby creating a more intimate feeling. We filled in the rest of the party space with arrangements and extra banners. After that, we were ready to party!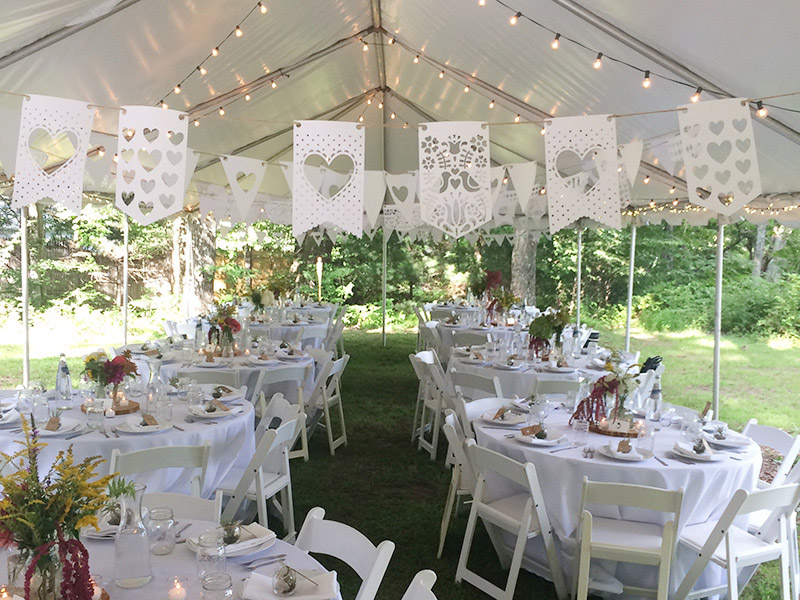 Cricut paper flags - photo credit Andrea Greco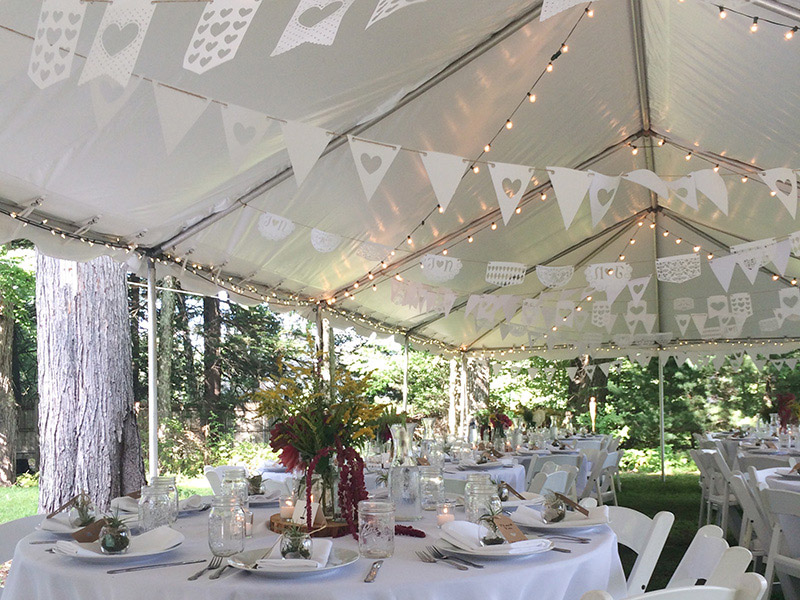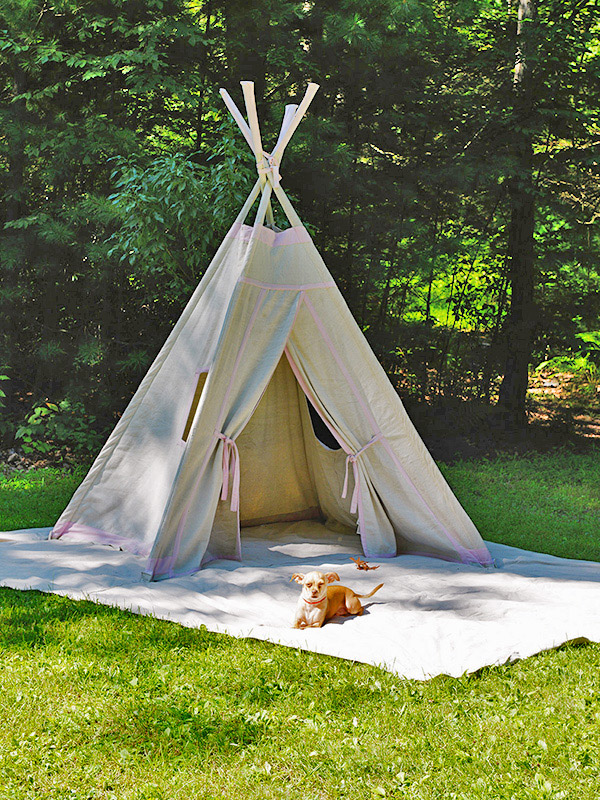 "Tuba" the Chihuahua takes a sunbath at the kids Tee-Pee  – photo credit Mike Bogart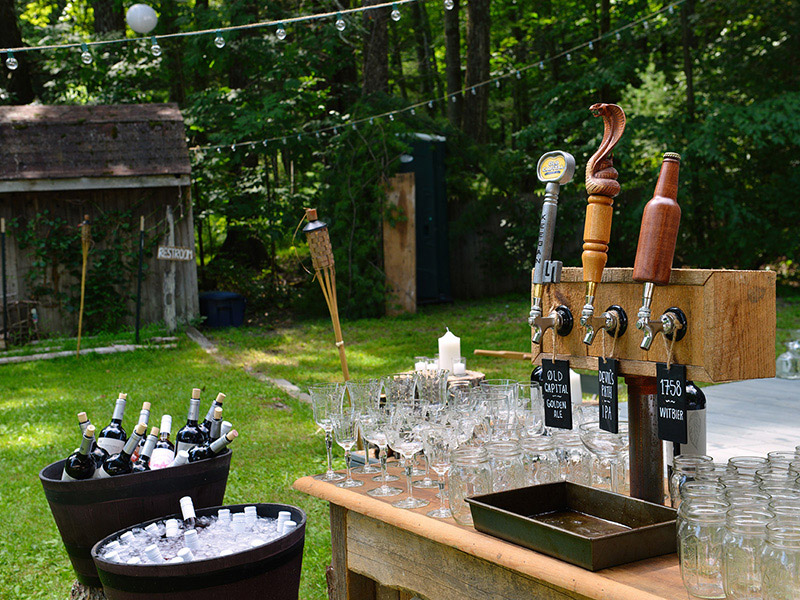 Beer Bar – photo credit Mike Bogart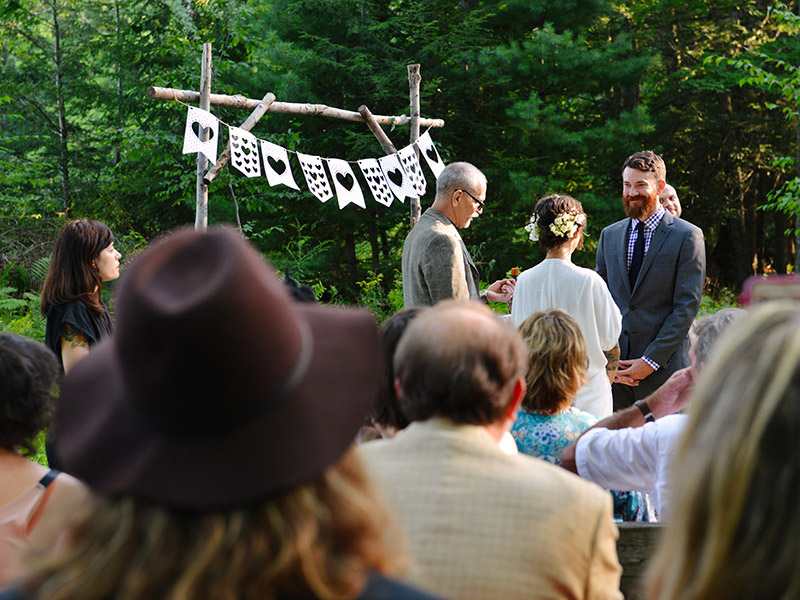 The Bride and Groom  – photo credit Mike Bogart
One final note of caution: This type of vigilante wedding planning is only successful if you are able to let go of the potential outcome and remain relaxed. It is not for the weak willed. This is a testament to the laid back attitudes of both Jake and Nyra!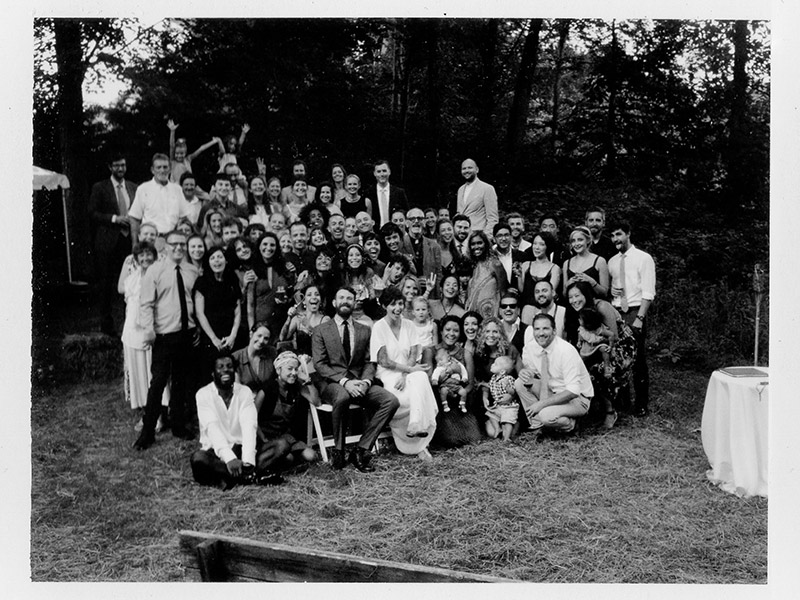 Polaroid of the wedding guests  – photo credit Kevin Faulkner
I hope this post inspired you to look, decorate and create!
Next feature: Who loves the holidays? This gal!  See how I'm doing Thanksgiving this year!