December 9, 2016 • Contributor: Andrea Greco
Christmas!!! Yay!!! Christmas!!! I love Christmas almost as much as I love my dog! (If you know me, you know that is saying something!) So you can imagine, as a person whose life revolves around decorating and crafting, I've got some problems. My first impulse is to spaz out and decorate every square inch of my apartment. I want to hang every ornament and bauble I've collected since I could utter the word "Santa."  How do I incorporate the many holiday treasures I've amassed over the years without looking like the Mayor of Christmas Crazytown? I've found the answer: Vignettes. What's a vignette? According to Google, a vignette is "a brief evocative description, account, or episode." Basically, it's a little story. I like to make little stories all over my home. I have collections of deer, ornaments, elves, beads, garland, bottle brush trees, lights and more. All together, these could be a giant mess. When put together as scenes and collections, my ornaments go from looking like cluttered and junky chaos to artful and thoughtful displays. Well executed vignettes can help your Christmas décor look festive, but contained. The key to a successful vignette is the proper container. When they are contained, they are neat and move-able. Nothing is more frustrating than laboring over a lovely table arrangement only to have to move it because you need space to wrap presents or do crafts or eat dinner or play Yahtzee. I'm going to tell you my three favorite ways to contain a vignette and show my top picks from some of my favorite Pinterest Pinners. Take a look and get inspired to create beautiful Christmas stories with your own holiday treasures.
Vignette in a Bowl
Who doesn't love a big bowl of Christmas?! You can make a vignette bowl using ornaments, beads, lights, natural items or all of these things together. Create a large bowl as a table centerpiece. I also like to mix multiple bowls in a variety of sizes and display them as groupings. These work well on side tables and bookshelves. Below are some that I love!
Try a Tray!
Another great way to contain a vignette is by using a tray or an oversized platter. You can get really creative here. I love using vintage silver trays with mercury glass ornaments. You can also go with any modern gloss tray and fill it with like colored baubles. How about filling an acrylic tray with artificial snow as a base? Add bottle brush trees and some reindeer. You have a snowy winter scene in a tray. Use a wooden tray to house candles and pinecones. The opportunities are endless!
A Cloche A Cliché?
I know we've been seeing cloches for a while now, but I love, love, LOVE them for Christmas-time! They are perfect for what we are trying to achieve. I like to make little scenes inside of cloches. I cram them with tinsel and lights. I fill them with reindeer.  I stuff them with elves. They are like beautiful dioramas without the shoebox and the book report. Cloche vignettes make me happy. I hope they make you happy, too!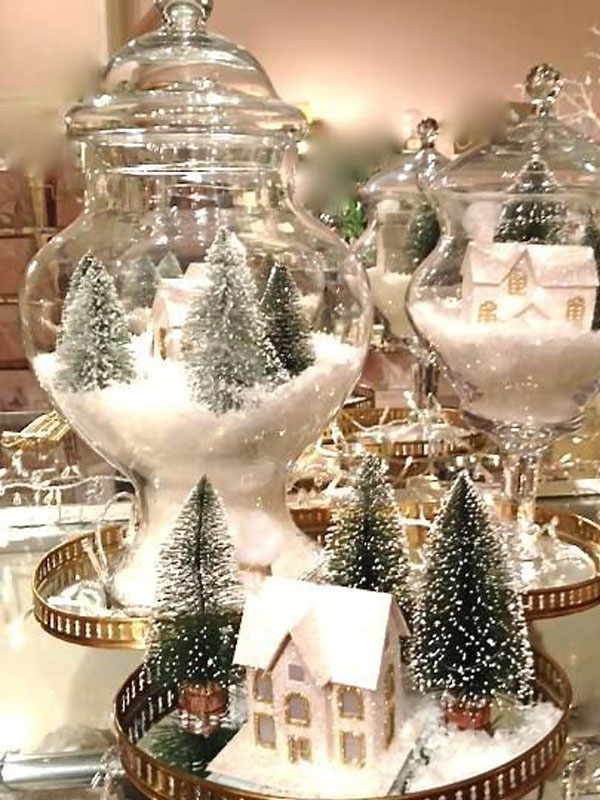 Go ahead – make a scene! These are the kinds people appreciate!
I am wishing you all the Merriest of Christmases and the Happiest of Holidays!
XO-
Andrea