April 25, 2017 • Contributor: Jen Causey from Something Turquoise
As Cricut's resident DIY wedding guru, it's my job to share all things Wedding + Cricut with you and boy do I have something EXTRA special to share today! My name is Jen and I'm the owner and maker of Something Turquoise, a wedding blog that celebrates the DIY bride. Along with sharing DIY projects, advice articles, trending styles and all around creative wedding ideas, a huge part of what we share are real DIY weddings. Photographers, wedding planners, and brides send creative weddings to us to publish on our website, based on the fact that the couple has DIY-ed something for their special day. It could be the invitations, flowers, seating cards, anything really, big or small.
When Shea and Sam's wedding came across our desk it dropped our jaws and knocked us off our chairs. Shea did an amazing job incorporating her gold glitter + black and white stripe theme throughout their entire day, literally from start to finish. From her stunning bridesmaid dresses and over the top flowers, to all of her fabulous Cricut projects - her wedding day was truly one-of-a-kind. Below are my favorite elements that she used her Cricut Explore Air to create…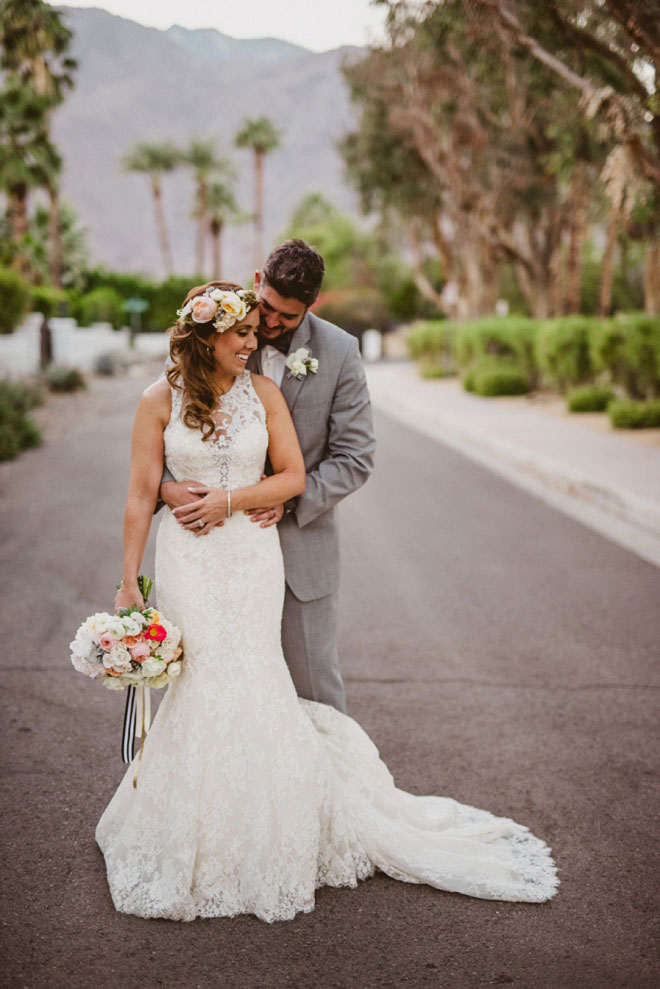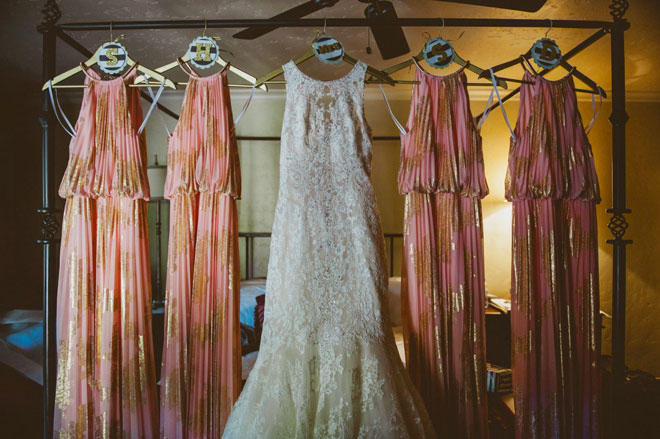 Bridesmaid Dress Tags
When you have three bridesmaids and one Maid of Honor, and they're all wearing the same dress, a few in the same size - how do you tell them apart? With darling personalized tags of course! How cute are these hanger tags she made for herself and each of her besties!? All that's required is a little cardstock!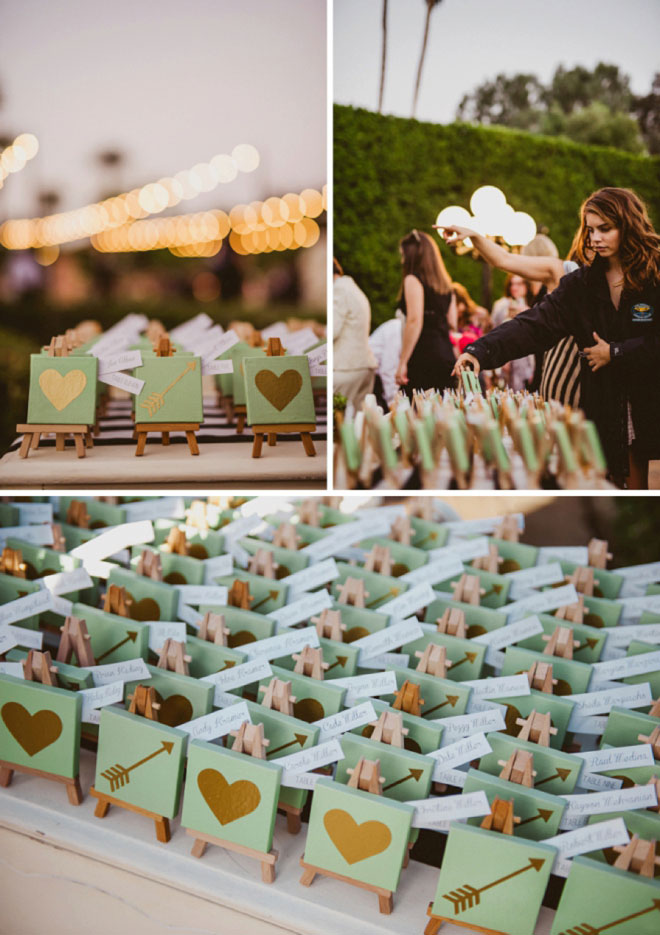 Easel Escort Cards
OMG. Seriously dying over these escort card easels! What a labor of love! First Shea painted the mini-canvases a soft green and a few of the wooden easels got a coat of gold spray paint. Then she cut hearts and arrows out of gold vinyl to be the "art" on each canvas. Tags with each guests name and table assignment were glued on the backside. Well done!
Faux Chalkboard Signs
Such a fun element! Shea wanted a chalkboard feel, without worrying about the chalk design rubbing off so she created "faux chalkboard signs" using black cardstock and matte white vinyl!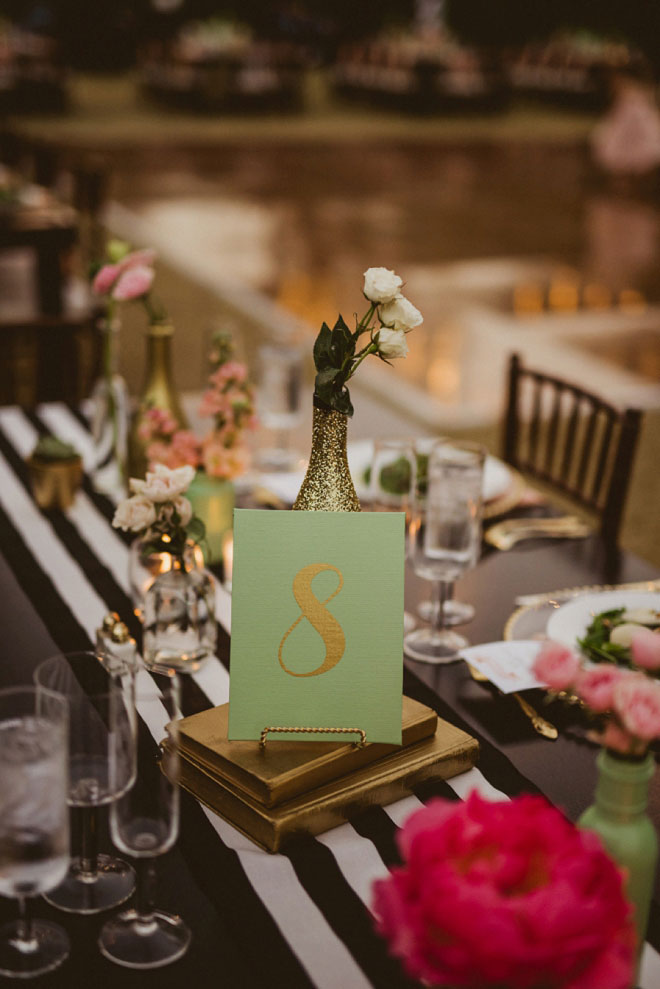 Gold Table Numbers
No DIY wedding would be complete without DIY table numbers! Shea used canvases, easel photo frames and gold vinyl to mimic the look of her escort cards. The gold and green numbers really pop against all the other table decor.

Guitar Guest Book, OMG right!?!
Can you say, most creative guest book ever? Shea actually took the logo from their wedding invitations and uploaded it to Design Space to create and cut the logo for the guitar! Then all their guests signed it with Sharpies! Such a unique keepsake!
Sweetheart Table Decor
I'm obsessed. Shea's vision and execution was superb and it shows in every aspect of her event, especially the sweetheart table! She created the banner and a few other elements on the table using her trusty Cricut.
Dancing Shoes Tags
SO cute! She provided comfy flip flops for late night dancing, just in case the pain of wearing fancy shoes was going to hold anyone back from cutting a rug. She communicated the size of the flops by cutting out S, M, L, letters!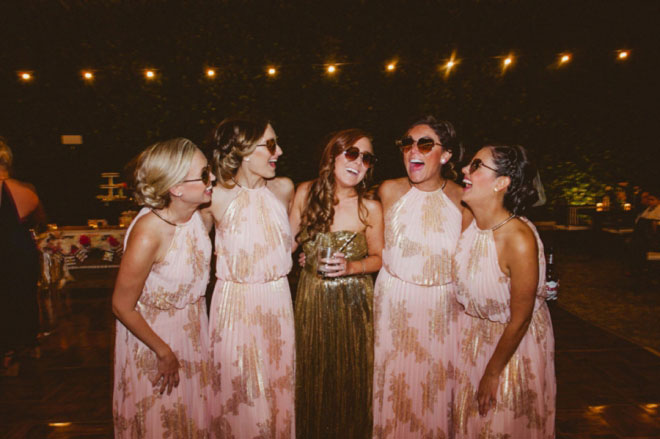 Aren't her and her besties just adorable!?! …and that reception dress! Gold glitter heaven!
I'm sure this crafty preview of Sam and Shea's amazing wedding day is leaving you wanting more and I'm excited to share that I have more for you! Follow this link to stop by Something Turquoise where we published her entire wedding including a short highlight film too!