October 7th, 2018 • Contributor: Cricut Blog Team
This week, we are celebrating our love of some of our amazing mint Cricut products. Mint is one of Cricut's classic colors that we use across our product lines.
Whether you're someone who loves a monochromatic craft room or you're looking for fun ways to incorporate this gorgeous color into your home, we've got a great roundup of 10 mint Cricut products and project inspiration for you.
Make Cricut Mint Products Part of Your Home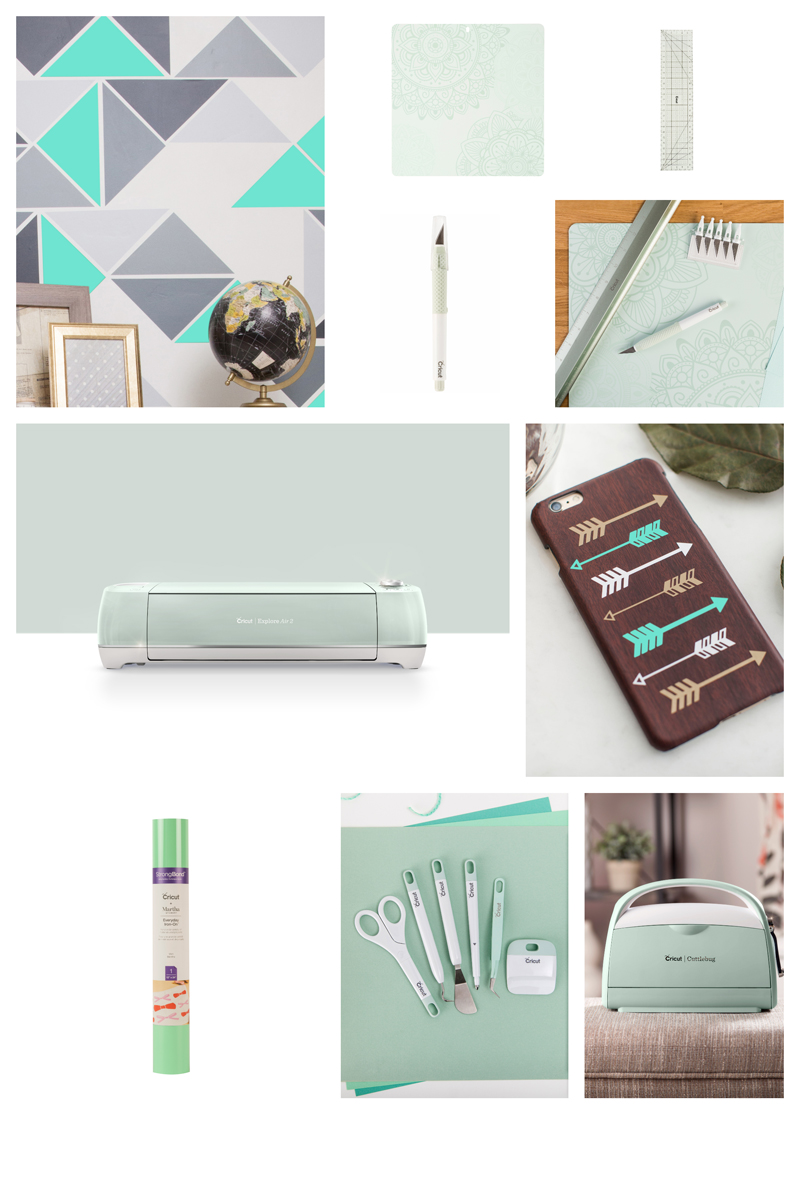 Find everything from this collection below.
1. Cricut Vinyl Accent Wall: If you're someone who loves to change up your wall decor, creating an accent wall with vinyl is so easy! We are loving this geometric accent wall design with pops of mint color that would be perfect for an office or modern living room. You can cut large vinyl shapes on Cricut's 12"x24" StandardGrip™ mat or you can use the 12"x12" StandardGrip™ mat. You can find this ready-to-make project in Design Space® here. Find your favorite mint vinyl color and shades of mint (as well as a variety of other vinyl colors) on Cricut.com.
2. Cricut Explore Air™ 2 in Mint: We absolutely love our Cricut Explore Air 2 machine in mint. It's a classic, soft Pantone, mint color and looks amazing in any craft room - whether you like the monochromatic look or you love mixing and matching colors. If you have to have the Cricut Explore Air 2 in Mint (like we do!) you can find this machine on Cricut.com.
3. Cricut Self-Healing Mat: If you haven't had a chance to use Cricut's new Self-Healing Mat, especially with the decorative mint color, you have to try it! Enjoy more creative cutting options with the mat's multi-angled grid lines on one side and more inspiration with a decorative print on the other. The mat also has easy-to-read numbers on a wide 1" border for use with rotary cutters and precision blades, like Cricut's TrueControl™ knife. If you're a sewer, artist, or any kind of maker that uses different cutting tools for various projects, this mat is the ultimate solution for you. You can find this mat in different sizes on Cricut.com.
4. Cricut TrueControl™ Knife: If you love Cricut's mint Self-Healing mat, you absolutely must-have Cricut's matching TrueControl Knife in mint. This precision blade has unique safety features, with its superior blade lock system, that gives you better control and beautiful cutting results every time. You can cut a wide variety of materials with this blade including paper, cardstock, thin plastics, canvas, and more. You'll never have to touch a blade with Cricut's hands-free blade changing system. Check out more on Cricut's TruControl Knife on Cricut.com.
5. Cricut Acrylic Ruler: Why stop there with matching hand tools? Cricut also makes a stunning Acrylic Ruler in mint perfect for precision measurements. This 6"x26" ruler makes sure not project is too big for whatever you need to measure. The ruler has a frosted finish with easy-to-see measurements for visibility with light and dark materials. Find this mint Cricut Acrylic Ruler on Cricut.com.
6. Cricut Cutting Ruler: The last beautiful hand-tool in Cricut's mint hand-tool collection is the Cricut Cutter Ruler. This 18" aluminum cutting ruler has a stainless steel straight edge so you'll never get chipped edges when cutting with your precision blade. On the base of the ruler, there's a textured, non-slip grip that gives you the ultimate grab when you're working on your craft tables. The ruler also has a protective guard that shields hands from sharp cutting tools. If you're in need of a super safe, quality cutting ruler, visit Cricut.com to get yours (in mint!) today.
7. Vinyl Arrow Phone Case: If you love swapping out your phone cases as much as we do, you'll love the fact that you can customize your phone cases easily with Cricut vinyl. We love the design on the arrow phone case, which is easy to create in Design Space by searching in our image library for arrows. All you have to do is get your shade of Cricut vinyl in mint, Cricut Transfer Tape and cut your arrow shapes using your mint Cricut machine.
8. Cricut® Martha Stewart Everyday Iron-on™ in mint: Now you can use colors that Martha Stewart loves with this new Cricut Martha Stewart Everyday Iron-on in mint. You can use this color on baby onesies, t-shirts, canvas bags, and so much more. It's a great, Martha-approved color for all of your favorite pieces! You can find this iron-on color at your local Michaels or on Michaels.com.
9. Cricut Mint Essential Toolkit: If you love to match your tools to your Cricut machine color, these mint tools in the Cricut Essential Tool Kit are a match made in heaven for your Cricut Explore Air 2 mint machine. From Cricut scissors to the Scraper and Weeder tool, this kit has everything your need to craft your heart out. You can find the Cricut Mint Essential Toolkit on Cricut.com.
10. Cricut Mint Cuttlebug™ machine: A perfect companion to your Cricut Explore Air 2 mint machine is the Cricut Mint Cuttlebug! Cricut Cuttlebug is a die-cutting and embossing machine that will add amazing texture and prints to your materials like cardstock, other paper and even, leather! There's no power required with this machine all you do is roll your material through with different printed folders to get amazing texture in no time. Learn more about Cricut Cuttlebug and all the tools you need for it at Cricut.com
We hope you love all of this mint inspiration. Tell us in the comments what you think or if there's other mint projects or products you want us to feature. Make sure you also share this lovely mint collection with your friends who love mint and shades of green. #CricutMade