January 26, 2017 • Contributor: Scarlet Letters Copywriting
Kim Byers of Celebration Shoppe is one of those bloggers who always has the perfect project at the right time. Not only is she an inspiring maker, blogger, stylist, wife and mom, but she also finds time to design incredible Cricut cartridges and best-selling images. We've featured her here before (see that
blog post
)
because she's just that fabulous, but we wanted to check in again to see what she's working on now. And, of course, she had some amazingly perfect project ideas ready to share with us for a jump-start on Teacher Appreciation Week (May 1-5) or anytime the mid-school-year crunch hits!
We're curious about the journey of your blog. How did you get started on it, and what have you learned along the way about keeping it current with fabulous ideas?
I started my second career, designing paper goods, about eight years ago. As part of that process, my social media and blogging career was born. It was the best way to promote my designs in the marketplace. Since then, I've since fallen in love with blogging and with my readers. Blogging can be very personal and having great friends to take along on that journey is key. As for inspiration and keeping my articles current, I do watch the industry trends. However, I watch what is being discussed, liked and shared in my communities of paper goods, party and food even more. Those places are where you find the "next" industry trend. Those are the projects and ideas that real people are commenting on and reacting to.
We're thrilled to be focusing on one of your DIY teacher gifts for Teacher Appreciation Week. Do you have a favorite teacher who made an impact on who you are today?
I had many amazing teachers growing up, and each influenced me in their own way to work hard and dream big for all the things I want out of life. Honestly though, it is my sons' teachers and the teachers I've become friends with as an adult that make me want to go that extra mile throughout the school year. In addition to all the boys' teachers, I have five friends who teach various ages and each has shared heartfelt stories about the day-to-day struggles and triumphs they encounter in the classroom. Teaching is a difficult career, one that requires a lot of passion, love and hard work. If I can do something small throughout the school year, not just during Teacher Appreciation Week, to encourage them, then I want to do that for them. The crafts in my Rule the School cartridge are easily personalized, too. There's nothing like personalization to make someone feel extra special.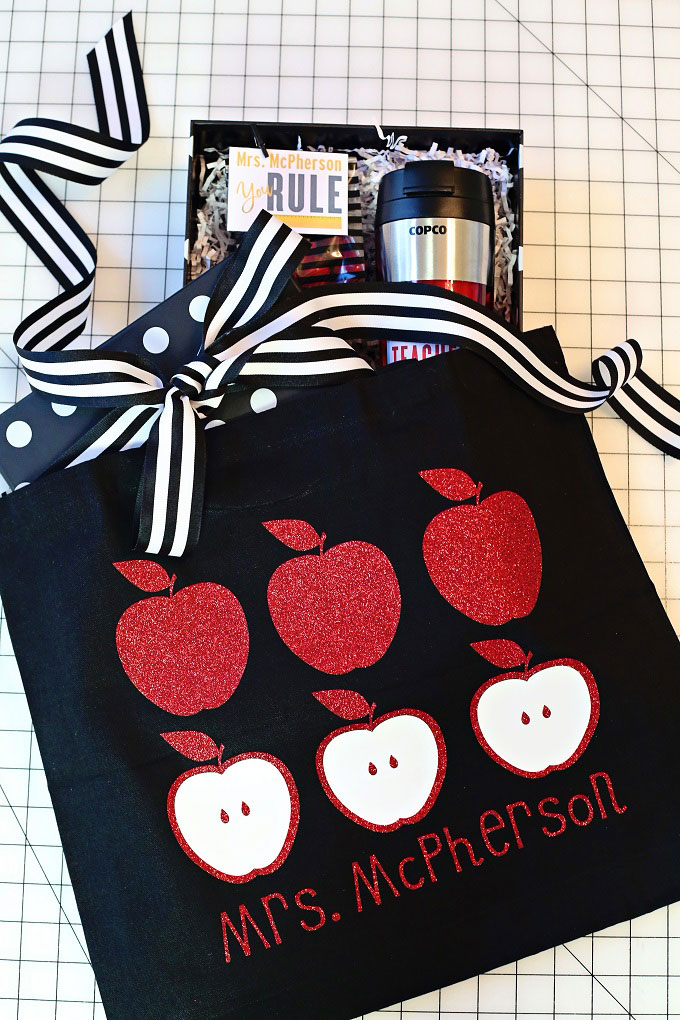 This personalized tote bag designed by Kim is sweet enough to be used inside or out of the classroom. Filled with thoughtful treats, it's an A+ gift for every deserving instructor. Find out how to make it here. 
We're always intrigued about the inspiration behind a project like the one above. Can you tell us how it came about?
I noticed that my youngest son's teacher was in need of a new tote so I used the apple and apple core designs in my Rule the School cartridge to make her a personalized glitter iron-on tote. I filled it with little bits of encouragement like the large red candies, coffee mug, post-it notes and a few other goodies.
What do you appreciate most about using a Cricut for a project like this?
My Cricut allowed me to take a seemingly ordinary gift--a bag of candy and a tote--and make it special and thoughtful. In just minutes, I was able to add my son's teacher's name to fabric and paper with one machine and a printer. The tote was only $4 and with less than a fourth of a roll of glitter and white iron-on, I made the tote for about $8. Buying a personalized tote would have cost me at least $20. I was then able to personalize and craft the other items in the tote as well. The entire project didn't' take long, and his teacher was so grateful for the thought and work that went into it.
Check out a few more projects that use Kim's Rule the School cartridge….
This easy Print Then Cut tag can be used on nearly any kind of goodie and is extra fun because it's personalized. Find it on Kim's blog.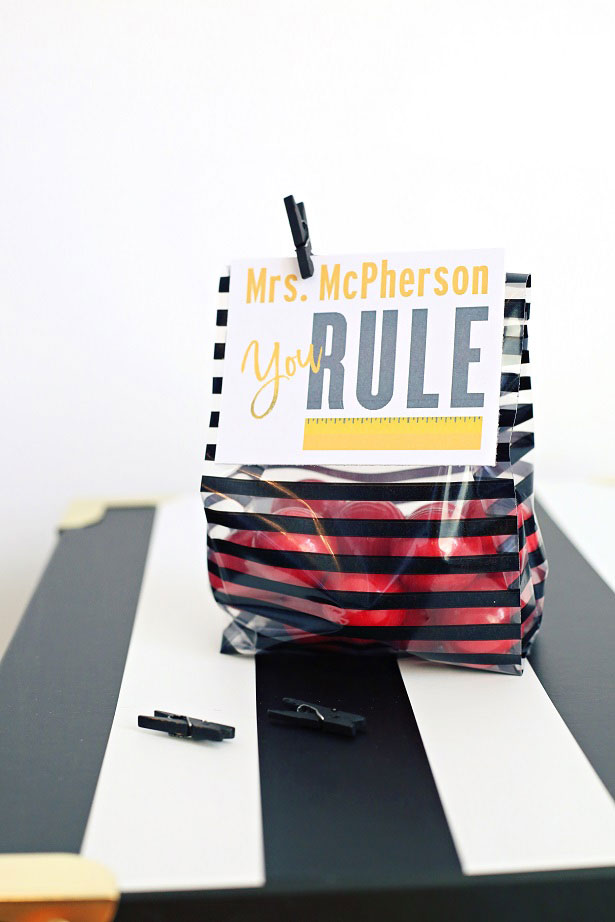 Of course, we can't forget the kids! This personalized DIY backpack is created with printable fabric. Discover how to make one for your favorite student here on Kim's blog.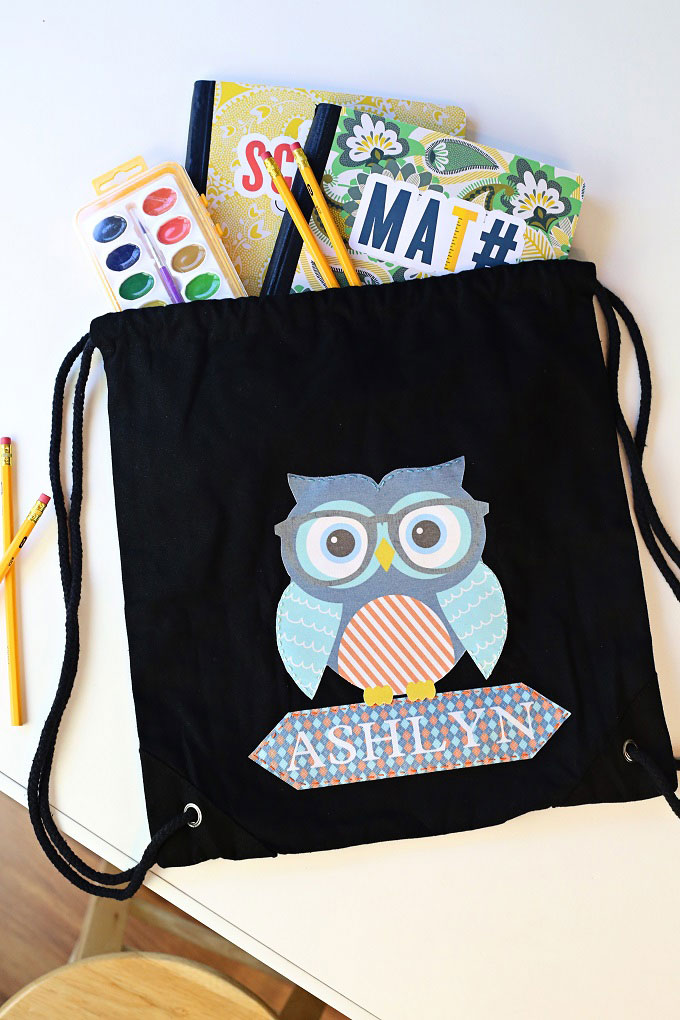 What other projects are you working on now?
Right now, I'm designing some fun projects for Valentine's Day. I love a great pun and it's the perfect holiday for it! This year I'm designing some die-cut cards that should make the kids smile. In the old days, I would be cutting or punching out shapes for hours. Now, I can just load my designs to my Cricut Explore Air 2 and cut, or Print Then Cut, my designs in minutes!
Thanks, Kim! We love how easy you've made it to personalize items for the unique people in our lives. We can't wait to see what you design next!
Check out Kim's blog at blog.thecelebrationshoppe.com. Have you found happiness at the Celebration Shoppe? Show us by sharing on social #CricutMade!