August 7, 2017 • Contributor: Cori George from Hey Let's Make Stuff
Hey, Cricut readers! It's Cori from Hey Let's Make Stuff and I'm back to share a fun tutorial using the Cricut Cuttlebug. Today we're making mixed media napkin rings—a great scrap-busting project that you can customize with whatever you have lying around your craft room.
If you haven't had much experience with the Cuttlebug, Cricut's die cutting and embossing machine, I have found most people use it to make gorgeous and creative cards. But I wanted to think outside this box and create this fun project for you today!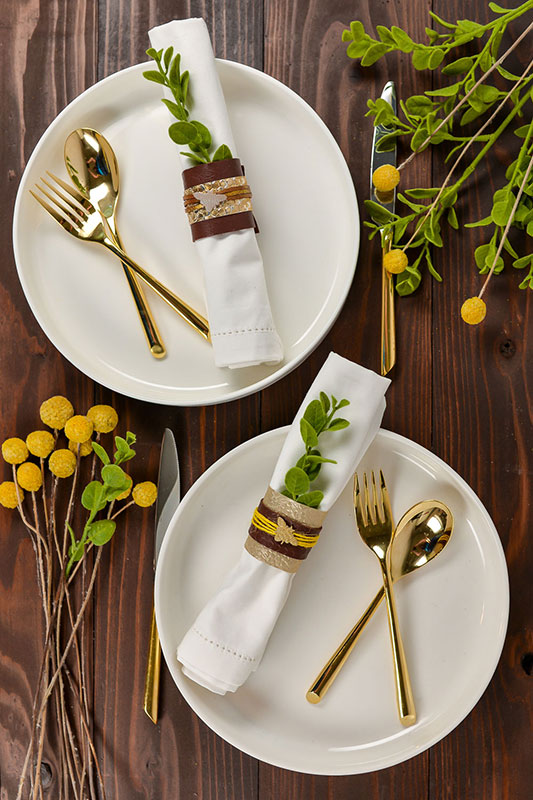 The great thing about this napkin ring project is that you can change it up depending on your needs and which Cuttlebug dies and embossing folders you have. The materials list is virtually endless—you can use all sorts of paper, leather, vinyl, craft foam, stabilized fabric, washi sheets, yarn, twine, cording, ribbon, or lace to make your napkin rings. You can even embellish using ink, glitter, paint, etc.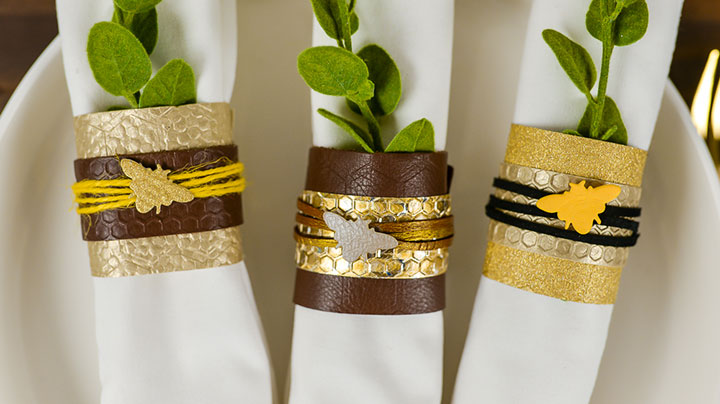 Supplies Needed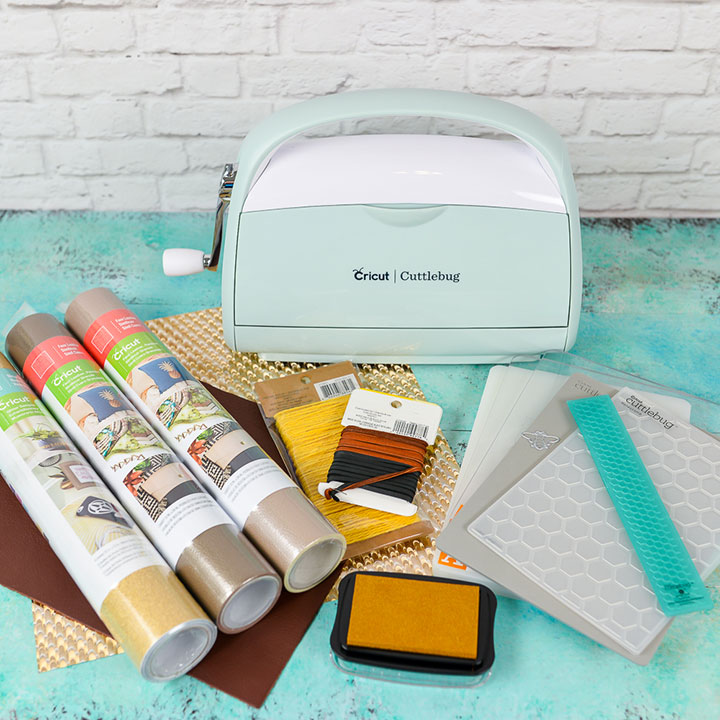 Various materials: see list above.
1: Cut Materials
For each napkin ring, you'll need to cut three different materials. See the materials list above for ideas.
The bee – 1" x 1"
The main piece – 2" x 6"
The accent piece – 1" x 6"
2: Die Cut Your Bee Embellishment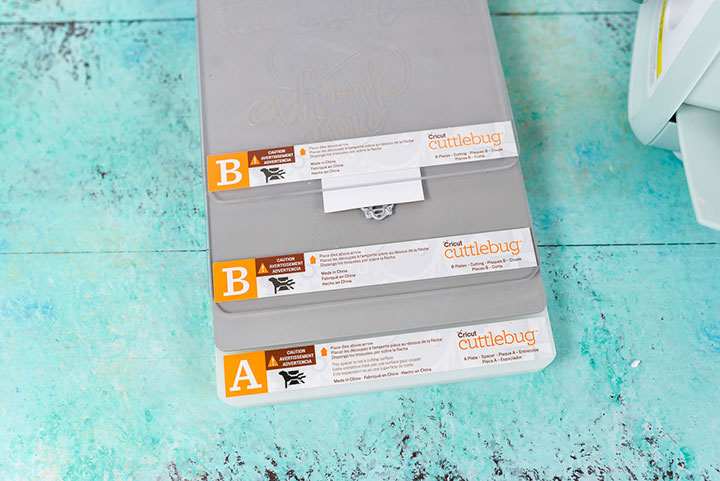 You'll stack your materials and plates like this, from the bottom to top:
Spacer Plate A
Embossing Mat
Spacer Plate B
Bee die, "cut side" up
Material, face down
Spacer Plate B
Then run the whole stack through your Cuttlebug. You will probably hear the B plates crack a bit and the die will leave an impression—this is totally normal! I like to run my B plates through both right-side up and upside down so that they wear evenly.
3: Emboss Your Bee Embellishment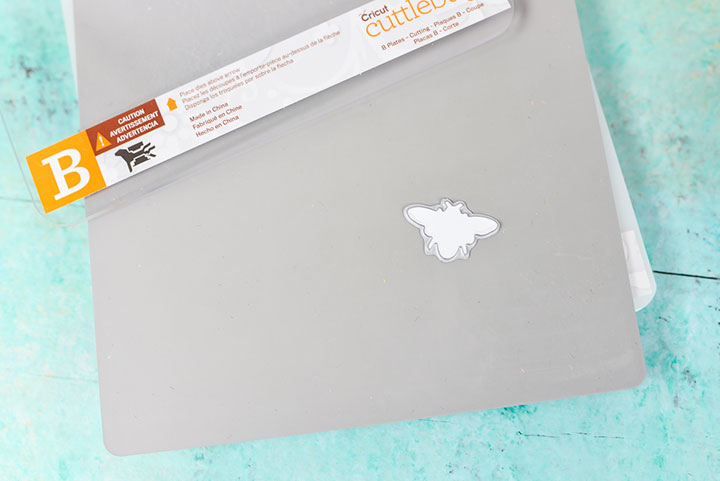 To emboss the bee you just cut, do not remove your material from the die.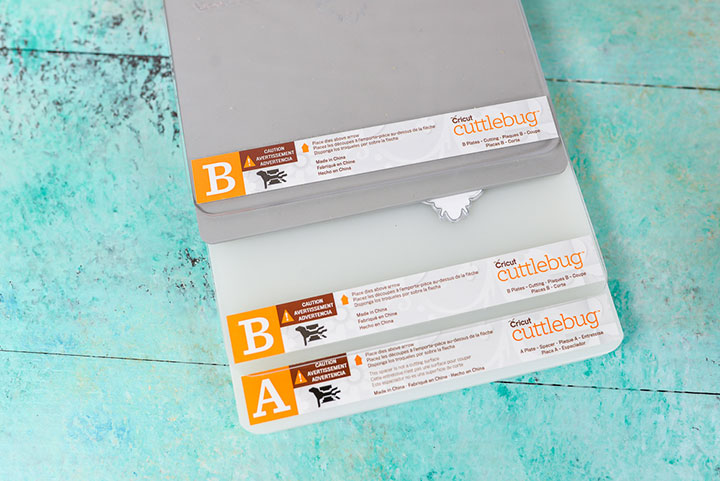 Stack your materials and plates like this, from the bottom to top:
Spacer Plate A
Spacer Plate B
Bee die, "cut side" up with material
Embossing Mat
Spacer Plate B
Now run this stack through your Cuttlebug and it will emboss your material. I find that certain materials emboss better than others – paper of all kinds works well, whereas you lose some detail in "springier" materials like leather and craft foam.
Don't forget to pin this tutorial to save it!
4: Emboss Your Napkin Ring Materials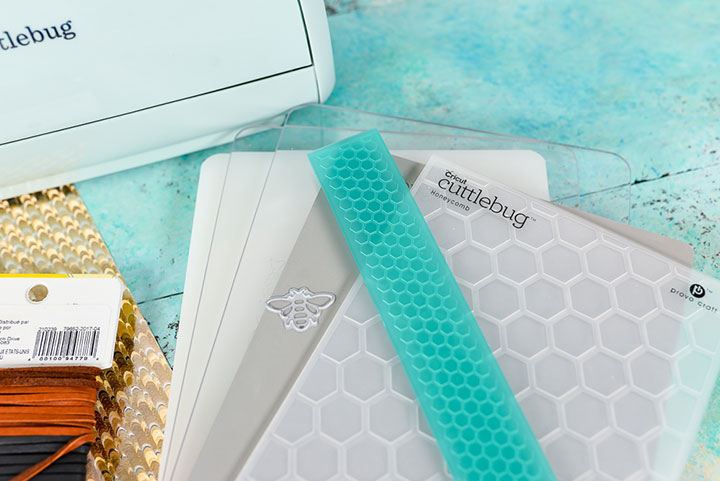 The next step is to emboss your two main materials. I used both the honeycomb embossing folder and border.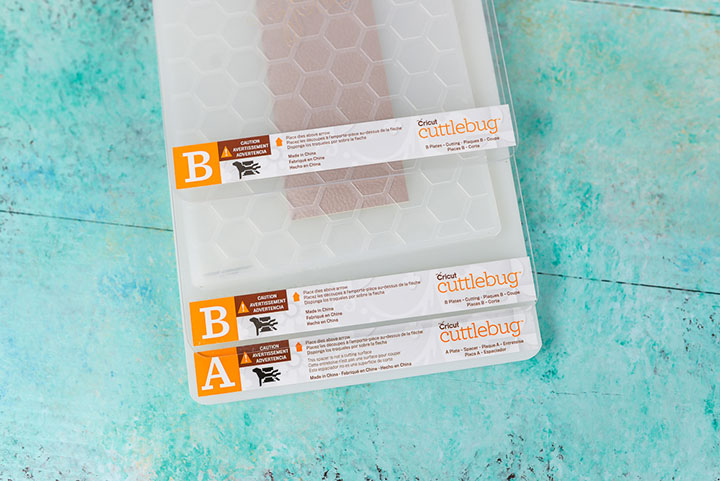 Stack your materials like this, from the bottom to top:
Spacer Plate A
Spacer Plate B
Embossing folder or border with material inside
Spacer Plate B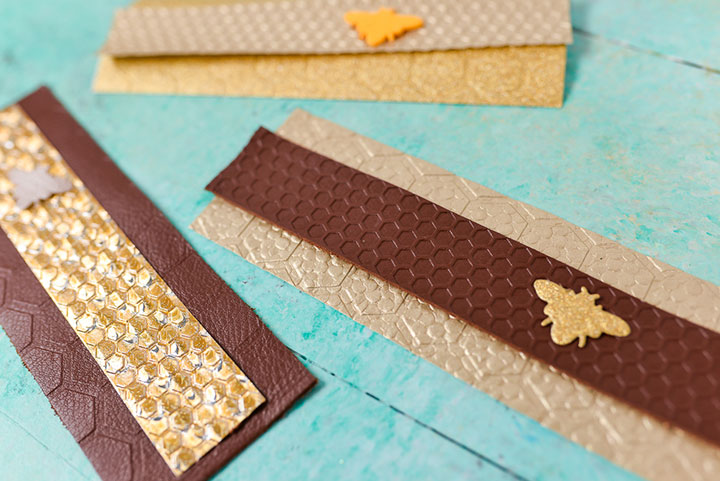 Run the stack through your Cuttlebug to emboss! Like with the embossing and the die cut, I found that some materials held the emboss better than others, though I was really impressed with the real leather and the border folder – it looks so good!
5: Secure Your Napkin Rings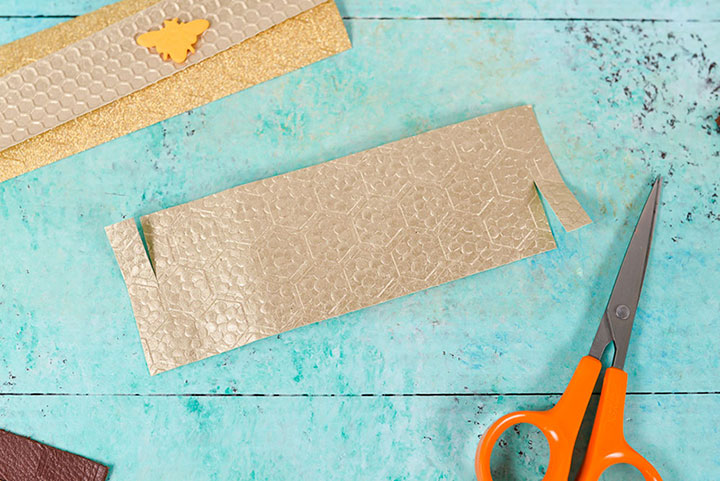 To secure your napkin rings, cut a small slit toward each end of your main material, on opposite sides.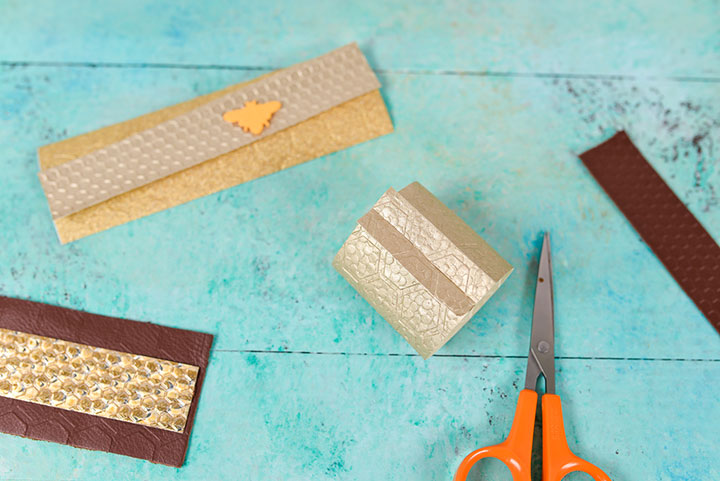 Then form into a loop and slide the two slits together to secure.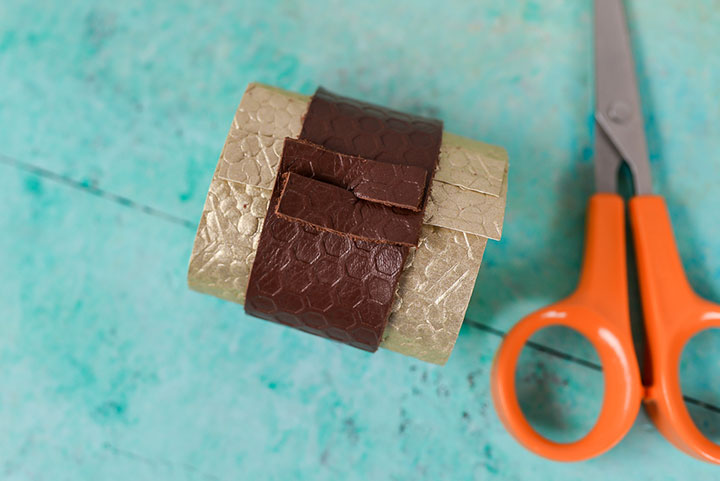 Do the same with your accent material. You could also forgo the slits and use glue if you'd like them to be more permanent.
6: Embellish Your Napkin Rings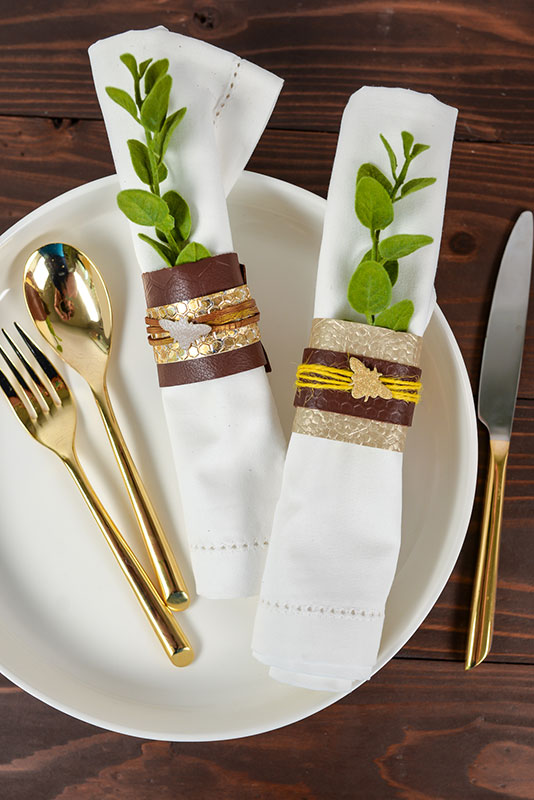 Now get creative! Wrap your napkin rings in twine, leather cording, or other trim. I even used my gold ink pad to add a little glam to my plain brown leather cording. Glue on your bee embellishment and you're ready to go!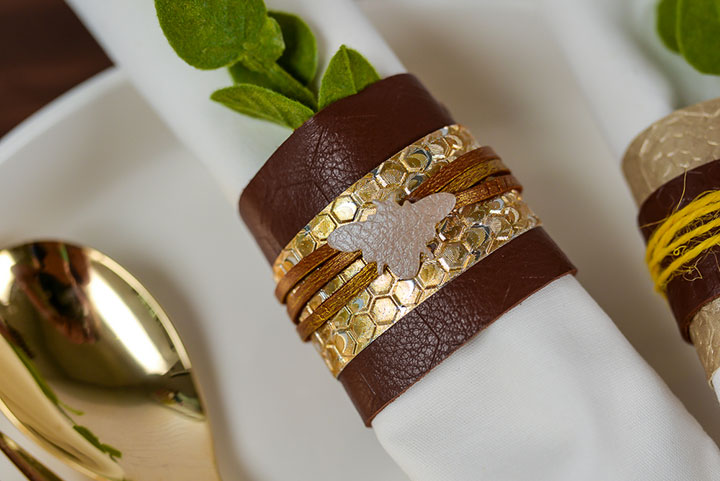 I hope this tutorial helped you think outside the box when using your Cuttlebug! I'd love to see the projects you've made using your Cuttlebug – show me in the comments!
And check out all of the Make it Now napkin ring projects over on the Cricut Design Space – I think this summer flower napkin ring would be even more lovely after being embossed using the Cuttlebug!
What materials would you use for this project? Which dies and embossing folders?