November 20th, 2017 • Contributor: Cricut Project Designer Karley Hall
All right… the holidays are right around the corner! Have you made your wish list yet? Better yet, have you started your shopping for friends and family?! If not, let me just put this out there… the Cricut BrightPad™ should be on everyone's list.
I have been working at Cricut as Project Designer (professional crafter) for just over a year. (I know, I have the best "job" ever!)  Luckily for me, we are privy to some top-secret projects as in-house employees at the best craft company in the world! When I found out that Cricut was creating the BrightPad, I was so excited to get my hands on one. I had been using tracing light boxes, flashlights, my cell phone screen, and even the natural light through windows to help make weeding easier. None of my previous methods were working, they were clunky, and I needed something that was way more consistent.
So imagine my surprise when I suggested an idea to one of the product designers and she smiled and said, "Oh yeah, we will have prototypes for something to solve that issue in no time!" I thought, dang, I must have a really good idea and they are moving super quickly to make it happen. But… nope, that wasn't the case. This idea had been in the works for quite some time based on the feedback they were receiving from customers all over the country.
As soon as the prototypes landed at our Headquarters at Cricut, we were so excited to have one for our craft area! We were all oohing and ahhing over how sleek the design was! I even joked that I could slip it in my tote bag and walk off without anyone noticing because it is so slim. Of course, our product design team nailed it with choosing the perfect colors to complement the Cricut Air 2s that are already on the market.
How Bright Is It?
Without even turning it on, I knew I wanted to have one. Who cares it if it actually worked. Only kidding… but it doesn't hurt if it's cute ☺! We powered it on and were all shocked to see how bright it was. One of the product design managers told us that you could adjust the settings of the brightness and it got brighter and brighter. She told us that the brightness settings, from lowest to highest, are at approximately 400, 1300, 2200, 3100, and 4000 lumens respectively.
To me that sounded like gibberish… and I just assumed that I would use the highest setting at all times since it would make weeding easier. Funnily enough, I rarely use the brightest setting because it is so bright! It blew my old tracing light box out of the water.
Is It Durable?
While we were playing around with testing different materials and asking all sorts of questions, the topic of durability came up. I personally did not want to be carrying around a fragile BrightPad because I am a clumsy person.  
Good thing we asked… because the next thing that happened shocked us. Our product design manager took the BrightPad and dropped it from as high as she could reach… multiple times. Our office carpeting feels like it is basically concrete, so it was not an easy fall for that poor little BrightPad.
She dropped it face down, face up, on the edge, on the corners… every which way and nothing. No dings, scratches, power issues, everything worked just great. As if that wasn't enough, she took some weeding tools and showed us just how scratch resistant it was.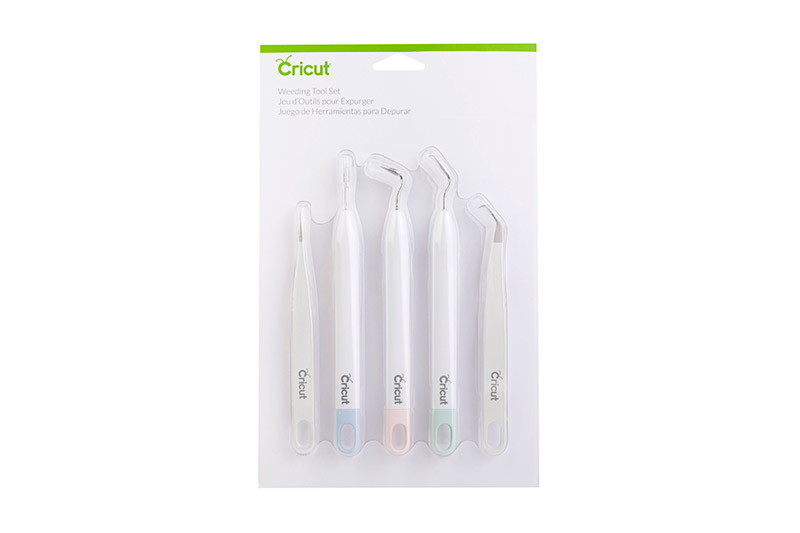 Speaking of weeding tools, if you haven't seen these yet, add those to your list too! They won't damage your BrightPad, but they sure will attack any little piece of vinyl or iron-on that you need to weed away!
All that and it was only day one with my new BrightPad. Over the last few months, I have used it way more than I could have imagined. It lives in my Cricut Shoulder Bag and I use it for a workspace hard surface (even without power), to trace, hand-letter, draw, paint… I have even used it as a light for photos when my lighting wasn't as bright as it needed to be for a blog photo.
The rubber grips on the bottom hold it in place and the USB power cord makes it great to use on the go. I can plug it into my computer or a wall outlet and have so much light to work all hours of the day and night. Yes… even as a professional crafter, I still come home and craft.
You can see what I am up to at Cricut and in my personal craft adventures on my Instagram and Facebook! I feel like I craft even more now with my BrightPad. I say this all of the time, but Cricut really does think of it all when it comes to making crafting easier! Now we can weed and trace quicker, more effectively and get back to the other things in life.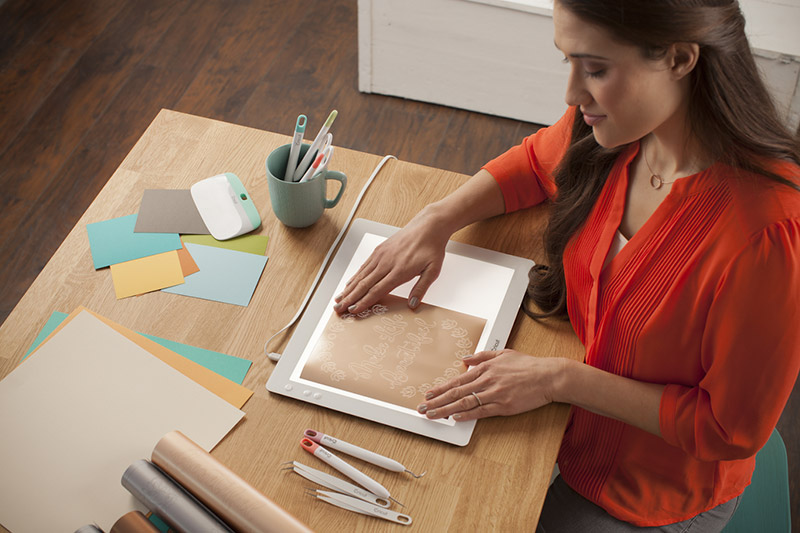 Have you ever wondered what it was like to work at Cricut? Do you like these little behind the scenes glimpses into what goes on at our Headquarters? We have so much fun working at Cricut and hope that you enjoy hearing about all that goes into making our products as perfect as we can for you! We would love to see what you are working on with all of your Cricut tools and machines—tag us @officialcricut! Or if you have suggestions for what new crafting gadgets we should add to the Cricut collection, please let us know!
Happy Crafting,
Karley Hall
Website: Apartment 413
Instagram: @apartment_413
Facebook: Apartment 413
Etsy: Apartment 413