July 13th, 2018 • Contributor: Cricut Project Designer Karley Hall
Hi all! It's me, Karley Hall, back again to share more about the Wine, Cheese, and Chocolate party. This feels like torture writing these posts because all I want is wine, cheese, and chocolate… I mean, can you blame me!? The photos just make everything look so delicious.
Today I wanted to share how we created a fun geometric invitation to get your guests super excited about your party. The Scoring Wheel really made a difference in this project. Without it, I don't think we would have come up with such a fun design.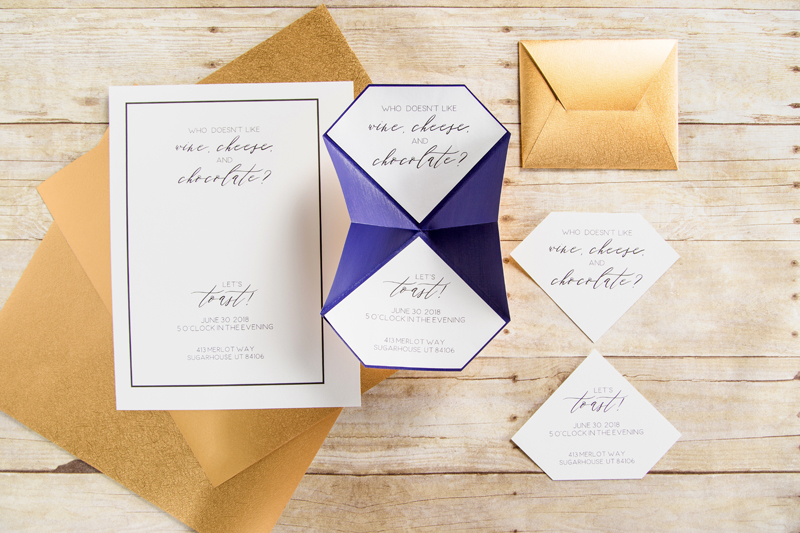 Materials:
Gold Foil Cardstock
Purple Cardstock or Purple Paint
Home Printer
Scoring Wheel
1: Open the Project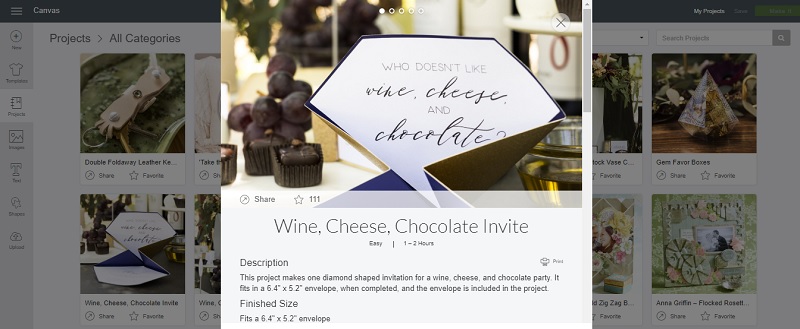 To begin, you can find my project in Design Space, here!  Click on the "customize" option to open the canvas.
2: Edit the Text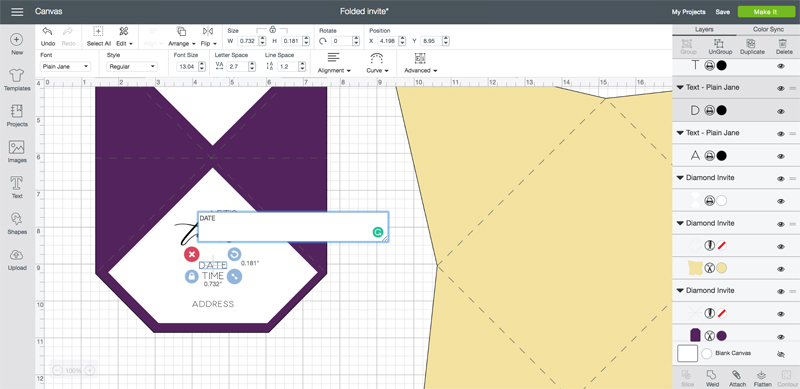 Design Space makes it so easy peasy to customize our Ready to Make projects. Just click on the text and replace it with your party details. Heck—you can replace all the text and turn this invitation into a birthday card if you want!
3: Print Then Cut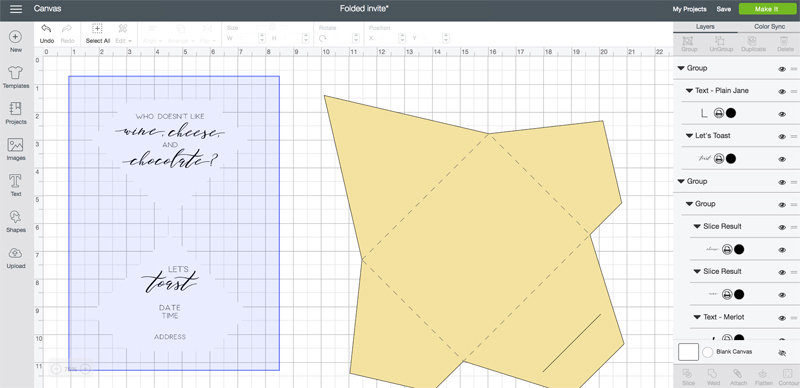 If you have not tried Cricut's Print Then Cut feature, you are seriously missing out. I know when I first started crafting, I was terrified of trying a Print then Cut, but once I tried it, I have not looked back. It is easier than it sounds.
There are a few things you need to remember—if you want to print your words instead of cutting them out of a material, you have to "flatten" your words on top of the shape you want to print them on. For this project, we are flattening the text on top of each pentagon.
Highlight your text and the shapes by dragging your cursor to select everything. With everything selected, click "Flatten." This will tell Design Space that we need to print out an image with marks for your Cricut to read. Your Cricut will read the marks and will cut the outermost path.
Click "Make It."
4: Print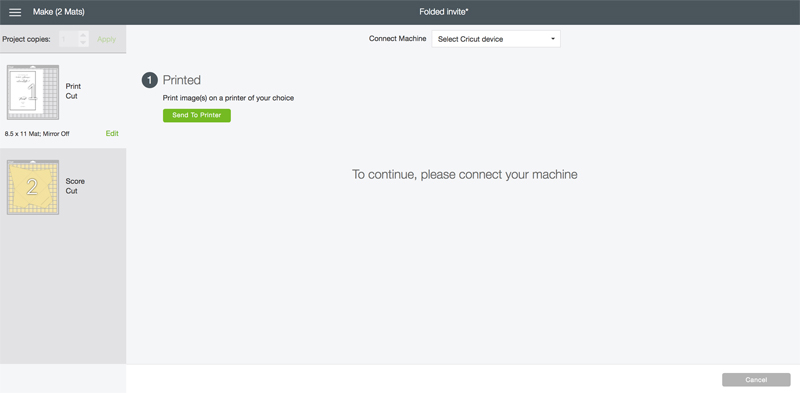 Click on the "Send To Printer" icon and follow the instructions for your home printer. Make sure to load printable sticker paper or printable vinyl in your printer, and then click print.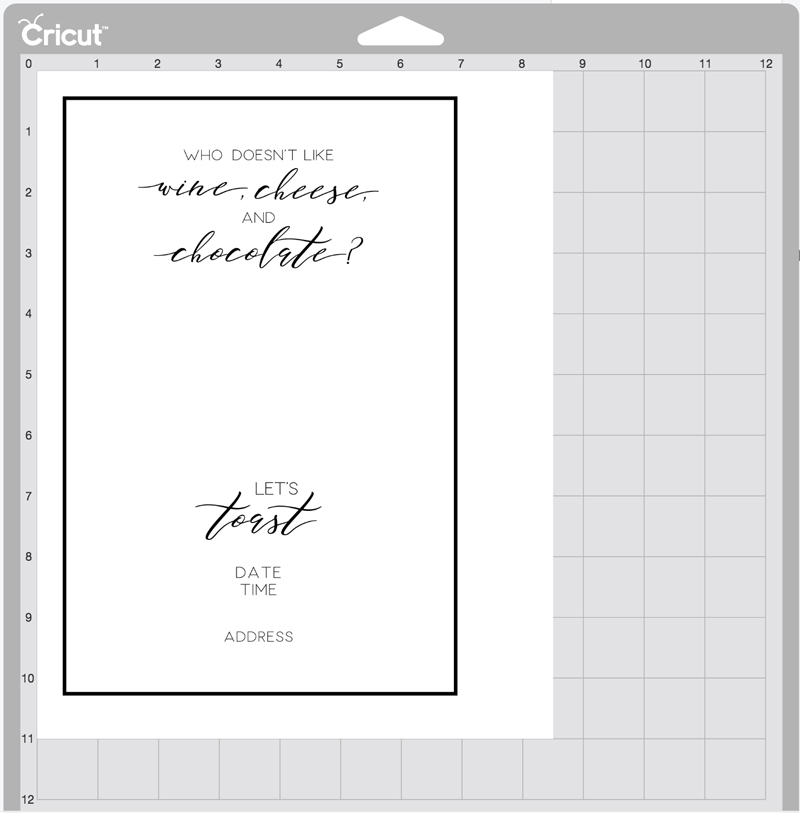 Place your printed paper onto a StandardGrip mat, load the mat into your machine, ensure your paper settings are correct and click the flashing Cricut icon on your machine. The Cricut will know what to do! It will only cut out the pentagon shapes and the text will be centered inside. Magic!
5: Scoring Magic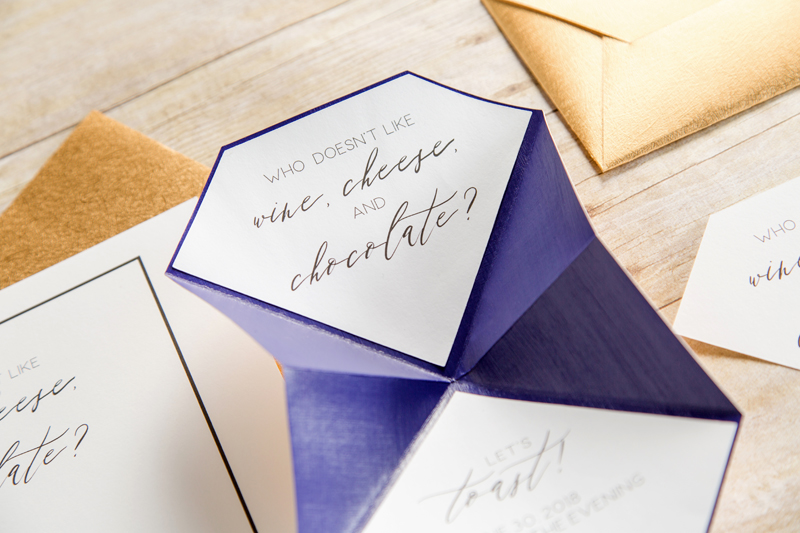 As if that wasn't magic enough, now we get to play with the Scoring Wheel!
I wanted my invitation to be two-toned, so I used acrylic paint and painted the back side of my gold foil cardstock before I scored and cut it. If you don't want to spend the time painting your cardstock (I know—I am crazy), you can use any double-sided color cardstock.
Load in your cardstock and Scoring Wheel and watch as the Cricut Maker really scores your material. It makes folding so easy with the extra deep creases.
For my invitation, I folded the two diagonal score lines first and then I folded it in half.
The envelope is even simpler as you fold on the four score lines and insert the tab into the slot to close.
6: Assemble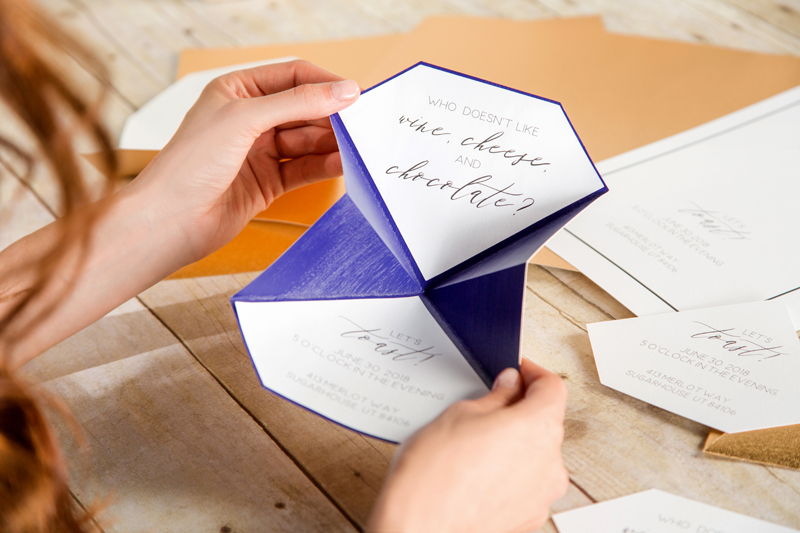 All of the hard parts are done. Just peel your Print then Cut off the liner and stick it on to your folded invitation. Place it in your matching envelope and mail them out to your loved ones!
Now that you are a Print then Cut pro, you can print out some address labels to put on the outside of your gold envelopes!
I can't wait to see how you customize these cute invites!
Happy crafting!
Karley Hall