December 5th, 2018 • Contributor: Cricut Designer Meagan Patterson
This time of year is simply magical! I love finding new family traditions that bring us closer together and that bring warmth and light to our home. The magic was certainly present as we watched this little family create their own personalized wrapping paper. Can you say ADORABLE?!
Stamping is back this Christmas season my friends! Or maybe it never went away? Either way, this DIY wrapping paper is to die for. Seriously.
This was such a fun and easy family activity, even your smallest tyke can be involved. So let's get making!
This project was a project full of experimentation. The Cricut Maker can cut almost an infinite amount of materials and so I really enjoy testing its limits. What materials have you tried to cut using your Maker that you wouldn't have normally thought of?
Materials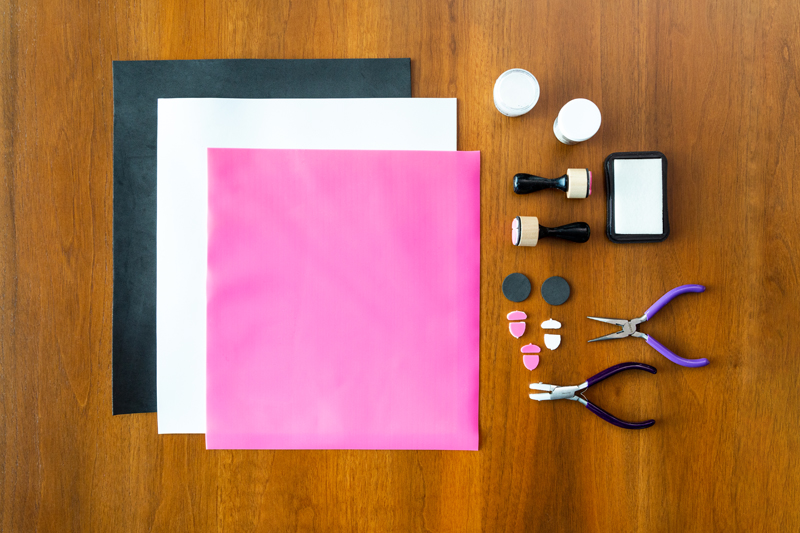 White Embossing Powder
Clear Ink Stamp Pad
Black Craft Foam – 1 sheet
White Craft Foam – 1 sheet
Silicone Sheet – 1 sheet
An old stamp
Pliers
Spray Adhesive
Heat Gun or Blow Dryer
Black Wrapping Paper
1: Gotta Start Somewhere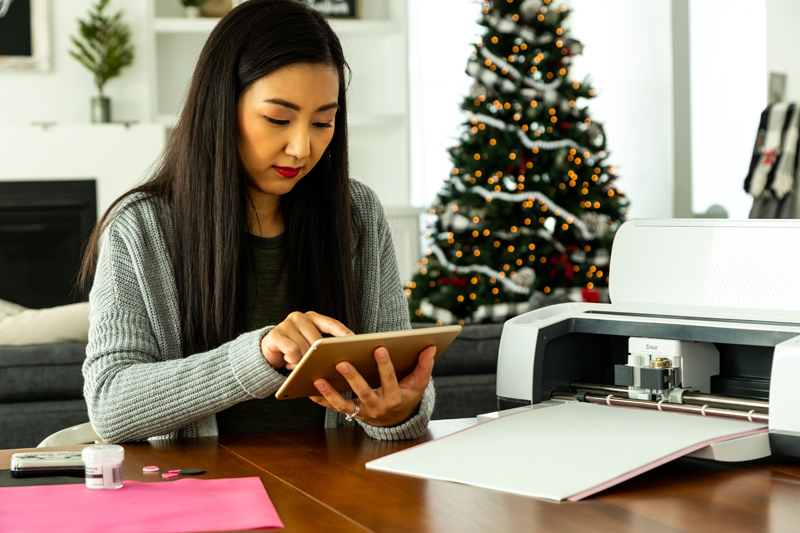 Once you have gathered the necessary materials, click here to open the canvas. I love this little acorn design. It's simple and cute and helped to bring in the rustic warmth that we all love this time of year.
Firmly press the foam pieces to your FabricGrip mat and set aside for cutting.
Now, silicone is a unique material and can be hard to find. Whenever I need silicone, I always go to the baking section of my local craft store and select a silicone mat. They can sometimes be labeled as a Macaron Mat; it simply depends on the brand.
Another helpful hint: when you go to cut silicone, I like to tape it down on all four sides with masking tape. Just the same as when I cut Chipboard.
2: Cut All the Things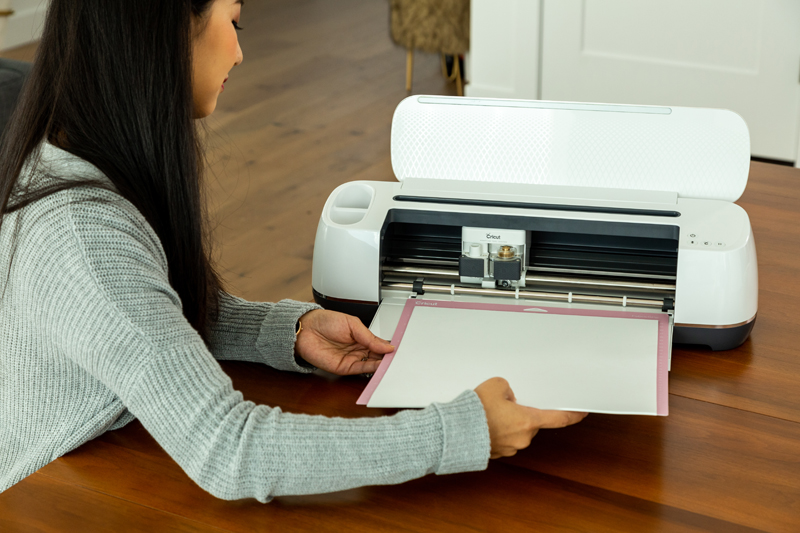 .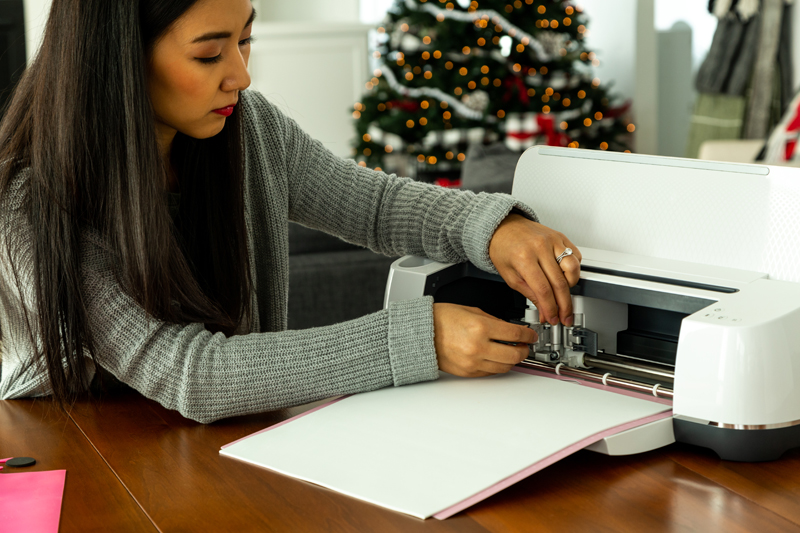 I am a super huge fan of the rotary blade and so whenever I can use it, I do. Your first mat will be to cut the acorn out of the white craft foam. Select the setting HEAVY FABRICS and be sure to switch out the Fine Point Blade for the Rotary Blade.
Once the white acorn is cut and the mat is removed from the machine, load the black foam mat and make sure HEAVY FABRICS is still selected.
Load the final mat, which is the silicone mat. For best results, as I mentioned before, tape down all four sides of your silicone to the FabricGrip Mat. Continue using the HEAVY FABRICS setting in Design Space.
Once your three pieces are cut, you can now start to assemble them.
3: Recycle and Reuse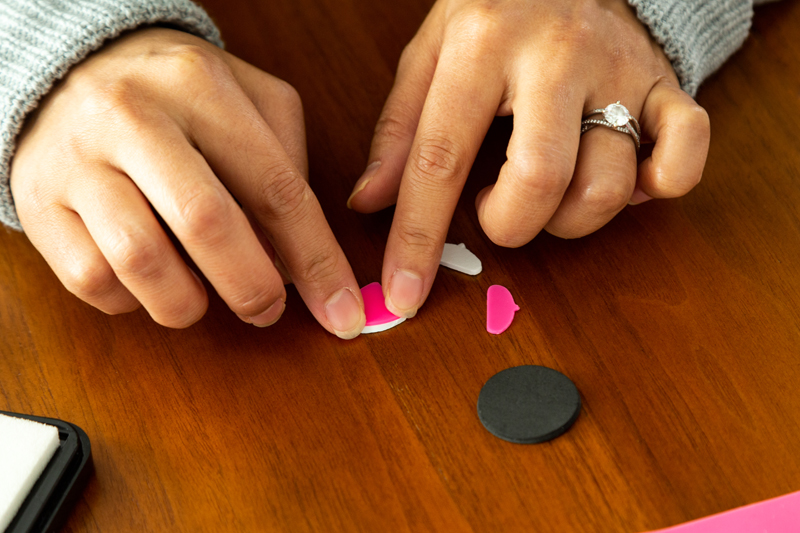 I love making old things new again. Anyone else into that? This project all started when I couldn't find the exact stamp that I wanted in my collection. So rather than use a stamp I wasn't thrilled about I decided to make a new one. But I needed all the parts, so I rummaged through my old stamp collection and picked a stamp that I could revamp. You can be creative with the base that you use. You can try using an old wine cork or a scrap of wood. Anything that you may have lying around that will make a strong base for your stamp!
Depending on the base you use, you may need a variety of tools or pliers. In order to pry apart my old stamp, I used different pliers to remove the layers I didn't need. Once you have a clean base, you can then adhere your homemade stamp to it.
I used spray adhesive to first adhere the silicone acorn layer to the white foam layer.
Next, I sprayed the back side of the white acorn foam shape and pressed it to the black foam circle.
Once all three layers were dry, I sprayed the back of the black foam layer and pressed it to my wood stamp base. And voila! You have your very own homemade stamp!
4: Stamp, Stamp, Stamp and Stamp Some More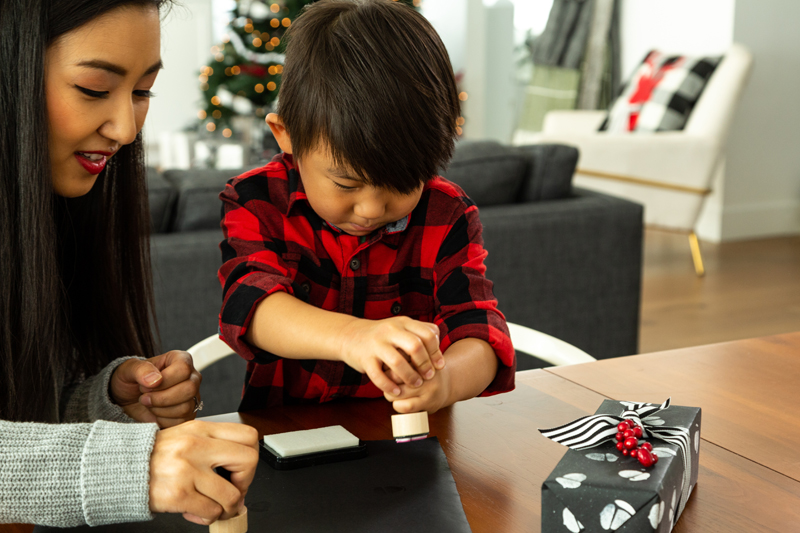 Now it's time to let the fun begin! Grab your stamp pad and ink, roll out your wrapping paper, and stamp to your little heart's content!
You can use any ink pad you would like. I chose clear since the color will come from the embossing powder later on.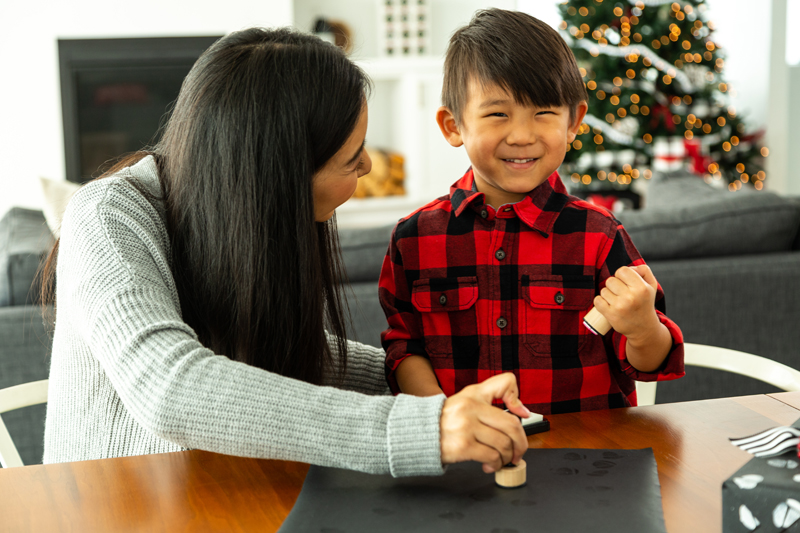 Just look at how much fun they are having!
5: Crafting + Science = Pure Joy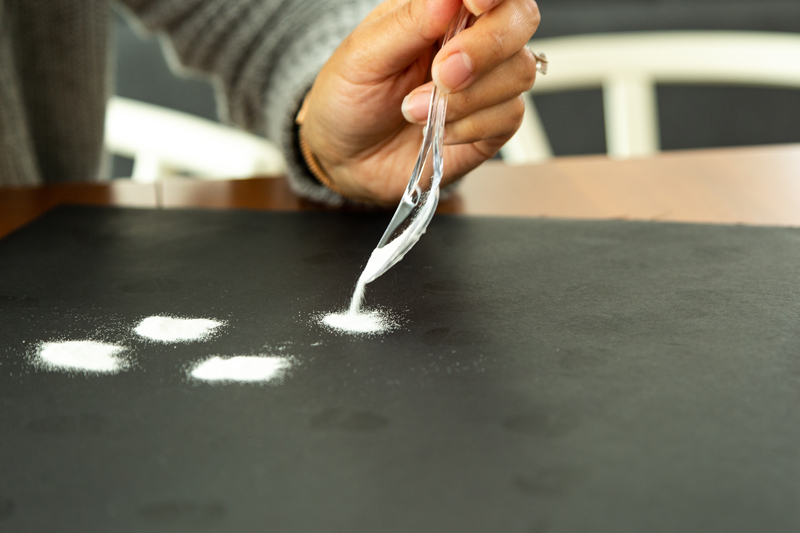 Gently pour heaps of the embossing powder onto the ink. I found the best way to do that is to use a plastic spoon. One spoonful for each acorn.
After each acorn has been fully covered by a mountain of powder, carefully shake off the excess powder. I shook it onto a spare plastic mat coversheet and then slowly poured the powder back into its original container. Waste not, want not!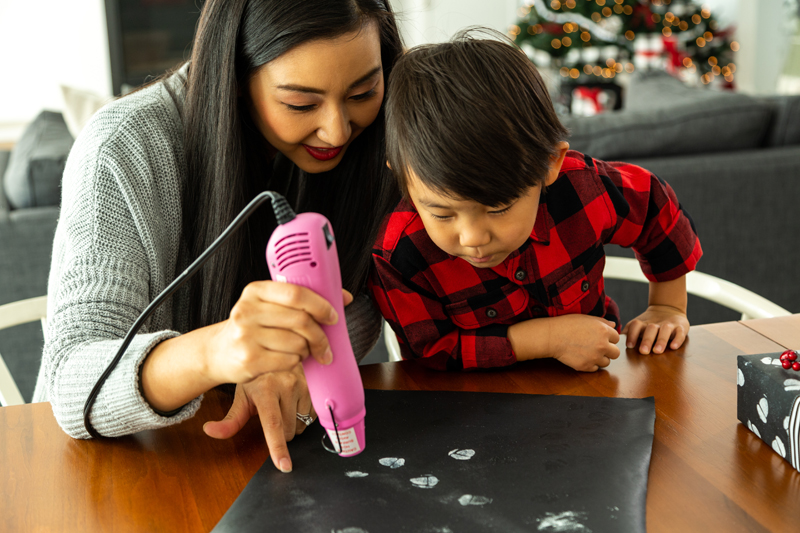 You do not need to be a magician to show off your magic skills. All you need is embossing powder and a heat gun! Who knew science and crafting could be so magical? With the heat of the air blowing onto the powder, the powder will literally melt to the paper creating a beautiful, smooth and slightly raised white acorn. That process alone is fascinating to watch.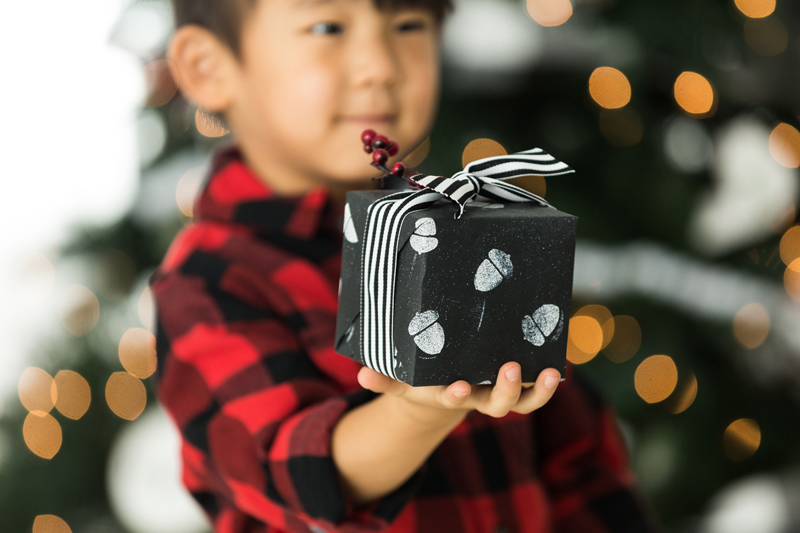 Your wrapping paper is now ready for use! Grab your gift for that special someone and wrap it all up. Tie it off with some fun ribbon and a branch of holly berries. You can also add a fun festive tag here if you so choose.
The sense of accomplishment and the pride of making something so special will be evident in the faces of those who helped make this holiday craft a tradition in your home.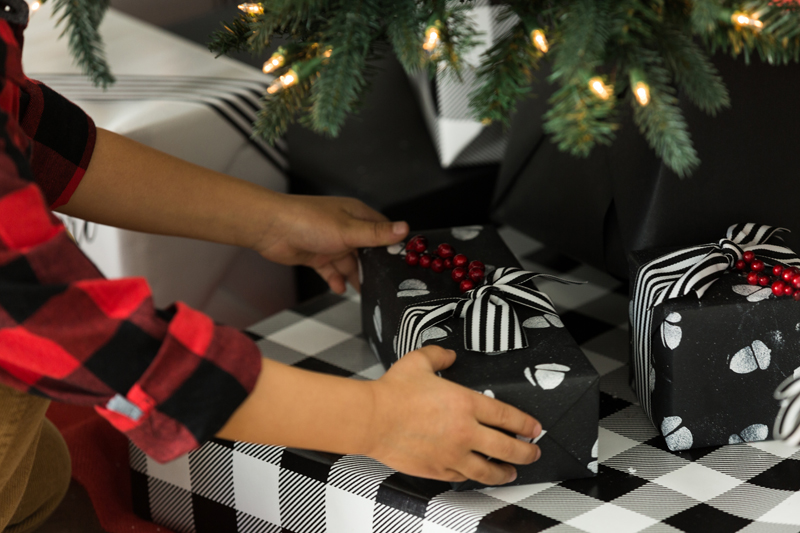 The sky is the limit with these DIY stamps. I can't wait to see what fun and festive stamps you create this holiday season!
Make your life beautiful!
Meagan