April 14, 2017 • Contributor: Andrea Greco
Growing up, Easter to me was kind of like Christmas Jr. We decorated the house, crafted gifts for friends, dyed eggs, got matching dresses for church and anxiously waited for a magical, fluffy animal to bring us a basket of gifts. Those gifts came in the forms of Whitman's Chocolate Bunnies, Cadbury eggs, bright yellow Peeps and too many white and purple jellybeans (red and orange were the "money" colors).
Now I am older.  My sisters and I no longer wear matching dresses (that visual is terrifying!). My cousins and I no longer run around the yard hunting for eggs (that visual is awesome!). High fructose corn syrup has been recognized as the devil.  Candy WILL be consumed, just not in the bucket load quantities that fueled all the Greco grandkids until midnight on many an Easter Sunday. That's pretty much all that has changed.  I still embrace Easter with close to the same excitement I did as a youngster. Decorating, crafting and egg decorating are still on the menu at my place! Here are a few of my favorite ideas for Easter 2017. Let's get crafty!
Succulents in Eggs
Add a modern twist to your table or room décor with mini succulents in egg shells.. Plant some small succulents in your leftover shells and display in a saucer or small bowl. I used Heirloom chicken eggs. They are naturally green and look so pretty with the plants.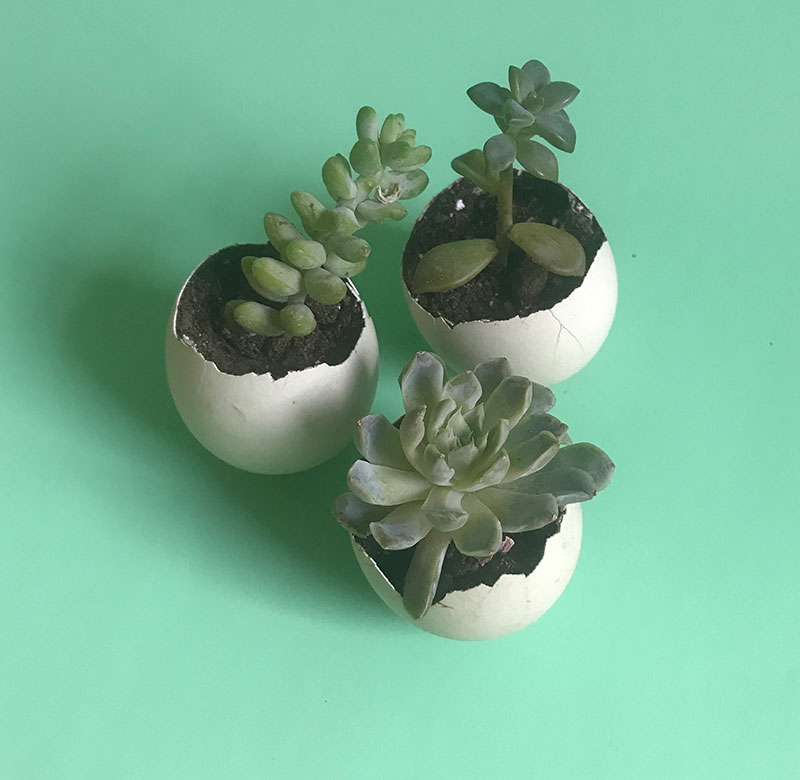 Rabbit Ear Napkin Rings
Upcycle your paper towel tubes with these festive napkin rings. I used a leftover tube from some Cricut vinyl. Cut your tube into 2" sections and wrap with jute or your favorite ribbon. Secure with a dab of hot glue. Cut 1.5" ears (they are the shape of leaves) out of scrap fabric. Fold the ears in half vertically and dab a small amount of hot glue to the bottom end of the ear. Glue to your ring and you are done.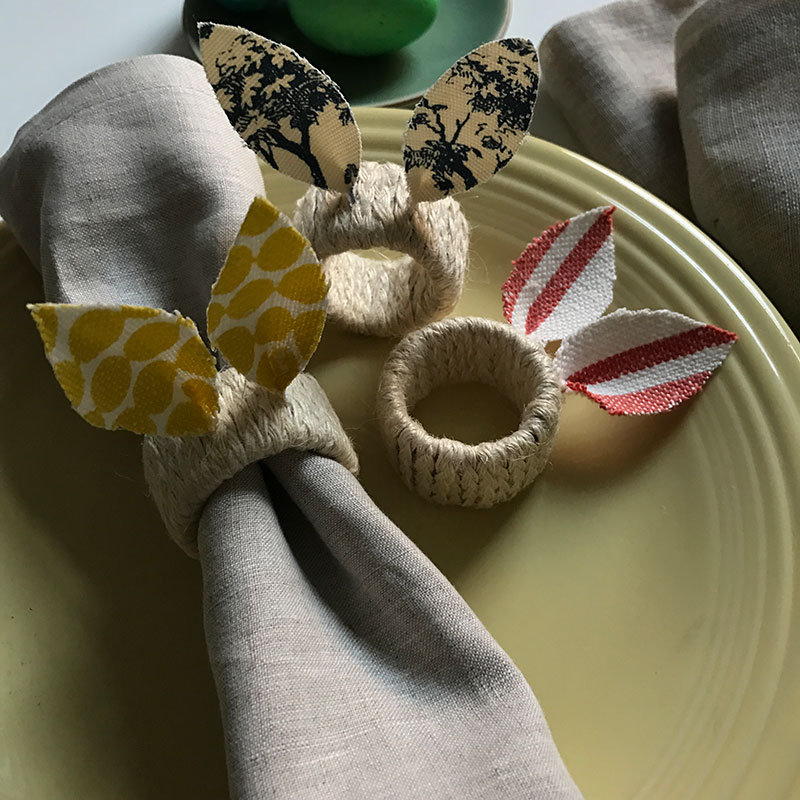 Put A Tail On It!
Make a yarn pom-pom cotton tail and hop on down the bunny trail! Attach to the back of your pants or skirt (or dog's shirt) with a safety pin and you are ready to go.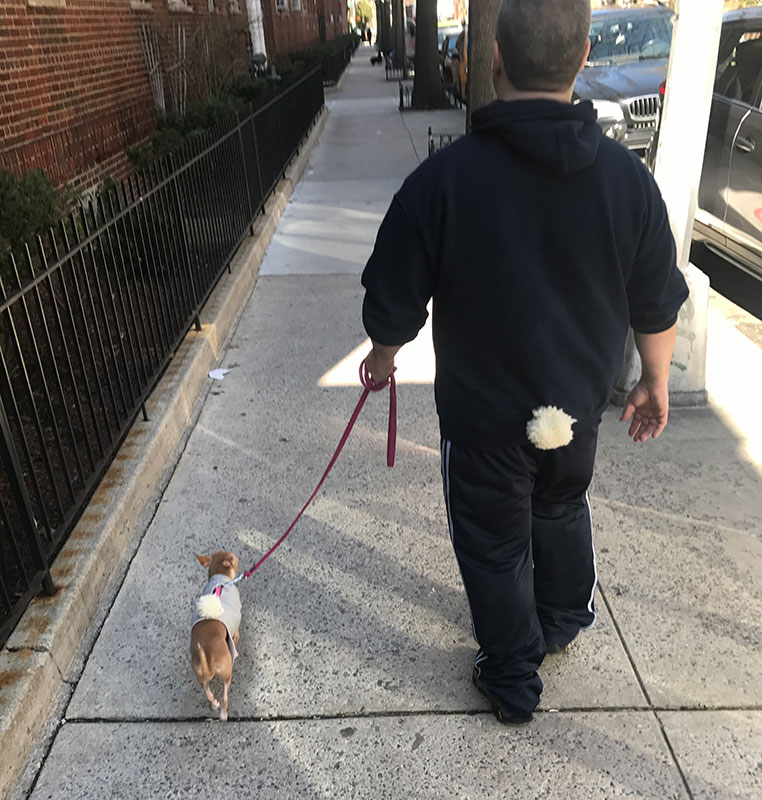 Egg Bud Vase
I'm going to make these little bud vases and put them next to my guest's place settings this year. Drain an egg and rinse. Fill with water and place in an egg cup. Add a bud or two and you're done. You could even add your guest's name and use these as place cards.  I've wanted to do this craft for a while, but I couldn't figure out to drain an egg without making holes on both ends. I found this great tool on Amazon called a "Blas Fix Egg Blowing Kit." This thing is life changing! It drains an egg in 10 seconds.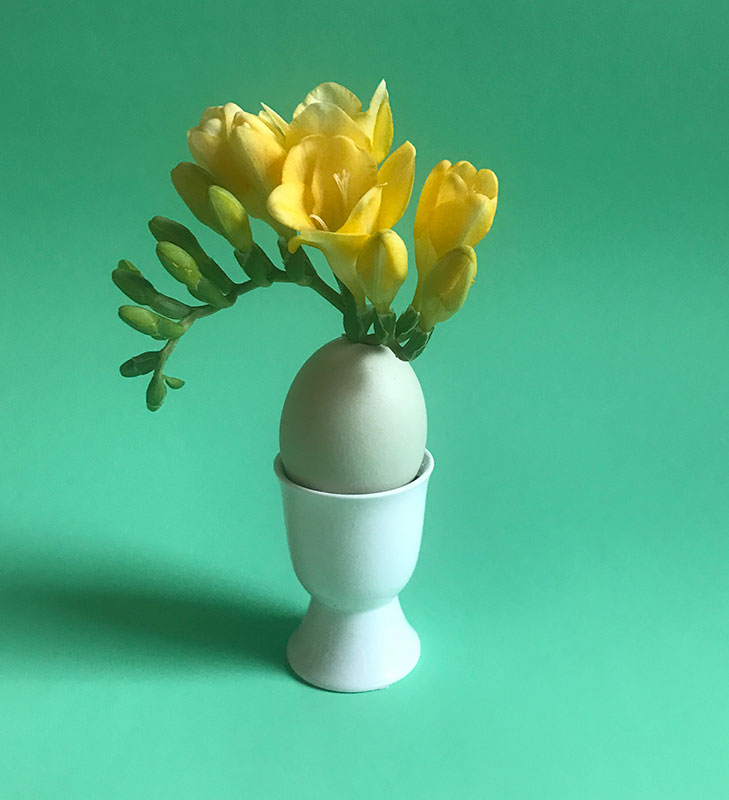 Paper Flower Boutonniere
Surprise the man in your life with this pretty boutonniere. I used the Lilly 3-D Flower in Design space to create this. Glue each flower to a 4" piece of floral wire with hot glue. Bundle and cut the wire bottoms to even out the ends. Wrap with floral tape to secure your flowers and finish with a piece of ribbon.  Adorn that guy!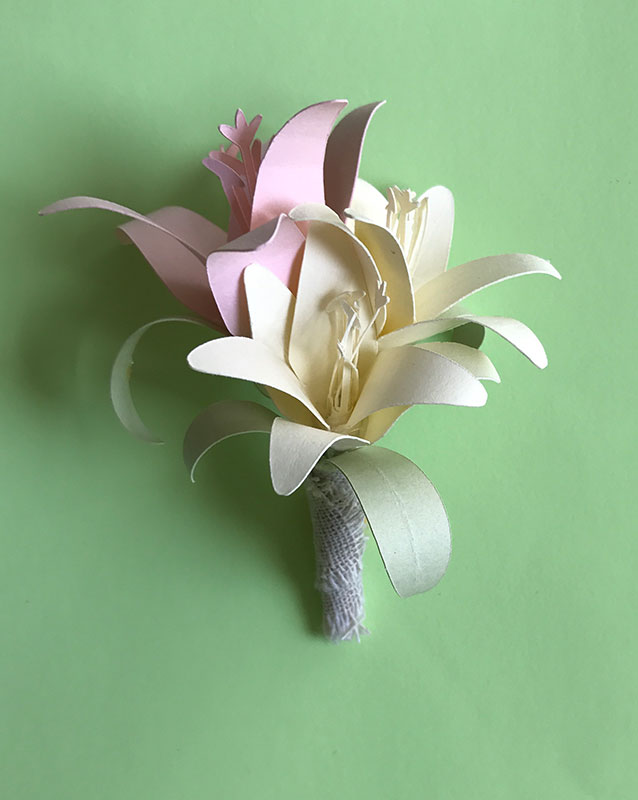 Animal Shadow Eggs
Make these "shadow" eggs using Cricut vinyl and the bunny, lamb and chick graphics available in Design Space. I sized each one to 1.5" height. Cut, peel, stick and done! Easy Peasy.  Black too dark? Purple and pink vinyl look super cute too.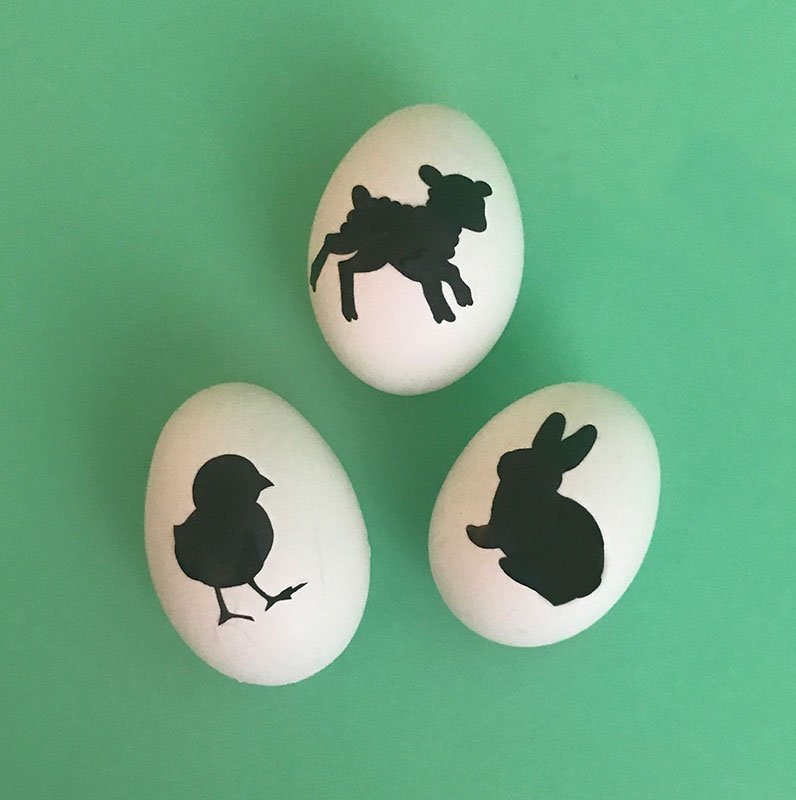 Easter Grass Cupcakes
Every Easter, my Great Auntie Jean would make a carrot cake, cover it with green coconut and create a little Easter scene on top of the cake. I've recreated this on a smaller scale with Easter egg hunt themed cupcakes. To make the grass, measure 1 cup of moist coconut and dump into a large Ziploc. Add 3 drops of green food coloring. Close the bag (very important!) and shake. Massage the bag to evenly mix the dye.
Place grass on top of your frosted cupcakes and finish with some candy eggs. Peeps are cute too. Cricut bonus tip: I made the cupcake wraps using the Lattice Purple Banner in Design Space. I sized it to 7.75" width for standard sized cupcakes.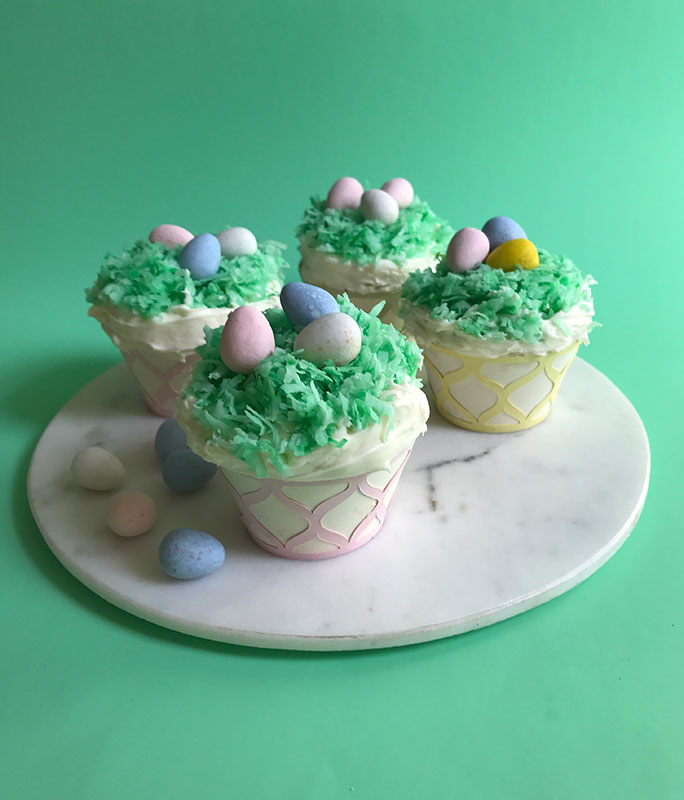 Thanks for reading! Check back next month for more styling tips and crafting tricks! Follow me on Instagram @andreanoelgreco to see how I Cricut! Happy Easter! And make sure to share all of your favorite DIY Easter projects using #CricutMade!