April 12th, 2018 • Contributor: Lauren Duletzke, Cricut PR Manager
Graphic and phrase tees are on everyone's chic lists right now as we divest of our heavy winter coats and transition into spring. What better way to show the world who you are than designing your own fashion-forward t-shirt. I don't know about you, but any time I walk into an H&M, Zara or Nordstrom store, I feel overwhelmed by the graphic t-shirt choices both from a design and price point perspective. I'm inspired by the colors, graphic patterns, and phrases but feel I can never quite find the right option for me.
Enter Cricut. I've found my craft calling in making graphic t-shirts with Iron-On. I love the fact that I can pick any t-shirt base - some of my favorite are from Target, they have really nice high-quality t-shirts - and customize the graphic or phrase with an amazing variety of color and patterns (have you seen our new Patterned Iron-On options now… they're amazing!).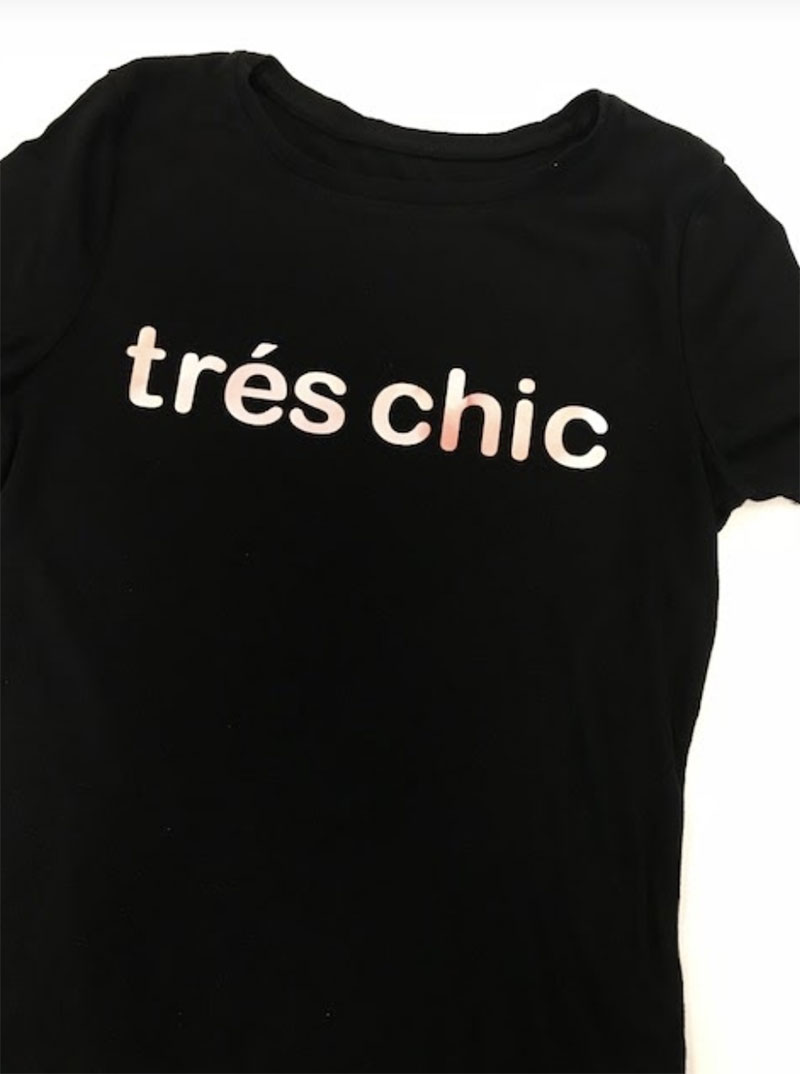 Today, I'm going to show you how you can easily make your own it girl shirt in a few easy steps. I love the "trés chic" French phrase so I went with that for today's tutorial.
Supplies Needed: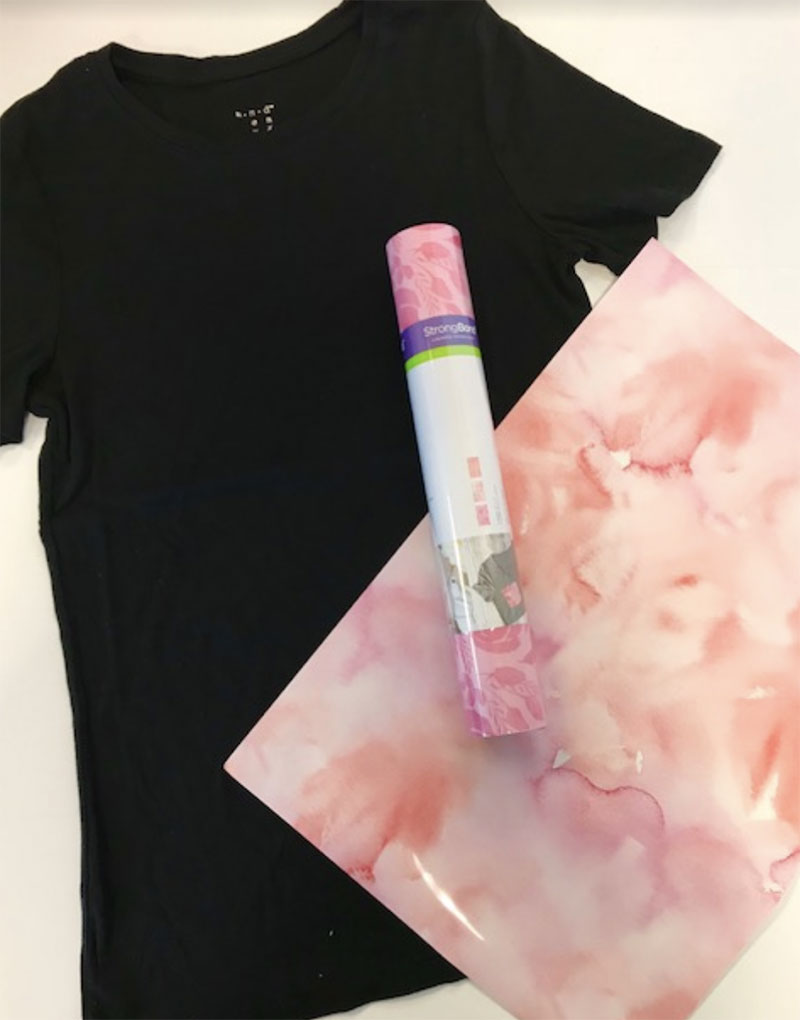 Here is what you need to get started:
I also used a Cricut BrightPad for easier weeding of my letters after the phrase was cut on the machine.
Make sure you throw your shirt in the wash before getting started. We recommend this step first because it helps with the iron-on adhesive.
1: Design Your Phrase

My design was super easy to achieve. I wanted simply, bubbly letters and found that the Arial Rounded MT Bold was a perfect font. I was also able to use the special characters for the "trés chic" with this font (some of the fonts don't allow this so just be aware of that). If you're using a Mac, to get a special character you click "alt-e" and then press "e." You can also easily Google instructions for how to use other special characters.
2: Cut Your Design and Weed It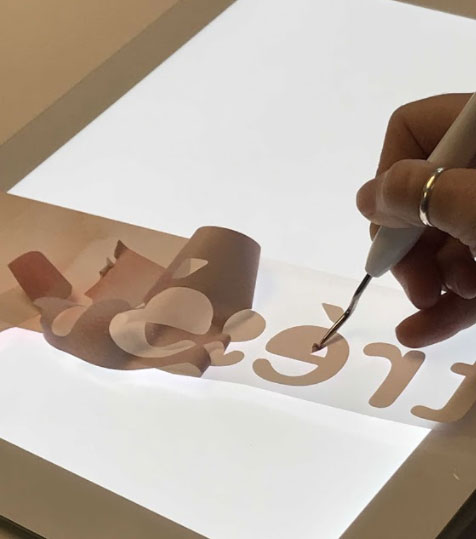 Click "Make It" and make sure you choose "mirror" on the mat screen before you move on to the cut screen. Choose "Iron-On" either on your dial or if you're using a Cricut Maker, choose in the materials settings. Set the "fast mode" (if you're using a Cricut Explore Air 2 or Cricut Maker) and you're all set.
Once the machine cuts the letters, it's time to weed! As a reminder, weeding is a process of taking the negative material off of your design so you have the positive (and can transfer it in this case on to a shirt).
As I mentioned above, I used the Cricut BrightPad so I could easily see the cut lines for weeding. It's truly magical, especially when you're working with glitter material.
3: Iron-on Your Design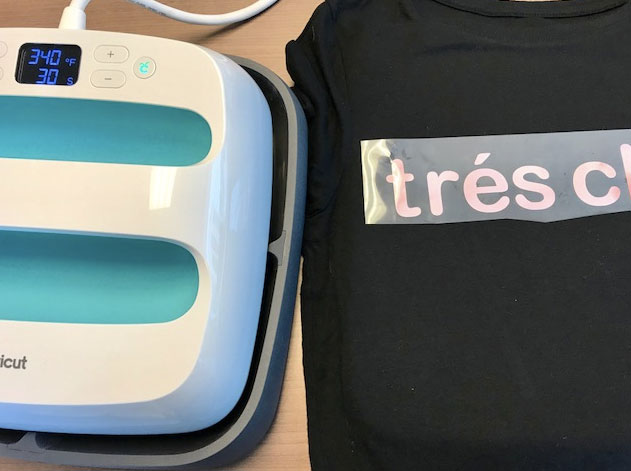 Heat up your Cricut EasyPress and make sure you have the right setting for your t-shirt material and iron-on material. We created this easy chart to reference so you can check the settings. I used a polyester and cotton blend shirt from Target (specifically the A New Day brand because I love how soft it is) so I set my EasyPress to 340 degrees (F) for 3,0 seconds.
First, you want to heat up your t-shirt for 5 seconds and then place your design on the t-shirt. After you place your design, simply set the EasyPress on top of the design and press the Cricut "C" to start the countdown. Make sure to put a little pressure on the EasyPress as it helps with the heating process.
After the countdown ends for the front of the shirt, make sure you also iron-on the back and repeat the same process.
Once you finish with the EasyPress on the back of the shirt, flip it over and let it cool down for 10-15 seconds before peeling off the plastic.
4: Peel the Plastic and You're Done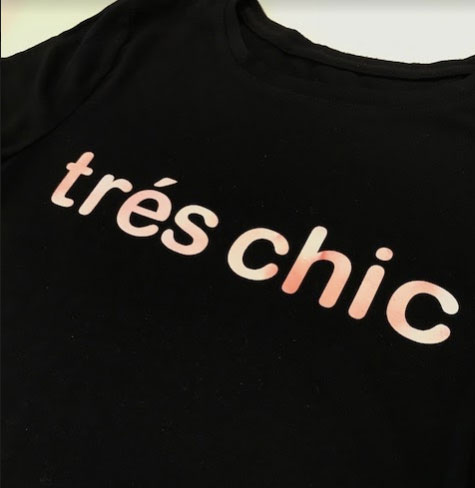 Slowly peel back the plastic in a rolling motion (to make sure the iron-on material is perfectly transferred on the shirt) and then you have your amazing It girl shirt.
It's super simple and will give you that amazing "I made it" feeling while also being fashion-forward as you step out into the warmer spring weather.
If you want to make the exact design I made, here is my canvas link: https://design.cricut.com/#/landing/user-project/87752332.
Tell us what amazing DIY shirt you're making right now! It's so much fun and so easy. #CricutMade