February 6th, 2018 • Contributor: Jenny Alger from Everyday Jenny
Hi! It's Jenny from Everyday Jenny. Have you tried writing with your Cricut? Today I'm showing you how to use Cricut fonts and pens to write.
Cricut has a great variety of pens that come in fine-point, medium-point, calligraphy and even glitter. They also come in all the colors of the rainbow. I have the Ultimate Fine Point set and love all the colors, but this Seaside Pen Set is calling my name too!
I created this cute pizza Valentine using my Cricut pens and Cricut fonts in Design Space.
Supplies
Glue Dots
Valentine's Day Pizza Erasers (one source is the Dollar Spot at Target)
1: Create Your Design and Choose a Font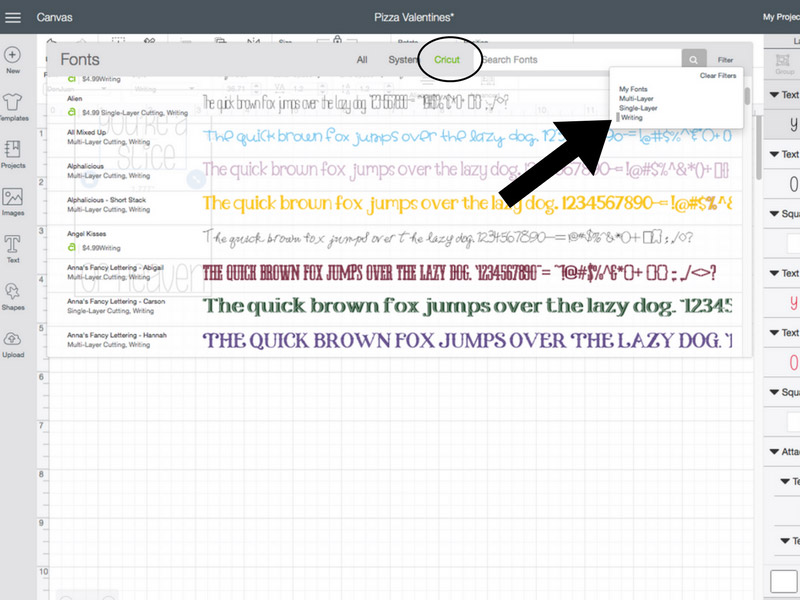 To create this design, I inserted a rectangle and then inserted my text. (You can open my design here.) To change your font, click on the text box, and the font selections will appear.
There are two styles of fonts you can use. Fonts that do not have a writing style will only be the outline of the text. Fonts with a writing style will draw a single stroke design.
You can easily filter your fonts to find ones with a writing style.  First, select Cricut fonts in the bar along the top. Then click on Filter on the right-hand side and select Writing Style. Now you can choose your font. The one I used is DonJuan.
2: Change Alignment and Spacing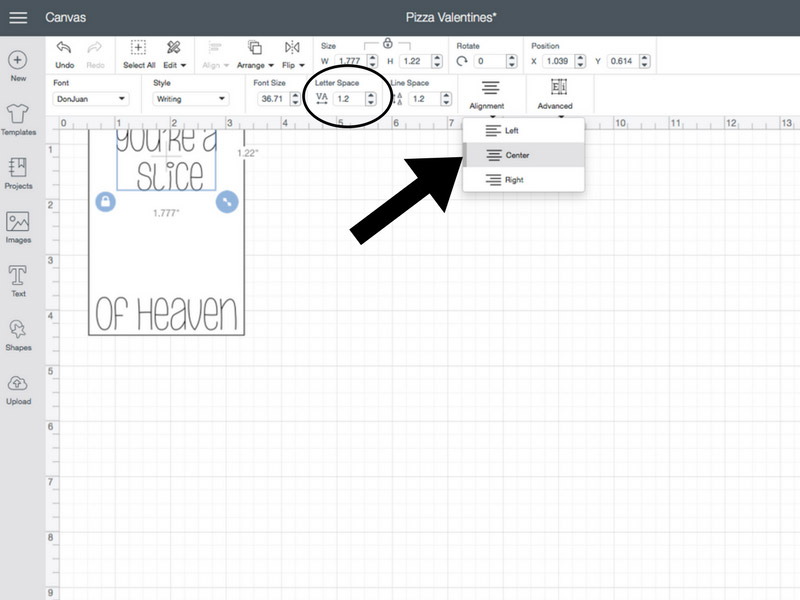 Once you have selected your text, you can adjust the alignment and letter spacing. Decreasing the letter spacing is especially important if you choose a cursive style font and want the letters to connect.
I used the center alignment for my text and kept the letter spacing the same. Then I selected everything and duplicated it to make multiple copies.
What's your favorite Cricut font to use? Let me know in the comments below.
3: Change Your Font Color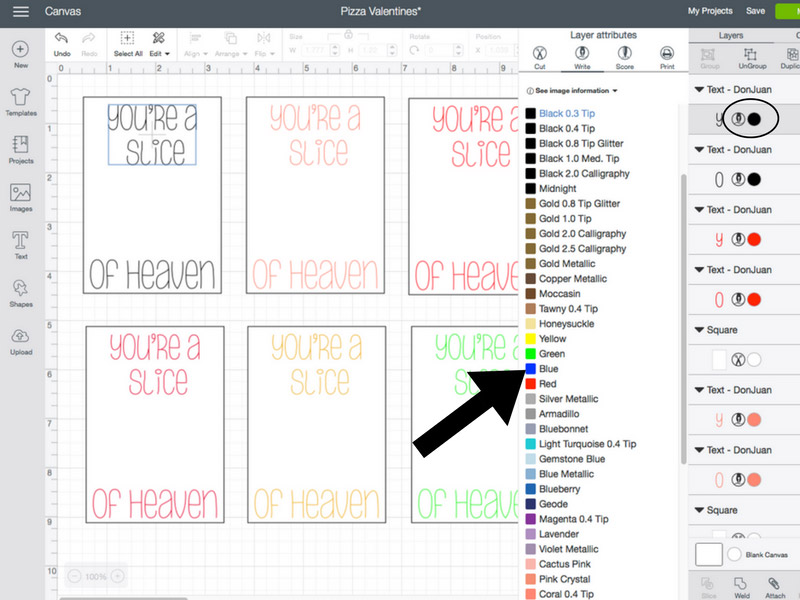 To use multiple pen colors, you will need to change your pen color on your design. This tells the machine to pause and allows you to switch out pens.
Click on your text layer and click on the colored circle. A panel will appear with all the color options and you can choose your color.
4: Attach Your Font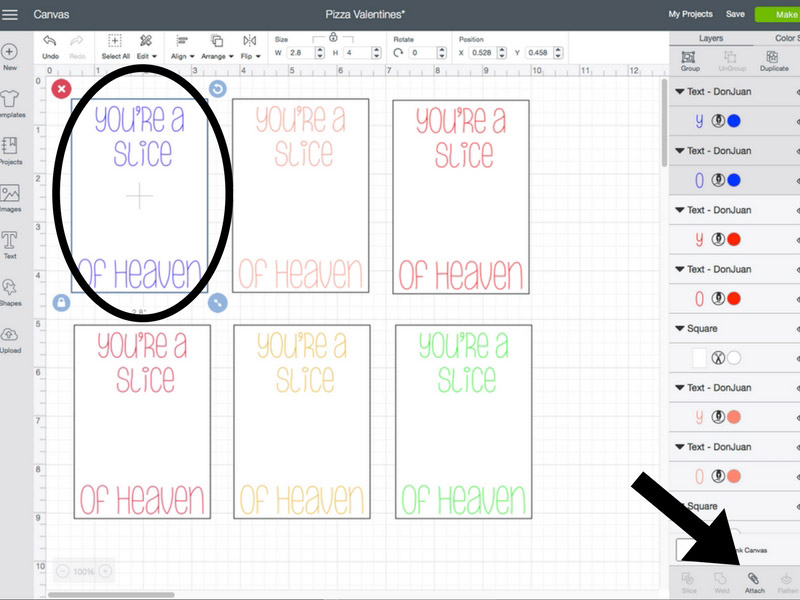 This is a very important step! You need to make sure to attach your font to your layer so that it will write exactly as you have it on your design screen.
Select your text layer and the rectangle and select the Attach tool. Repeat with each Valentine.
5: Cut Out and Write Your Design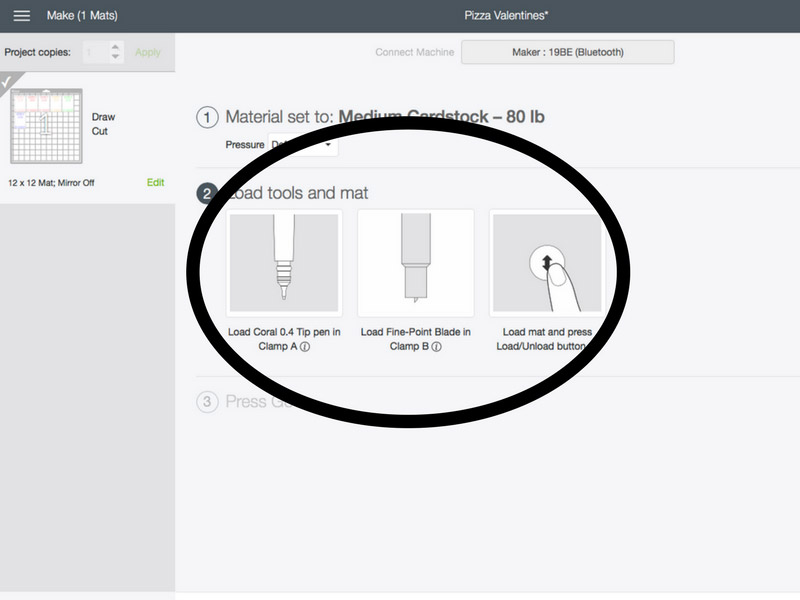 Now you are ready to make your design. Click on "Make It" and select your material. Follow the onscreen prompts to insert the correct color pen into Clamp A on your machine.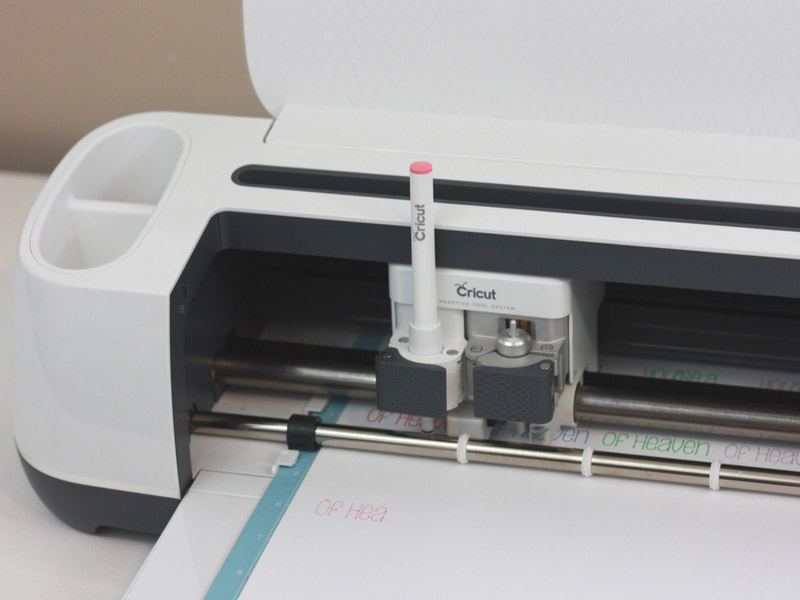 Press the Go button on your machine and watch it work its magic! The machine will pause between pen colors to allow you to insert the next color. Once it has written all the text, it will cut out your design.
Carefully remove your paper from the mat. Attach your erasers using some glue dots and you are all done! You now have some colorful and fun Valentines to enjoy and share. Just make sure you don't leave them in a place where your dog can get to them or a few might end up getting eaten. I'm not speaking from experience or anything...
Happy crafting!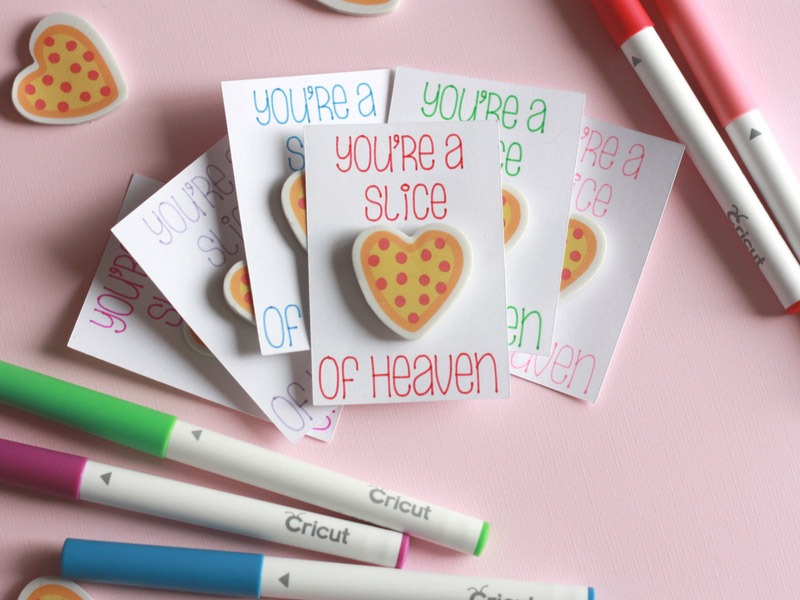 What project are you going to use your Cricut pens with? Be sure to pin this project to try!