November 9th, 2018 • Contributor: Jenn Crookston, Team Cricut
Hello! We're so excited you're here for week 5 of our DIY Holiday Gift Giving Series. This week we've come up with a collection of Thank You's for some of the service people in our lives. From Delivery Drivers to the families of our Service Men and Women we have something for everyone (or at least something easily customized for anyone).
Before ordering your supplies for this week's projects check your stash from the last couple weeks and make sure you use our discount code 8WEEKDIY to save an additional 10% on your total purchase from shop.cricut.com (must be a $50 or more purchase and excludes machines and Cricut Access).  Don't forget to read all the way to the bottom for the full Facebook live we did on these projects.  We have also linked to each Design Space Canvas in the descriptions below.
Our first project is for the Delivery Drivers who are definitely putting in overtime this season to help make our gifting easier.  I created this sign using a Magnetic Chalkboard from Joann (you could use almost any type of base, including paper if you wanted) along with White and Green Premium Vinyl - Permanent and Red Holographic Vinyl.  You can find the cut file here.  Fill a basket with some goodies and drinks and you're all set to go!  Oh, and don't forget Transfer Tape!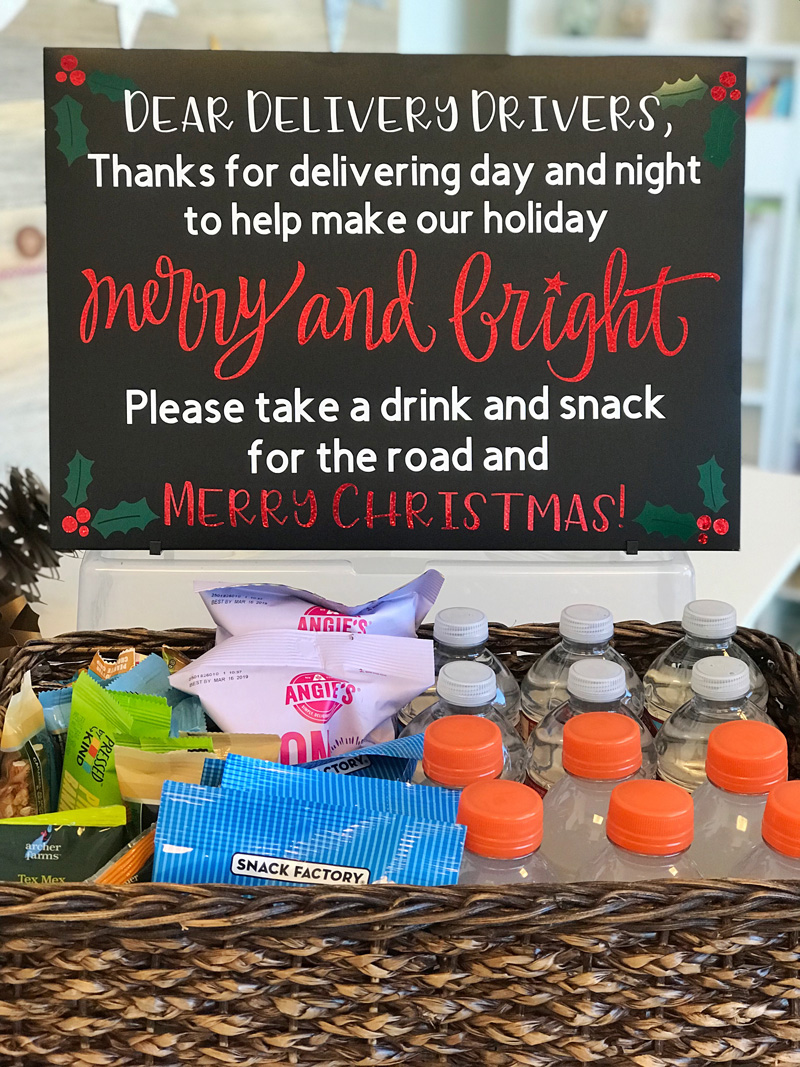 Our second project is for the wonderful people who help keep the schools running.  A box of donuts is a perfect thank you and the packaging is over the top cute with a little red tulle and our "Donut Know What We'd Do Without You!" print then cut image.  If you're not using Print Then Cut you're seriously missing out. Find out more about Print then Cut here and click here for this design.  This image can be resized to fit your boxes!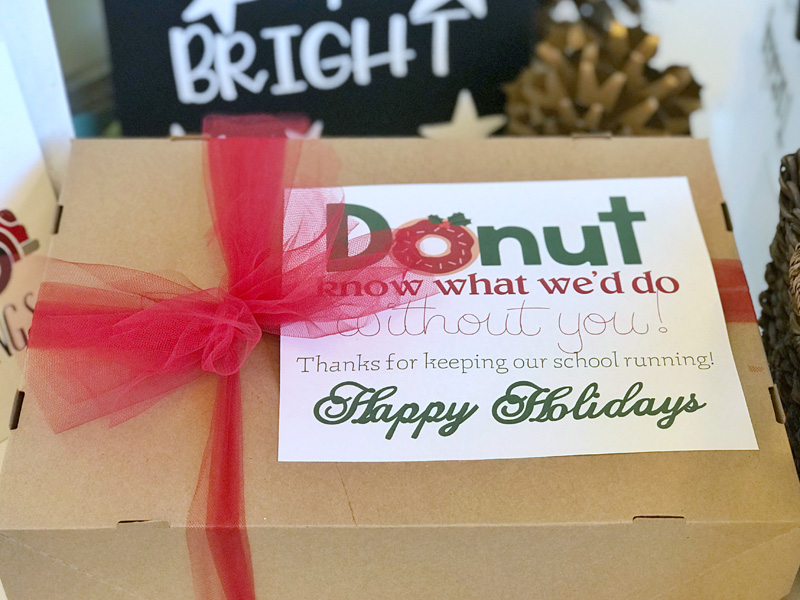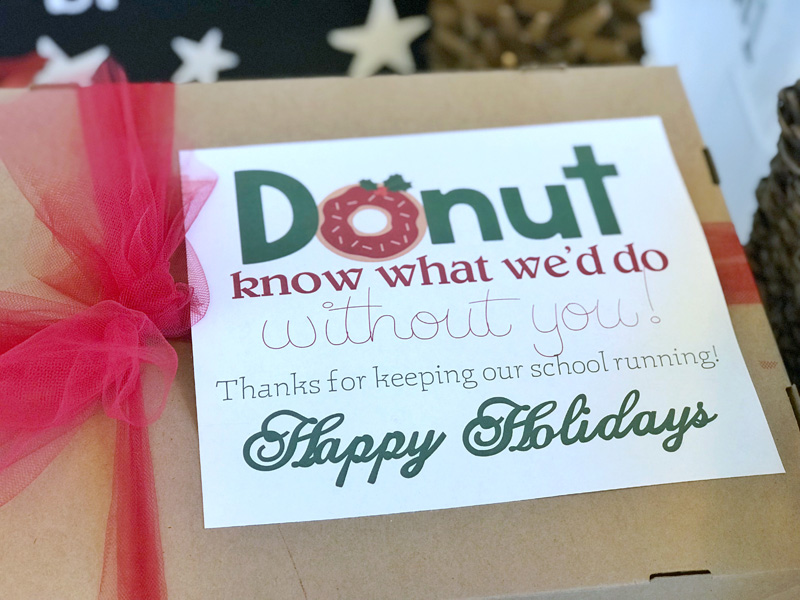 Our next project is perfect for anyone on your "thank you" holiday list.  This fun tag is awesome in a large size attached to a big glass canister filled with treats but can be resized for smaller treats too.  We used this cut file, a collection of glitter cardstock, white cardstock, and our green foil poster board.  To top it off we let our machine do some of the writing for us with our Cricut pens!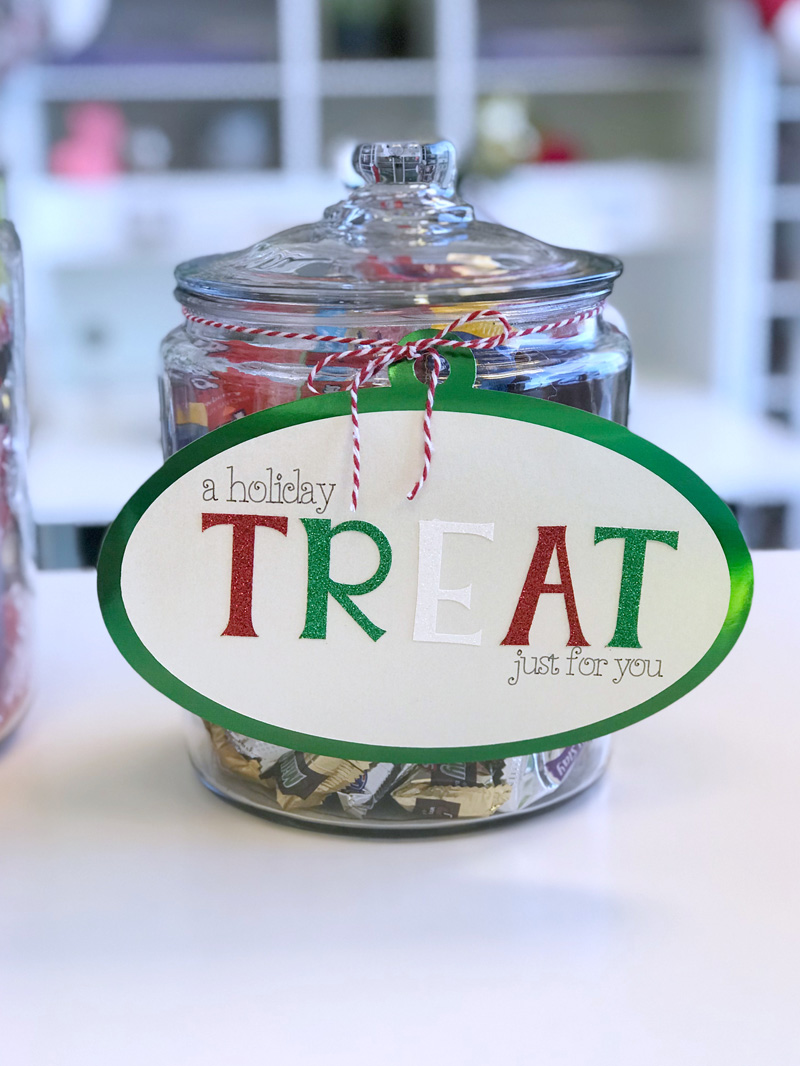 Next, we have another glass canister project.  This one perfect for the Doctor's office you visit regularly.  Using Print Then Cut again with some Printable Vinyl we created this Candy Prescription and it is so dang cute!  You can find the cut file here.  Add some ribbon tied around the top and fill with candy for everyone to enjoy.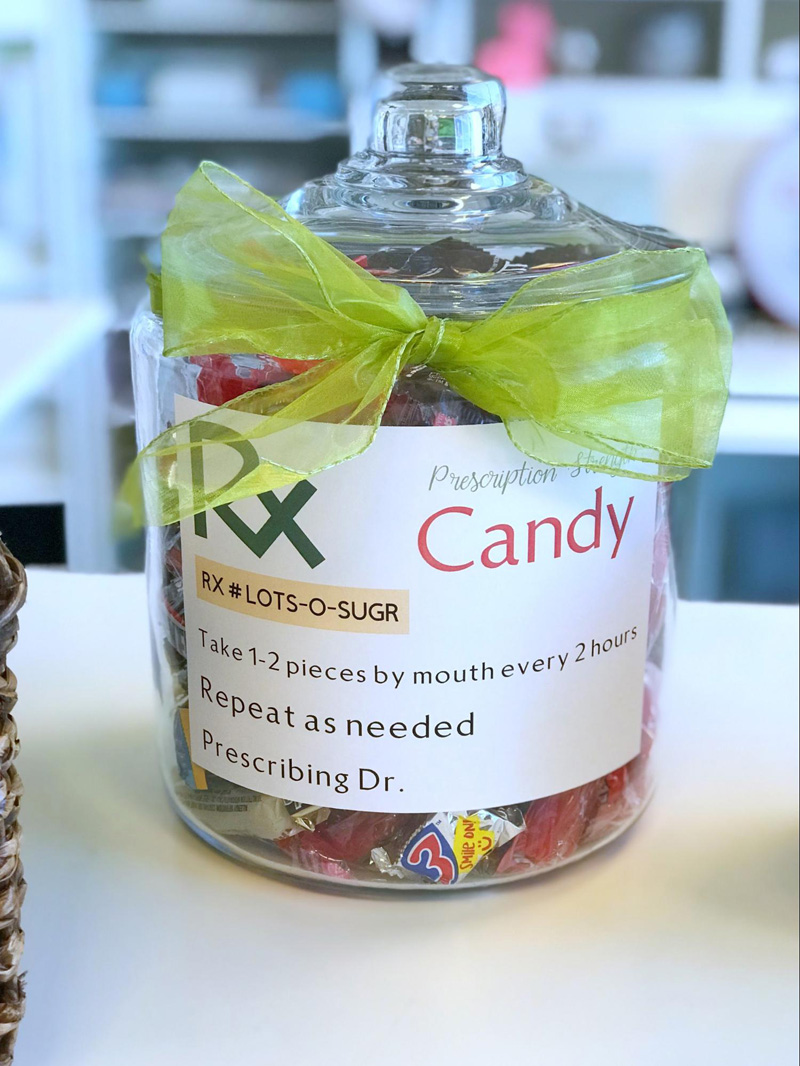 We are forever grateful for the men and women who sacrifice their time with their families to help make the world better for all of us here at home.  There is no way we can make that up to them but I think recognizing their service and the service of their families who are here without them is a step in the right direction.
I created this Print Then Cut American Flag Tag and attached it to a basket filled with everything for movie night.  Snuggly blankets, snacks, drinks, popcorn, and of course a gift card to rent or buy their favorite movie and order dinner. You may recognize our cute gift card envelope from our 3rd week of DIY Holiday Gift Giving.  Want to create this tag to add to a thank you gift?  Click here.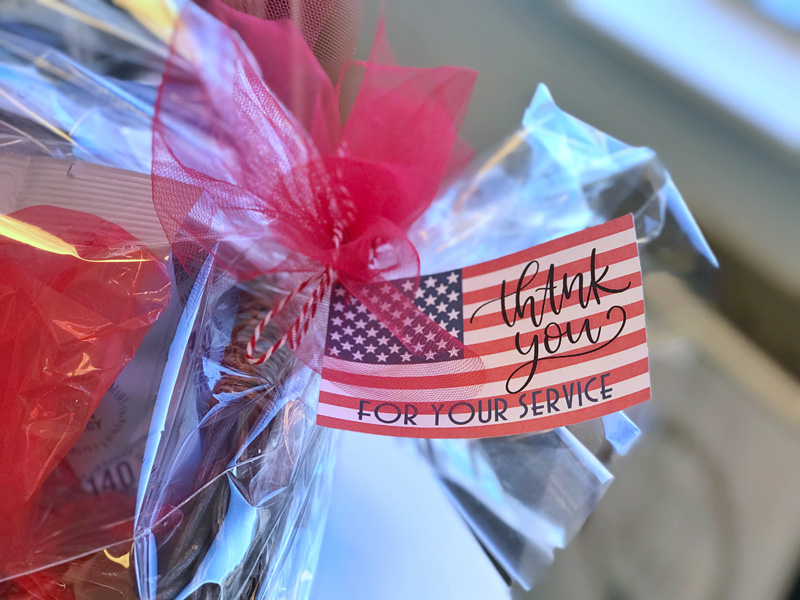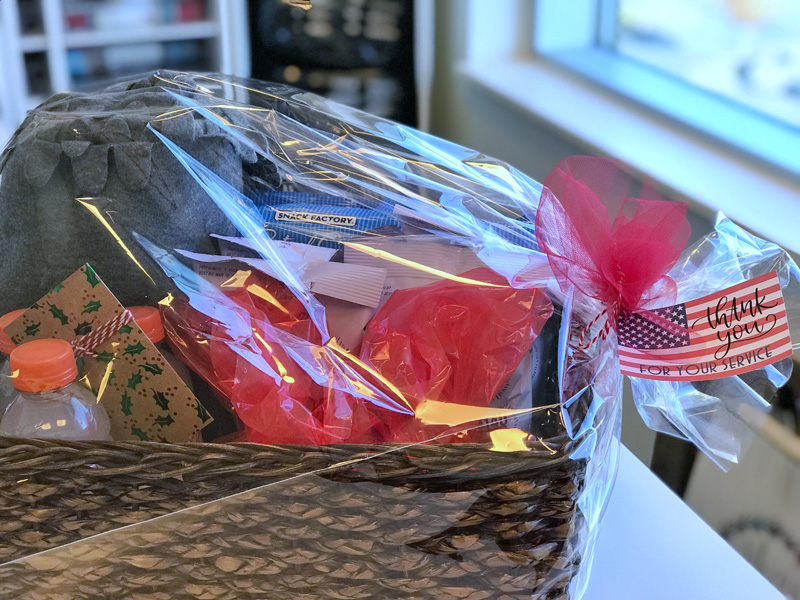 Our next gift is for those who are serving a little closer to home.  How awesome would it be to take a youth group (or any group really) with a collection of these blankets and a heartfelt thank you to a fire station, police station, emergency room, etc to drop off.  Our Cricut cut out our tags and did all the writing for us, all that we have to do is tie the ribbon and sign our names. Find the tags here.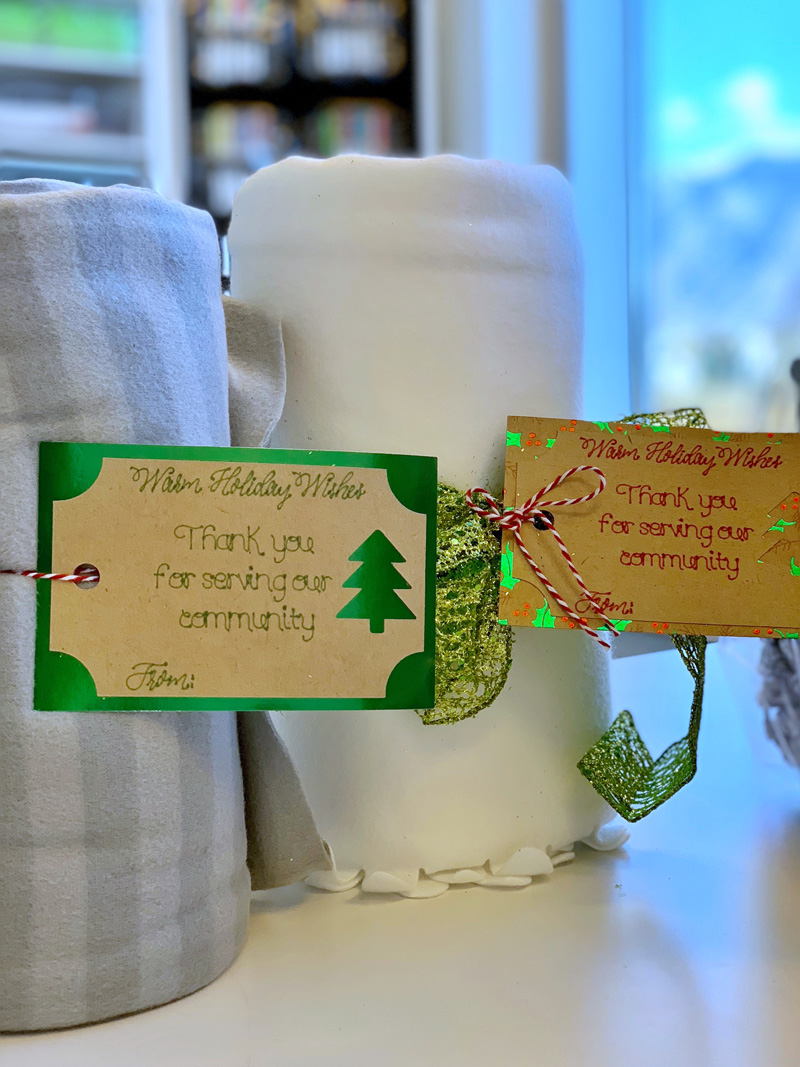 Our last projects are simple Thank You cards that can be found in Design Space and put together in any color combination you want.  We did red and green for the holidays. We'd love to see you create a whole bunch of these and send them off to our Military members who won't get to spend the holidays with their families.  You can find these cards here.
There are so many thank you cards in Design Space, if you're looking for more options just do a search and you'll have more options than you'll ever be able to create.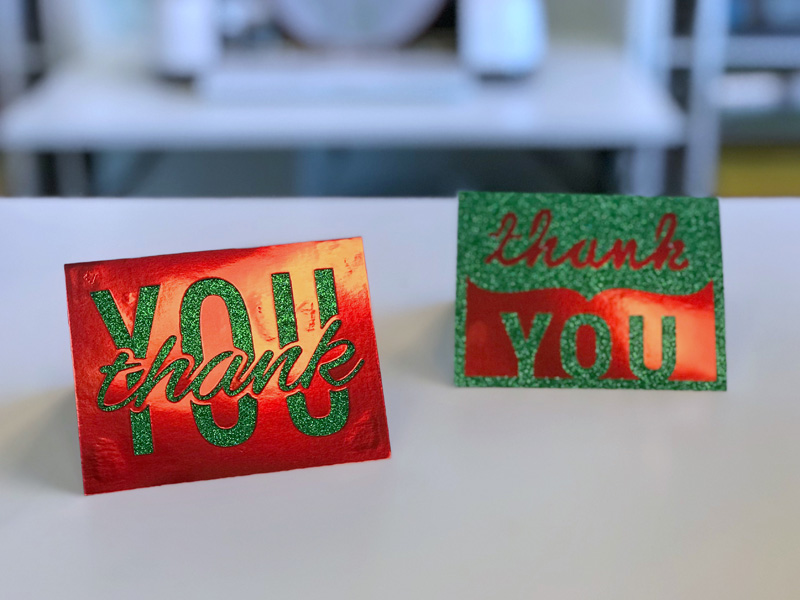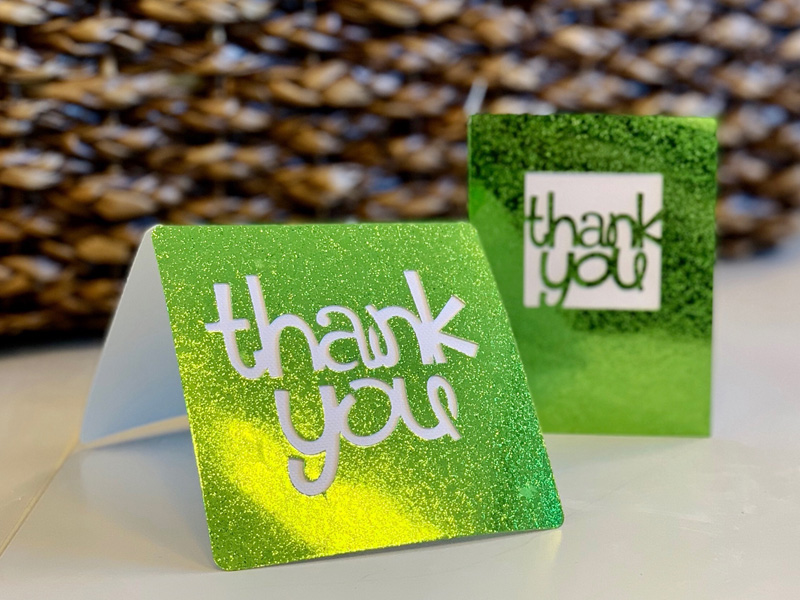 I hope you've enjoyed these projects and are excited to get creating. Watch our whole Facebook Live on these projects below and don't forget to follow our Facebook page, we're always posting new project ideas and would love to have you join us.
Tune in next week for some fun ways to label those handmade gifts this season!