March 4th, 2019 • Contributor: Cricut Designer Meagan Patterson
I have a deep passion for paper flowers so when we came up with this concept of making giant paper daisies I just couldn't wait to get started! The more you pay attention to the details of a flower, the more real you can make it seem. We decided to use wooden beads on a half foam dome surrounded by crepe paper fringe to create more texture and depth to each of our daisies. I'll let you be the judge, but as for me-I think these daisies are easy to make and incredibly eye-catching.
So, let's get making!
DESIGN SPACE LINK: Giant Daisies
Materials Needed: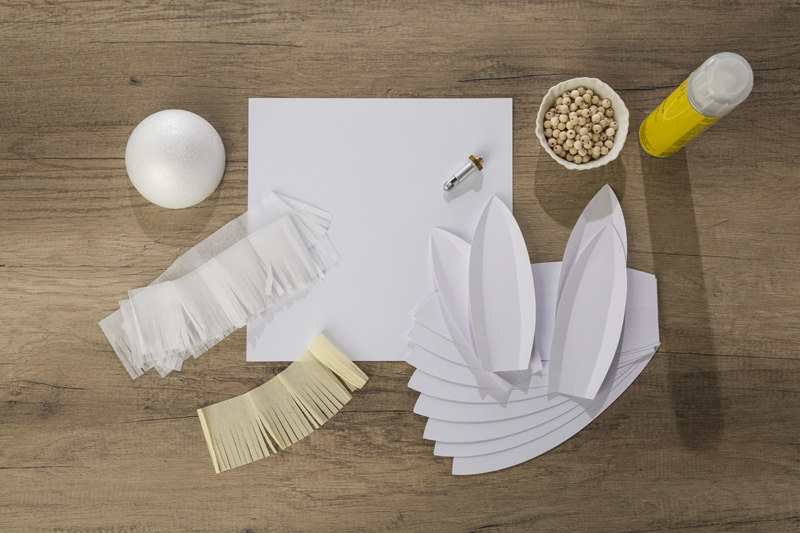 Cardstock, White
Crepe Paper
Foam Form
Wood Beads
Hot Glue
Spray Paint, Yellow
1: Cut and Score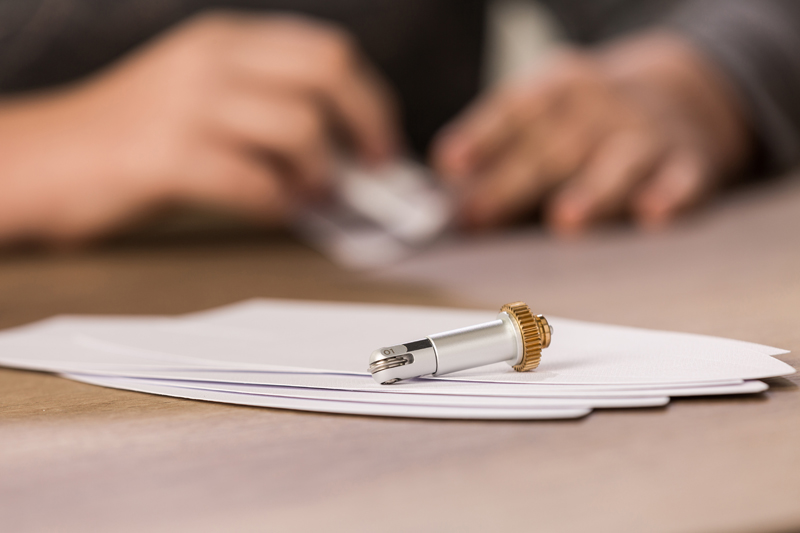 I cannot get over how much I love this scoring wheel! Gone are the days of guessing where the score line is-even on such tricky colors like these white petals! Each flower should have 16 petals. Feel free to add more if you would like to create a fuller look, but I was satisfied with the 16 petals. Load, score and cut your materials when prompted and set aside each petal.
2: Fold Petals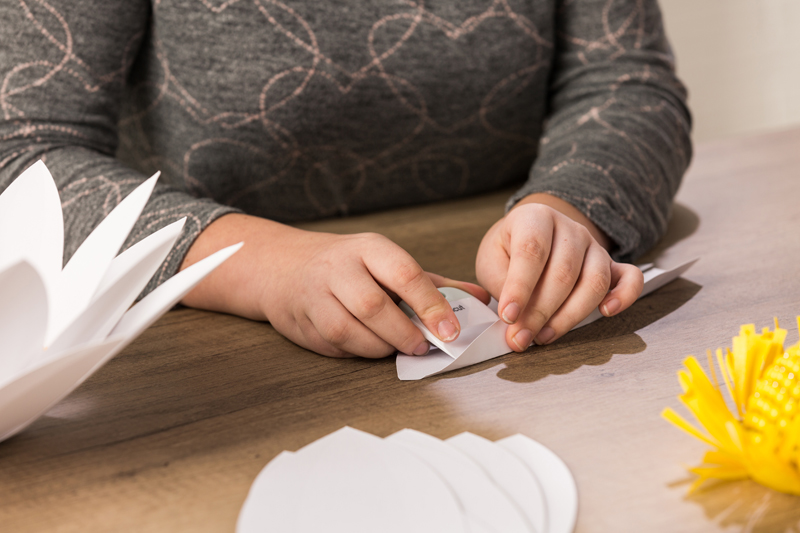 These score lines can be a bit tricky to fold due to the fact that they are curved to follow the edge of the petal. Do not fold completely flat! This will crease and tear your paper in an unpleasant way. Instead, simply bend along each score line a little section at a time to about a 45-degree angle. I like to use my Cricut® Scraper Tool to help create a crisper line.
3: Glue Petals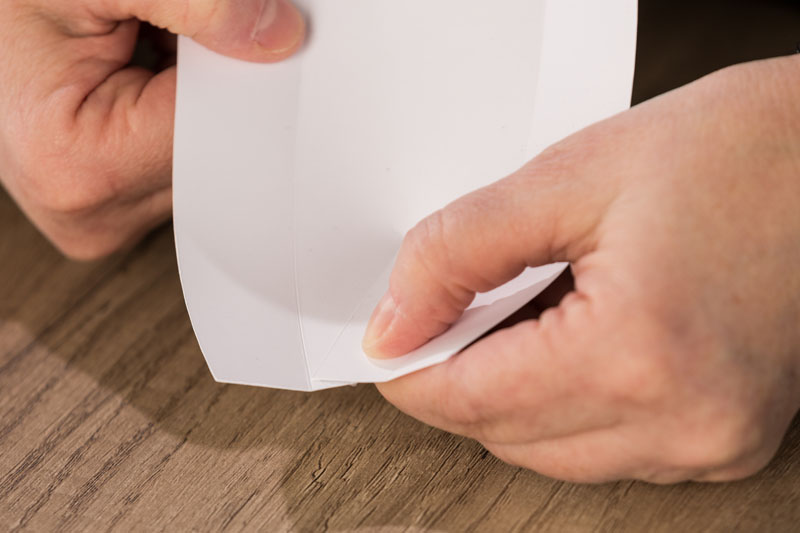 .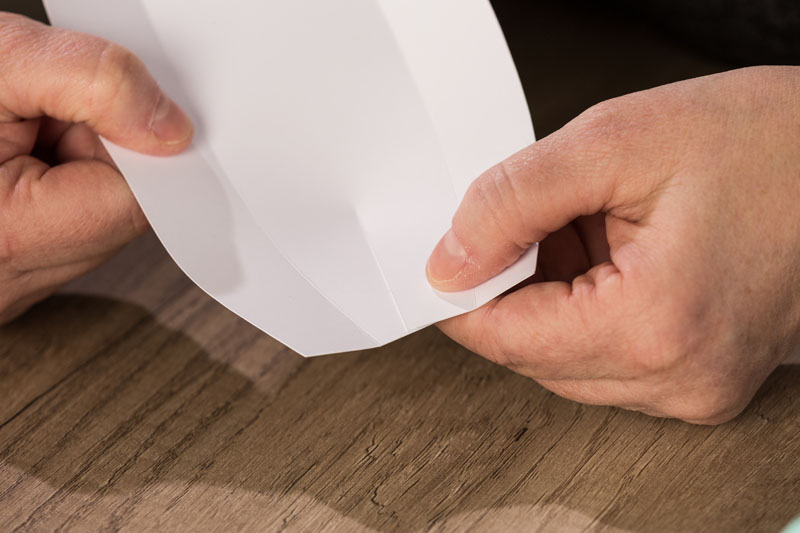 Divide your petals into two equal pile-8 in each pile. Hot glue each petal in the first pile using a small dot of glue and matching the inside corner to the opposite score line as shown in the first picture.
With the second pile, use a small dot of hot glue again, but this time only bring the corner of the slit to about midway to the opposite score line. Gluing the slits at different intervals will allow the petals to lay more naturally as you form the flower later on. Trust me- You'll thank me for it!
4: All in a Row
Now it's time for the center of your daisy! Hot glue each bead to the foam form. I found it easiest and most efficient (which comes in handy when you make a million in a row or 25 as we did) to place a generous amount of hot glue in a straight line starting at the center and working your way out and down, row by row.
How hot your glue gun is will determine how much you can do at once. It's so frustrating when you're crafting, and your hot glue cools off and hardens before you get the chance to place your beads. So just go at the pace that suits your glue gun!
5: Stretch Fringe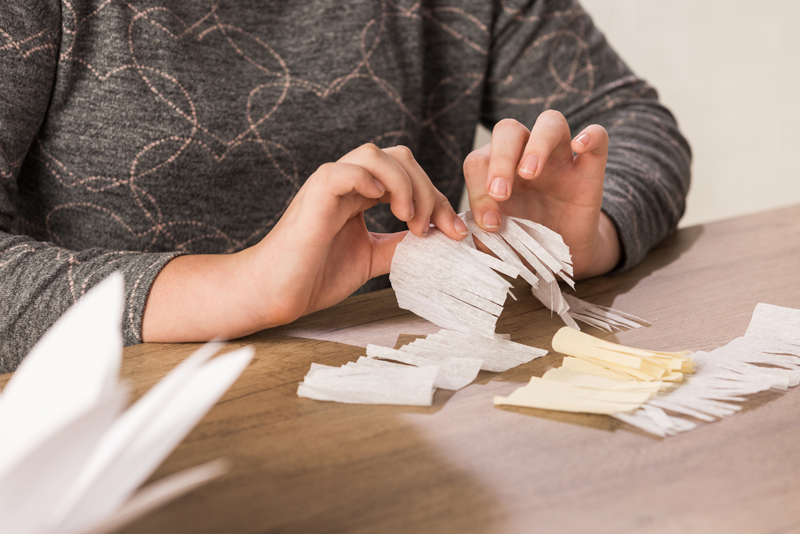 Stretching out the crepe paper fringe can be tricky depending on how delicate your paper is- so be gentle. The reason we are stretching this fringe out is so that it forms more comfortably to the foam center. Stretch gently with your fingers and thumbs just at the base of each cut strip.
It's ok if your crepe paper is not all the same color because you will be spray painting it later. No one will be the wiser!
6: Glue Fringe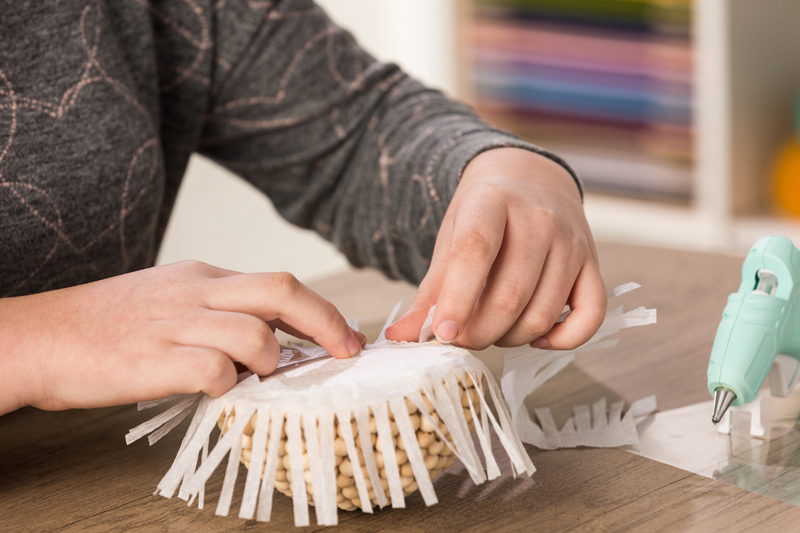 Hot glue each fringe piece one section at a time, overlapping when needed till you reach the end.
7: Spray Paint Center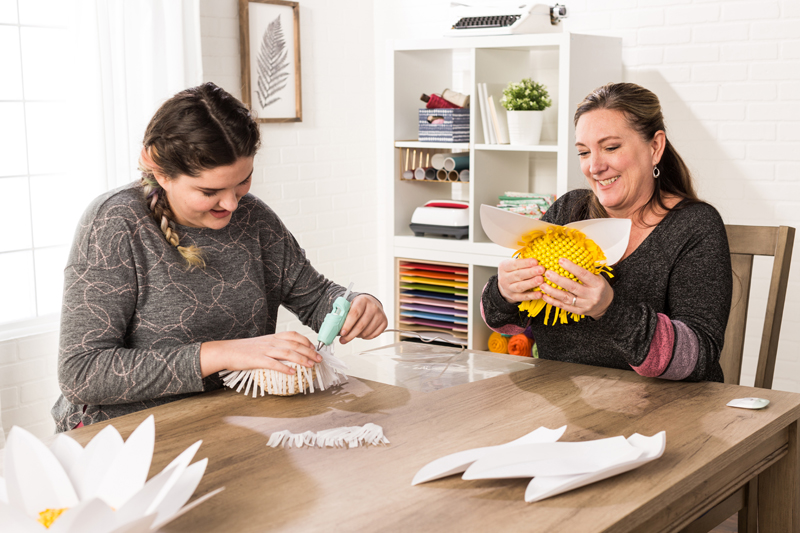 Once all the fringe is glued and dry-grab your favorite yellow spray paint and spray away. You'll probably want at least two or three coats with an hour of dry time in between so be sure to plan your time accordingly.
8: Glue Petals to Center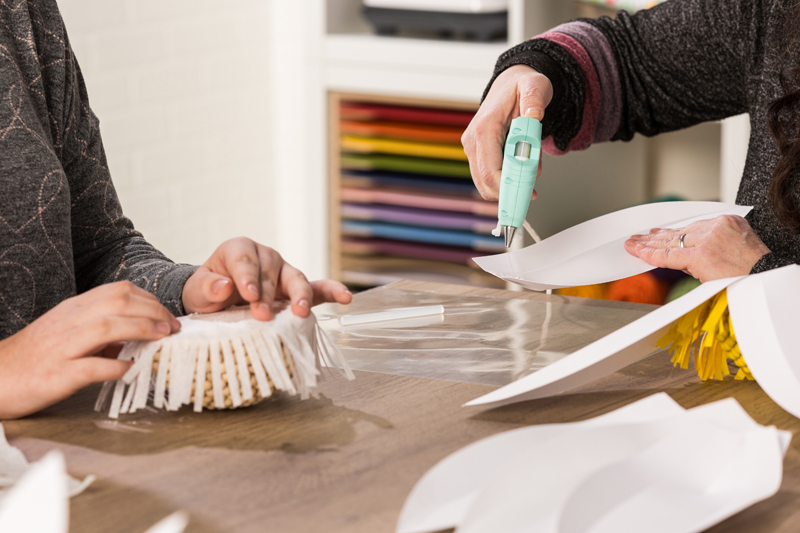 Grab your petals again because now it's time to glue them to the centers. Start with the petals that you glued the corner to the score line. Place a generous amount of glue to the base of each petal and then place and hold till dry to the center of the daisy. Slightly overlap the petals as you place them on the center in a clockwise direction.
Once all 8 petals are glued move on to the 8 petals that were glued midway to the score line. Continue gluing the petals in a circular direction and using a generous amount of hot glue to adhere each petal to the flower.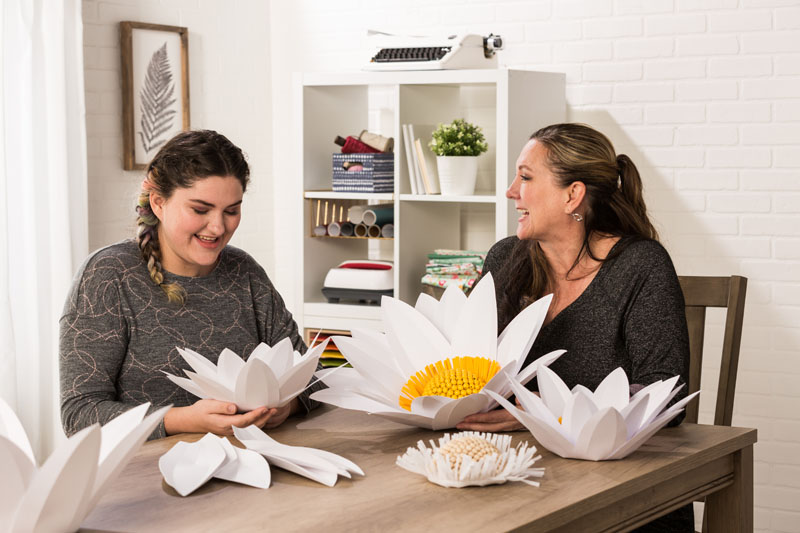 And with that, your flower is complete! How fun are these?! I can't wait to see how you makers create these awesome daisy flowers for your big events in life!
Happy Making!
Meagan