October 24th, 2017 • Contributor: Cricut Project Designer Karley Hall
I have wanted to sew since I knew what sewing was. But after one sewing class in 7th grade, I wrote it off as way too much work. When the Cricut Maker launched, I was so excited to dust off my sewing machine and jump back in. No more paper patterns, tracing, and cutting?! Um, yes please. With basically no sewing experience, I can make several of the projects on Design Space. I chose an "intermediate project" for this post to show just how easy sewing can be!
Before I got started, I scrolled through all the Simplicity projects in Design Space. I was so inspired. I love that you can click on a project to see the level of difficulty, estimated time, supplies, and instructions.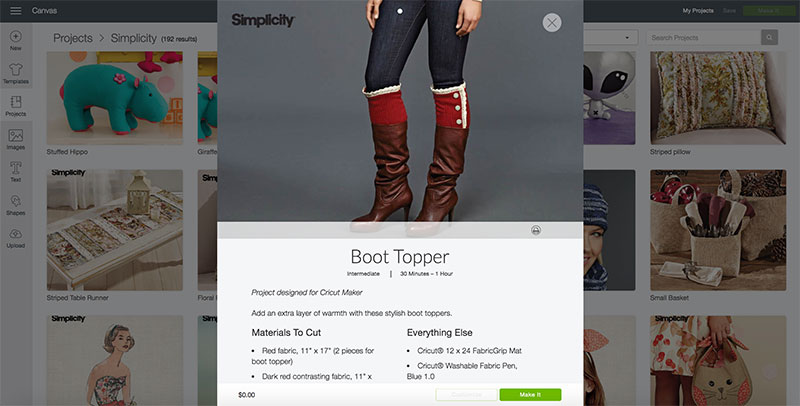 With the seasons changing, I knew these boot toppers would not only be adorable, but they would keep my legs a little warmer in the chilly months to come. I hit the print icon on the screen, printed my instructions, and headed to the fabric store. As a novice seamstress, this list gives me so much confidence. I cross off items as I put them in my cart and it ensures I have everything once I get home and start.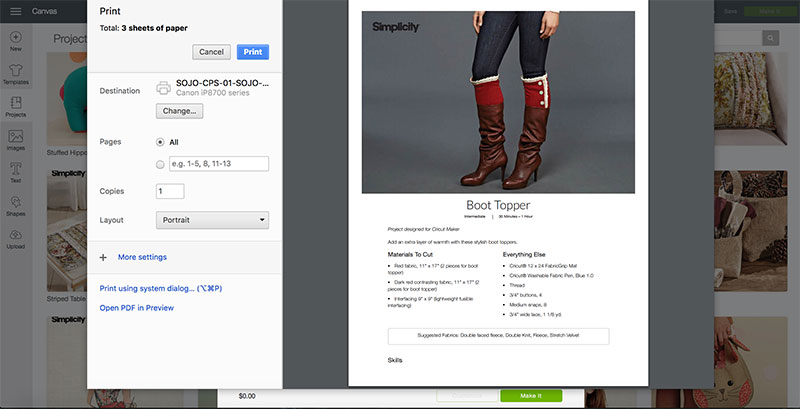 Supply List:
Knit fabric, 11" x 17" (2 pieces for boot topper)
Knit contrasting fabric, 11" x 17" (2 pieces for boot topper)
Interfacing 9" x 9" (lightweight fusible interfacing)
Thread
Heavy duty snaps, 8
Snap Kit (may come with snaps)
3/4" wide lace, 1 1/8 yd
Sewing machine
Easy Press or Iron
Cropadile or Hole Puncher
Hammer
While shopping, I made one change to the recommended supply list. Instead of sew-in snaps and buttons, I switched them to heavy-duty snaps because I love snaps!
1: Prep Your Fabric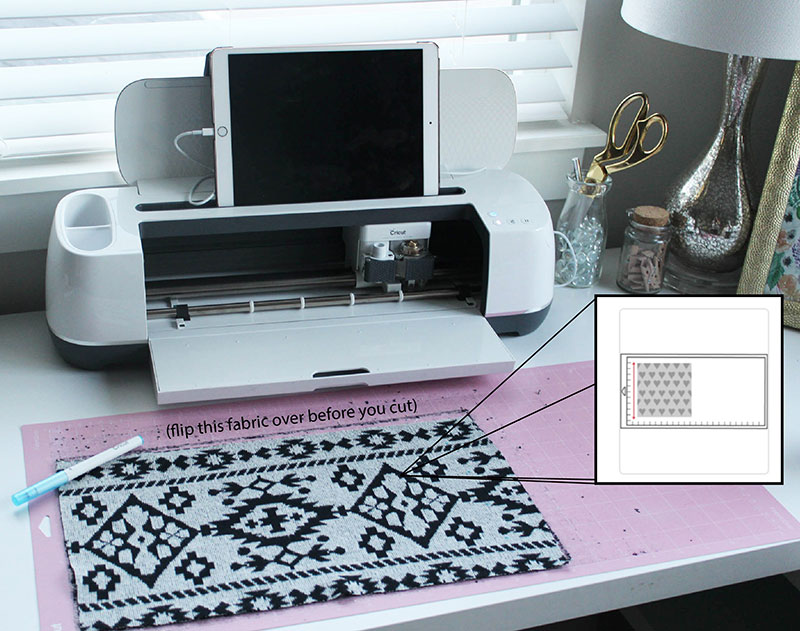 I cut 2 pieces 11" x 17" of each of my fabrics, black and patterned knit. BEFORE you cut yours, let me help by saying … I did this wrong the first time. Here I thought I was this Design Space pro, but I am not. In the directions, it clearly tells you to cut your fabric paying attention to the grain and pattern, but I am going to highlight this step with a photo. Your pattern should run along the long edge of the mat for this specific project. Remember to flip over your fabric before you cut it.
2: Cut Your Fabric With the Maker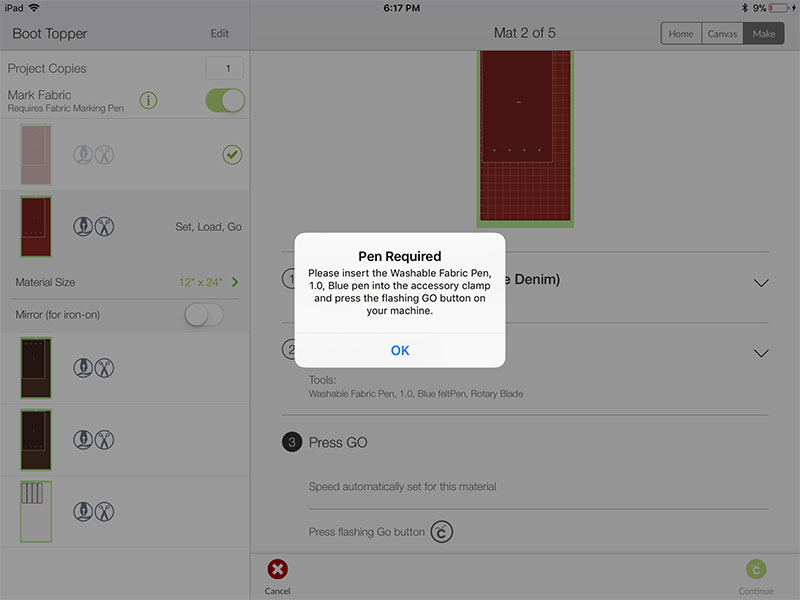 This may be my favorite step because the Maker really does make this foolproof. Follow the order of the mats in Design Space and load in your mat, rotary blade, and Cricut Washable Fabric Pen. The Maker will detect the blade before it begins and if you put the wrong blade in, it won't cut your material. I craft every day and still forget … so bless this little reminder! I also got this reminder and definitely needed it.
Once I loaded in my pen, the Maker did the rest. It marked the back side of my fabric and then cut it perfectly. There was even a setting for fusible interfacing. Cricut has thought of it all!
3: Iron on the Fusible Interfacing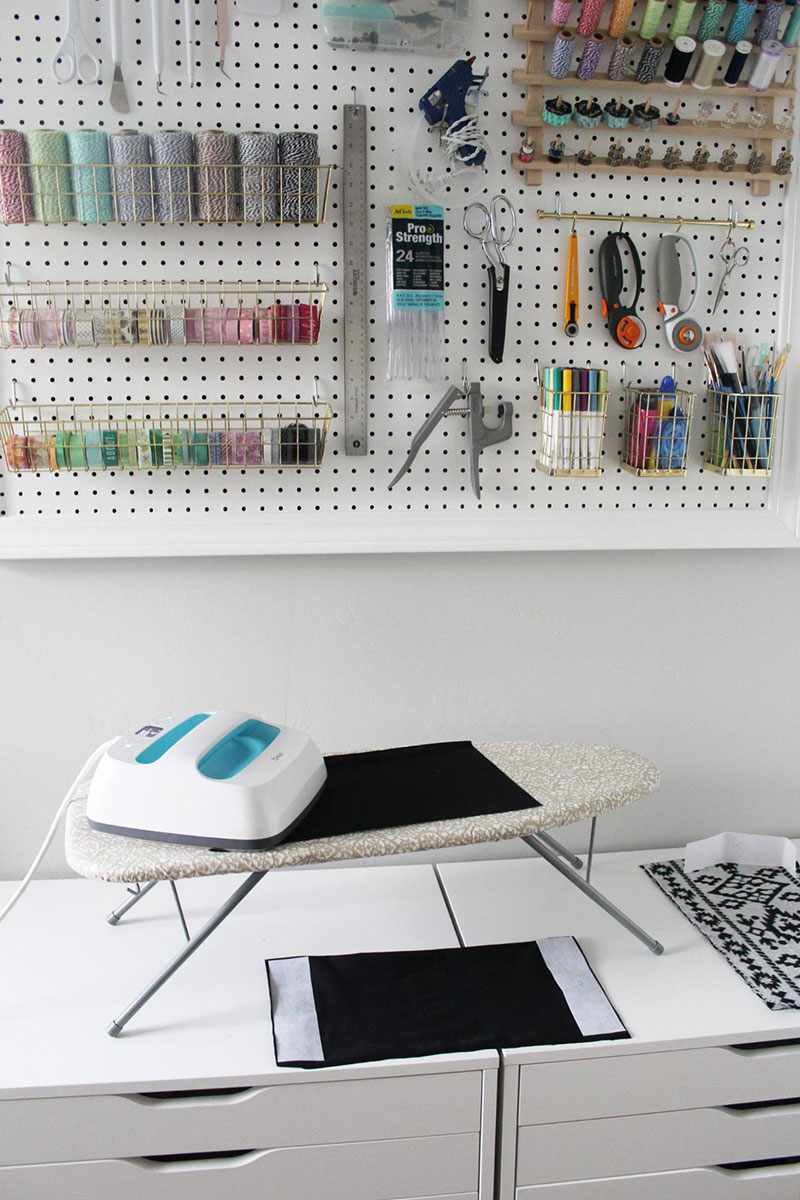 I used my Cricut Easy Press for this since I love this little guy so much! It heats up in seconds, you can control the temperature, and it has a timer. Win, win, win! I set it to 300 degrees and pressed it for 30 seconds. Make sure you are ironing your interfacing to the back side of your lining.
4: Sew!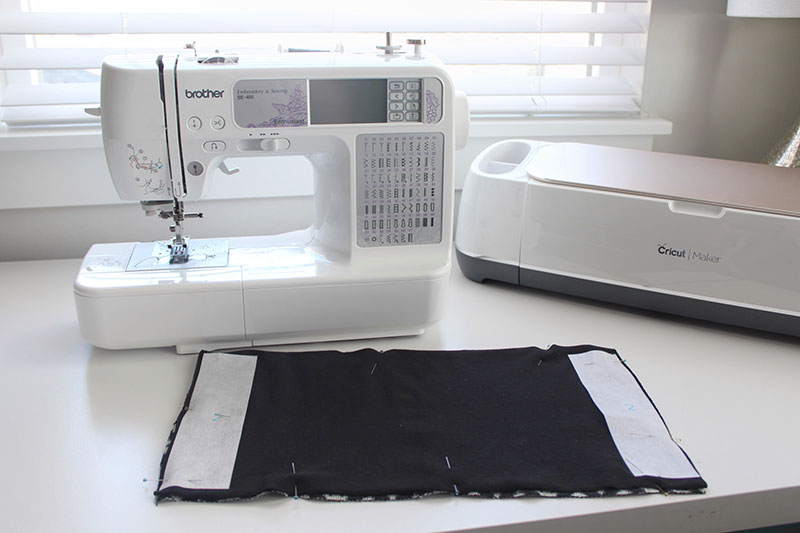 This project is so easy to sew. You are just sewing straight lines and pivoting at the corners. Do not be overwhelmed! Take your fabric and lining and place them on top of each other with the right sides of the fabric touching each other. Pin those together. Your interfacing and the ugly side of your fabric will be on the outside.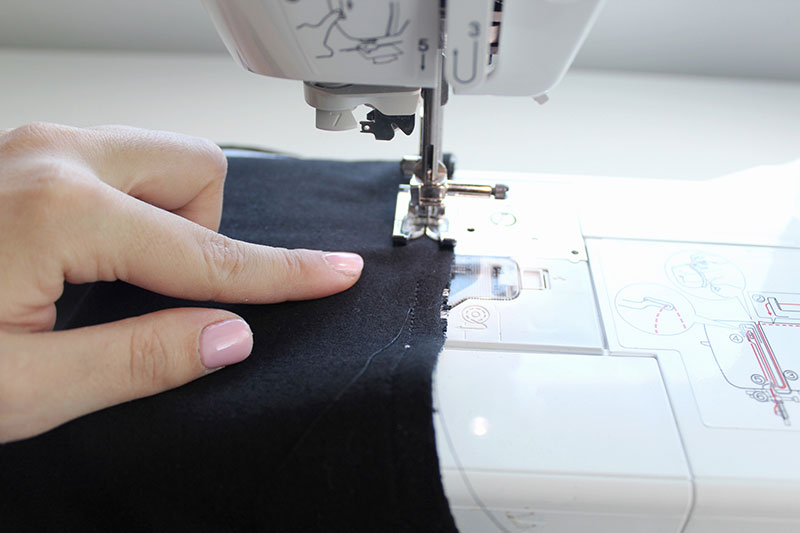 Sew around the edges leaving a one-inch gap so you can turn your fabric back to the right side. The instructions call for a 5/8" seam allowance.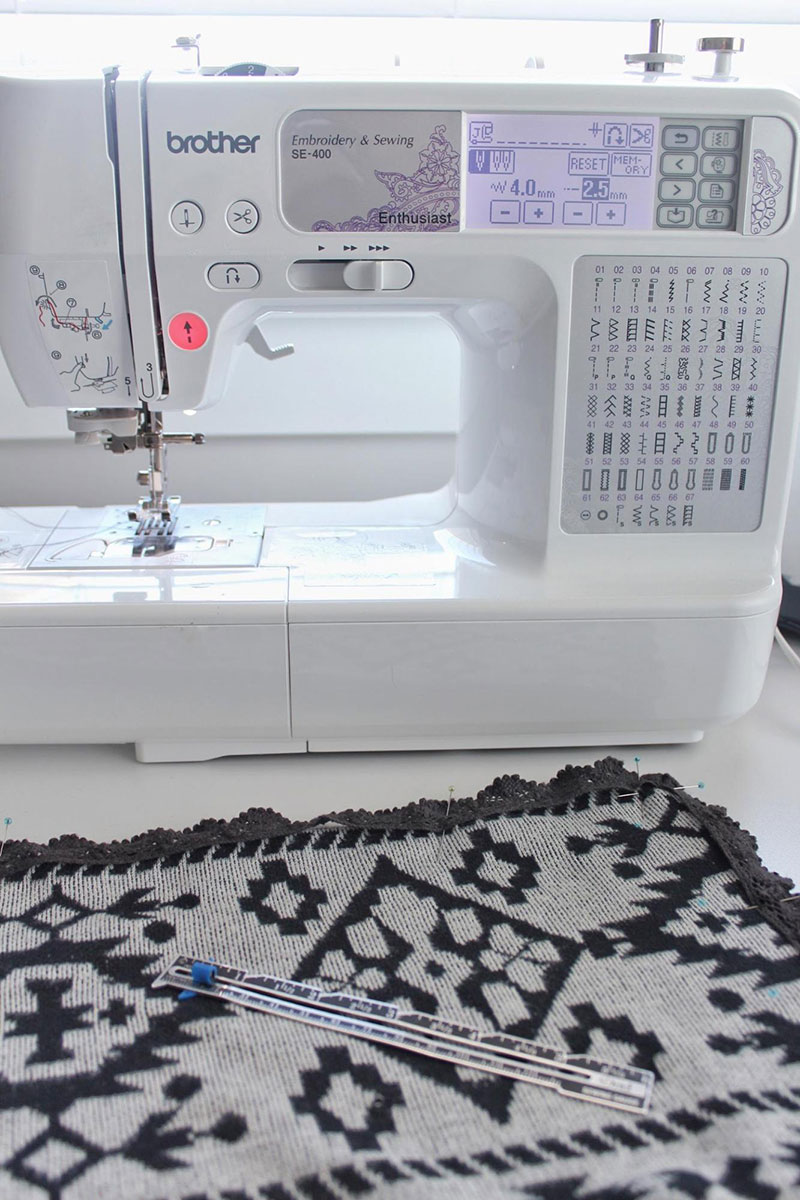 After you finish sewing, trim your corners, and turn your fabric so the correct sides are facing out. I used my Cricut Tools Stylus to poke my corners out so they were nice and sharp. Hand stitch your hole closed. You are almost done!
Pin your trim around the edges of your boot topper following the Simplicity pattern instructions and then sew.
5: Snaps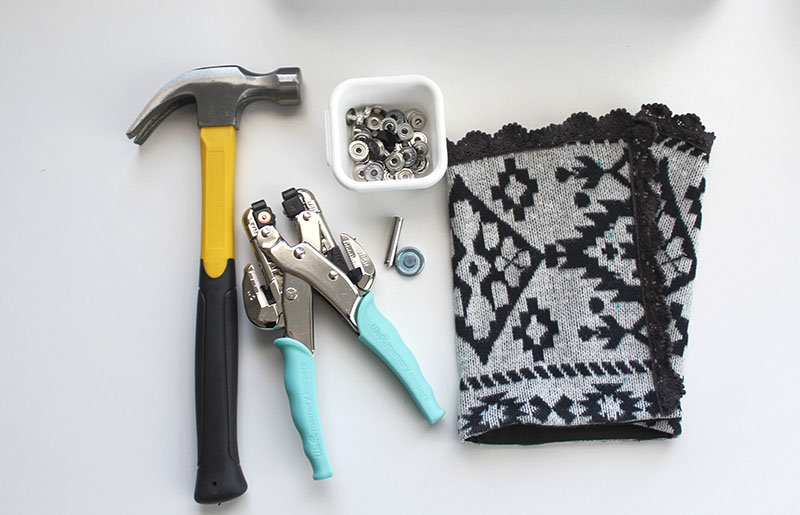 Since I changed this part to replace the sewn in snaps, I have lots of photos so you can follow along. Before you start (and while you are crafting), you may want to refer to this blog post! I wrote an entire post on snaps since I am that obsessed.
You will need all of the fun things above to get started.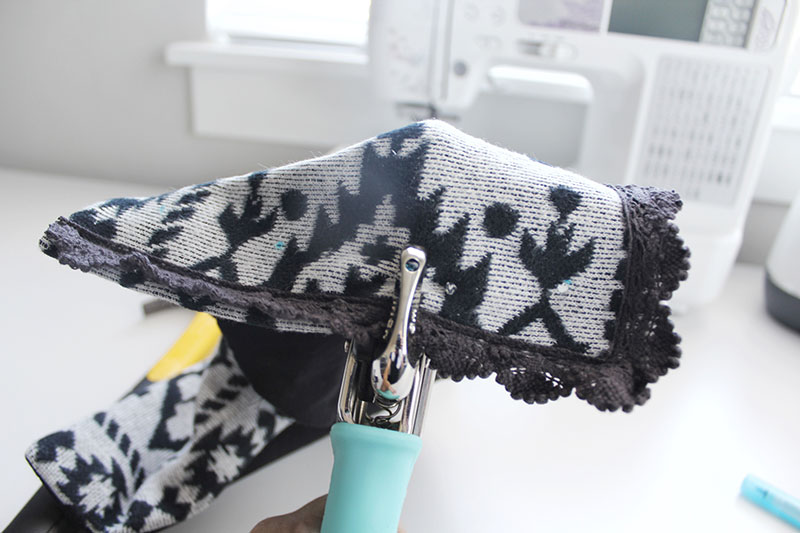 Start by punching holes on the fabric pen marks. These marks made this part so easy peasy!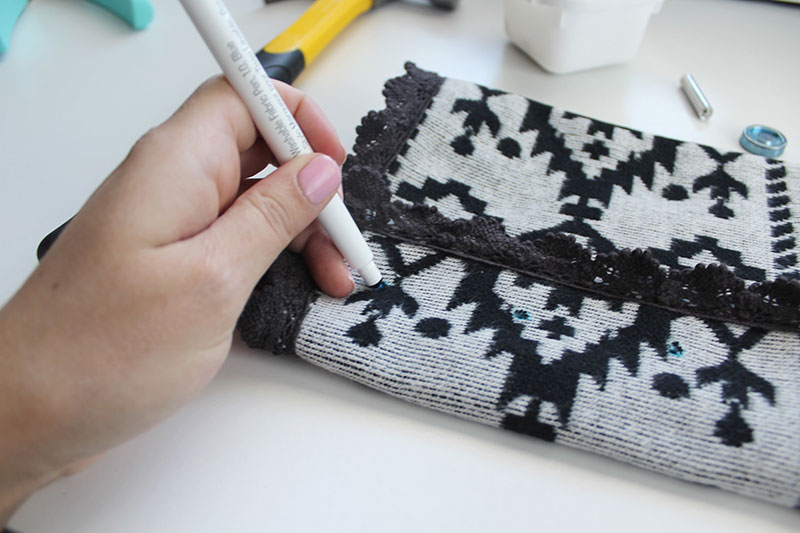 Fold your boot topper over and using the new holes, take your fabric marker and fill the holes in to mark the other side of your boot topper. Punch through your new marks.
Refer to this blog post and install all four snaps on each topper. Your boot topper should look like this!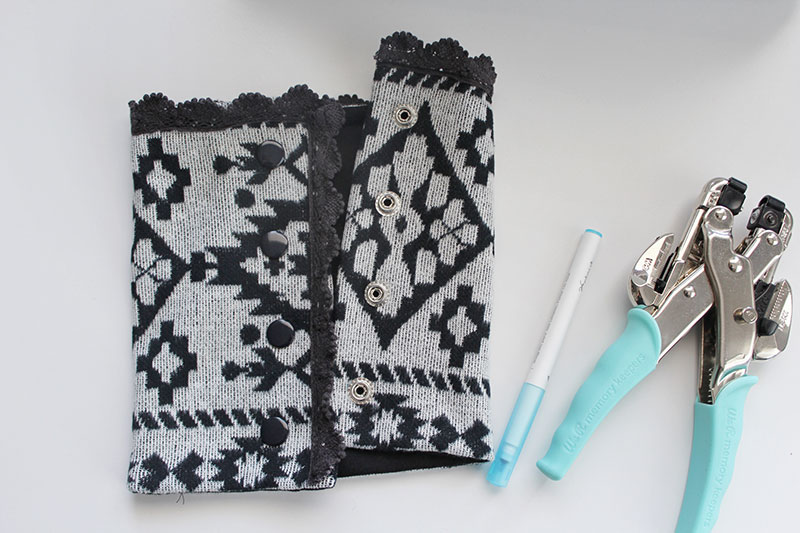 And you are done! Put those toppers on and pair them with your favorite boots! Or if you are a crazy dog mom, like me, whip up a matching bow for your pup and hit the town!
Have you tackled a sewing project using your Maker yet? I would love to see what you are sewing up. Tag @officialcricut and use #CricutMade and #CricutMaker to show us what you are working on!
Happy crafting!
Karley Hall
Apartment 413