November 9th, 2018 • Contributor: Cricut Blog Team
Now there are always those little nooks and crannies around the house where you can add smaller décor to bring the Holiday Spirit in full force!  Don't forget to start at the beginning with the Mantel Collection.
Here's the supplies list.  Order the supplies you need and get an extra discount with our special holiday promo code: 8WEEKDIY for an additional 10% off all your materials (excludes Cricut machines & Cricut Access and needs a $50 minimum purchase).
You should have leftover material from the past few weeks to use for some of the projects this week too!  Here are the Cricut supplies you will need:
Here are the other supplies you will also need.  These are all essentially bases for you to decorate so feel free to find styles that fit your taste:
(1) Cream Handtowel
(1) Cream Bathmat
(1) 12x12 Black Frame
Chalkboard/Black Sign (as many as you would like around your house)
(1) 12x12 grey fabric
(1) Roll Red & White striped twine
(1) package of small clothspins
Red, green, white embroidery thread
Embroidery needle
Embroidery Hoop
(1) piece of Floral Wire
(1) 2x4x8 wood piece
Chicken wire
Nails
Hot Glue
We're using the same color palette – white/cream, grey, forest green, black, and a few scattered pops of red.  You'll see the same imagery too – reindeer heads and pine needles.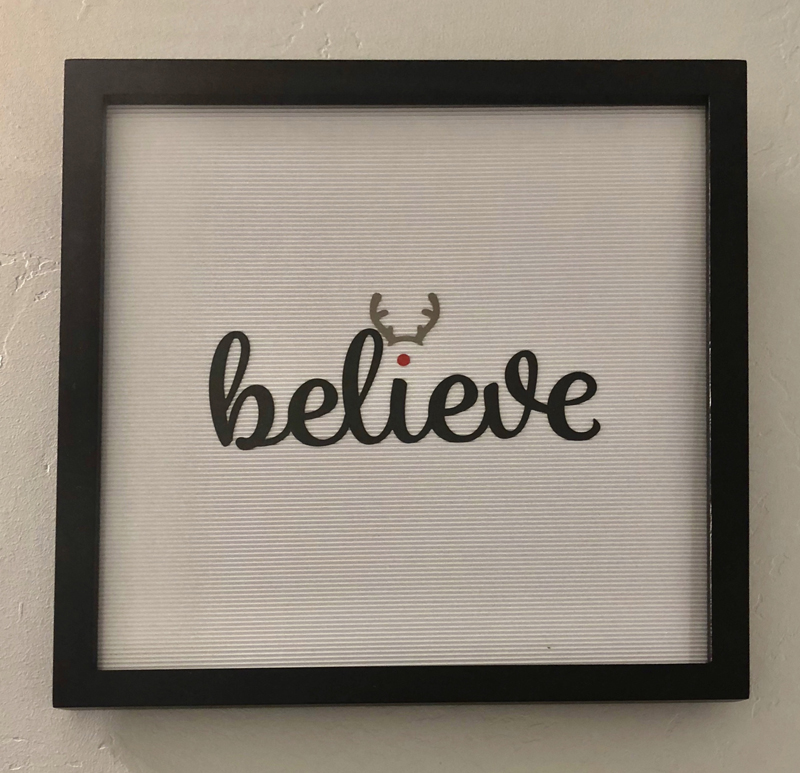 Start off with a simple sign for any bathroom or half bath! Applying the vinyl onto corrugated cardstock can be a little tricky. You will need to burnish it well. (Burnishing is the art of rubbing your vinyl into place. By using your scraper tool to rub it down, you are giving it the right pressure for it to stick consistently.)
An alternative if you're having trouble is to apply your vinyl to the outside of the glass for a more layered look. We used a basic white corrugated cardstock, but you can use any plain color or lightly patterned cardstock in the frame. Look at your bathroom to determine what works best.
Our towel and bathmats are cream colored, so a cream cardstock or kraftboard look might work well too!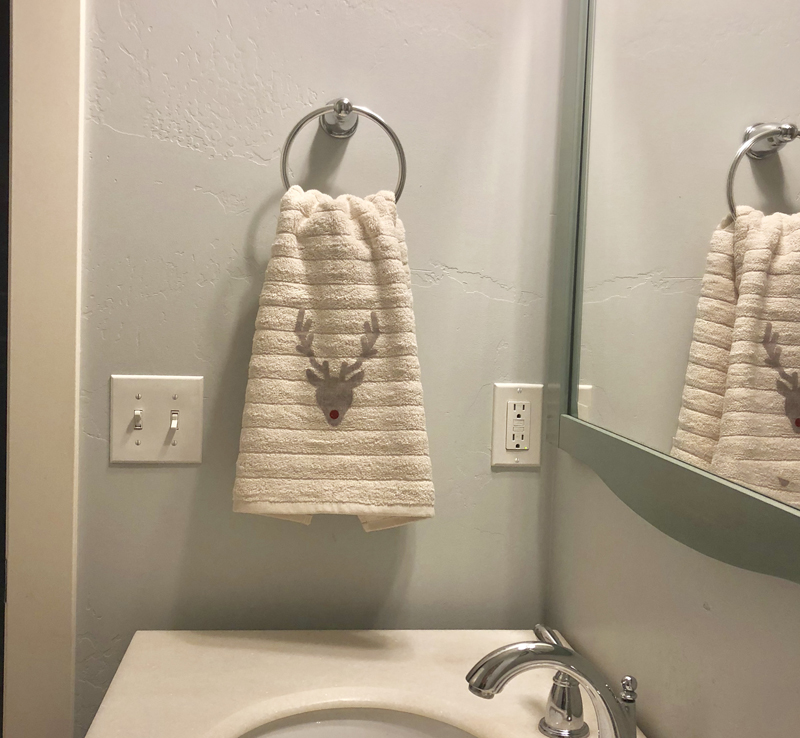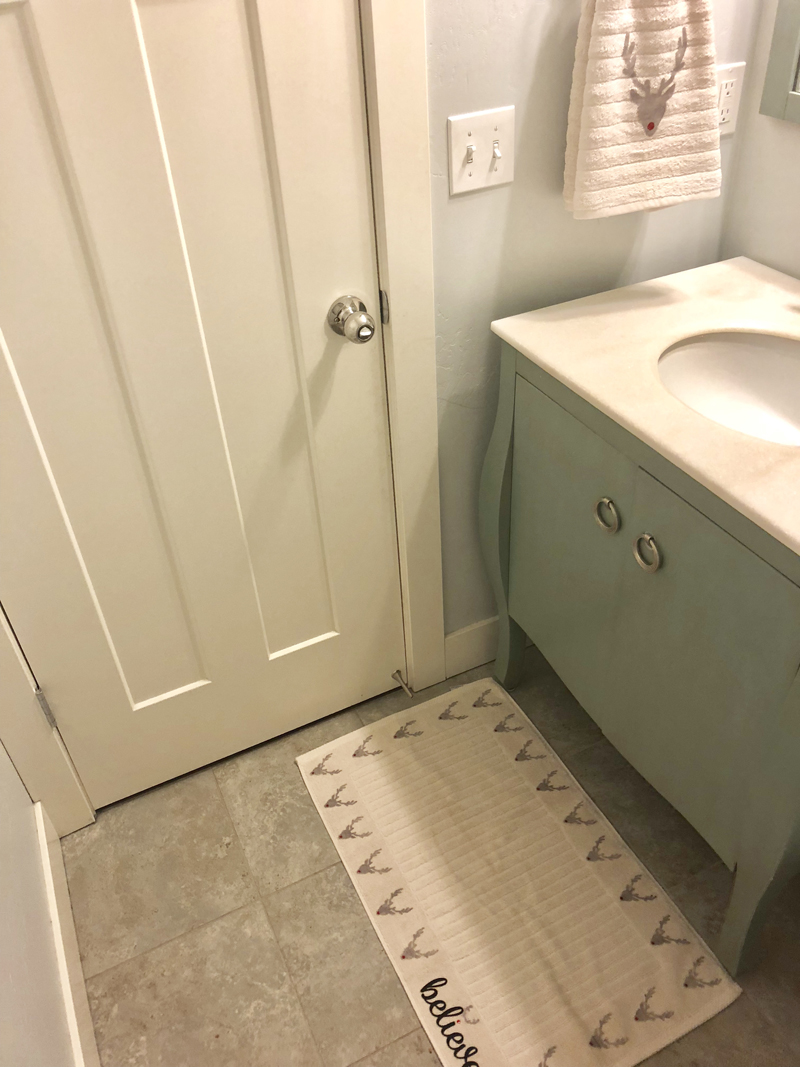 I used an image in Cricut Design Space from Kim Byers, but you can easily build your image using a different phrase or font.  Simply find and change up images to make what you love! For detailed instructions on how to do it yourself, check out this blog post . Feel free to search around and find the perfect reindeer to fit your style, as there are always quite a few!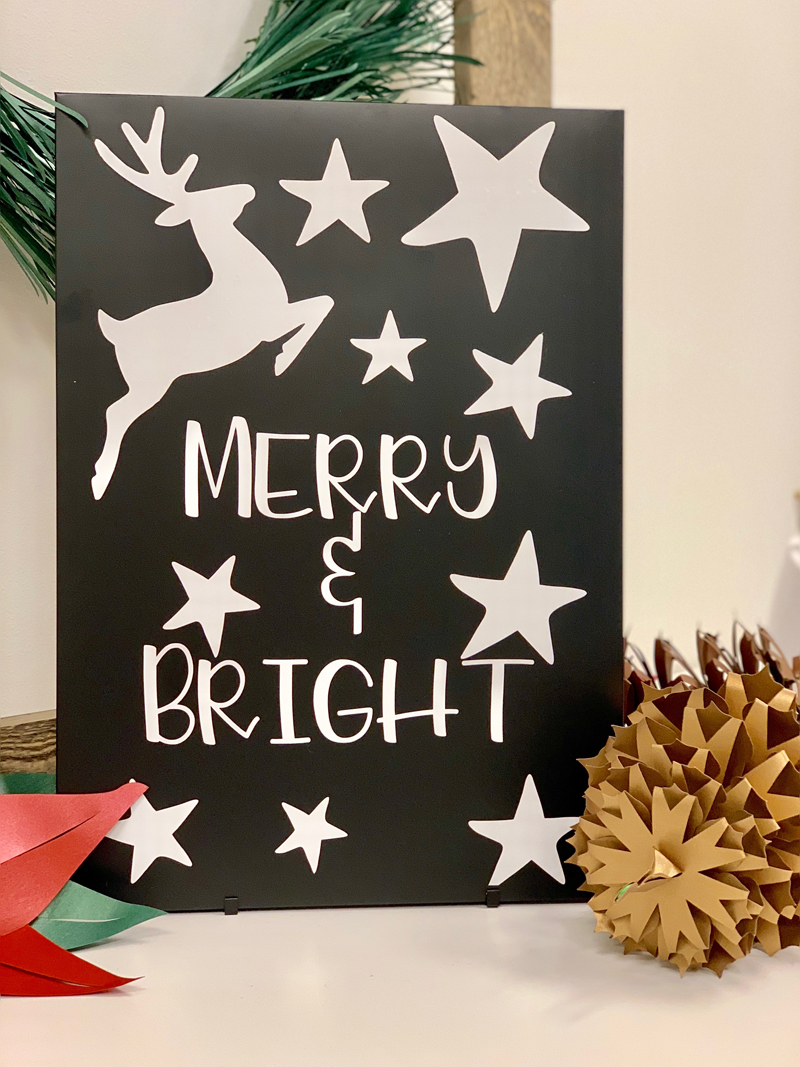 Next, we got our SIGN MAKING ON! Adding signs throughout your house can bring in some fun too. We found three different ways to use our Chalkboards: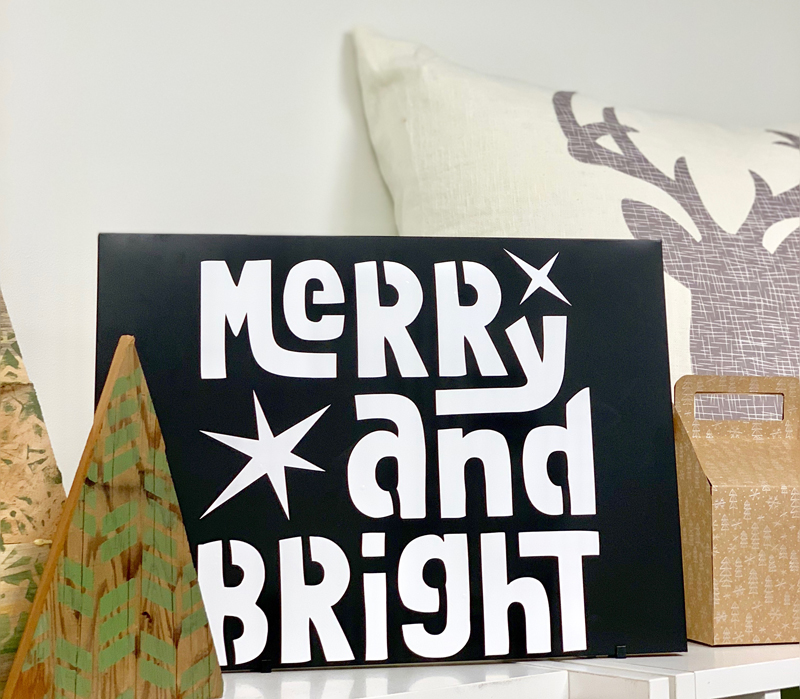 Merry & Bright vinyl phrase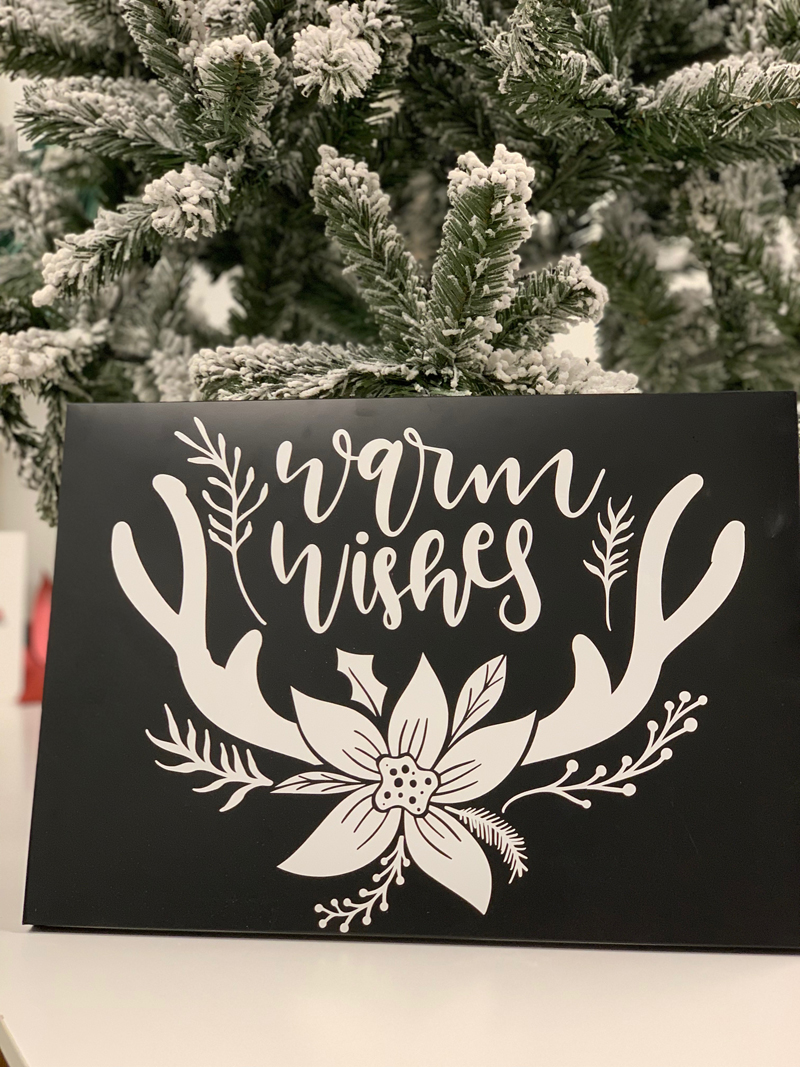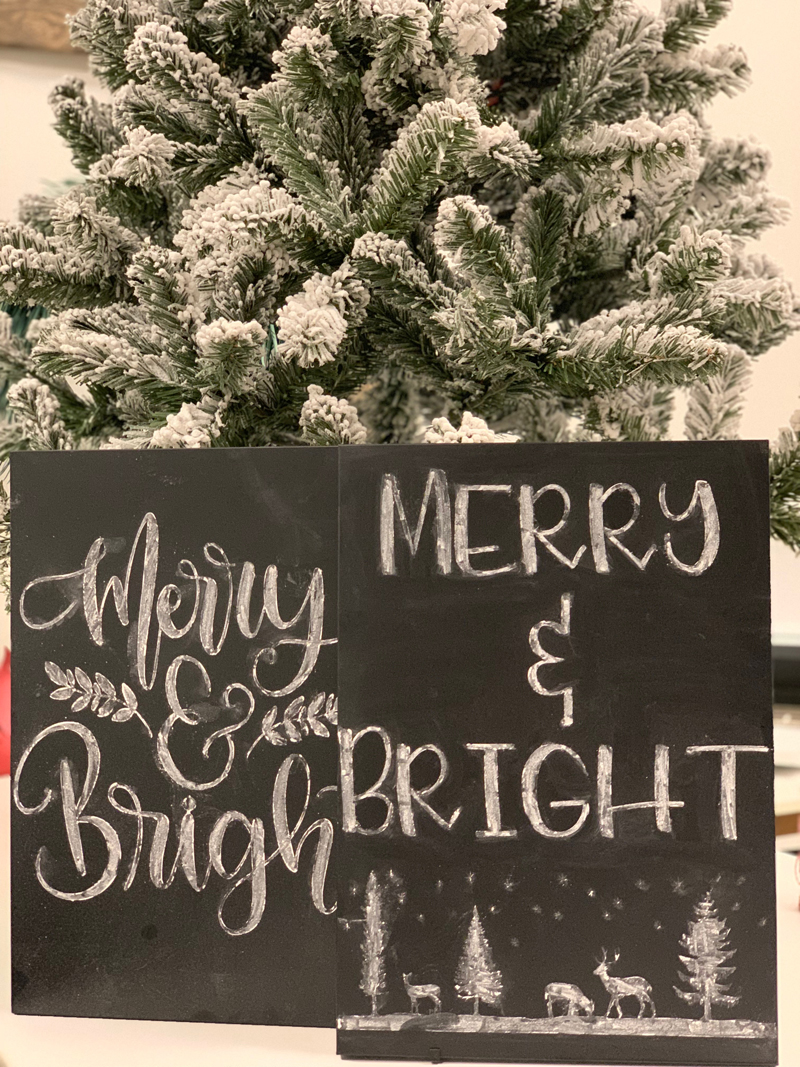 Perfect Chalkboard phrases
These were all images that we found in Cricut Design Space as we searched for holiday and filtered for 'Cricut Access' and 'Phrases'.  Filters can help you pinpoint images faster sometimes! The filter list can be found by clicking the link next to the search bar.
Our vinyl was simply cut, weeded, and applied with Transfer Tape.
When you use real chalk, don't forget these few tips & tricks:
Weed the reserve on your vinyl.  Typically, you are weeding around your phrase, but this time, you need to weed out your phrase!  For those reduce, reuse, recyclers (like me!), if you have patience and weed carefully, you can actually place the vinyl onto another surface so it doesn't go to waste!  Maybe a gift for someone else!!
To get your chalk to stay, use hairspray to seal it onto your surface.
To avoid chalk altogether, but still get the chalk look, use a chalk paint with a light coating.
Don't forget to bring in those shadow boxes to give your signs a 3D look.  Earlier, we used the beautiful red lantern to house pinecones.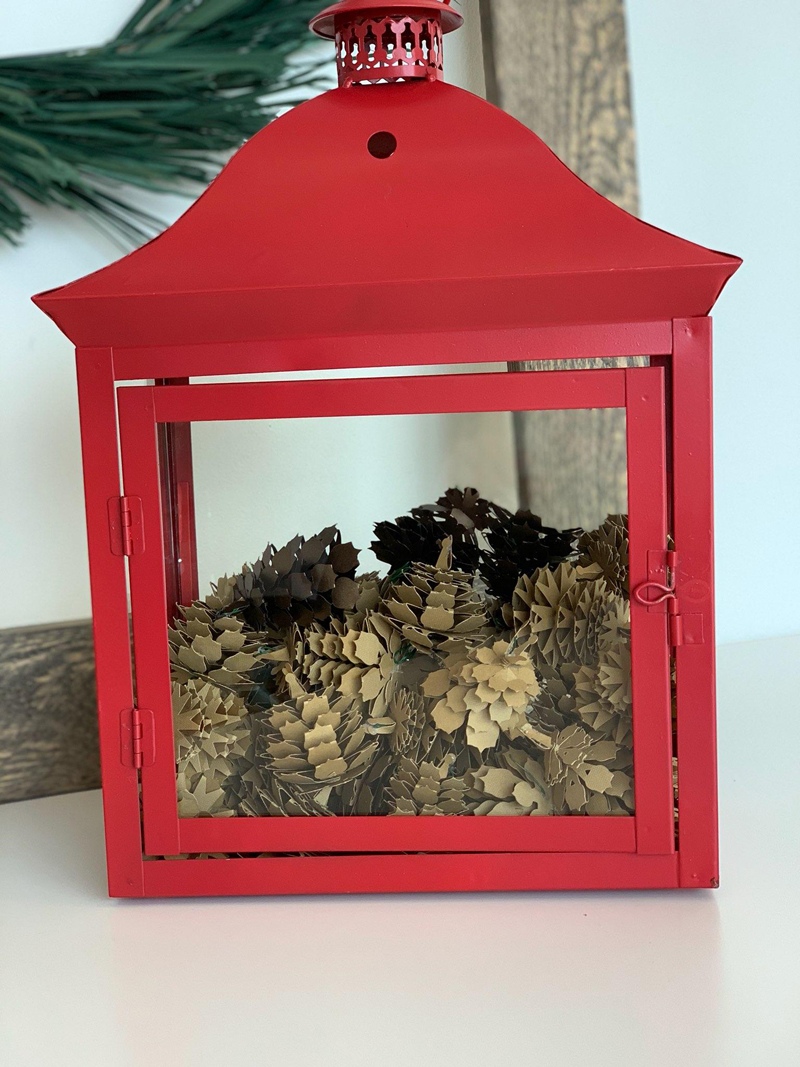 You can always dress it up with a phrase or a holiday image on the glass. We've also incorporated this wooden shadow box: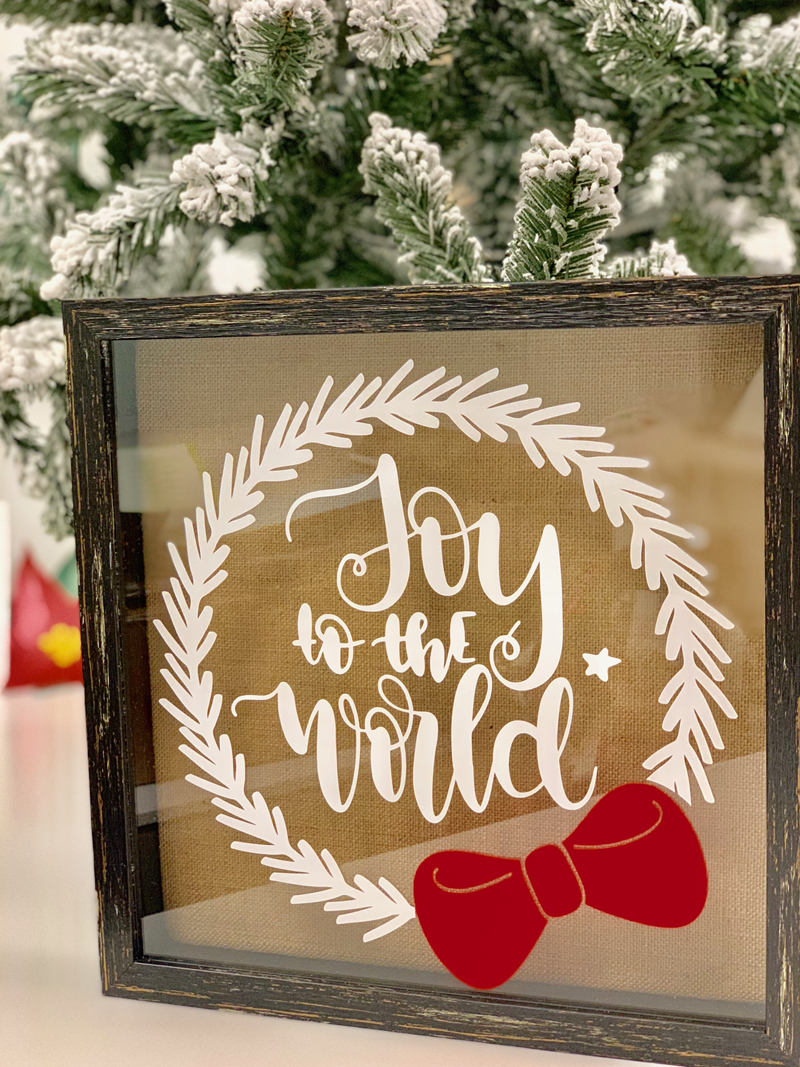 You could even add pinecones into the shadow box to bring in some of the other elements in your overall décor!
Keep bringing in the wreath look from the Joy sign by also incorporating an embroidery project!  We've used a lot of vinyl in our signs, a little bit of paint too, but you can use the same fonts and images on your embroidery projects.  It's simple, you use a Cricut Pen to draw the words and embroider on top! For details on how to make this cute wreath, click here.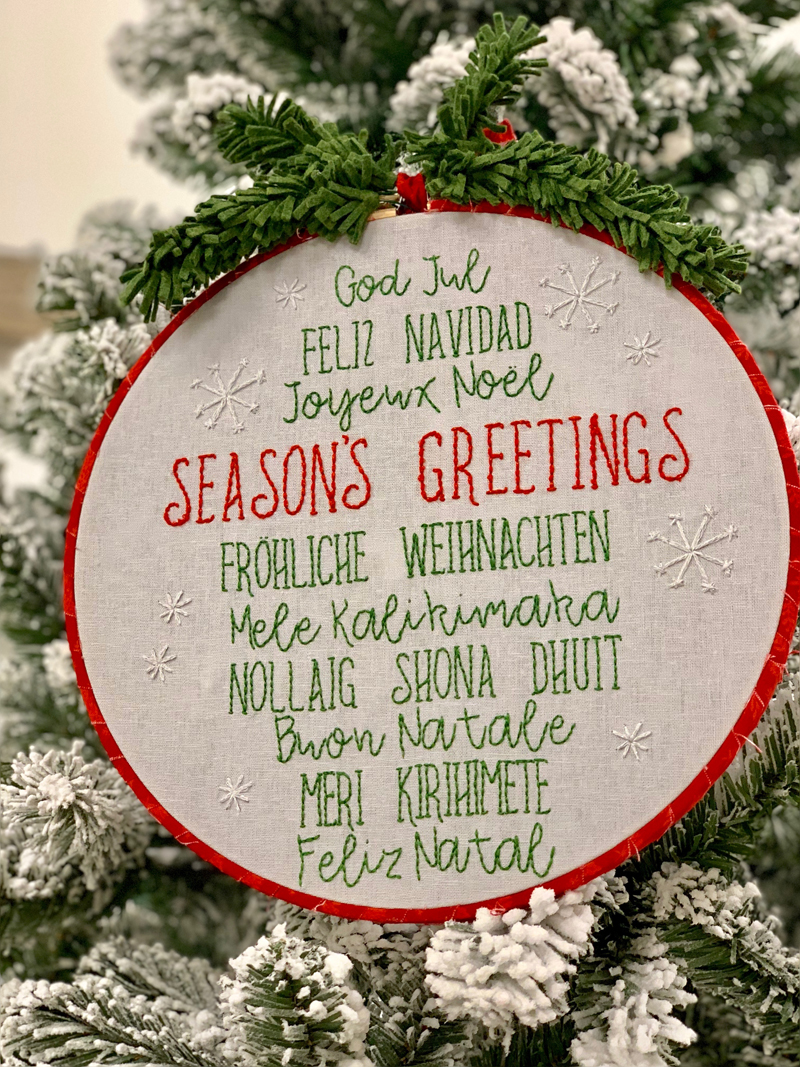 The fonts we've been using are Easton and Babette. You can use as many or as few holiday phrases as you choose! We've selected an international flair that you'll see echoed in next week porch projects.
Finally, all the holiday mail and updates from Friends and Family. It's one of my favorite parts – the annual letter/card! We've brought you two different styles: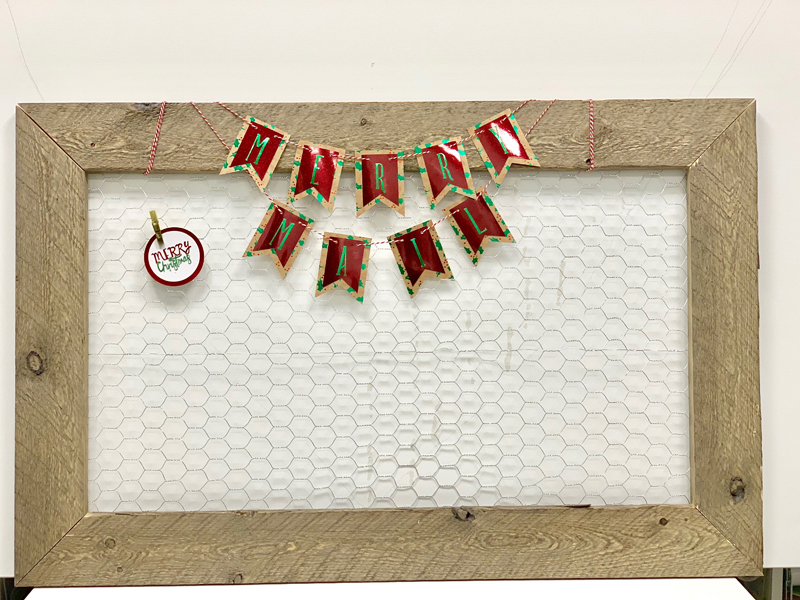 We gave you a full tutorial on making the frame. This week, we simply added chicken wire across the back of the backless pine needle frame from week 1! Cut out your Merry Mail banner, string it on twine, and add some small clothespins as your letters start rolling in!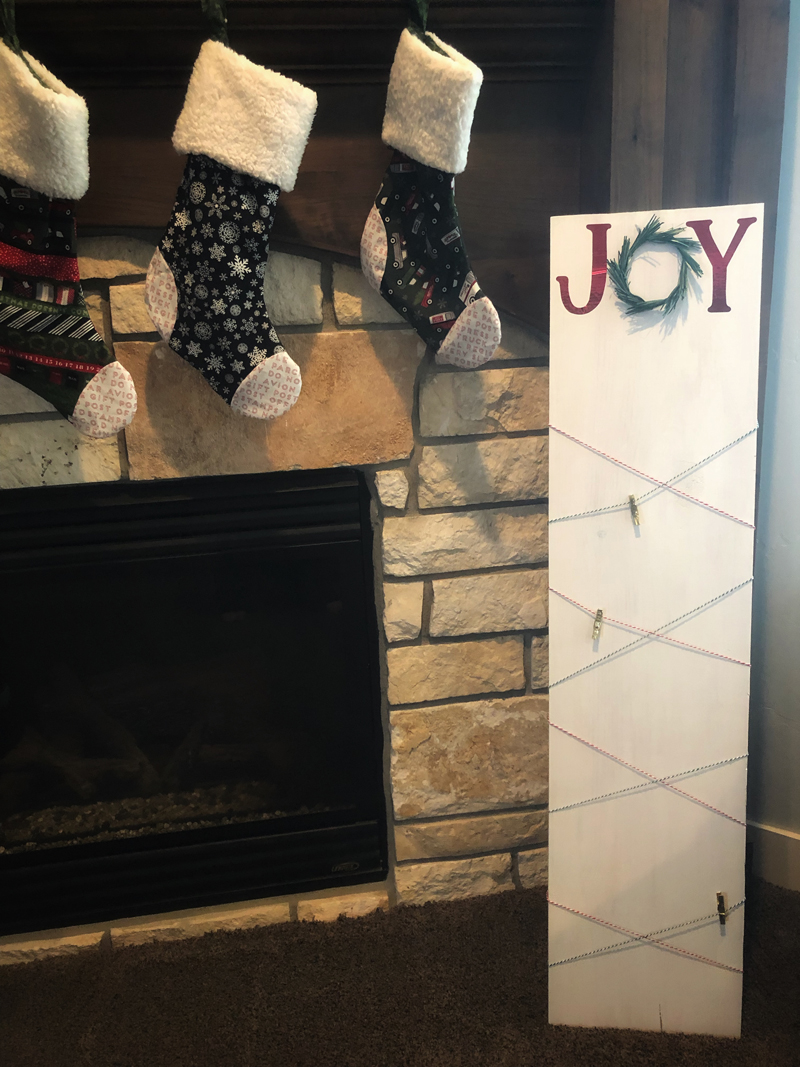 The Joy mail stand is simply a board from Home Depot that we painted with a whitewash, cut out adhesive foil of J and Y, and then add a little pine needle wreath – a tiny version of our large mantle wreath. The small pine needles are simply hot glued to a floral wire. Then, wrap your twine around in a zigzag fashion and add your small clothespins. We used some cute gold clothespins to dress it up!
Whew! That was a lot of projects for this week. We'll keep them coming in the weeks to come. Have a magical time making your holiday décor!
Up Next Week: The Front Porch
Cheers!
t